With the various styles, sizes, and shapes, an ottoman can be used in many different ways. It is the ultimate furniture piece that makes a great addition to the visual appeal of the room while offering a lot of functionality.
An ottoman can serve as a backup coffee table, extra seating, storage, footrest, etc. But regardless of how you decide to use it, you must pay attention to how the ottoman is going to look and fit in its environment.
For an ottoman to hide its functionality and disguise as a great accent piece that'll enhance the decor in the room, you must know how to style it properly. If you're looking for tips on how to decorate a round ottoman, they're listed right below.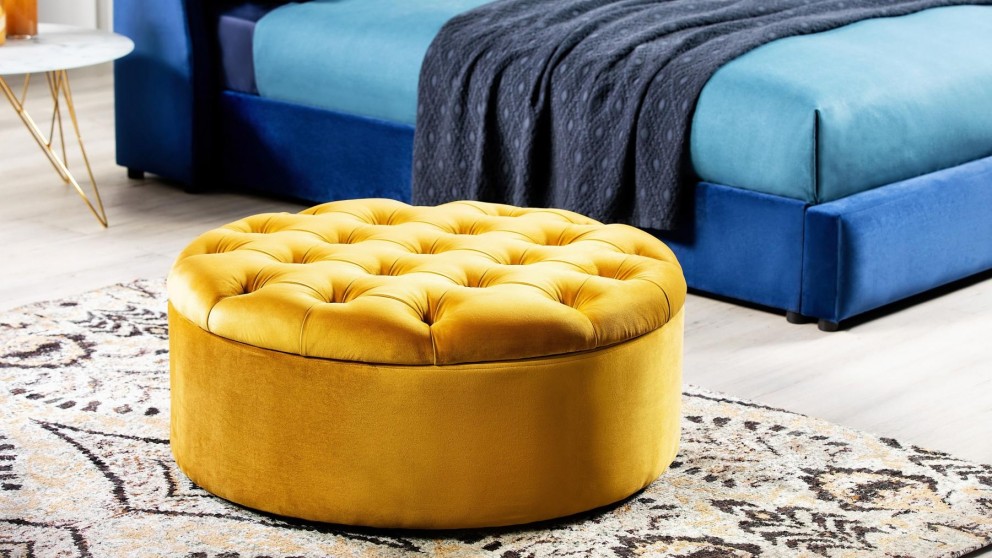 How to Decorate a Round Ottoman
A round ottoman can help you make a statement and add vibrance to the room. Thanks to its unusual shape, the spherical ottoman is bound to attract the attention of your guests. But an empty ottoman might not look like much, which is why you have to decorate it. Here's how you can do it.
Decorating a round ottoman with a tray
If you're determined that visual solutions need to be practical, the first option you should consider is placing a tray on top of your round ottoman.
Refashioning the functional ottoman can transform it into a chic design element. Placing a decorative tray will transform it into an extra coffee table you can use whenever you have guests around.
The most popular options for an ottoman tray are square and rectangular ones, but with a round ottoman, you can also consider a round tray. Square and rectangular shapes offer a larger display surface and functionality, making it easier to display items with the help of the four-quadrant rule. However, in some situations, a round tray might be more suitable. If you decide to go with the round tray, keep it uncluttered.
When picking out the right display items for the ottoman tray, make sure to create an intriguing color palette with at least three complementary colors on top. Add small and simple objects like decorative boxes and vases or unusual accessories. Books are another great idea; you probably already have some you anticipate displaying.
Decorating a round ottoman with books
If an ottoman tray and ornaments seem like too much clutter for the ottoman you use daily, you can opt for a simpler solution and still get amazing results. Using books to decorate a round ottoman will help you achieve a smart and tailored look. If you have some of your favorite books collecting dust on the bookshelves, take them out and stack them on top of the ottoman.
Using books for ottoman decor will help you keep your favorite reads at hand, and it can also be a great conversation starter when you have guests, especially if they share the same interests.
If you want to spice things up, you can use the books to create a platform and add other display objects. A small plant or a miniature flower arrangement will fit perfectly and breathe freshness into the room.
Also read: How to Decorate an Ottoman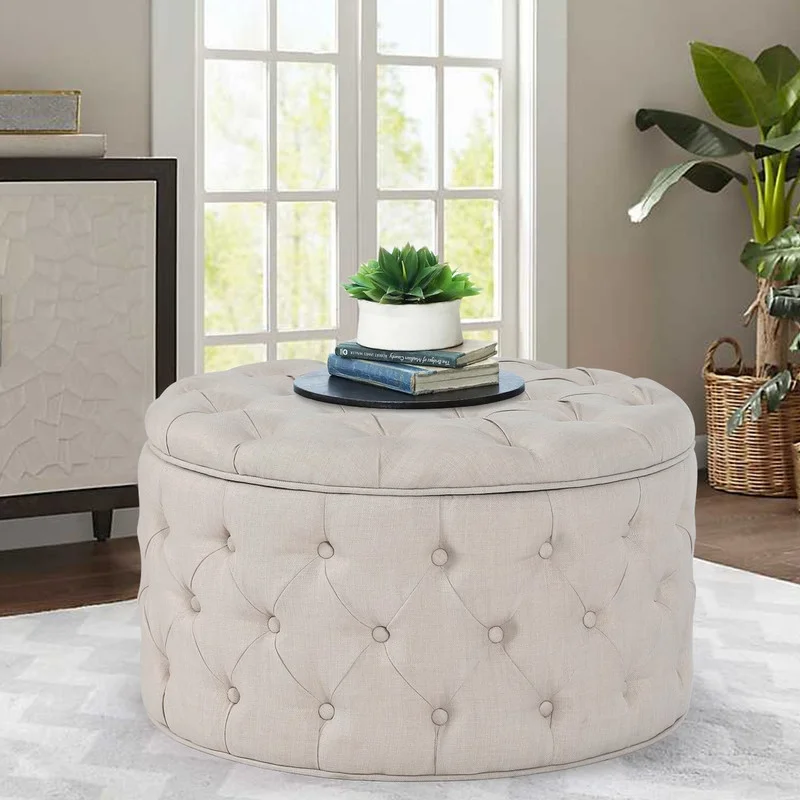 Decorating a round ottoman with a throw blanket
Ottomans you often use as extra seating or a footrest are best to be styled with a throw blanket. A throw blanket will make a round ottoman look stylish and classy, and it is actually the most convenient decoration, as you can quickly pick it up from the ottoman when you need extra seating or a place to rest your foot. When you don't use it anymore, you can casually throw the blanket back in place without worrying about perfectly folding or placing the throw blanket.
Decorating a round ottoman with cushions
If you're going for a cozy and fluffy look for the large round ottoman, you can add a couple of throw pillows on top. Depending on the size of the ottoman, you can play around with the number of pillows you're going to use.
To achieve a vibrant and cozy look, you can complement some chunky pillows with various color palettes and textures to make the ottoman more vivid.
Read more: Where to Put Ottoman in Bedroom?
Transform a Round Ottoman Into a Coffee Table
If you've found the perfect ottoman that you simply cannot say goodbye to, you can quickly transform it into a coffee table and use different ways to style it.
You'll need to purchase a matching tabletop to turn the ottoman into a coffee table. Carefully measure the radius of the top of the ottoman to get the dimension for the tabletop. You can use thick glass, plywood, or another type of solid wood top to reinforce the usable area of your new coffee table.
With the tabletop at hand, make sure it fits tightly into place, as you want it to be sturdy enough to hold all the decorative pieces you're going to add on top.
When using a round ottoman as a coffee table, we recommend you keep things clean and simple. Consider adding only one to two display items, such as a vase and a book, or combine several smaller trays to tie the ottoman together.
Read more: How to Decorate an Ottoman Coffee Table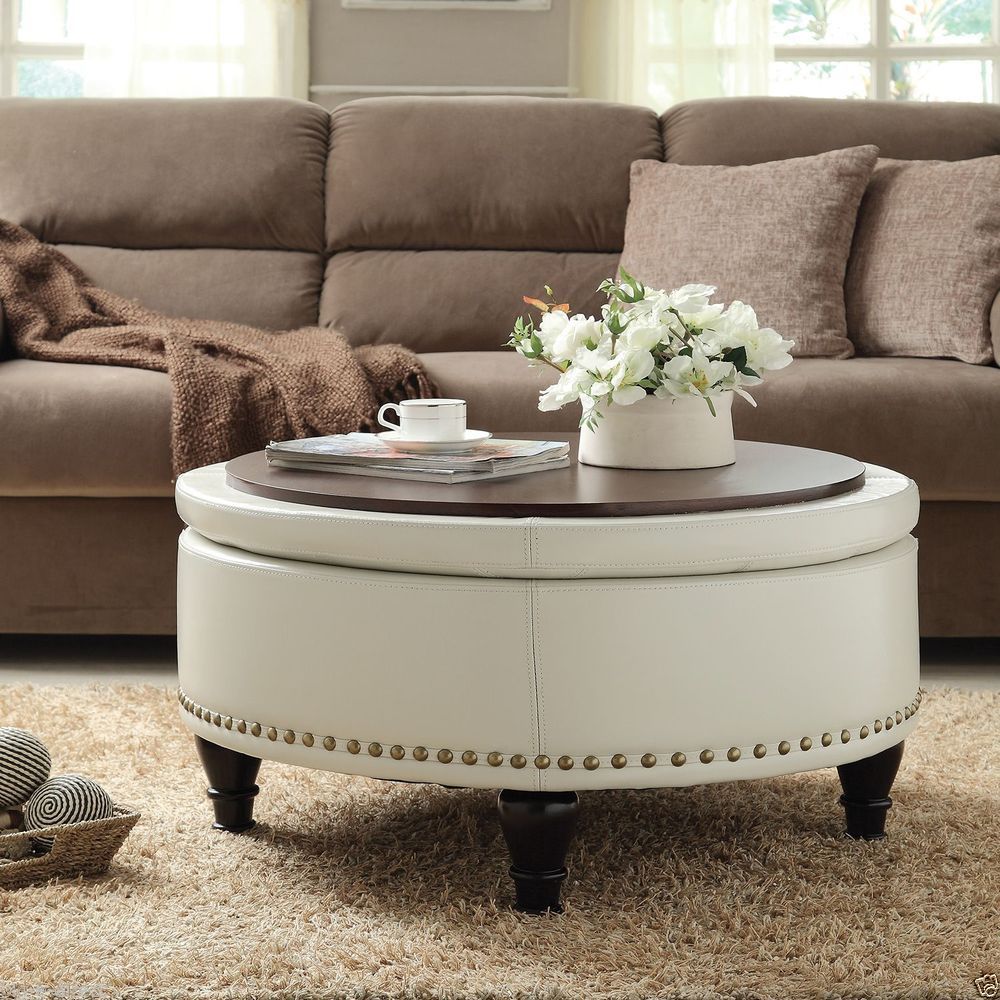 How to Position a Round Ottoman
Now that you know how to decorate a round ottoman, you need to make sure you find a suitable position for the spherical gem. With the ottoman being a multipurpose living room staple, its placement greatly depends on how you use it.
If the main purpose of the ottoman is to act as a footrest, you'll need to place it near the seating areas. However, a round ottoman doesn't typically make the best footrest, so you're more likely to use it as a living room accessory. In that case, the ottoman can go virtually anywhere – next to the couch, in the center of the room, or in a remote corner away from the entertaining area.
A round ottoman can make great extra seating which you can place between some other seating arrangements. If you want to use it as a statement piece, you can place it in the center of the room between your seating arrangement and transform the round ottoman into a chic coffee table.
Creative Ideas for Using an Ottoman in the Living Room
An accent ottoman
If your living room decor follows a neutral color scheme, you can mix things up and add some brightness to the room by adding an accent ottoman in a bold color. Yellow is the perfect choice when you want to make a statement. To blend in the ottoman accent with the rest of the room, you can use the color discreetly in other furniture pieces like a side table or throw pillows.
Neutral-colored ottoman
If you aren't sure whether a bold ottoman accent would fit inside your living area, you can always use a neutral color. A large, neutral-colored ottoman can make the room feel super cozy and warm. A throw blanket is undoubtedly the best supplemental decor if you decide to go with a larger round ottoman in a neutral color. If you can match the room with the sectional sofa, you can use the ottoman as an interesting add-on.
Luxurious leather ottoman
The ottoman is often overlooked as a less important furniture piece. However, the round, luxurious leather ottoman is here to make a statement, and it will leave your guests breathless. To make a bolder statement, use a larger ottoman in leather that contrasts the surrounding furniture. When placed against the simpler elements in the room, the ottoman can create a cozy and luxurious atmosphere.
Luxurious raised ottoman
If you're going for a bold yet inviting aesthetic, you can enhance the contemporary design of your living area with the luxury vibe of a raised ottoman. To make the ottoman stand out, you can choose a distinctive leg finish, like gold or copper. Depending on the height, you can use the raised ottoman as a footrest or an improvised table. Just toss the ottoman on the side of the coffee table, and you'll get an effortlessly contemporary look to tie up the entire room together.
Read more: Does Ottoman Have to Match Couch?
Final Words
The ottoman is probably the most overlooked furniture piece. But given its visual appeal and multiple purposes, the ottoman can significantly enhance the room. It can serve many purposes, but its visual appearance is without a doubt where the ottoman truly shines.
With the right choice of decor, proper placement, and a pinch of creativity, you can use a round ottoman to a great extent. It could easily become the main accent of the room or serve many of the functional purposes of an ottoman.
You can use our tips and tricks on how to decorate a round ottoman to blend a unique piece of furniture into any type of room. Whether you're going for a more contemporary look and feel or something casual and comfy, you now know how to style a round ottoman and make it look stunning, regardless of its purpose.