Ottomans can be utilized in various ways and are available in many shapes, sizes, and materials. The ottoman is a terrific way to add style to your design, whether you decide to use it as a piece of helpful furniture or as an accent piece.
Due to their adaptability, you may position them in various seating configurations in the center of the space or close to a wall. Your ottomans can be made into a couch by adding some decorative pillows.
Learn how to decorate an ottoman in the following section.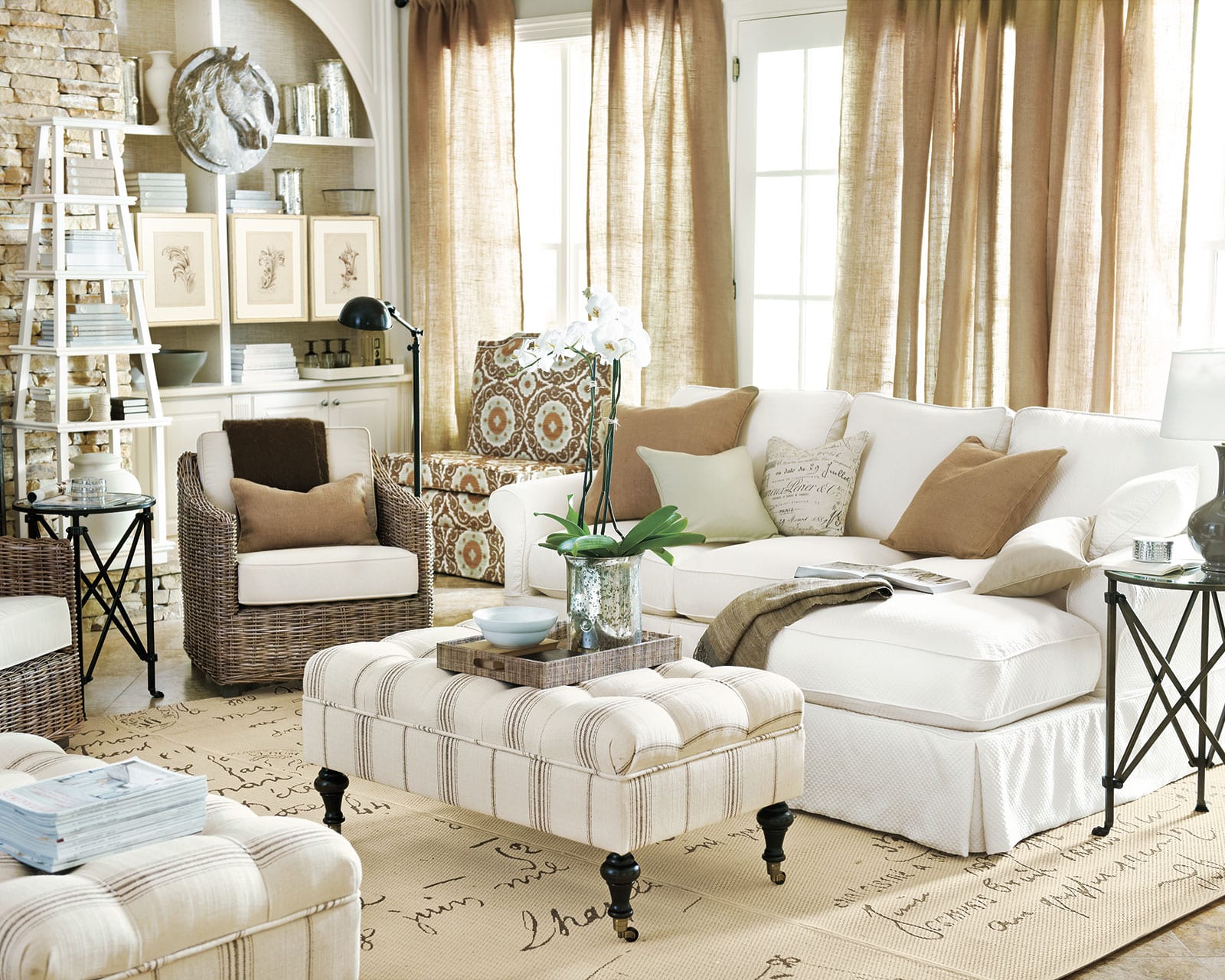 How to Decorate an Ottoman
Use an ottoman in a bedroom space
When positioned in front of or next to the main seating area in a living room, ottomans are frequently thought of as living room furniture. However, they also make an excellent addition to a bedroom, adding a touch of comfort and texture.
In both tiny and large bedroom spaces, the foot of the bed is a go-to location to place an ottoman. With this tried-and-true design concept, the bed design is elegantly extended while generating a valuable and welcoming seating area. You should remember that ottomans are not just for the living room, so you can match them to your bed linen or add a contrasting element.
Use it as a showpiece
Believe it or not, ottomans now act as the room's main focal point and decor that demands attention. From tufted fabrics to ottomans with luxurious materials, they can all be used as a showpiece. In a rural context, ottomans might appear unassuming; in a luxurious environment, they can appear expensive and lavish. Any ottoman can serve as a show-stopper in any situation.
Accessorize your ottoman
Trays and books provide practical decor, but you can also opt to decorate your ottoman with aesthetically beautiful things. How much you can fit on your ottoman will probably depend on its size and your style. For example, if you have pets or youngsters, you may not wish to place tall plants, expensive vases, or candles on your ottoman.
Having movable and appropriate chairs for each segment can be crucial because more homes and flats are going for an open floor plan that shares seating with other areas. Since they can be used as a seat or grouped against a wall with pillows as a couch, ottoman's versatility can significantly benefit this situation.
Create visual interests
By selecting ottomans with various geometric patterns and shapes, homeowners may add visual appeal to their spaces. These ottomans can then be used as individual pieces, in a circle, or in other creative arrangements.
Pick a complementary palette from your walls, artwork, or fabric for simple color combinations. The ottoman a homeowner chooses might also enhance the existing decor in their home or blend in with the furniture immediately surrounding it.
Play with poufs
Poufs are a terrific way to add color and excitement to your home because they are the soft, plush version of the ottoman. You can choose from cozy knitted circular poufs or even a classic, handcrafted Moroccan pouf to match your decor, depending on the style of your decor. Use a single giant pouf or choose three to five colorful ones to provide extra seating for visitors, friends, and family in the living room or bedroom.
Coffee table, extra seating, and storage
You might need extra room to move around if you live in a small room or have a growing family. The solution to your design problems is an ottoman.
The ottoman can serve as an additional sitting space or as a coffee table. Moreover, it is adaptable enough to be moved out of the way when not in use.
You may discover an ottoman to match any interior design because of the ottoman's limitless versatility and upholstery options. If that's hard to come by, you might even discover one with storage. And let's face it, more storage would be helpful for all of us.
Stack books
A beautiful vase looks especially lovely when filled with fresh flowers, a timeless design choice. Stack coffee table books on a tray to play with height and showcase your favorite flowers. To prevent your accessories from falling over, begin with the book that is the widest (even if it is not the thickest).
Make-up and side table
Ottomans are a fantastic solution if you're attempting to conserve space. They can serve as a side table or a make-up vanity when you don't need more sitting. So, you continue to utilize them, although for a different purpose. This tip might assist you in reliably using ottomans to design your home.
Read More: How to Arrange a Small Bedroom With a Queen Bed
Different Types of Ottomans
Storage ottoman
Are you one of those people who usually find organizing the space in their living room challenging? Does your bedroom lack storage space? If so, then this ottoman is the answer.
The storage ottomans are functional as furnishings for your feet to relax on and a place to store things in the living room. You could perhaps take a seat to read and relax for a while. Place your documents, kids' toys, and whatever else you desire within the storage ottoman.
When considering a storage ottoman for your living room, you can choose from a wide range of designs, prints, hues, and forms. Additionally, you can organize a lot of space, place books, and store rarely used items.
Pouf ottoman
The primary usage of a pouf ottoman, typically spherical, is as a footrest. That's all there is to it: place it in front of your chair or a single sofa. From your friends and visitors, compliments will be flooding in. There are always options for covers, including leather and other fabrics, so that you may customize them to your preference.
For the most part, it functions like a knitted bean bag. Pouf ottomans are statement pieces in any space, from the kids' room to your living room. If wheels are installed, it can also serve as a mobile serving table for when you want to have a casual hangout on your deck. It is also regarded as additional seating furniture.
Some outdoor ottomans also provide an incredible feature that may be utilized as a portable refrigerator for your outdoor party refreshments. You can never say "no" to this little piece of furniture because it has many uses.
Cocktail ottoman
This ottoman is also known as a coffee table ottoman. The distinctive element is a more table-like surface that you can use to set food and beverages. Some designs feature a reversible cushion top that flips over to reveal a solid table on the other side, while others feature trivets that perfectly match the surface.
Different Shapes of Ottomans
Rectangular
Certainly, rectangular ottomans are the most versatile type of ottoman furniture. This is mainly caused by their enormous surface area and the quantity of stuff they can carry. Like other ottomans, the rectangle ottoman is available in various sizes, hues, and patterns. They work well as extra seating areas, storage areas, and substitute coffee tables in living rooms.
Cubic
The portable size and added beauty of the smaller square ottomans make them more popular than the larger ones.
Cube ottomans work beautifully as lounge chairs or footstools in the bedroom and playroom. They transition easily between uses and can fit into various room sizes.
Round
The family room or kids' playrooms are the primary settings for a circular ottoman. They frequently have soft or firm top layers and potential storage areas.
As opposed to rectangular ottomans, these are less prevalent. For a distinctive family room centerpiece, you might utilize them to take the place of your coffee table.
Also Read: How to Decorate a Round Ottoman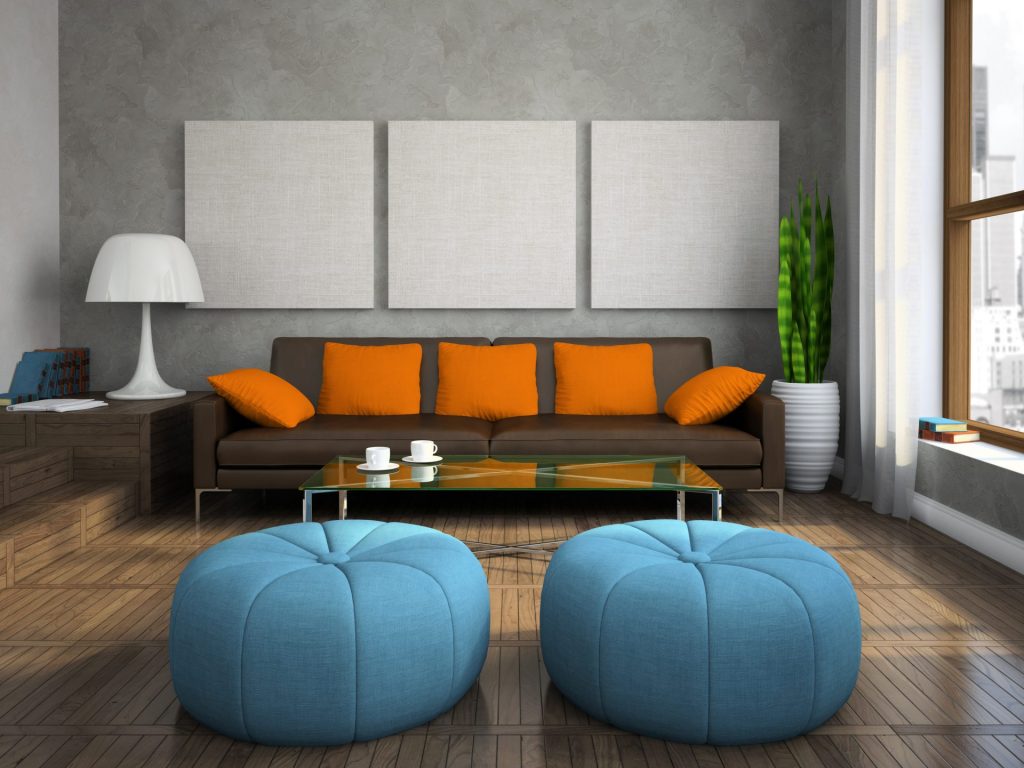 Where Are Ottomans Placed?
Ottomans are helpful for more than just stretching out our feet or taking a nap. If you think of them as more than just footrests, you may use them for various things at home. The front of the fireplace, underneath a console table, next to a lounge chair, in the middle of your living room, and so forth are just a few locations where you might put your ottoman.
Conclusion
If you like propping up your feet, an ottoman can be a better option for your living area than a cocktail table. You'll be able to locate a piece that blends with your home's decor by using these practical ottoman decoration guidelines. Ottomans are a great addition to any home because you can use them for many different things.
We hope this guide gave you creative inspiration on how to decorate an ottoman for your living room or any other space. The ottomans can be adorned with various decorative items and accessories depending on where they are placed in your home.