Ottomans have a lot of versatility and have become a staple when it comes to the living room decoration. Coffee tables are also a must in the living area as they are not only very useful, but they put together the living area very nicely and make it sleek and modern.
Hence, when you combine them, you get a sophisticated piece of furniture to put your coffee cup or decorations on. So, how to decorate an ottoman coffee table? Let's look at the different ways you can style it and make this piece of furniture the center of attention in the room.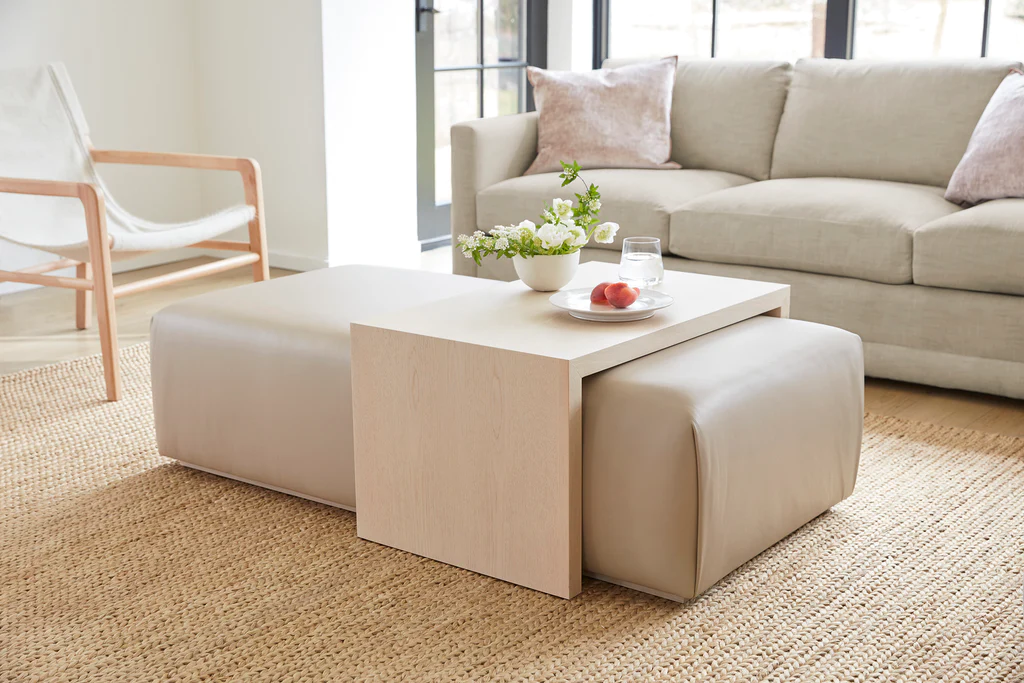 How to Decorate an Ottoman Coffee Table
Ottoman coffee tables make the living space look casual but, at the same time, very modern. They also bring comfort and can be used for various purposes. Let's get into details on how to decorate an ottoman coffee table easily.
Take into consideration the shape of your coffee table
If you have decided to decorate your living space with a rectangular ottoman table, one way to decorate it is to put a tray on it. This is a simple yet effective way, as it adds to the texture of the decor. In the tray, you can also put decorative elements to make it even more visually appealing. Such decorations include a vase, coffee table books, a candle, etc.
In contrast, if you have purchased a round ottoman coffee table, one way to style it is to choose round-shaped objects such as a vase, globe, or round tray. One tip for decoration is that the shape of the tray needs to be the same as the shape of the table. For those who opt for larger ottomans, an interesting way to decorate is to put multiple trays in different sizes.
Put objects in a group
To make a living area aesthetic and fashionable, adding variations of different heights and textures is necessary. What will make your ottoman coffee table stand out even more is placing a group of objects on it, such as ornaments, vases, and candles, and properly arranging them. Doing so will make your decorations balanced and make the place look neat and well thought out. Moreover, you can add books and greenery if that fits your style better.
Place books and magazines
Another simple way to create an elegant aesthetic is to place a book or a magazine on the ottoman coffee table. You can choose them to be your favorite books or magazines or find ones in similar sizes, styles, and colors for a cleaner look. What is more, to add more to the table, you can also place objects on top or next to the books, such as picture frames for a personal touch, candles, and other decorations.
Choose the right colors
The colors play another great role in the aesthetic of the living room. Depending on your preference, you can go for similar and complementary colors or choose to incorporate contrasting colors. That said, if you are more into an elegant look, then a monochromatic design and colors for the ottoman coffee table and decorations might be the best option. However, if you want to add bold designs and more interest to the living space, choosing contrasting colors and patterns will help you achieve that.
Decorate it with a throw
If you are looking for a cozy and inviting look, styling the ottoman coffee table with a decorative throw can be a good option. Not only that, but the throw can be very convenient and practical, especially during cold winter nights. When deciding which throw to choose, you need to consider the fabric of the ottoman coffee table as well as the fabric of the blanket, depending on whether you want a touch of elegance, make a living room chic or add more depth to the space.
Natural elements
Using natural elements in your living area can bring outdoor life inside. You can decorate your coffee table with real or artificial plants and make the space even more lively and beautiful by choosing seasonal flowers. They will not only transform your living space with minimum effort but lighten up your mood and give a pleasant fragrance.
Cushions
Decorating with patterned cushions will also add more color and texture to the space. When it comes to cushions, you can also go for neutral colors or choose bold, vibrant colors to give the space more personality. You can also match the patterns of the cushions with the drapes and select a coffee table that matches well with your sofa.
Read more: How to Decorate an Ottoman
Additional Tips on Styling Ottoman Coffee Table
Now that you have more ideas on how to decorate an ottoman coffee table let's get into some additional tips that can help you out.
Adding a slipcover can also be an interesting choice for an ottoman coffee table, especially because it comes in different colors and patterns, allowing you to change the color schemes as desired
Ottomans made from leather will give the space a timeless and luxurious look, and they are also very durable, which is nice
Another interesting thing to do is match colors from painting in your living room with the color of your ottoman coffee table
To understand what works best, you can rearrange the objects on the coffee table until you find the ideal placement
More tips for styling an ottoman coffee table:
If you have a glass ottoman coffee table, you can place a trendy rug with an impressive design under it
On the coffee table, you can use small lamps or place pieces with LED lights which can be very pleasant to the eyes if you are reading at night or working on a PC
If you need more space in the living room, you can also go for a more lightweight option and choose an ottoman coffee table with a metal frame
When in need of multiple surfaces, you can opt for two ottomans to add more style to the space but also for practicality