A home is a place where you should experience maximum relaxation. Therefore, the aesthetic part of it is pretty important. This is simply because beautiful designs can significantly improve the whole atmosphere.
To achieve this, all you have to be is super creative. Style everything according to your preference. What's best, today's market offers so many things that you can find everything to suit your taste; classic or modern, it doesn't matter.
The process of decoration can be a lot of fun. If you don't know where to start, start small. See how you can handle the role of a decorator. Start from the most used space – the living room. Begin by giving your coffee table a unique look.
So if you are wondering how to decorate a tray for a coffee table, continue to read our article. We have created a simple yet helpful guide. It includes style tips for different designs.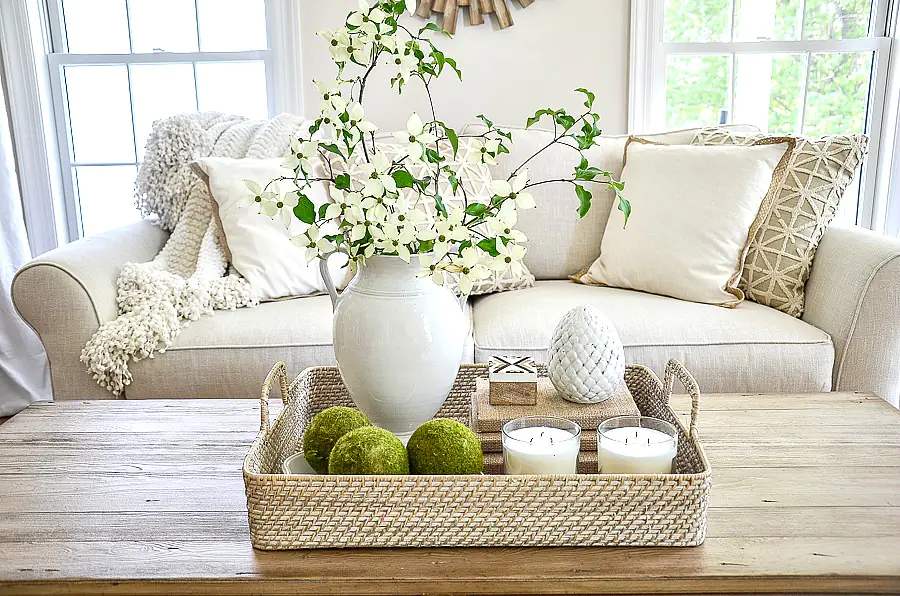 Interior Guide: How to Decorate a Tray for a Coffee Table
Keep it simple
There are a lot of pretty accessories you can add to the tray for your coffee table. However, you can easily create a cluttered look if you don't know what to choose. Adding too many ornaments is something you must avoid.
Your coffee table should look elegant, but practical for usage. Also, it should make your living room even more beautiful. So besides avoiding too many items, we also recommend you avoid adding only large objects.
So, to give your coffee table a balanced look, keep it simple. Pick items whose size varies. In addition, arrange them together like they are one group. This means they should look harmonious.
When it comes to colors, choose them based on your living room. This doesn't mean you must choose the same color. It only means that you should choose decorative items that will suit the design of the room.
You can always go for neutral colors, glamorous gold tones, or even create a charming contrasting look. It's all up to you and your personal preferences.
Natural decorative materials
The natural materials can easily liven up your coffee table. In addition, their charming earthy tones can make your home look calmer and softer. For starters, you can choose your tray to be made out of wood.
Next, if you love flowers, this is the perfect opportunity to add a fabulous bouquet to your tray. We would recommend you go for sophisticated flowers. One of the most attractive ones are Orchids, Hydrangeas, Irises, Carnations, Stargazer Lilies, Spray Roses, Daisies, and others.
If you don't want floral items, you can easily pick any other plants. For example, plants with large leaves are one of the most common choices. Additionally, we recommend you pick plants with a distinguished look.
You can choose Dracaena, Ficus, Lucky Bamboo, Hoya, Zebra plants, etc. Aloe Vera is considered to be a great option to enrich the look of your coffee table. Also, Moss Balls are quite a popular choice among people.
To give your coffee table a more natural look, you can also twig balls or mini topiaries to the tray. All of these green items can give a perfect organic look to your home. Also, the coffee table would come out simply pretty.
Read more: How to Decorate an Ottoman Coffee Table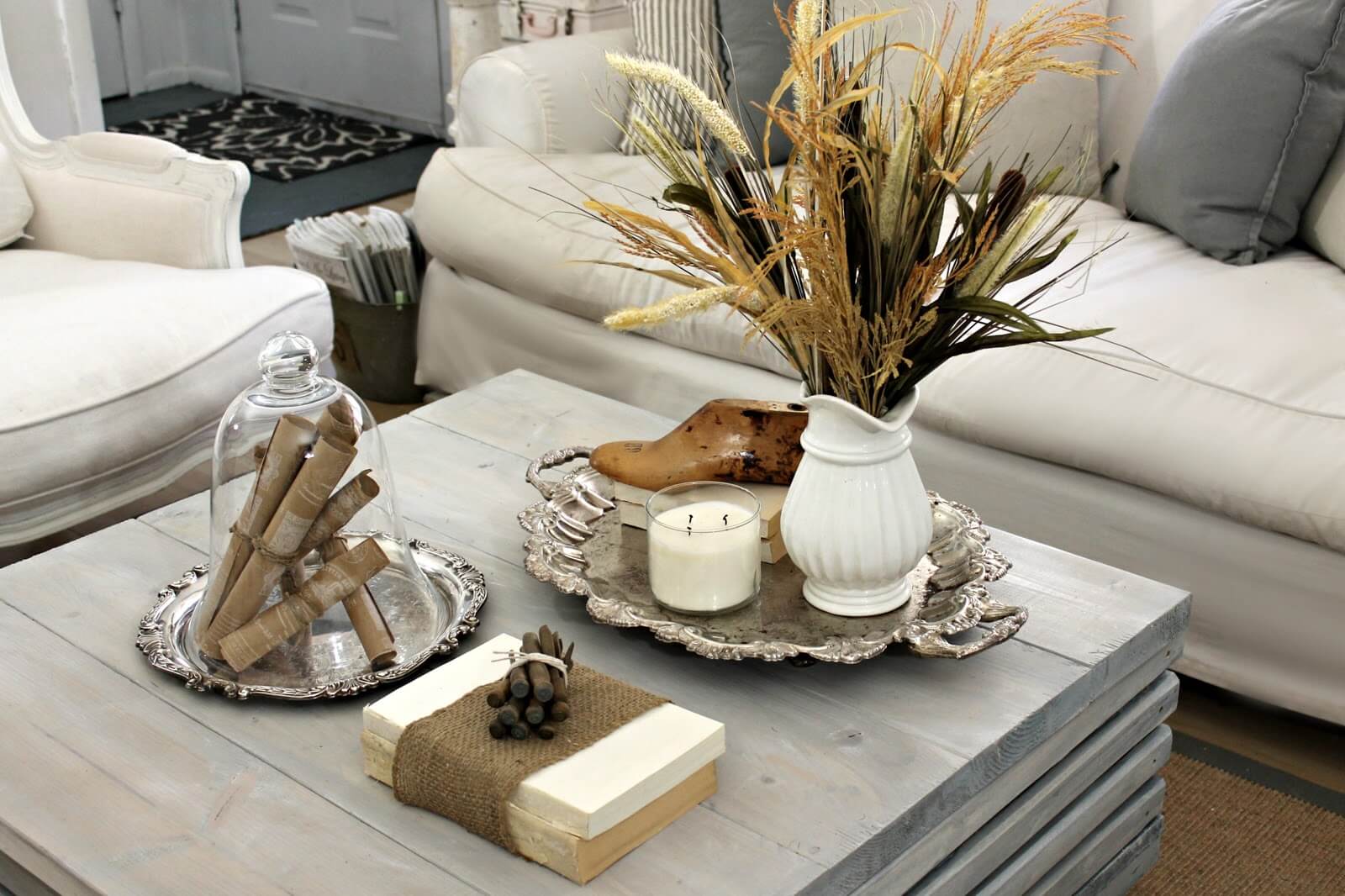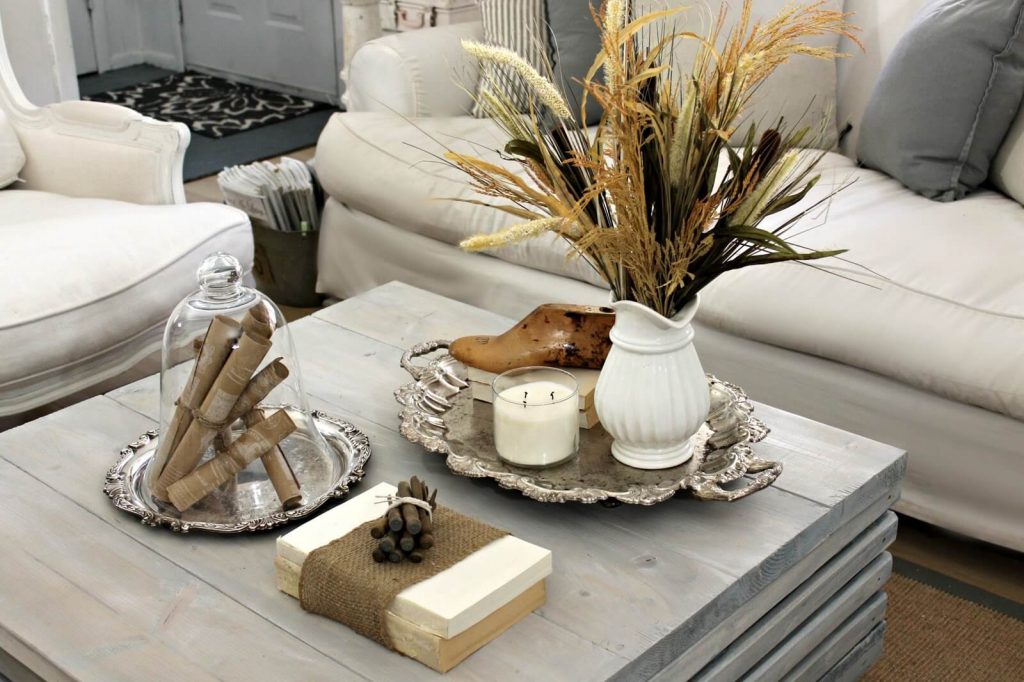 Give it an urban touch
If you last visited Paris or New York and fell in love with the city, now your coffee table can easily remind you of it. Simply get inspired by your favorite place and give your coffee table an urban look.
For example, you can add a mini landmark or flag-inspired items like bowls, candles, books, coasters, etc. From the Eiffel Tower to the Pyramids, you can easily make your coffee table look unique.
If you have visited such cities, you can add any bought souvenirs to the tray. This will make it all look even more authentic. But of course, your coffee table doesn't have to look like a souvenir shop.
You can also choose to style the table based on the country's style. For example, Italians love the warm tones and various geometric designs. So you can add a marble piece, a lemon printed bowl, and some Dolce and Gabbana-inspired accessories to your tray.
Nautical charm
If you love the ocean and the fish, then dive deep into the white and blue decor. Choosing refined porcelain with printed waves is an ideal way to start. You can go with a unique vase or even a pretty ring dish in the form of a shell. You can also add a set of resin coasters to use them any time.
The market offers lots of sea-inspired decorative items. Therefore you can add a mini surfboard, a starfish, a treasure chest, a boat, a boat's steering wheel, and similar. These kinds of unique items can easily enrich the look of your coffee table.
When it comes to the colors, we mentioned white and blue. But you can easily spice up the look with red, silver, or golden items as well. Adding wooden items that resemble boat life will also do the trick.
Simply pay attention to the style of your living room. When choosing white and blue colors, go for the ones that best suit the room. For example, you can choose decorative items in navy blue paired with golden pieces.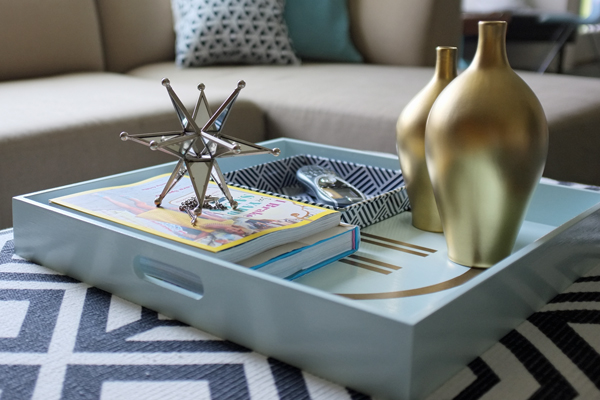 Minimalistic and neutral tones
If you don't want a colorful look, you can always go for neutral tones. The minimalist style is quite popular among many customers. The best way to achieve a natural yet elegant look is to add mini sculptures.
Besides the sculptures, you can add a white or black vase. Also, you can pick your candles to be classic plain ones. Additionally, you can add books, chess-inspired items, or glass decor to the tray. All of them will give your coffee table an exquisite look.
If you don't want many items and dislike mixing objects, then we recommend you go for one statement piece. Choose one unique large object that best reflects your taste. You can always put a large vase with your favorite flower.
Moreover, an eye-catching sculpture is another way to go too. Sometimes when a living room is too cluttered, or you simply nurture an extremely minimalist style, the one statement piece is the best solution you can choose.
Antique look
If you are a fan of ancient history, now you have the perfect opportunity to have part of it in your home. Decorating the tray for your coffee table in an antique style is easier than you think. It's all about choosing rich-looking decor.
Start with picking out a vase for the flowers. We recommended a vintage metal gold one. It won't steal the spotlight, but it will definitely make the coffee table look very glamorous. Next, you can add some unique dark gold or bronze sculptures.
Pyramids or handcrafted pieces are also excellent choices when going for an antique-themed look. Objects like a sculptured form of Buddha or an elephant decorated with gemstones will also give the coffee table tray a unique look.
If you haven't already picked out the tray, you can always choose an elegant classic one. Since the tray is the base of the whole decoration process, this way, it will complete the whole antique look. We recommend you pick a tray with carved sides.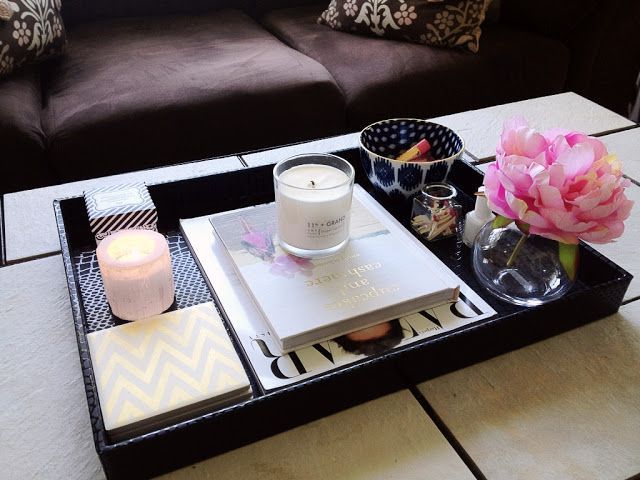 Rustic style
Rustic items can easily make your whole living room one step closer to the charming countryside. The cheapest way to enrich its look is by putting unique pieces on the tray of your coffee table.
You can add a set of two smaller ceramic vases. Next, pick some beautiful plants to complete their look. You can choose Cacti for this type of style. Furthermore, you can add any wooden item you would like. A small wooden house, dark-colored bowl, candles, etc.
We recommend some animal-inspired sculptures to finish the look. Regarding the colors, here you can also go for a colorful look or pick neutral colors. It all depends on the style of your living room, as well as your personal preference.
Also, you can add little wooden boards that have words written on them. It can be words that best reflect your personality or even the name of your family. We also recommend you add glass accessories to keep the balance between the wooden objects.
Adding a family photo is an excellent idea too. You can choose a wooden frame for that matter. So now you know how to decorate the tray in a charming rustic style.
Space theme
Connecting your living room to the extraordinary universe is always a good idea. Therefore, you can always add space-themed items to the tray for your coffee table. You can start by adding a plant with a unique, rare look.
Next, you can put a mini space shuttle model or a marble set of the solar system. You can easily find decorative planet candles on the market too. A top-notch detail we would recommend is a space-theme moon lamp. This will definitely satisfy your astronomic taste.
When it comes to colors, there is no rule. If you are adding a mini model of the solar system, you can also make the other items in different colors. If you want to add solely sun or moon items, then you can achieve a more elegant gold and black look.
Other items you can add are books about astronomy and a vase in the form of a half moon. You can also add a small bowl with starry print. In addition, you can always put little planet chocolates to finish the look of your coffee table.
The same theme as your living room
Throughout the whole article, we mentioned that you should keep in mind the style of your living room. We simply meant that when decorating the tray for your coffee table, you must ensure that the final result doesn't stand out from the whole picture in a negative way.
You can decorate the coffee table in a style different from your living room, and yet, in the end, it should all look balanced. If you think the mentioned themes sound like a hard task, you can always go for the same theme as the room itself.
So if your living room is styled in white and blue, pick those exact same tones for the decorative items for your coffee table. Pick white and blue flowers for the vase. Next, you can add a blue bowl to the tray and add white stones to it.
If your living room is based on warm tones and wooden furniture, then decorate the tray in the same way. Pick a wooden vase with orange flowers. Furthermore, you can add a gorgeous sculpture of a horse and add two or three books.
Also read: How to Decorate a Rectangle Living Room
Conclusion
Decorative objects can easily help make your home look like a cover of Elle Decor or Architectural Digest. What's more, you can achieve a glamorous or classic look without spending much money.
This is because the market today offers a wide range of items. So you will have no trouble finding what best fits your taste, whether you want to go for a more classical look or for something totally opposite, like a unique contemporary appearance.
You can achieve that by adding small decorative items to different areas of your home. One of them is precisely the tray for your coffee table. In this post, we showed you how to decorate a tray for a coffee table in different ways, and as we mentioned, you can add various items and make it look super gorgeous.
Make sure the items at the end look like a harmonious set you bought from the store. For that matter, you must pay attention to their tones, their shapes, and as well as their sizes. A balanced, rich look is what you should always aim for.