If you live in a smaller space, and instead of a couch, you have a daybed, you have come to this article at the right time. As we are all about saving space and not having thousands of different couches at home, we wanted to use our expertise and write this article to help people learn how to make a daybed look like a couch.
You can make a daybed look like a couch by placing pillows and blankets, covering the legs of the bed, including side tables, and, most importantly, staging it to perfection.
In continuation, you can read some tips and tricks written by experts regarding how to turn your daybed into a couch most efficiently, so keep reading and finally make your bed look like a couch from interior design magazines.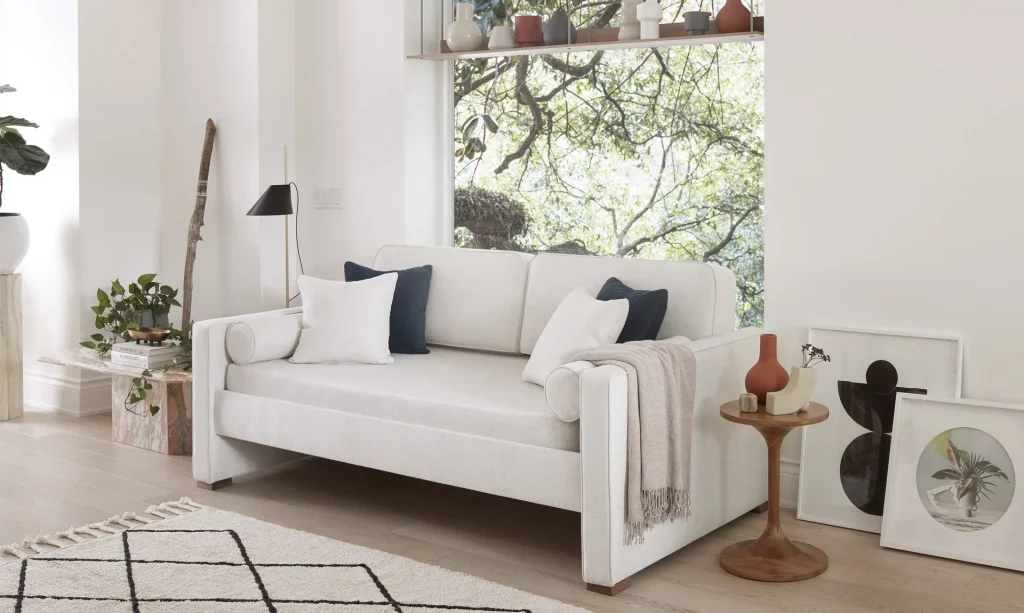 How to Make a Daybed Look Like a Couch
Add pillows and blankets
Adding pillows should be the first step that you take. Placing bigger pillows on your daybed is also a great hack if your bed does not have a backrest, so the pillows will look and act as if there is a comfy backrest.
While choosing pillows, it would be best to try to match them to your current room style and design so that they do not draw more attention than needed to your bed. You want to make it look like your 'couch' is cohesive with the rest of the decor.
When talking about pillow shape, the most effective shape is a rectangular pillow, as it does not move and blends perfectly with the shape of the couch.
Large pillows
Placing larger pillows on your daybed is a great hack if your bed does not have a backrest, so the pillows will look and act as if there is a comfy backrest.
If you decide on bigger pillows, you should start placing them against the edges of the bed. Be careful, as bigger pillows can make your bed look smaller, so place them only if needed. Usually, instead of buying these large pillows, you can just take the floor or sleeping pillows and place them all around your bed to create the illusion of a couch.
Smaller pillows
If your daybed has a backrest, throw pillows are the best choice when turning a daybed into a couch. By using smaller pillows, you are saving more sitting space, and at the same time, your bed looks significantly larger, just like a regular couch.
When it comes to the smaller pillows, you can be more playful with them and choose accent colors that would complement the rest of your room's design. This way, the focus will be on the pillows, and the bed will simply blend in with the rest of the furniture.
Blankets
Who does not like the cozy look and feel of a throw blanket? Therefore, you should consider adding a throw blanket to your bed to make it look more comfortable and inviting. Also, when a throw-on blanket is placed on a daybed, it immediately becomes a couch.
When it comes to the decor of the blanket, you want to keep it simple but still in your room's color palette. Lighter shades, such as white, pearl white, beige, etc., are an ideal color for throw-on blankets as their effect of turning your daybed into a couch will be the greatest.
If you want to achieve an opposite effect and make your couch the first thing people see, then decide on bold colors and patterns that would add the perfect contrast between the room and the bed.
Read more: How to Style Pillows on a Couch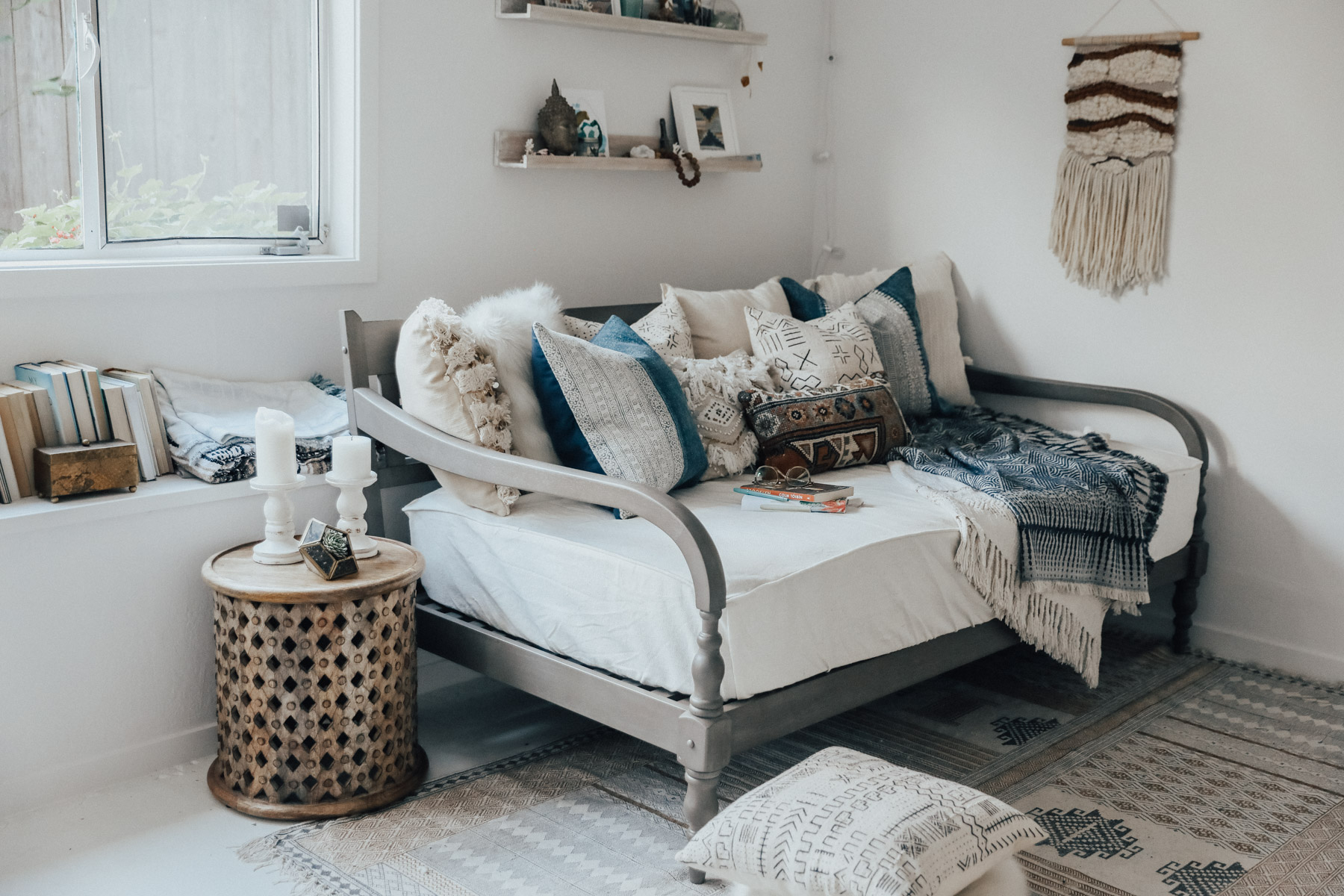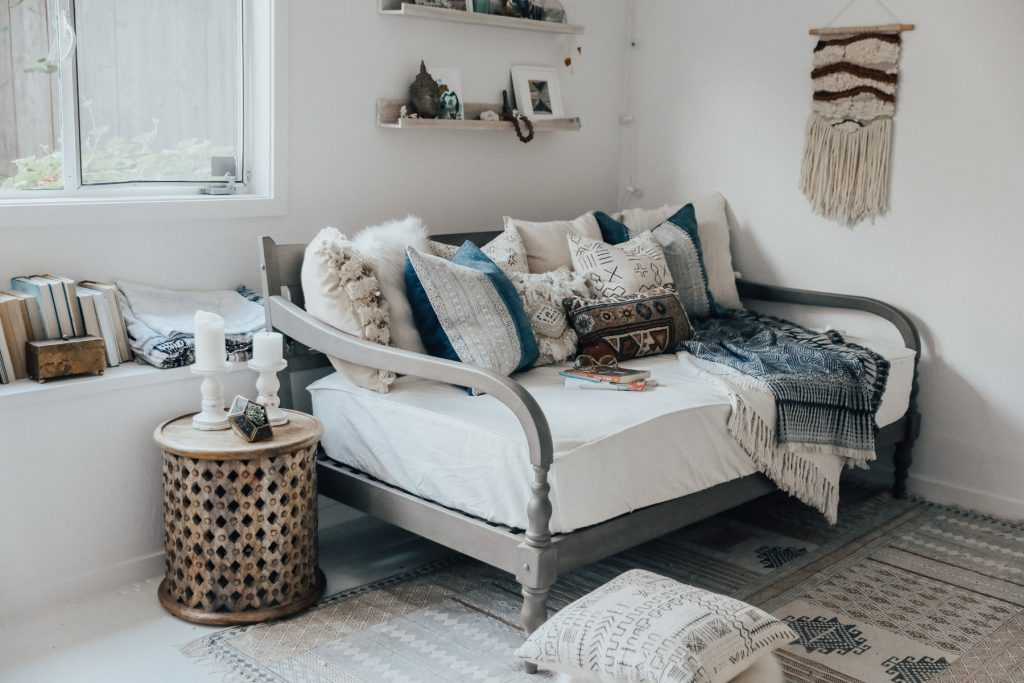 Cover the legs of the daybed
One of the smartest tricks you can do to get rid of that daybed look is to hide and cover the legs of the daybed. Although you can do that in many different ways, using a bed skirt is the most effective.
Here, the most important thing is that you choose a bed skirt that will not stand out, meaning choose a bed skirt that blends with the colors of the couch. Choose a cover with no patterns and no crazy textures.
Another benefit of adding a bed skirt is that it acts as a great cover-up for your space storage, so you can place everything you want under it, and no one will see it, while your room looks tidy, spacious, and uncluttered.
Include side tables
As side tables give this amazing homier look, you might consider adding one on each end of the bed to make it look more casual. Placing a side table is also beneficial because they have a lot of storage space within them, so you can put lots of things in its drawers, such as valuables, jewelry, or money, as most of these tables do come with a lock.
When decorating the side table – the simpler, the better. You can place a glass of water or one book to look as nonchalant as possible. Because side tables are often used as showcase decorations, they need to be simply decorated with basic items such as lamps, clocks, books, etc.
Establish coffee table
If a coffee table does not scream couch, then we do not know what else does. The oldest and most loved interior and exterior design combo is a couch plus a nice coffee table. Therefore, by adding a coffee table in front of your daybed, you will immediately turn it into a couch, and people will feel like it is indeed a couch.
Table design
When it comes to the design of the coffee table, you can be more creative and free and choose the one you like that will go well with the couch and the overall design of your room. You can choose a wooden one, metal, glass, plastic, or whatever catches your eye best.
Decorating your coffee table should also be fun and not a restricted process. Choose a variety of decor pieces and place them nicely on the table. You can choose one or two statement pieces that would steal the attention of everyone in the room and then choose the rest of the table decor based on those statement pieces.
Stage it to perfection
Bolster pillows
If your daybed lacks arms, worry not. You can create the illusion of arms by adding one bolster pillow on each end of your bed, and when you cover them with a throw-on blanket or just leave them like that, guests will think as if they are the arms of the couch. Depending on your style and preferences, you can choose mono-colored or multicolored bolster pillows with a pattern.
Rug
Laying a rug under the coffee table is a great way to make the daybed look like a couch. Choose a rug with similar or complementary colors to your room, and that's it.
Picture
If you have conditions to put a framed picture above the bed, that would be awesome. Choose a piece that wakes feelings in you, frame it, and put it on the wall. You can even include smaller wall shelves decorated with candles, photo frames, books, etc.
Plant
Lastly, you want to finish the decorating by putting a plant or greenery, real or artificial, on one of the end tables. With plants, you can not go wrong. Choose the one you love the most, pick some eye-catching plant pot or vase, and enjoy the happiness nature brings to your room.
Also read: What Is a Settee?
What Exactly Is a Daybed?
Daybeds are space-saving beds that double as a bed and sofa. These beds usually come in the size of regular twin beds but can be crafted to fit other mattress sizes such as full, twin XL, queen, and sometimes even king. Daybeds are multifunctional and can be used for seating, lounging, and reclining in common rooms. They can be made out of metal, wood, or a combination of them both.
Benefits of having a daybed
Thanks to their multifunctionality, daybeds are the ideal replacement for regular beds or sofas. One of the most important benefits of having a daybed is placing it in the tiniest of spaces and corners where a couch would not fit.
Next, you can use the daybed as a relaxing bed in your sunroom or even on your patio, and you will be able to have the comfort of a bed but still not look as if you have a real bed outside your house.
Another benefit of daybeds is their storage space. As most of these beds come with generous storage space, you can free up your room of many objects, books, clothes, and whatnot that just linger all around your room, making it look messy and cluttered.
Conclusion
In this article, you can read everything you need to know regarding a daybed so that you can make the most out of the daybed you own. With our expert tips on how to make a daybed look like a couch, we do not doubt you will have fun and enjoy the process from beginning to end. The ultimate thing left to do is to turn on your creativity mode and turn your daybed into the most beautiful couch you have ever seen. Happy decorating!