If you've been searching for a bed that won't take up much space in your room, then a trundle bed should be the right choice. The function of a trundle bed is to add extra sleeping space without buying a new bed and frame.
With trundle beds, you may maximize space while staying within your budget, thanks to the drawer and bed combination they provide. In this article, you'll find out what is a trundle bed and all of the different types of trundle beds. Read on to find out more!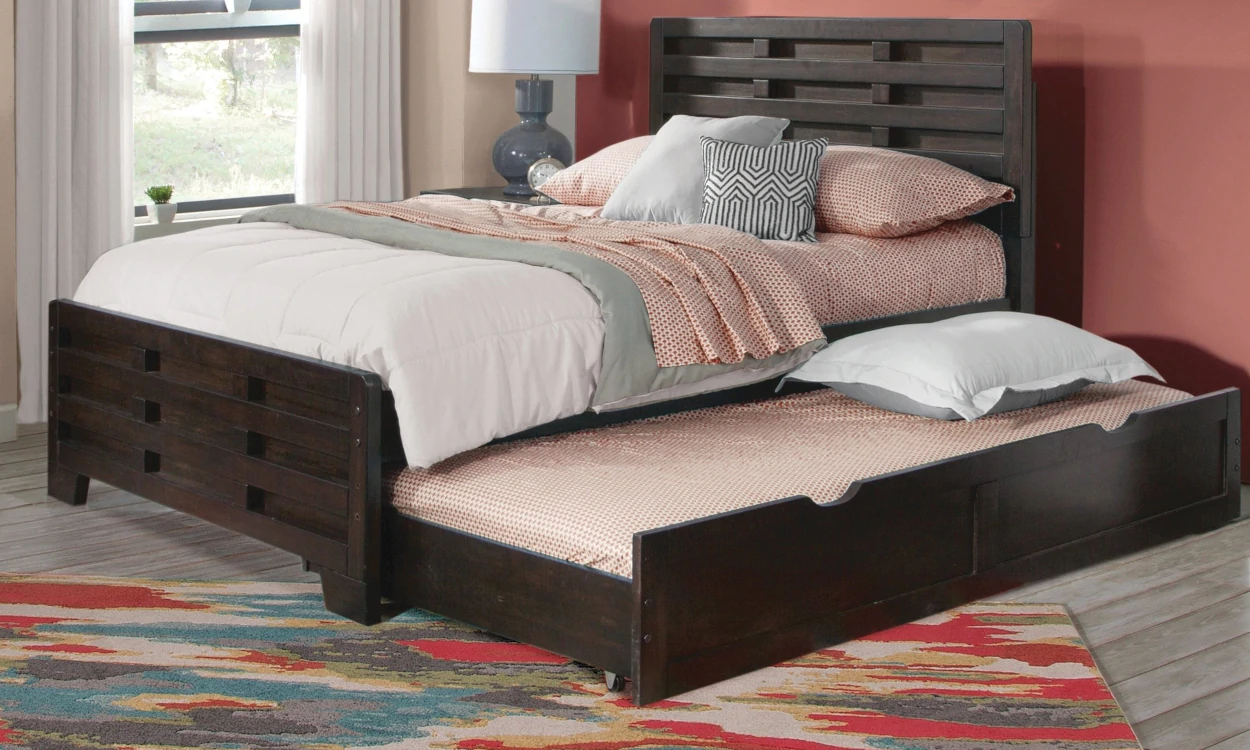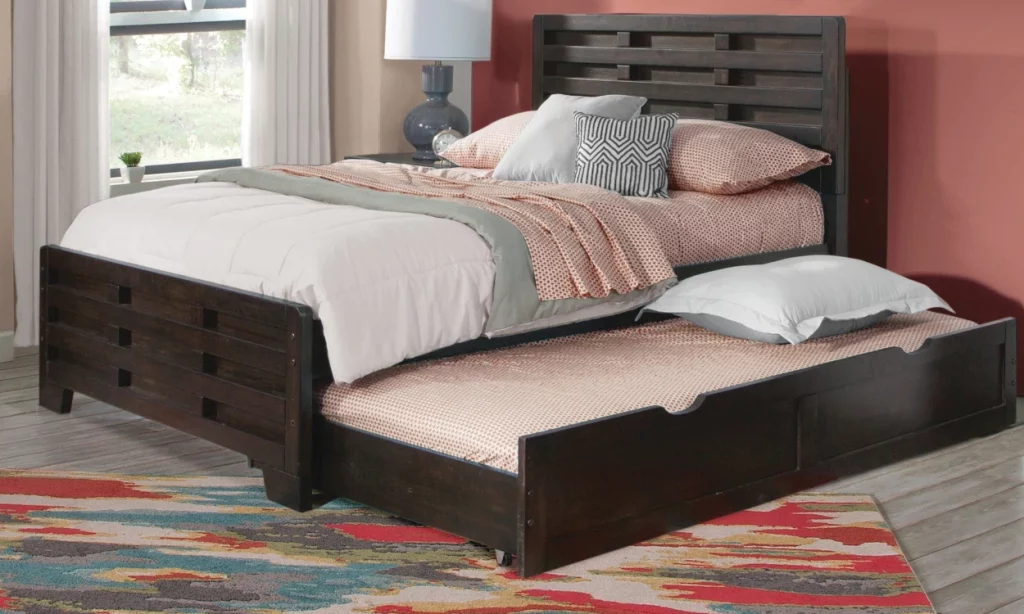 Image Credit: overstock.com
What Is a Trundle Bed?
A trundle bed is a mattress and platform with wheels that slide underneath a regular bed or daybed. In the 16th century, trundles were described as having small wheels that could support a big load. The word "trundle bed" refers to a compact, mobile bed.
Platforms for trundle beds are typically fitted to larger beds so that the trundle can easily roll under the higher bed. Most trundles are twin- or full-sized and are as low to the ground as they can be. The thickness of mattresses is between 6 and 8 inches to maximize under-bed space. A mattress may occasionally be only 4 inches thick.
Trundle beds come in two basic designs. The trundle drawer is pulled out and maintained in its low-profile configuration. It is impossible to raise this bed to the same height as the main bed. Slide-out pop-up trundle beds are still available.
However, you can adjust the height of these beds to your liking. Although the beds typically sit low to the ground, they can also have a pop-up feature that allows a twin bed to become a split king bed. To suit the requirements and preferences of each sleeper, you can alter the height. In most situations, you'll want to raise the bed to be the same height as the main bed.
Types of Trundle Beds
Daybed
A daybed is a bed frame with three sides that resembles a couch or a seating area. These beds often look more attractive against long walls and have a beautiful appearance. Even some daybed types have been used as couches in living rooms; all you need to do when you're ready to sleep is add pillows and blankets. 
When there is room beneath the bed frame for another mattress to be hidden, daybeds can easily be converted into trundle beds. The most typical size for daybeds is twin, although you can occasionally find them in full or queen sizes.
Sleigh bed
The headboard and footboard of sleigh beds are gently curved outward, giving your bed a sleigh-like appearance. Sleigh beds typically have larger bed frames, making it simple to convert one into a trundle bed. However, some models come with a trundle built in.
Captain bed
Captain beds make use of available space by including several storage options, such as drawers or shelving space in the headboard. For studio apartments or tiny spaces, these beds are ideal. These beds come in twin, full, and occasionally queen sizes, just like the others.
To maximize storage capacity, a captain's bed has a frame with shelves on the headboard and drawers on either side. Trundles are not always a part of captain's beds, but some are. The mattress is probably raised off the ground significantly to make room for extra storage and trundle. Captain's bed frames are excellent for saving space and are helpful if you require more storage.
Bunk bed
Most people can sleep on bunk beds with a trundle, especially if you discover a full-size model. This bed is ideal for the ultimate kid's sleepover or a studio apartment you share with three other people. But make sure you have a ladder or another way to reach the upper bunk.
What Is the Purpose of a Trundle Bed?
Having a trundle bed, you can store an extra bed without taking up more room. In a trundle bed, one bed is stored underneath another for added storage and can be unzipped if you need more sleeping space. Since many may wonder what is a trundle bed and what's its function, here are some of its purposes. Choose a trundle if you require additional sleeping space but want to conserve floor space.
A trundle bed may or may not be appropriate for you, depending on a few things:
Do you frequently entertain overnight visitors, or do your kids host sleepovers?
How frequently do you host overnight guests if you do?
A trundle bed would, at first, make sense if you answered positively to the first question. If your response to the second question was "frequent", you might want to skip the trundle and buy a real bed and mattress for visitors.
A trundle bed is essentially two beds because of its two-in-one design, one on top of the other. The lower bed will consist of a thin platform on wheels, while the upper bed will be a conventional bed with a conventional bed frame. The trundle just slides out from underneath the top when you need to reach it.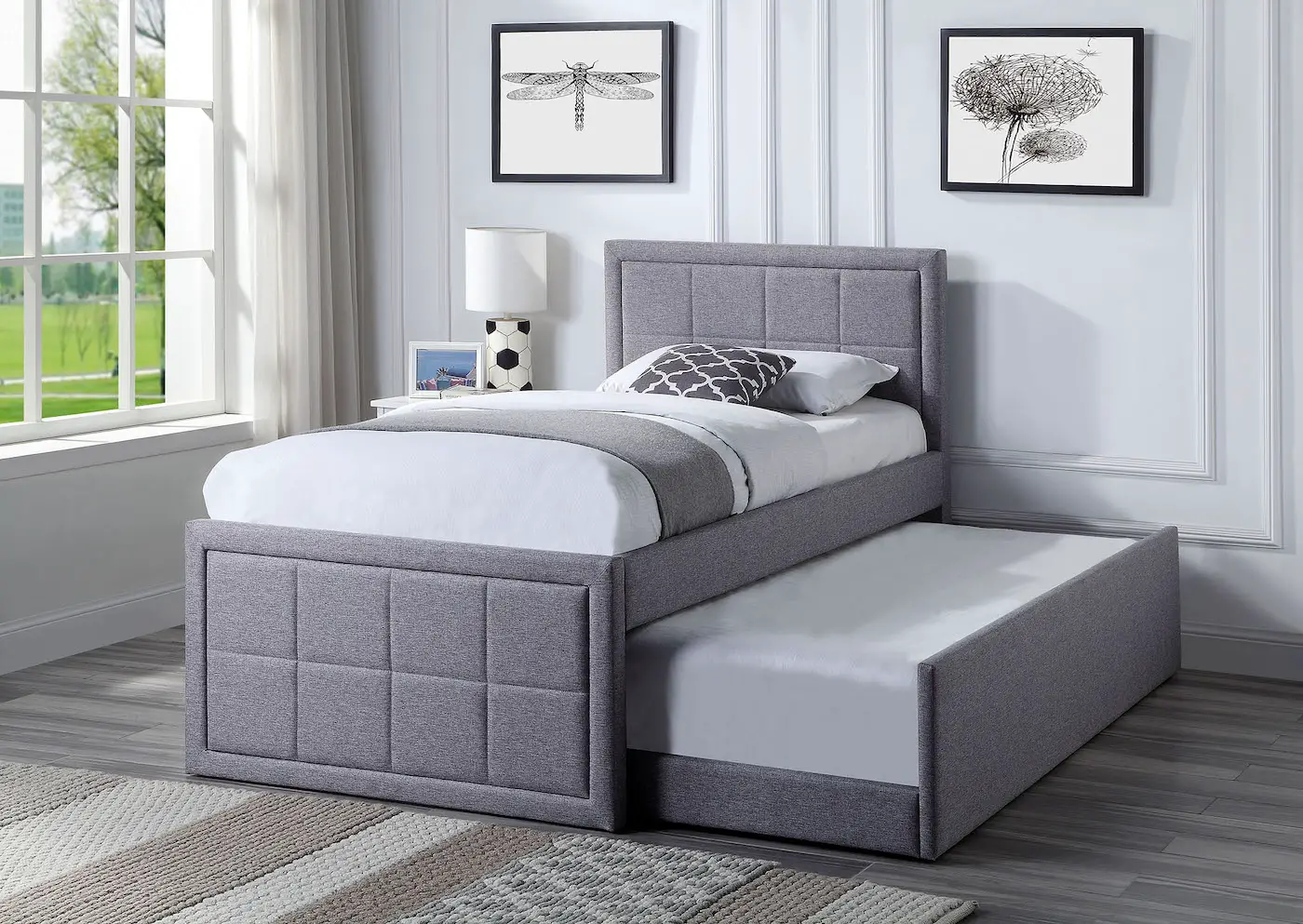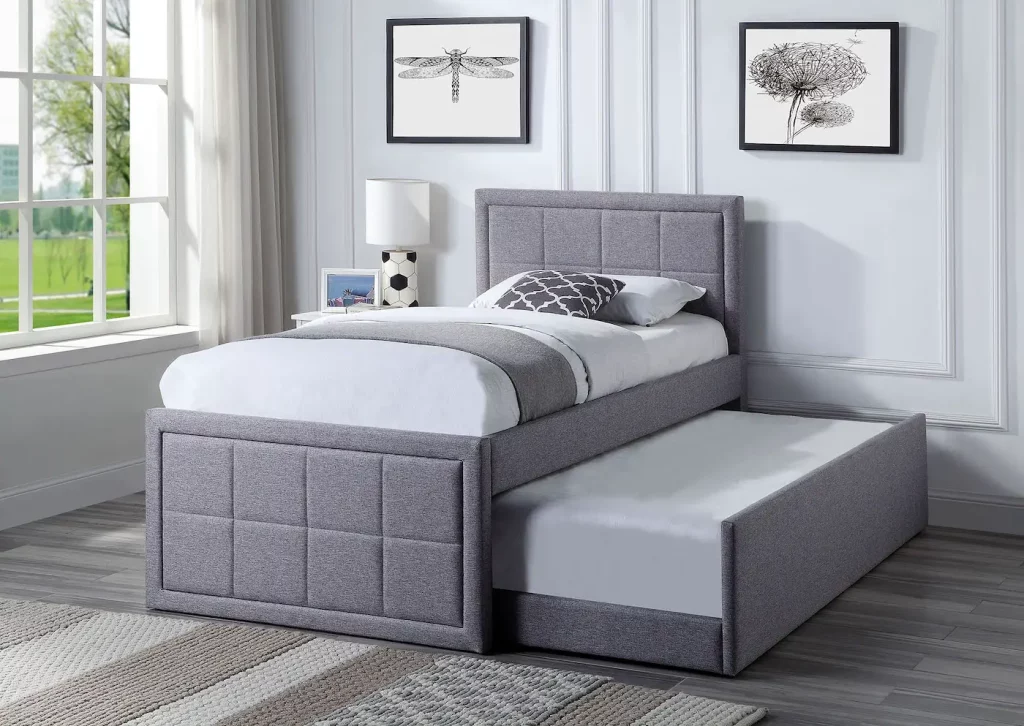 Image Credit: parker-marker.com
Advantages of a Trundle Bed
Trundle beds are a wonderful piece of furniture for any home since they serve several purposes, including storage space and a comfortable place to sleep for visitors.
Maximizes smaller spaces
Trundle beds are an excellent item of furniture when you have a compact home, such as an apartment or studio. Two individuals can sleep on a trundle bed. You don't have to worry about having a spare room for guests or relatives because you can keep one bed below the other.
Additionally, a trundle might be safer than a bunk bed if you have kids who share a small bedroom. There is no reason to be concerned about your kid falling. All you have to do is roll the trundle out from under your bed when needed.
Additionally useful as storage in a tiny house are trundle beds. If you don't have any extra space in your house, they may come with built-in drawers or shelves for storing things. Where a second mattress would typically go, you can keep even more stuff if you don't need the additional sleeping space.
Multipurpose
The adaptability of trundle beds is one of their appealing qualities. You can use a trundle bed as a daybed or couch lounge during the day and a sleeping area at night, depending on the style you choose when you buy it. When not used as a second bed, the trundle can also be used as a place to store things like toys, blankets, or clothing.
Cost-effective
A trundle bed is less expensive than two individual beds. Although it costs more upfront than a typical single bed because it can accommodate two people, it is a more cost-effective solution.
You won't need to furnish or decorate a full guest room if you have a trundle bed, which will also save you money. While trundle beds are more expensive than air mattresses or futons, they are also more sturdy and comfy.
Awesome for hosting guests
Trundle beds are more practical, comfy, and simple to use than other guest beds, such as futons or air mattresses, especially if your kids have sleepovers.
Disadvantages of a Trundle Bed
Trundle beds have several advantages, but they also have some disadvantages. Trundle beds only sustain about 250 pounds, a relatively modest weight capability. Thus, larger adults cannot use trundle beds without running the risk of them breaking.
Additionally, trundle beds call for a thin mattress type, which may not offer adults with back problems enough cushioning or spinal support. However, kids are lightweight enough to appreciate resting on a thin mattress.
Most trundle beds are low to the floor, making it challenging to sit down or stand up for individuals with limited mobility or chronic pain. For this reason, a trundle bed may not be suitable for everyone, especially the elderly.
Trundle Frame
Trundle frames are classified into two types: pop-up and drawer. The pop-up frame has an adjustable height, whereas the drawer frame stays close to the ground, even though both versions have wheels and are kept beneath the bed.
Pop-up frame
Pop-up frames can be raised to match the height of the main bed as they emerge from underneath the bed. A king-size bed can be created by combining a twin main bed with a twin trundle bed. Couples who wish to share a bed at night but require additional privacy during the day may find this handy. The two mattresses can be challenging to align in any case. Use a bridge pad and purchase wheel locks for the trundle to combat this.
Drawer frame
The most common frame type for trundle beds is the drawer frame. This frame has additional drawers for other objects and the mattress's big drawer.
Alternatives to Trundle Beds
Customers wishing to provide guests with a bed may want to have a look at some alternatives to trundle beds:
Air mattresses
While temporary air mattresses are frequently less expensive and easier to store, they are typically less comfortable and long-lasting. Air mattresses can be used as trundle beds or on their own. Consider getting a big air mattress if you need to sleep taller or heavier people. An air mattress can be put up in your living room or on the guest room floor. Air mattresses are inexpensive, portable, and simple to put together, as was already said.
Sleeper sofa
Similar to a trundle bed, a sleeper sofa or pull-out couch saves room and may come in sizes greater than a twin. The frame and mattress of a sofa bed are folded out, and the cushions are taken out. The mattress on a pull-out couch is typically relatively thin, which limits comfort.
Futon
A futon is similar to a sofa bed. The only distinction is that it uses the same mattress in both arrangements.
Murphy bed
A murphy bed is useful in a cabinet to store a frame and mattress vertically. It may offer a new appearance that complements many home areas while providing comfort on par with a trundle bed.
Cots
Cots are a portable and affordable option for temporary housing guests. A cot won't be cozy or provide much support for prolonged sleeping. The weight capacity of a cot, which can range from 100 to 600 pounds, is higher than that of a trundle bed. It's best for children.
Are All Trundle Beds the Same?
Trundle beds differ from one another. Some are built as a complete unit and provide a "bed underneath a bed". These full sets have a bigger frame in addition to a trundle frame and mattress that can slide underneath.
Additionally, trundle beds can be purchased separately from the bed they will fit under. You can buy the frame with or without a mattress. To ensure everything will fit, people buying a separate frame and mattress should carefully measure their available space.
A trundle bed's height and size can change as well. Some trundle frames are designed to stay low to the ground, while others may be pushed out from under the other bed and raised to a height more in line with standard beds.
Additionally, given that they can be constructed with various levels of quality, not all trundle beds are created equal. Whether a trundle frame is constructed using robust, high-end materials or relatively lower-quality but frequently more economical elements might affect its weight rating, appearance, and lifetime.
Conclusion
For visitors or young children, trundle beds are more practical. Additionally, you can use a trundle bed rather than equipping a whole guest bedroom. Most trundle beds have plenty of storage; some even convert to sofas or sitting areas. Overall, they're a cost-effective and space-saving choice.
As can be seen, trundle beds are a piece of excellent furniture for families with children or those trying to maximize space. Remember to ask about shipping and setup whichever brand you buy it from since this is such a huge and substantial piece of furniture.
We hope that by reading this article, you better understand what is a trundle bed, its concept as well as its advantages and disadvantages.