When remodeling and making home improvements, you want to have all your options on the table. If you are shopping around for a bed, you must inform yourself about the different types of beds.
Despite the regular sizing options like twin, full, queen, and king beds, there are also many other categories of beds. You can get a waterbed, a bookcase bed, a Murphy bed, a convertible one, a round bed, etc.
But have you ever heard about a sleigh bed? You are probably wondering what is a sleigh bed, and worry not, as we will answer your question quite shortly. So, let's get started!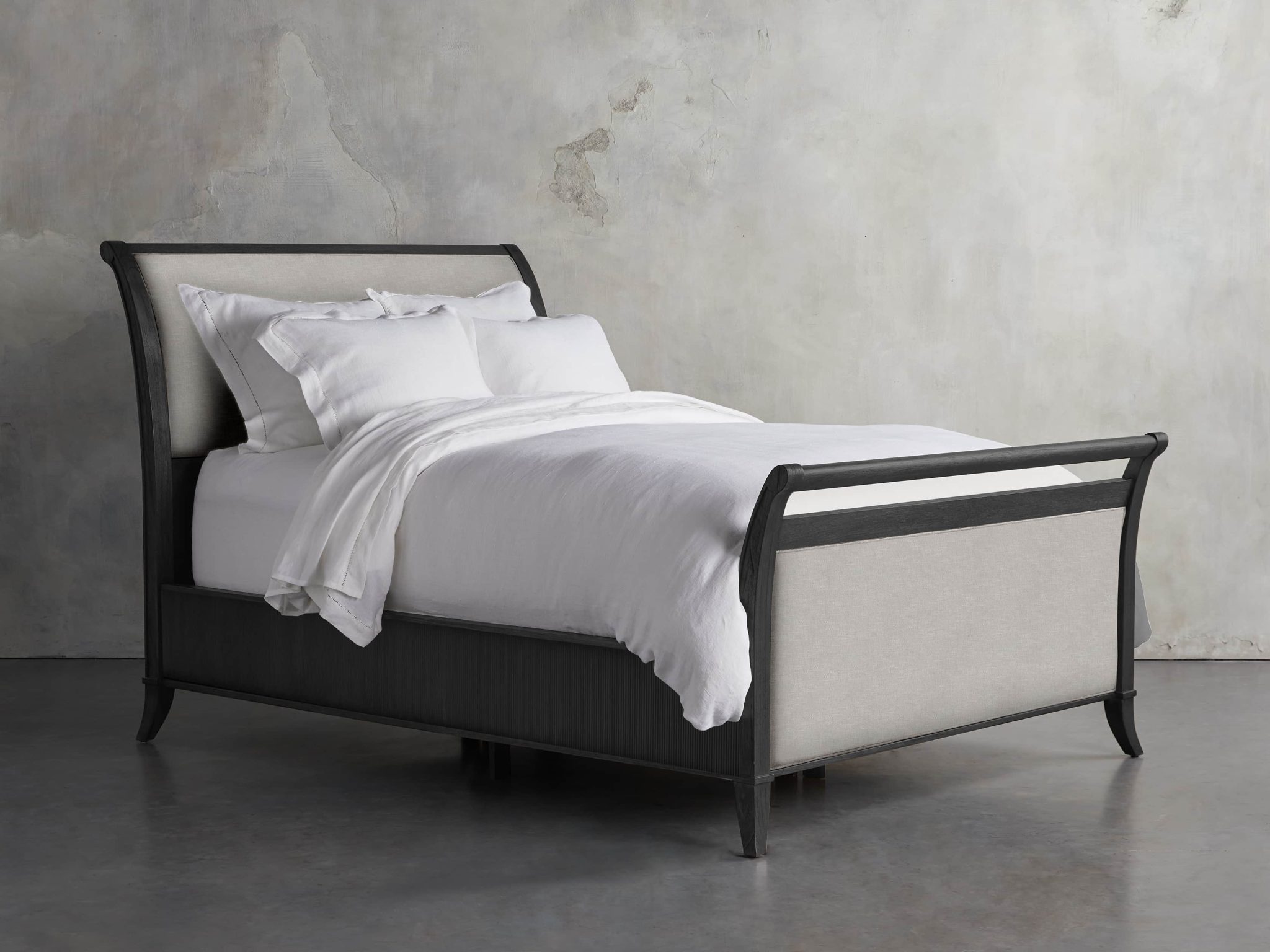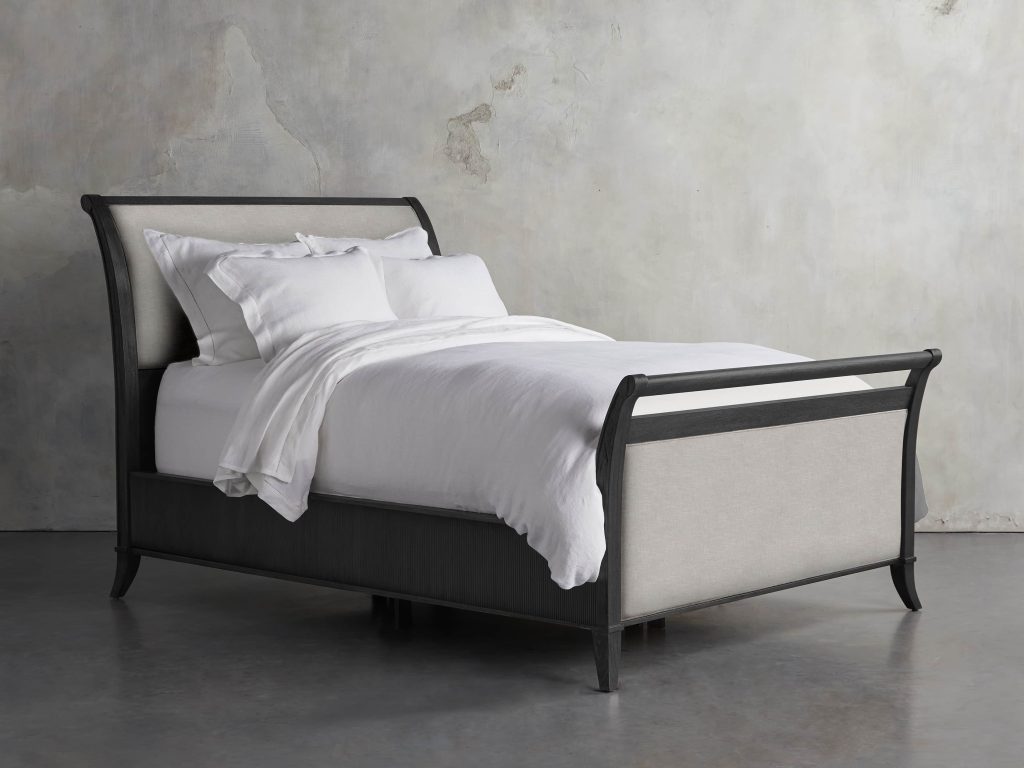 What Is a Sleigh Bed?
A sleigh bed is a particular bed style with curved or scrolled headboards. Given the curved headboards and feet, the sleigh bed resembles a sled, where it got its name.
The sleigh bed design was created in the early 19th century, under the influence of the French and American empires. The empire style draws inspiration from ancient Rome and Greece, as the bad design looks like it belongs in some ancient museum.
In terms of material, the sleigh bed is often made of wood, adding extra weight to the frame. Nowadays, sleigh beds are made from iron, steel, and aluminum finishes, with significantly less expressive curves on the feet and headboards.
Different Sleigh Bed Styles
A sleigh bed will bring richness to your bedroom, making it an astonishing centerpiece. With its curvy design and scrolled feet, the traditional sleigh bed will help you achieve a rustic style.
Nevertheless, rustic isn't all a sleigh bed can be. With modern design, many sleigh bed variations help you reimagine your sleeping area. You can choose from a broad palette of material finishes and colors.
Although sleigh beds give out an old-fashioned appeal, you can easily adapt them to your bedroom's style and make a bold statement in the sleeping room. Therefore, let's look at the styles of sleigh beds you can get.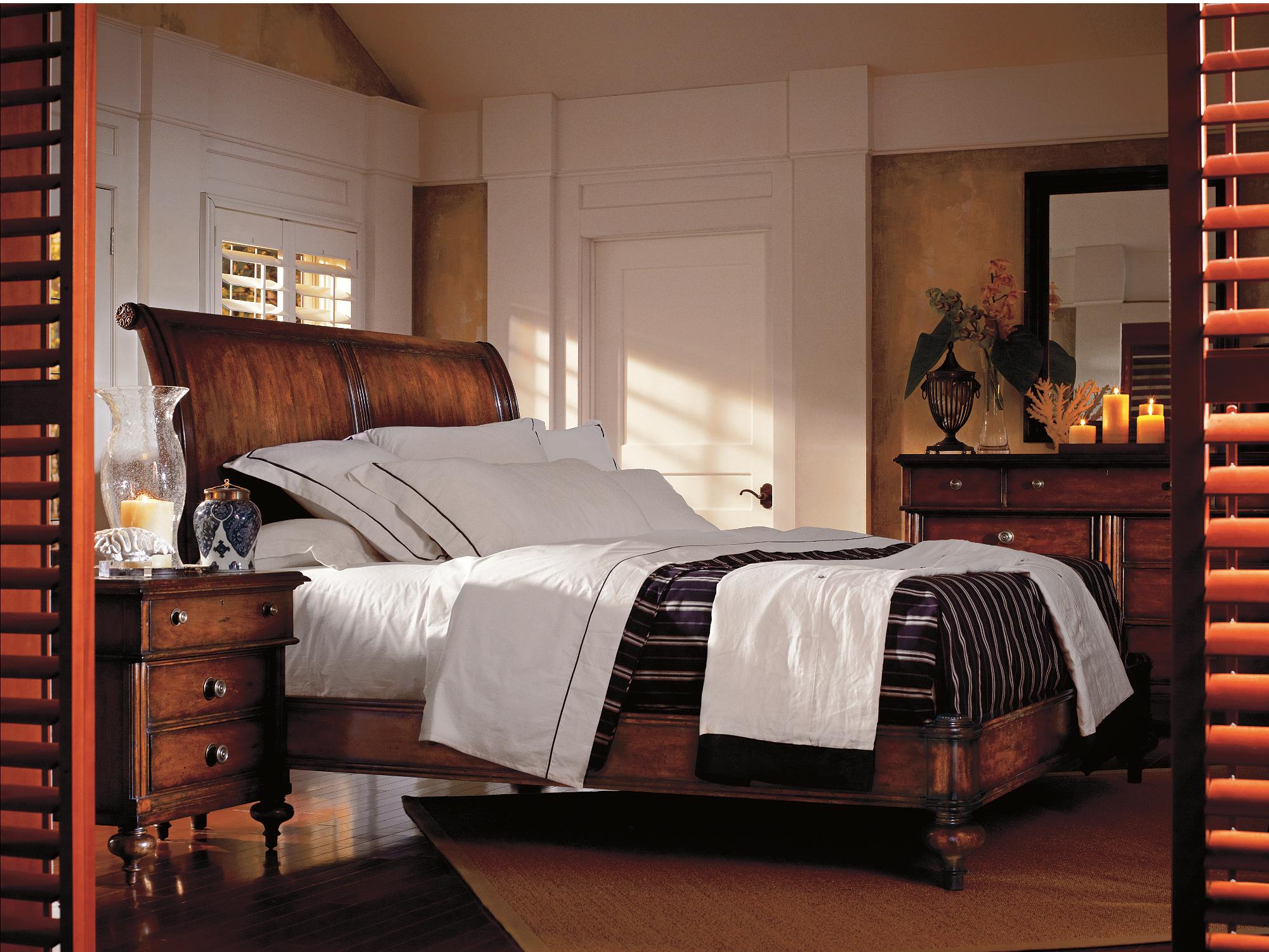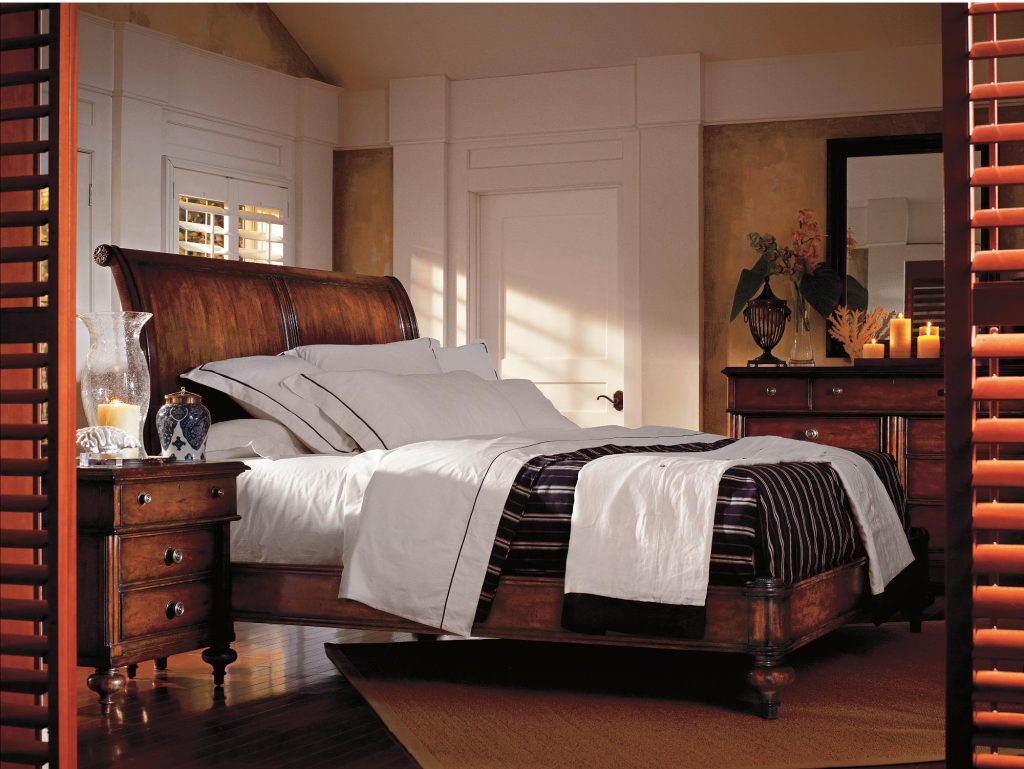 British colonial
Despite the name suggesting some British influence, the British colonial sleigh bed draws inspiration from Asian and African cultures. It resembles the colonial era when this bed was introduced to Europe.
The dark and rich wood materials used for manufacturing are distinguishable from the British colonial sleigh bed. It is typically built using ebony or mahogany. The British colonial variation has much less expressive curves than the traditional sleigh bed.
Depending on the design, you can get a British colonial sleigh bed engraved with beautiful carvings, enhancing the antique look of the bed frame.
For practical reasons, many British colonial sleigh bed varieties minimize the curvature on the footboard so the bed can fit in the smaller bedrooms.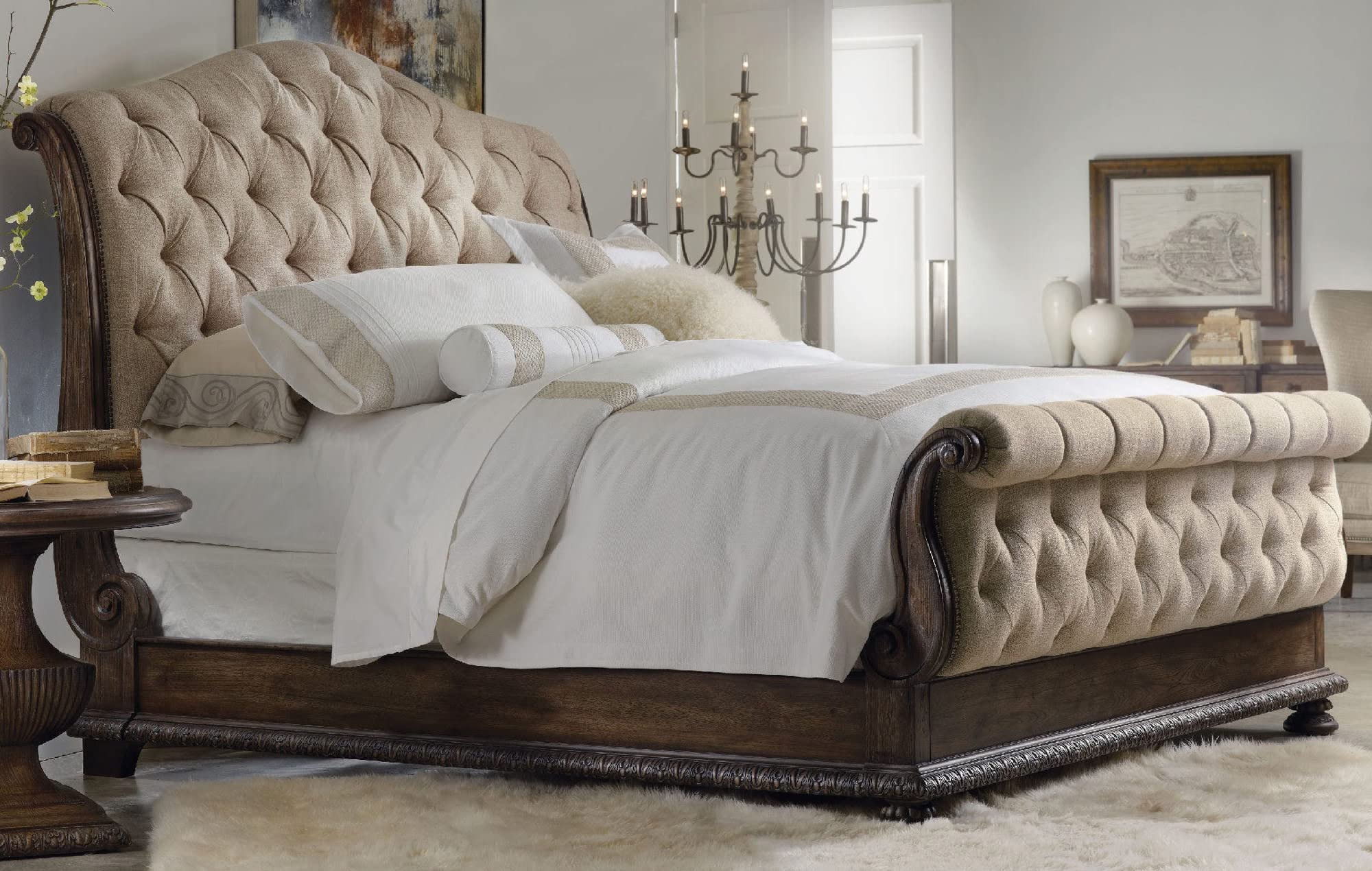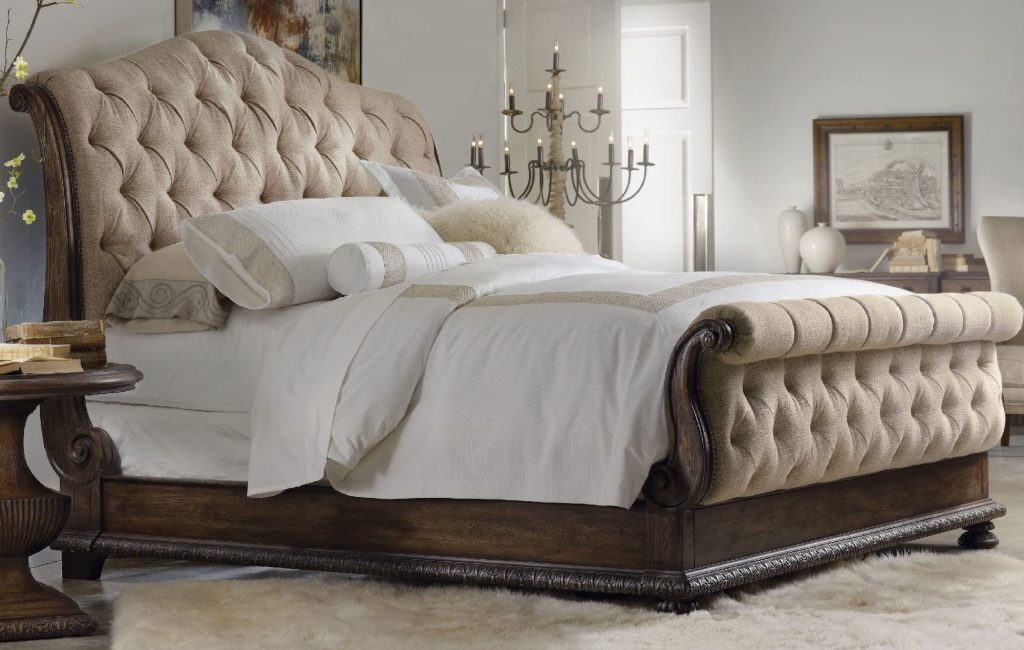 Upholstered
The sleigh bed's distinguishable curves can also be found in an upholstered variation. Many designers have decided to pad the curves of the sleigh bed with foam and delicate fabric or leather, creating a luxurious masterpiece for the bedroom.
The upholstered sleigh bed typically follows the lines of the traditional sleigh bed, with the entire frame padded in delicate fabrics. The upholstered sleigh bed is much cozier and luxurious, thanks to the cushions and premium fabric. The upholstered design adds an incredibly inviting softness and will have you snuggling in bed for hours.
With an upholstered sleigh bed, you can choose various fabric and leather options and get the bed in a particular style and color.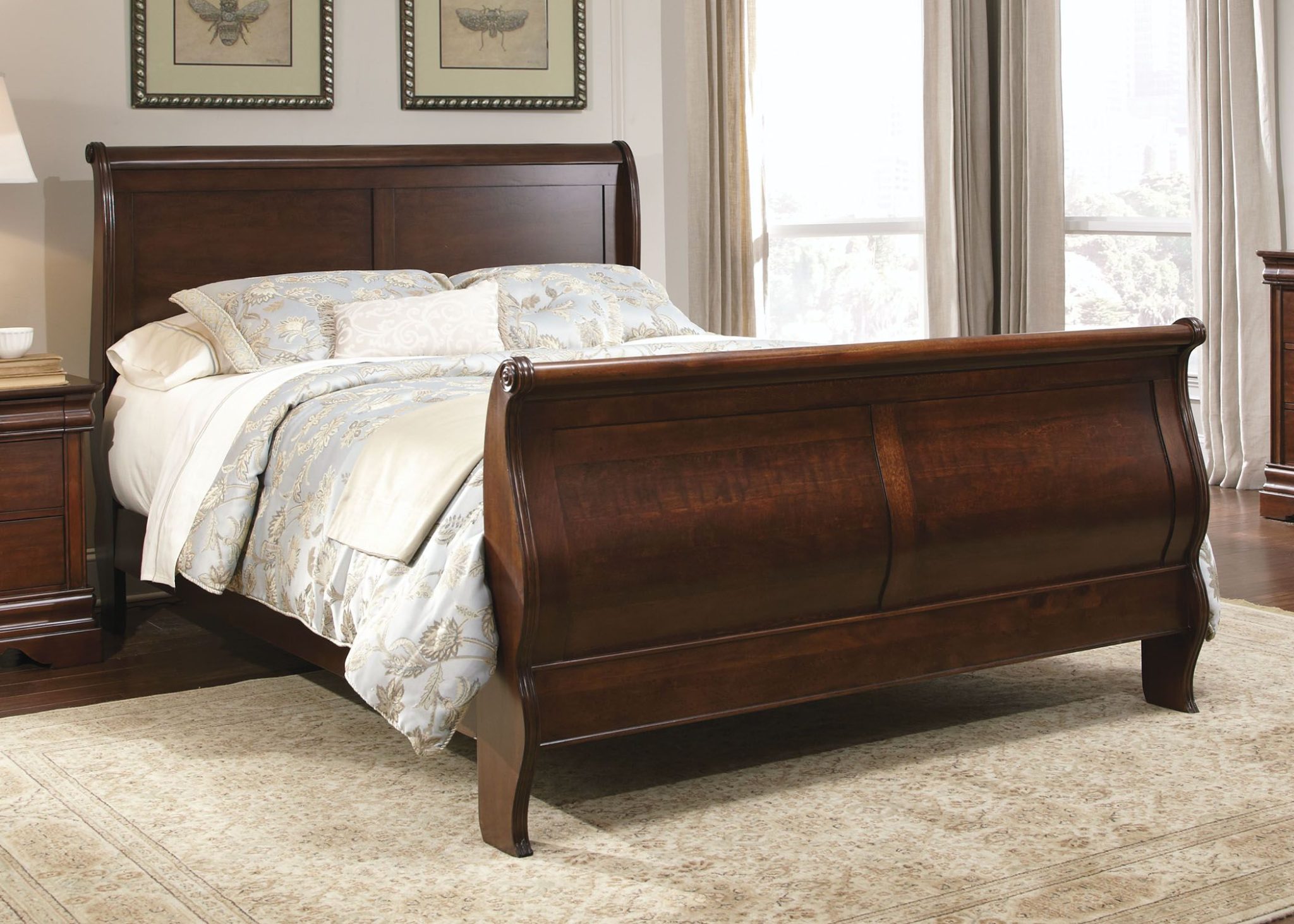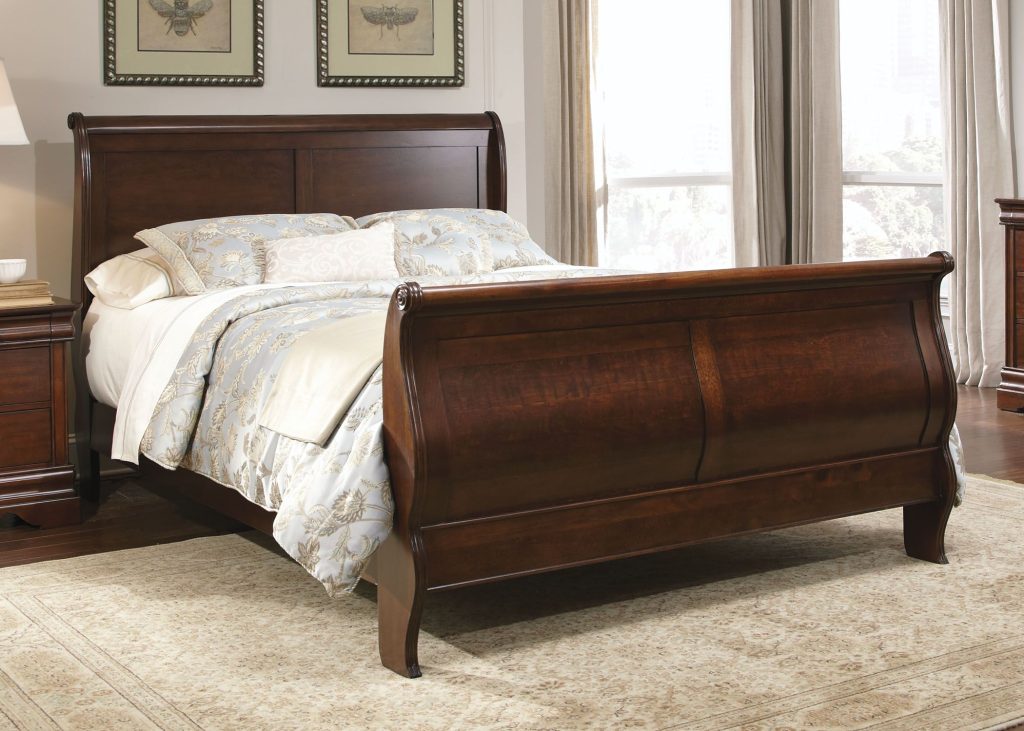 Traditional
The timeless design of the sleigh bed lives with the traditional wood sleigh bed. Traditional sleigh beds typically feature unique carvings, adding richness to the royal appearance of the bed.
They incorporate a conventional French-inspired design with a modern living style for a classic design that'll fit any bedroom.
With the solid wooden frame, the traditional sleigh bed will add warmth to any bedroom. Many traditional sleigh beds feature ornamental foliage and vine carvings for an even more abundant appearance.
Contemporary
If you love the curves of the traditional sleigh bed, but its royal appearance doesn't fit inside your bedroom, you can choose a contemporary sleigh style.
The contemporary variant of the sleigh bed will add style to any bedroom. It is typically made of solid wood and veneer, contributing to the timeless design that'll effortlessly fit any type of bedroom.
Modern designers have reinvented the classic look of the sleigh bed in a sleek and minimalist bed frame that any homeowner will love.
Some contemporary sleigh beds feature padded headboards or footboards to create a more luxurious feel while keeping the modern look.
These bed frames come in various materials, so you can easily blend them into your bedroom palette or make an incredible centerpiece that'll attract attention.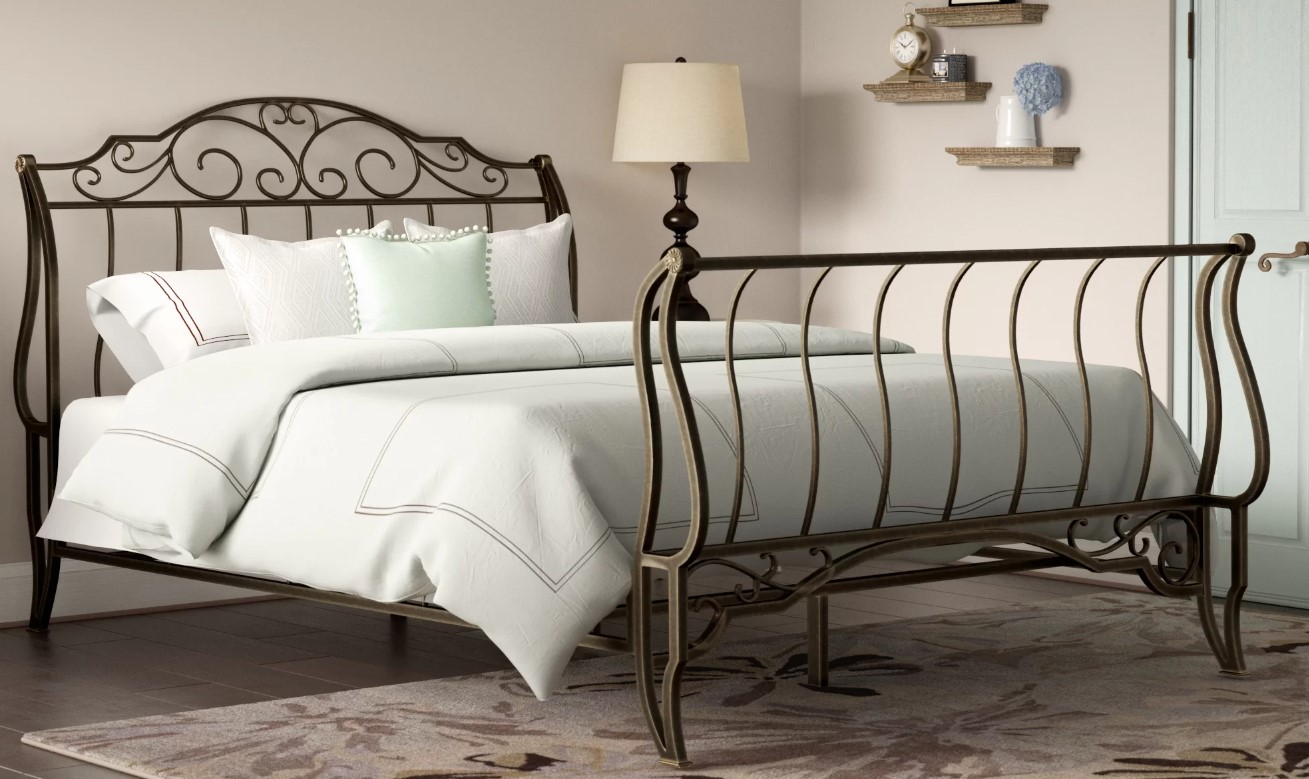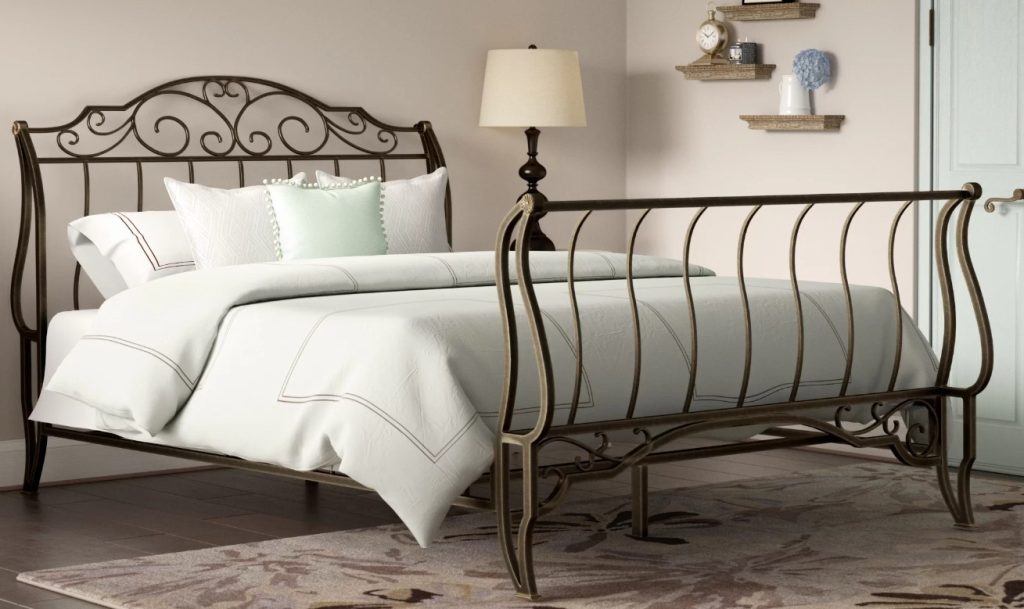 Wrought iron
If you are looking for an elegant and refined look, you should also consider the wrought iron sleigh bed.
The intriguing bedframe of the wrought iron sleigh bed is made out of iron with graceful outward curves. That gives the entire bed an inviting and cozy look. Some models even add the intricacy of cast iron, providing an extra touch of luxury to the whole look and feel of the bed.
The wrought iron sleigh bed comes in various color finishes, but in our opinion, antique brass is undoubtedly the best finish for such an elegant bed. Some designs even feature wood details and panels, creating an even warmer and more inviting atmosphere in the bedroom.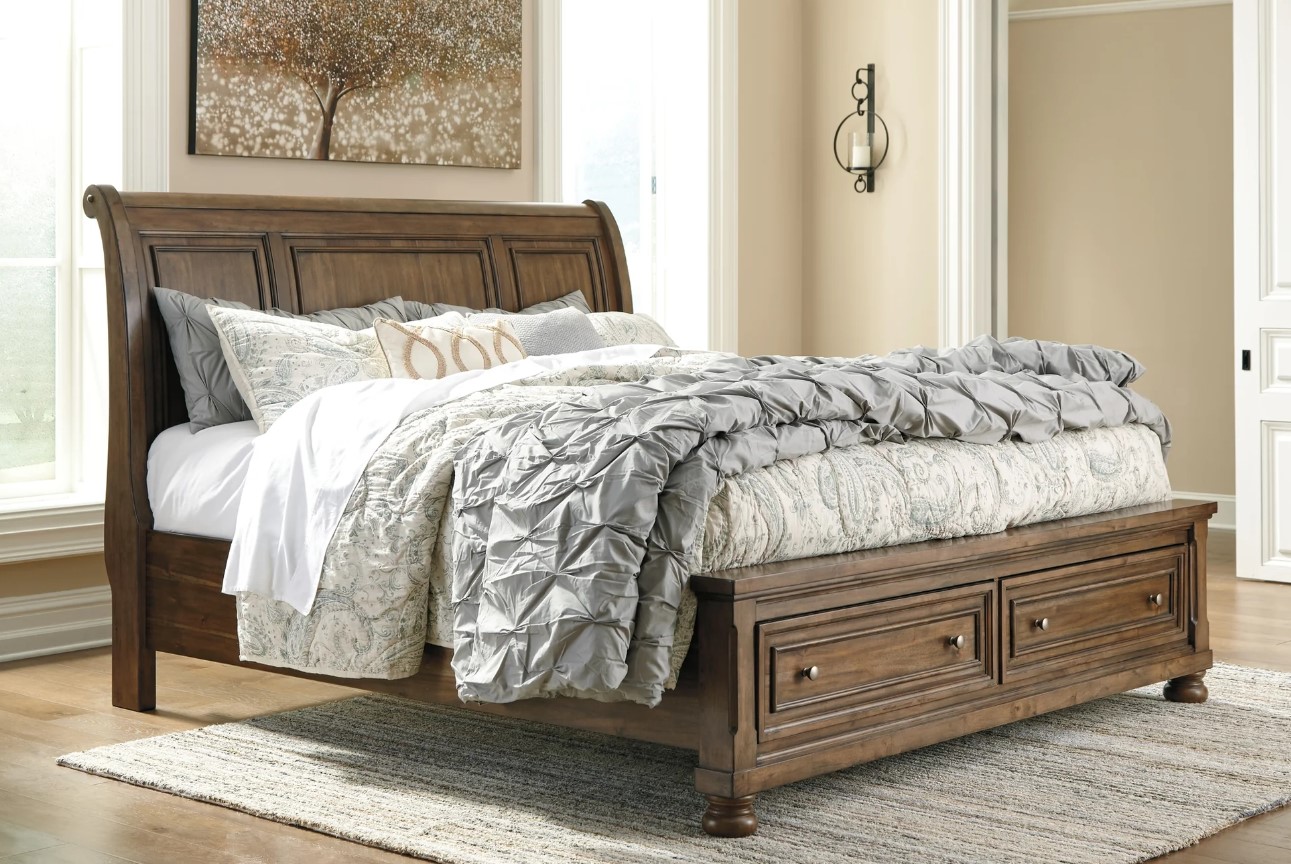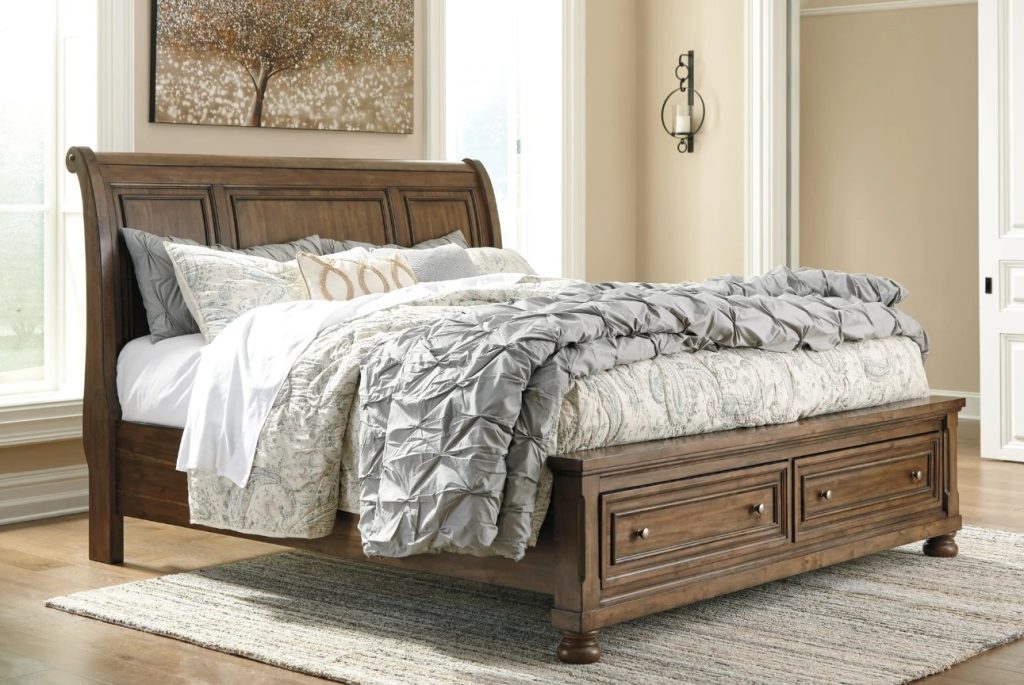 Storage
If you have looked at the previous styles of sleigh beds, you have probably noticed they lack storage. That's what storage sleigh beds are here to make up for. Storage sleigh beds typically come with a lower footboard that incorporates under-bed storage.
This sleigh bed style blends in visual appearance with functionality. The bulky appearance adds richness to the room, while the under-bed storage is always welcome. Depending on the design, you can get larger or smaller drawers at the sides or underneath the footboard.
Storage sleigh beds are an excellent option for anyone looking to enhance their bedroom style but don't have enough storage room to get a traditional king-size sleigh bed.
Read more: What Is Tufted Furniture?
Advantages
Various style options
As we already revealed, the sleigh bed comes in many styles. From traditional antique looks to a cozy and modern feel, you can get an incredible variety of sleigh bed options that retain the popular curvature.
Sleigh beds come in various wood finishes and other materials, so you can effortlessly fit them inside any bedroom.
Elegance and sophistication
Whether you go with a traditional or a contemporary design, a sleigh bed will inevitably add elegance to the room. A sleigh bed will always break the monotony in an ordinary bedroom, enhancing elegance and style with its sophisticated curves and headboards.
If you want the ultimate royal appearance, you should consider models with intricate carvings or luxurious upholsteries that'll make your sleeping area stunning.
Sturdiness
Whether manufactured using solid wood or a metal finish, sleigh beds are incredibly sturdy. The design of the bedframe incorporated with solid material like high-quality wood or metal adds to the sturdiness of the bed frame.
However, you can also get some sleigh beds with engineered wood, so be aware that they are a much cheaper alternative, but they also tend to have quite a shorter lifespan.
Disadvantages
Bulkiness
Sleigh beds are designed to add richness and sophistication to the bedroom, so they are often quite bulky and hard to move.
Sleigh beds in solid wood finishes are probably the heaviest. If having a bed that's very heavy to move is off-putting, consider some lighter metal finishes that still retain the luxurious look of the sleigh bed.
Because of the outward curves, sleigh beds take up significantly more room than they can offer in usable space, making them an undesirable option for taller people and smaller bedrooms.
Storage
Despite the sleigh bed styles designed to offer you the storage, all other sleigh bed variations lack storage room.
Along with the bulkiness of the design, the lack of storage can be a dealbreaker for smaller bedrooms. If you don't have enough room to fit the bulky bed and get all the storage you need, you should eliminate all other styles and go with the storage sleigh bed.
Also read: What Is Tufted Upholstery?
Conclusion
Well, we have come to an end, and we hope you have enough information regarding the question: what is a sleigh bed?! If the elegant curves of the sleigh bed have caught your attention, consider getting some of these unusual bed styles for your bedroom. They will add charm and elegance to the room, regardless of the design scheme you have already incorporated.
Thanks to the distinguishable design, a sleigh bed is an excellent centerpiece for the bedroom, adding a warm and inviting feel to the room. However, a sleigh bed might not be the best if you work with limited space.