Decorations and flowers bring life. A room full of furniture might affect your mood and energy, which will make you lose yourself in the room. Add detail in color here and there, and the room will begin to sparkle and make you happier.
When you notice that good decor gives your home a fresh and calming spirit, you will not stop with the decorations. Bring nature home by adding some flowers, greens, spices, and fruits to the table.
When it comes to the dining room, you can play with everything. From colorful napkins, placemats, cups, flowers, and candles, whatever you put on, the table will get another dimension. And it feels like the food gets tastier, too.
If you are a food lover and put a lot of love and effort into it, just imagine the good photos you can take if the table matches the plate. So, how to decorate dining table? Read on to see what could match the ambiance and mood of your home.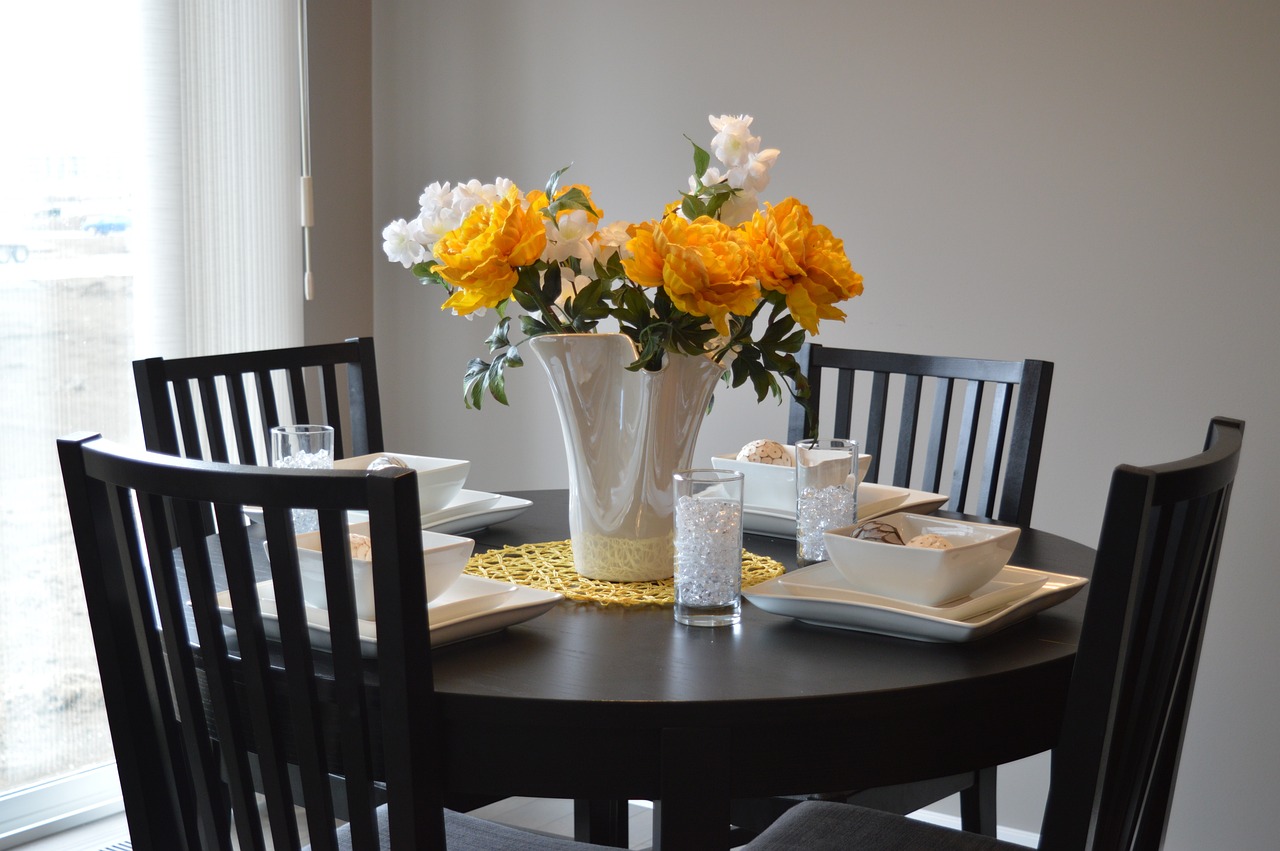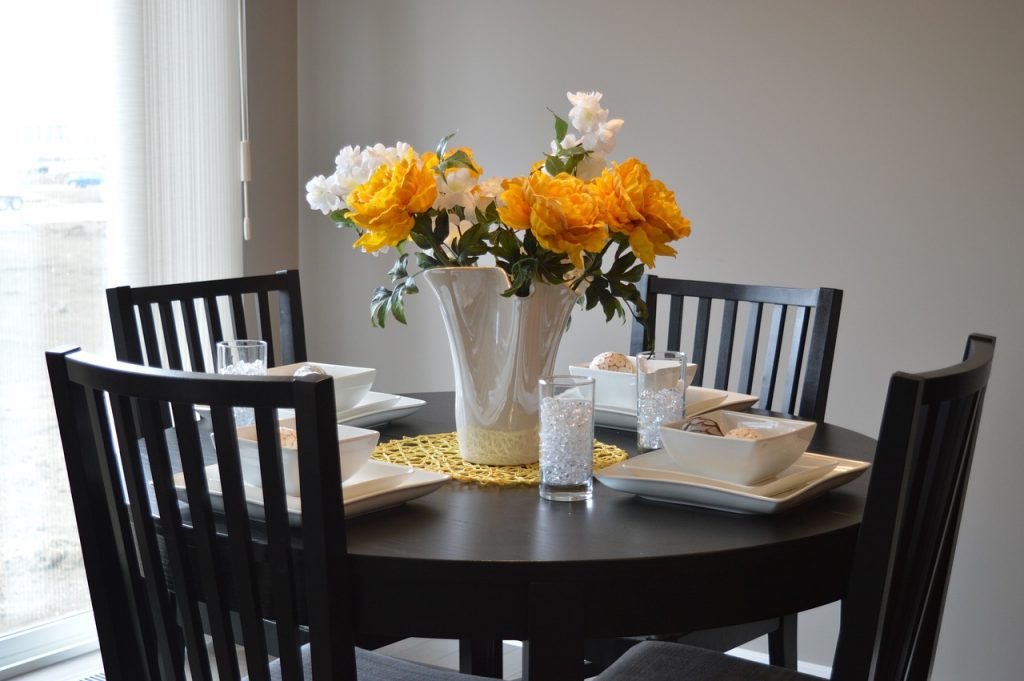 Matching Factors to Decorate the Dining Table
Matching the season
This might be the most affordable decor. Look at nature out of the window, and you can get an idea of any decoration. Add a little bit of creativity, and you might make a masterpiece. Every season has something colorful to bring, which might perfectly fit your dining table decoration.
Let us start with spring. What reminds you of spring? Flowers, exactly. In spring, nature awakens and boosts with the scent of blooms and the colors of fragile grass. Collect some flowers from the yard and put them into a cute or stylish vase. Flowers are always an excellent decor.
Summer brings a lot of fruits, which is also a perfect decoration for the dining table. Choose a good-looking fruit plate and add colorful fruits. You can even add some coastal details since a coastal decoration is always a reminder of warm summer days.
Autumn might be the best season for decorating the dining table by adding pumpkins, orange leaves, dry sticks, candles, and more. You can craft many things and bring the autumn "spirit" home. Glue some dry sticks to a candle, and you automatically have a cost-free decoration. Get a tiny pumpkin and place a matching runner.
In winter, you can add everything, from Christmas tree decorations to ribbons, candles, cinnamon sticks, dried oranges, and even cookies. Winter always reminds us of freshly baked cinnamon cookies.
Related: How to Choose Dining Chairs
Matching the furniture
If you do not prefer adding pumpkins and cookies to the dining table, you can keep it classy with a matching decoration with your home's style. Candles fit almost every style and furniture, you only need to find good candle holders that will match the furniture.
The rustic style perfectly matches with wooden decorations, plates, and candle holders. You can add some greens, like tiny plants or fresh spices, and a matching cozy runner.
Industrial style and furniture also match with candles and some metal candle holders. Also, you can add a vase, some metal decorations, wooden decorations, and more.
For a contemporary-styled room, you can use a lot of things. The marker is flooded with art pieces that will fit almost every style, but mostly the contemporary one. Vases, candle holders, candles in different shapes and scents, plates, runners, and placemats. You can also add a piece of artistry painting in your dining room, which will additionally boost your dining table decor.
Luxe-styled homes are also easy to decorate. You can choose various glass or black and gold decorations to boost the luxury of the dining table. You can also find some gold or marble-patterned placemats and gold-detailed dining sets.
Matching the mood
This type of decor matches your personality. Suppose you are a creative person. In that case, you can find some materials and objects in your backyard and make yourself dining table decorations. You can boost the boring metal candle holder with tiny white stones or tiny wooden sticks. Creative people always have an idea that might share their character.
If you are a calm person who enjoys peace and silence at home, choosing candles is the right choice. You can also add some scented sticks or air fresheners with essential oil. Also, placing a glass decoration that emits fire in the middle of the table might be a jackpot. Simple and calming.
Boho people can add a lot of things to decorate the home, including the dining table. Choose some tiny plants and colorful vases, add some color mess to the table, and a traditional patterned runner.
Perfectionists should go with some shape and color-matching decorations. It should be simple but appear rich. These persons can go with a single symmetrical decoration, a simple flower vase with flowers of the same variety, a few matching candles, etc.
Art-souls should carefully choose the dining table decoration. It should be simple and catchy at the same time, authentic, and meaningful.
Also read: How to Decorate an Ottoman Coffee Table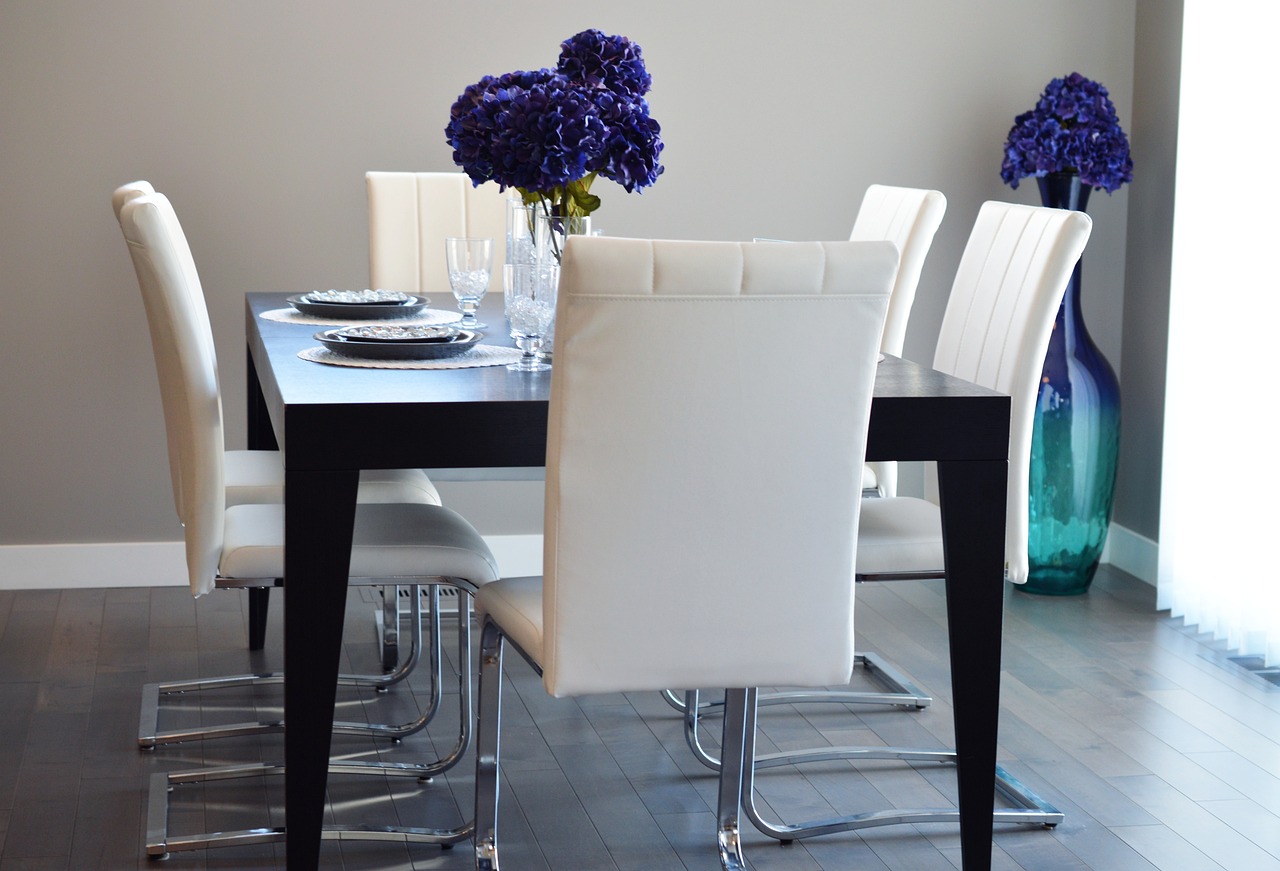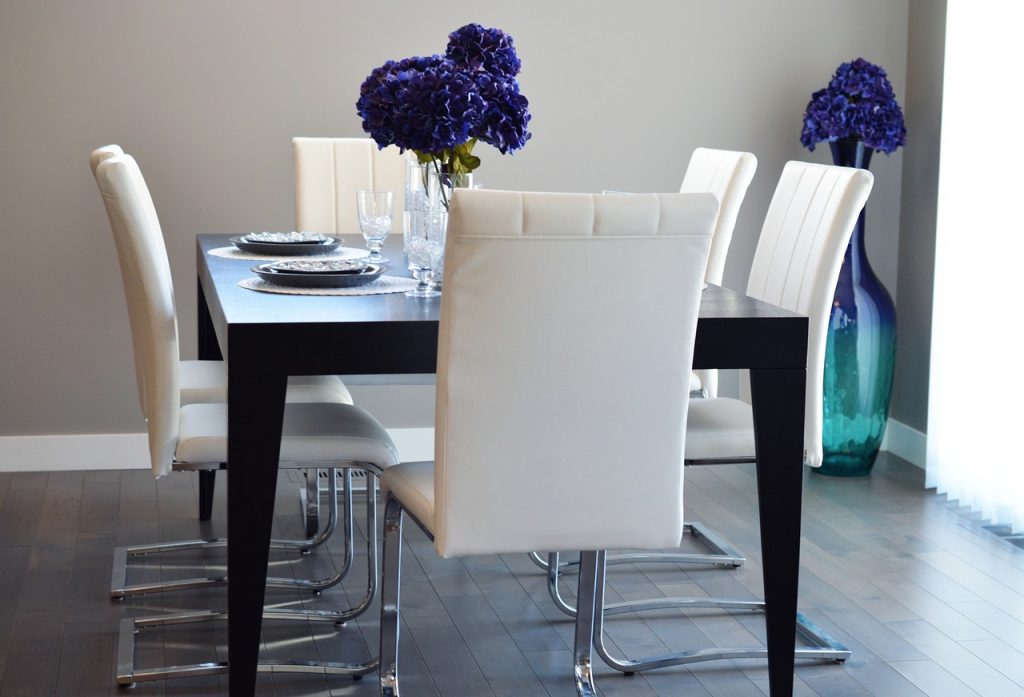 Tips on Decorating Your Dining Table in the Best Way
Fruits are always a good idea
Various fruits grow over the entire year. It is on you to choose a matching fruit plate and add seasonal fruits. Most fruits are available throughout every season, so you can use them and their bright colors to decorate your dining table.
Bananas will always bring good energy to your home with their bright yellow color. In most cases, they give contrast to a neutral-styled room, which is also a good decor at the same time. You can also add some nuts around the fruits, which are also an excellent decoration, especially in the autumn and winter. During summer, you can use pineapple or coconut and place other colorful fruits around the plate.
Some fruits can not be placed on the dining table, but you can add fruit-patterned napkins or runners to give freshness to the table.
Cookies and sweets
Cookies and chocolates can be good dining table decorations, too. If you do not know how to decorate dining table and do not want to waste money on decorations that might get boring after time, just buy a transparent glass container and put cookies or chocolates inside.
Play with the shape and size and choose an unusual glass container, whether with a lid or not. Buy your favorite chocolates and put them into the container. You can also mix tiny chocolates in colorful packages to make the table look more colorful and fresh.
There is no human on earth who does not like cookies. They can be good dining table decor, especially during winter times. The scent of freshly baked nutty cinnamon cookies wins everyone's heart. You can make some, place them into a glass container, and leave them to fill your room with a pleasant sweet scent.
Enhance the light
The lighting also plays a role when it comes to decorations. If your room is too dark, you should focus on adding light that will brighten the room. If you have no window in your dining room, choose some lower chandeliers that will brighten the table and the space around it.
You can also add a mirror tray and some decoration to the table. The mirror will reflect the light, and you automatically get more light and unique decorations in the middle of the table.
Also, you can lighten the dining table by lighting some wax candles or placing candles that emit fire but work using batteries. Also, you can add a fake fireplace in the middle of the table that emits fake fire using electricity.
A lighter dining room gives better energy to the space and makes the dining table a good place for placing the favorite decorations. A lighter room is also good for your mood.
Put a runner on it
Runners are simple but excellent decorations for the dining table, plus they prevent making a mess on the same table. Runners come in various colors, sizes, materials, patterns, prints, etc. You can buy a few runners and change them as you wish, whether by style, season, or color. You can also put other decorations on a runner.
The variety of runner designs and materials allows you to decorate the table according to your preferences, whether you prefer a subtle, casual, or elegant look. The runner makes layers to the table and gives more texture.
You can even choose two runners of different sizes and add them in the opposite direction to give the dining table more depth. Add a single detail or a vase in the middle, and you got a perfect simple dining table decoration.
Placemats
Placemats are excellent decor for your dining table, giving a different touch, especially for the holiday season. They are also inexpensive, so everyone can afford to buy them. You can buy two or three placemat sets and change them as you wish without spending hundreds of dollars on decorations and plates.
Placemats also come in different shapes, sizes, textures, and patterns. You can choose a square placemat and rounded dining plates, giving the table a more dimensional and asymmetric look.
If you want to get a more formal look, choose neutral-colored placemats with simple texture. If you want to get a catchy look, try with unusual materials, textures, and prints. If you want to catch the attention of the dining table decor, you can try different-colored placemats in front of every sitting place on the table.
Read more: How to Decorate a Glass Table Top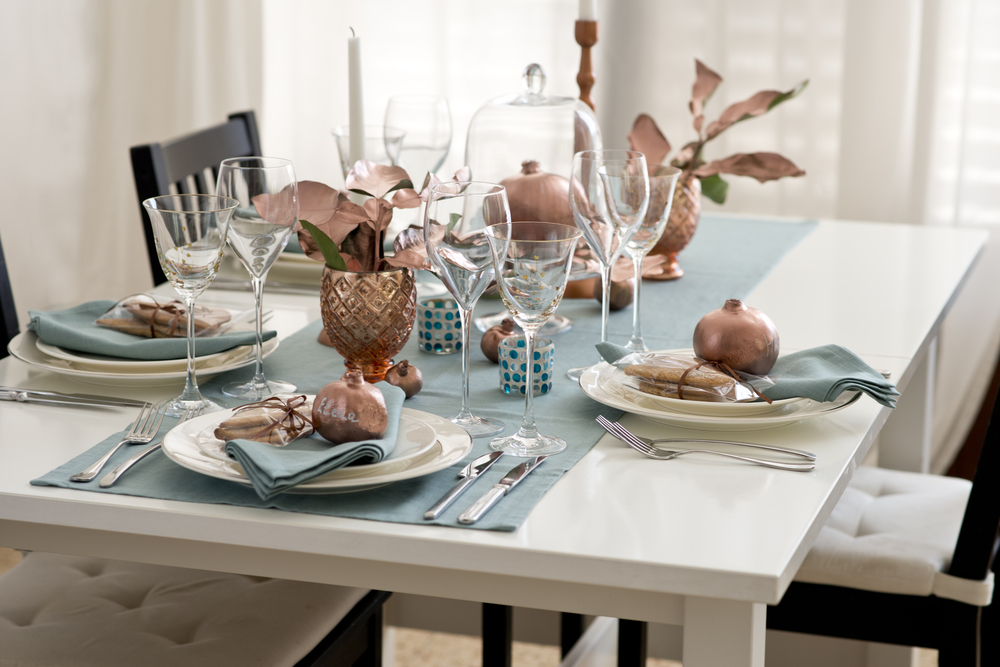 Additional Tips You Should Consider
Add life to the decoration
No matter which decoration you choose, don't forget to add life. Everything looks better if you put fruit in a contrasting color, a tiny plant, or flowers. Opting only for some decorations and candles is okay, but if you add some greenery around them, the decoration will give more life and energy.
You do not have to be a creative person to craft decorations. Choose a plate or a flat decorative bowl, put the candles inside, add some green leaves around, or just a tiny cactus or other green plants. You can also add grapes, for example, or other kinds of fruits to give the decoration more spirit and freshness.
Consider the surroundings
If you have floor decor, you can sync the dining table with them to get a matching appearance. For example, if you have an elegant magazine holder next to your sofa, you can try with smaller brochures or books on the table. You can find a lot of vertical book holders that can be put on a smaller flat surface.
Also, if you love plants and you have plants all over your house, you can choose a few modern pots with tiny Aloe Vera or Cactus plants for your dining table.
In the past years, Pampas has become a very popular home decoration. The Pampas plant can grow up to 10 feet tall, and big Pampas "feathers" can be placed in a big pot as a floor decor. Conversely, the smaller pampas grass feathers can perfectly fit on your dining table.
Also, you can match your dining table decor with other decorations in your home. Choose a matching color or a matching print, texture, size, and more.
Use complementary colors
Suppose your home decorations are in neutral tones. Well, you can do the opposite and decorate your dining table in colors. You will give freshness to the entire space, but not so aggressively. You can still stick to the texture and shape but change the color, or keep the neutrals and choose an unusual shape or size to give a contrast.
Read more: How to Decorate a Living Room on a Budget
To Sum Up
Everyone has a different taste and style. We hope our article helped you get an idea and deal with the dilemma of how to decorate dining table.
There are many inexpensive decorations. You can even do them on your own if you put only a pinch of creativity.
Change the decoration as you wish and feel. No matter what you choose, a decorated dining table looks much better than without any decoration!