Since the living room is one of the most often used rooms in the house, it must both look attractive and withstand daily use. Creating a beautiful, habitable room may appear to be a large undertaking, but it does not have to be expensive.
If you're on a tight budget, the trick is to find inexpensive living room decorations and furniture ideas that are yet stylish.
Updating your living space on a budget is simple once you've invested in a few quality pieces. A few changes to the color palette, decorative items, or furniture placement can make a dramatic difference without breaking the bank.
Therefore, continue reading to learn how to decorate a living room on a budget using these cost-effective living room ideas to give this vital space a budget-friendly makeover.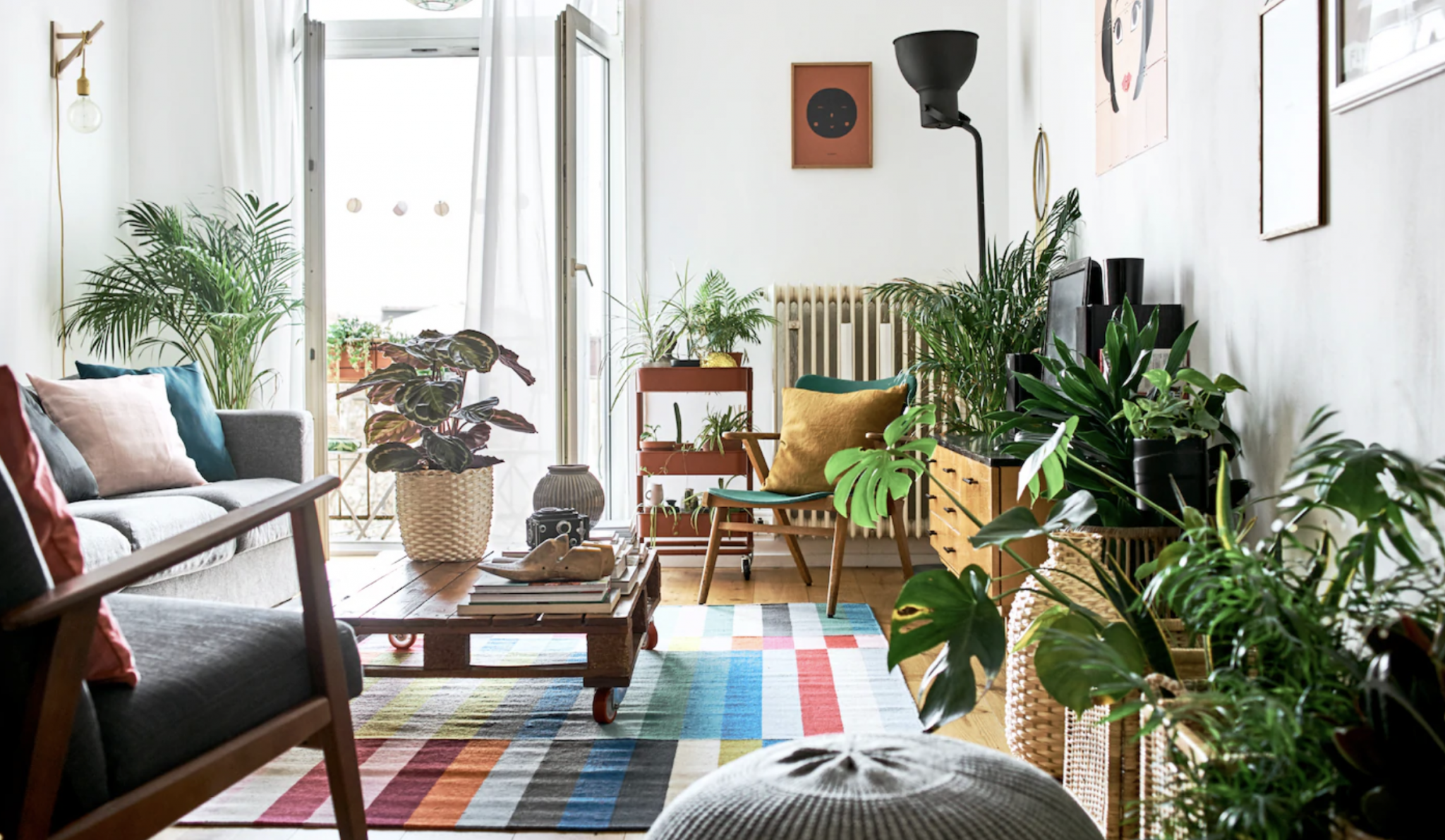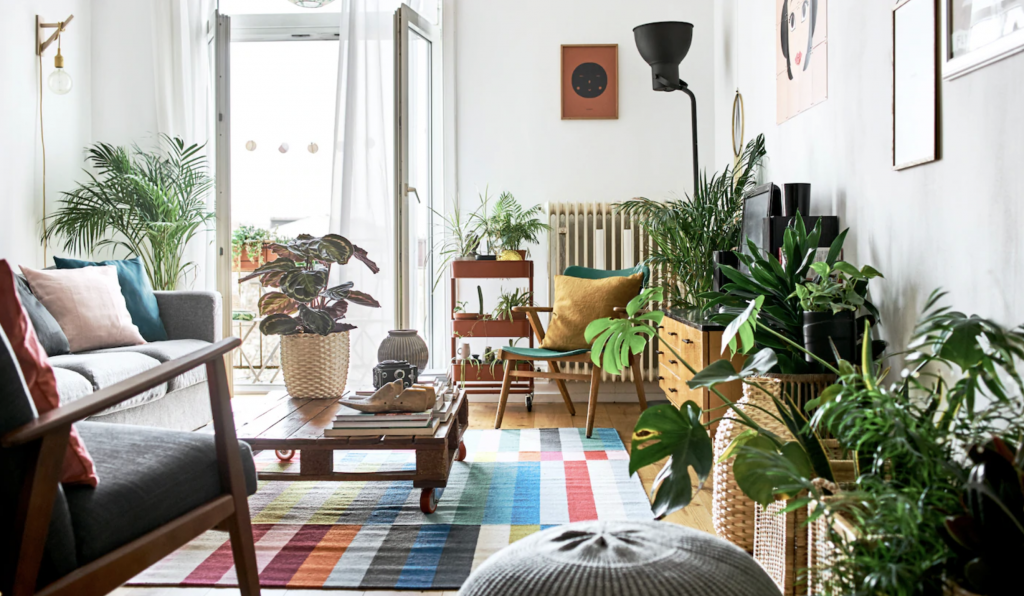 How to Decorate a Living Room on a Budget
In most homes, the living room is the busiest area; thus, it should be useful and stylish. It's time for a significant redesign if it's neither.
Continue reading for a brand-new collection of living room renovation ideas that are affordable. The before and after image comparison is to decide how to best address the greatest problem areas in your space.
Redecorating can occasionally feel like taking a test. You are aware that to be satisfied, you must succeed. However, the stress of having to do well prevents the experience of its enjoyment. Please allow us to inspire you. You may find examples of how to remodel rooms of various shapes and sizes.
Paint the walls
With a little paint, you can easily stretch your budget and give your living space a wow effect. Choose a striking color scheme to create an emphasis wall, or refresh your space with a soothing greige color that goes with virtually any design theme.
Painting the walls is the most dramatic change you can make to your living space. A $30 gallon of paint is a terrific use of your money, whether you want to paint the room darker, lighter, or give it a fresh coat of paint to clean it up. The ability of color to transform a room from dull to vibrant and beautiful in just a few hours never ceases to surprise us.
Add artwork
Want a different way to show off your photos and images? Fabric wall hangings are an easy and affordable way to add a trendy bohemian touch to your plain white wall.
Suppose you already have a lovely bed cover in a drawer. In that case, you might not even need to purchase anything new regarding wall hangings.
Personalized decor
Your living space can feel more special if you include items that reflect your travels, hobbies, and treasured experiences. Display ancestor photographs, framed historical charts, maps of your favorite locations, and collages of photos of your loved ones.
An inexpensive living room decoration suggestion is to hang letters or signs that refer to your initials or a family surname. To keep your living room design on a budget, look to sentimental items or thrift goods.
Read more: How to Decorate a Rectangle Living Room
Buy a new rug
Look for rug sellers on Craigslist or Facebook Marketplace. These are excellent locations to find lovely, barely used rugs. Alternatively, you can get brand-new carpets from internet merchants like Rugs USA, who frequently have fantastic deals where you can find gorgeous rugs at a fair price.
Your living area will suddenly feel cozier, warmer, and more textural with the addition of a rug. The throw pillows and other decorative elements in the room should complement your chosen color.
Choose a rug in a neutral color that will go with your color scheme for years if you're new to decorating and aren't quite sure of your decorating style yet.
Add some plants
Plants lend a sculptural element to a space, and low-maintenance types are frequently available for reasonable prices. To give your living area a little more life, look for vegetation with unique leaf forms or bright colors. Use a potted plant as a centerpiece on your coffee table or a hanging plant to spruce up vacant space.
Choose realistic-looking fake plants if your living area lacks natural light or you're unsure about your ability to care for plants. Dried stems or real grass can also be an inexpensive living room option.
For free living room decor, collect some from your lawn, then put them in a vase to make a straightforward natural arrangement.
Change the lightning
Older lighting can significantly impact space, so check out the newest trends and find less expensive substitutes. Simply replace the shade of an outdated floor lamp, or you could try sewing your own out of an interesting fabric using a lampshade-making kit you can purchase.
Everything will appear brighter if you do something as simple as switching warm white light bulbs for cool white ones or the other way around if you want a cozier atmosphere.
Read more: How to Decorate Long Hallways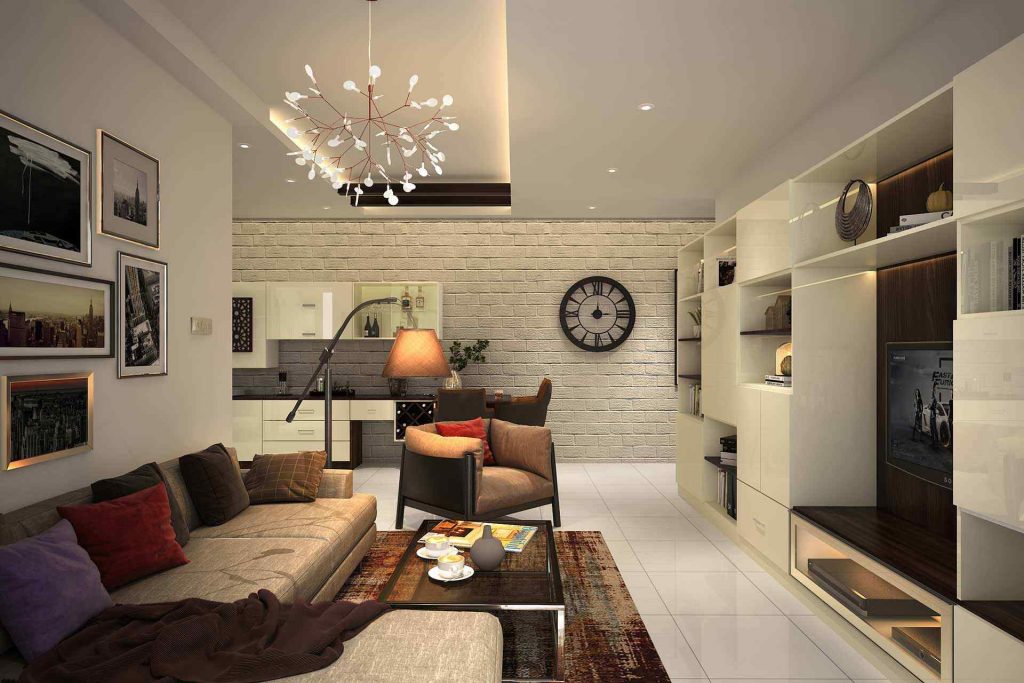 Add a storage
The most exciting cheap living room concept might not be stored, but keeping your clutter under control and adding style with storage can completely change a room.
Check out our suggestions if you don't already have the ideal living room storage, but if you do, utilize them to modernize your space if you already have a bookcase or open shelving.
Change out the items you keep frequently, and add artwork, photos, plants, books, and magazines to give your living space a fresh focal point.
Style the coffee table
Style your coffee table with pieces from around the house to give your room a more finished appearance:
Place some books on a shelf
Put a candle or flowers on the table
Collect the appropriate objects in a tray.
The finishing touch for the room can be a coffee table with personality. Small elements can make your home feel more stylish and put-together.
Read more: How to Decorate an Entryway Table
Incorporate different elements
Boredom always results from monotony, so attempt to include various things to maintain the living room's excellent aesthetic. The main area of your home shouldn't be boring.
Glassware
Mirrors, wall art, glass sculptures, and other ornamental pieces can assist reflect light to keep the space well-lit. The transparency away adds to the luxurious appearance typically supplied by pricey renovations.
Fabric
In addition to contributing to the ambiance, curtains and drapes are also practical because they block out too much light and keep out insects, even when the windows are open. You can get creative with cushions, covers, and blankets for the cupboards and tables. It exudes a cozy atmosphere.
Wood
Even though woodwork is pricey, you can always remodel and reuse outdated pieces to create the most beautiful living room ever. If you enjoy deep tones, wooden mosaic art on walls will give them a rustic appearance.
Making starboards, tabletops, or countertops out of reclaimed wood and resins with glitter will give your space a more contemporary appearance, one of the most captivating and enjoyable art projects that many people have done.
Metal
You can add a silver leaf look by adding metallic counters, tables, artwork, or furniture. It is fantastic for those who enjoy warm and metallic tones. Metallic furniture and wallpaper are ideal if your home has a dark tone.
Go secondhand
In addition to being less expensive, buying used furniture and decor is a really simple way to instantly add flair to your living space. Look for pieces of furniture on websites like Etsy, eBay, and even Facebook Marketplace.
Avoid getting carried away by keeping a list of the items you're looking for and taking the necessary measurements. Remember what a coat of paint may accomplish; thus, focus on shapes you love rather than colors.
Related: How to Decorate the Ceiling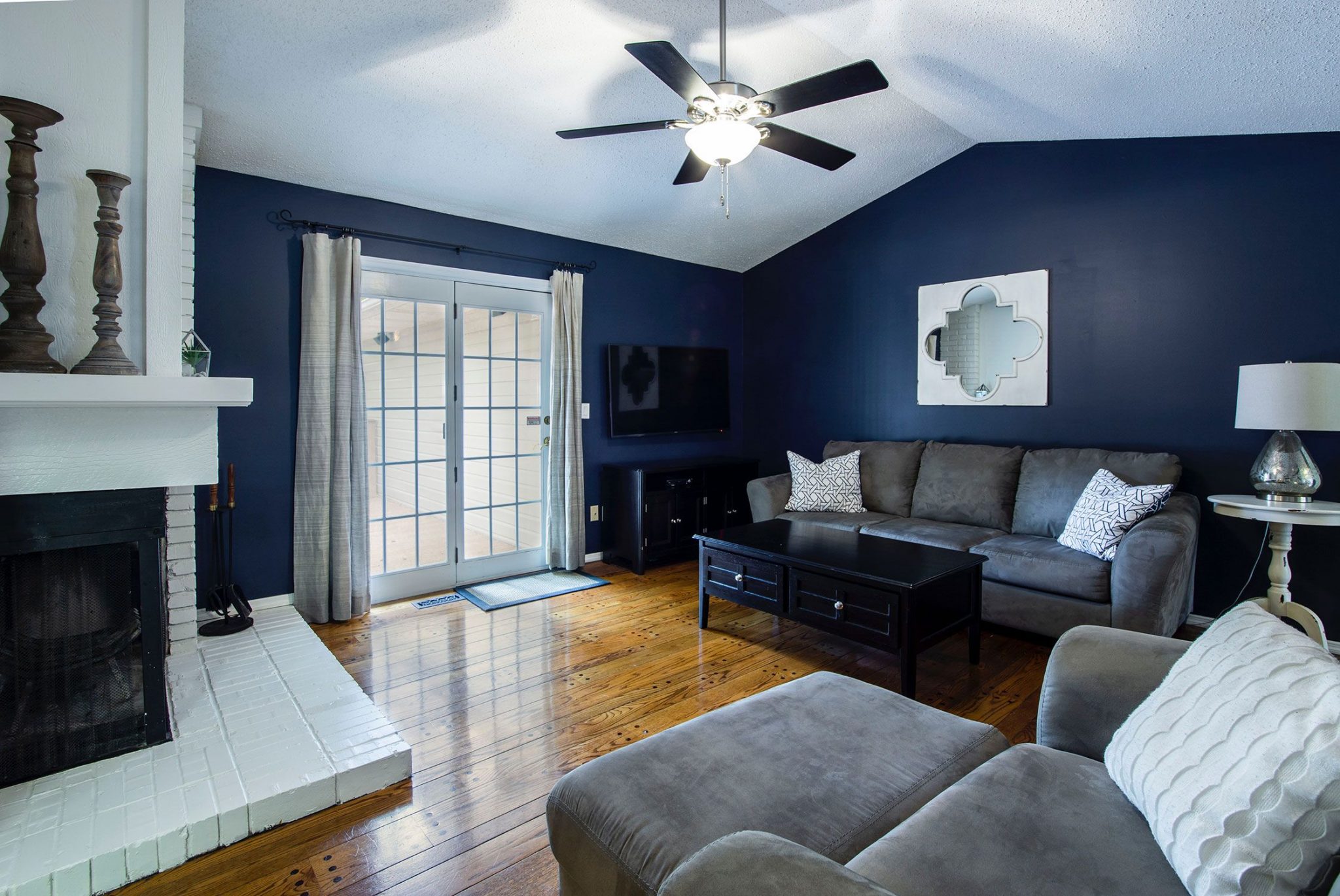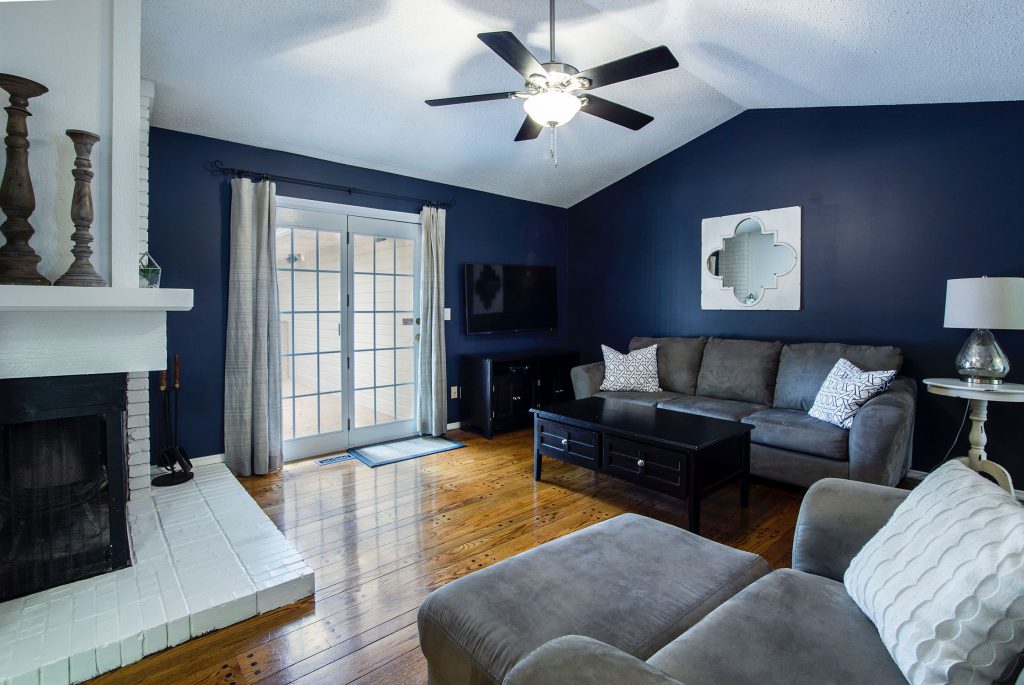 Decorate with a darker color
The rich, dramatic wall colors in the boutique hotel style create a cozy, cocoon-like atmosphere. Since several low-cost paint brands provide respectable darker colors, you may create this look at home without spending a fortune. Alternatively, select a dark wallpaper pattern.
A fashionable option is navy or indigo, but you can also go with burgundy, slate gray, or black. Add a few bright accents, like the table, lamp, and ceiling light seen here, to brighten up gloomy décor selections to finish the designer look.
Change your cushions
You can easily update the design of your space with new cushions if you don't think you can afford to buy a new sofa. Since the colors and shapes of decorative pillows can vary depending on the season, they are especially well suited for decorating on a budget.
This will give your living area a whole fresh appearance. With relatively few resources, you may keep up with the latest fashions while adding fresh cushions to your home furnishings to give them versatility and a unique spin.
Hang your curtains higher
Do the windows in your room appear small and feel dark? You might have your curtains hung improperly. Hang your curtains higher at ceiling height, and make sure the pole is stretched wide enough for the curtains to sit past the outside of the window frame to increase the amount of natural light that enters your living room.
Make use of spare materials piling up in your closets by stitching a contrasting border to the bottom of your curtains if they are too short of reaching the floor.
Paint your ceiling
Putting leftover paint from projects on your ceiling is a great additional use. Go bold with a bright color to attract the eyes upward and make your space feel larger, even if you weren't gifted with cathedral ceilings rather than painting the room's trim.
Choose a color that highlights accent pieces in your living room and matches the decor if you have more than one extra can of paint.
Read more: How to Decorate Walls on the Side of the Fireplace
Tips Before you Start with Decorating a Living Room
Shop your house
The simplest and least expensive option to acquire a new appearance for your living room is to search for current items in your home. Take throw pillows from another room and replace them with ones currently on your couch.
Switch the rug from your bedroom to your living room; these slight modifications can radically transform the aesthetic of your area with little work and no cost.
Picture the layout
You don't need to be an architect or interior designer to decide how to arrange your living space. If you take the time to draw a blueprint of your room, you can better understand the furniture you need to purchase.
It might help you decide whether you have enough space for your new bar cabinet or your long sectional sofa. It could also help you recognize that you might not have enough room to put in that extra cabinet to show off your family's collection of serve ware.
Consider your layout or floor plan as you imagine what your living space will appear. After making a list of the important things you want in the room, arrange them in priority order.
Need help coming up with a layout? The ideal living room layout can be made for you using any floor planner programs available.
Rearrange your furniture
Think about what you already have before making a purchase. You might be able to redecorate your living room without breaking the bank by refocusing the layout.
Therefore, instead of sticking to the same conventional layout in your living room, with the coffee table in the middle, sofas pushed up against either wall and the TV at one end, why not try something more interesting?
For example, pulling your furniture away from the wall, using a piece of art as a focal point, or even just decluttering and clearing out some furniture to make the living room feel larger.
Conclusion
We hope this article helped you with how to decorate a living room on a budget. The smallest budget may provide a lovely living room with careful design and consideration.
You don't need much money to have nice home decorations. With a few solid ideas and simple tips, you can transform the game of interior design. You can have a living room that looks like it belongs in a magazine if you follow some basic design rules, shop at thrift stores, and use your imagination.