Maybe you've just started looking for furniture to buy. You've just started researching all the types of furniture that exist, and you have been overwhelmed by everything you've found. You might be looking for furniture where you could store simple things like snacks, documents, or other items, but you can't decide. Because it can be exhausting to research the different types of furniture, we have made this article for you.
If you want the furniture to store household items, snacks, or other useful things and at the same time decorate it, then a credenza should be your choice. What is a credenza and what's its function in different rooms? Learn more below!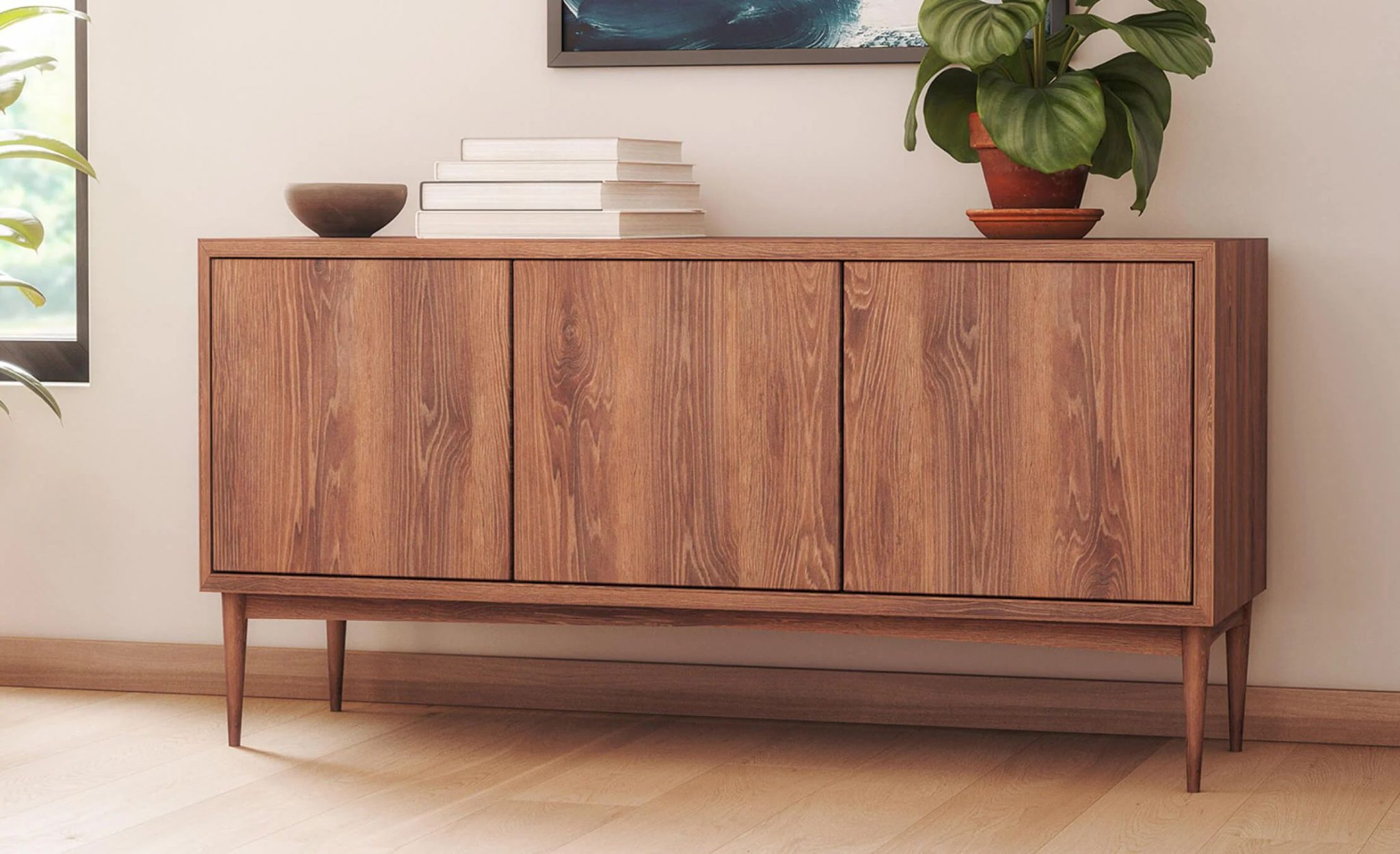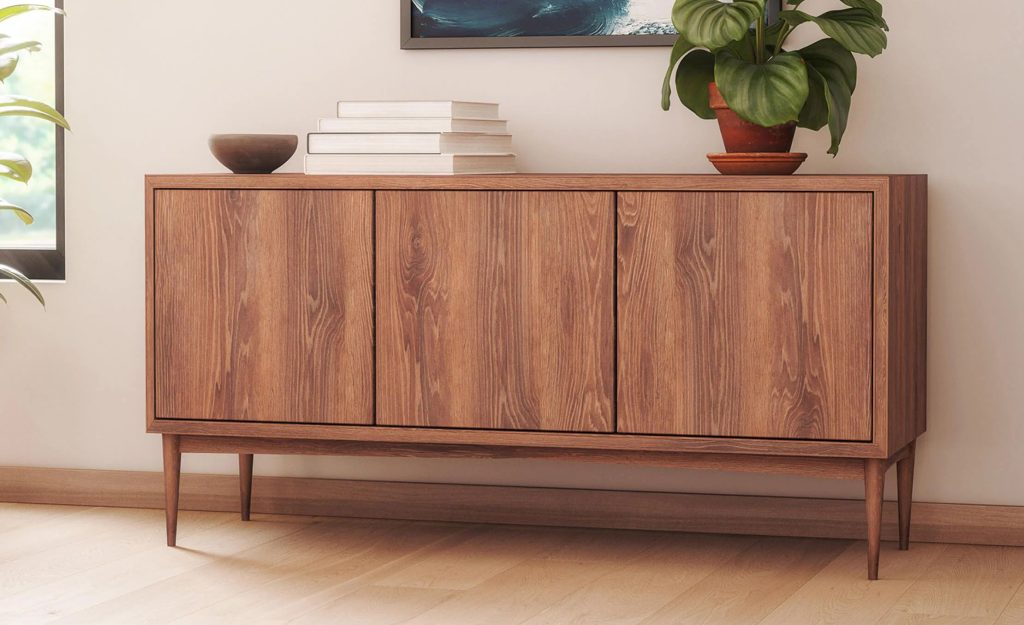 What Is a Credenza?
Credenza is an Italian word, used for the common dining-room cupboard, which means belief or confidence, that originated in the 14th century. Today it is a cabinet-style of furniture that is used mainly by people around the world in the dining room. However, it is not limited to one place only; it can also be placed in other rooms and be used for various reasons.
You can find the cabinet in two forms – without legs or with very short legs. Therefore they are very low and close to the floor, but they seem to be long. 
Another thing they are known for is their sliding doors or doors that have no handles. Moreover, they're different from sideboards and buffets, even though many believe that they haven't any difference at all. 
To learn more about the credenza and its minor differences from other furniture read further down in the article.
What is a credenza used for?
These days, the credenza is mainly used for storage and home decoration, being one of the reasons that make it an important piece of furniture in a lot of homes. It is a very good aesthetic decoration for any type of room and you can also place other decorations on it which will highlight the aesthetic it gives.
Inside you can store a lot of things from snacks to beverages, napkins to any kind of household items, and cutlery to dishes. It can also be used to place things on it so it can be a focal point in the room. It serves many functions – this is why it is such a popular piece of furniture today.
Where can you use the credenza?
The credenza is a very versatile piece of furniture for use when deciding in which room to put it. It is very important to consider how this will affect the aesthetic of the room, but also what use it will have in the room. 
Another question that needs to be answered is – will the credenza be used for storing loads of things or perhaps just decorating it so it will make the room a better appearance? You should know that credenza's functions may change if placed in different rooms. Below are details explaining the credenza's functions in different rooms.
Dining room
This is the most common room where people like to put their credenza in. It is very practical since it has a lot of storage space and it can be also used for decoration to light up the mood during breakfast, lunch, and dinner.
It can have a variety of uses in this room because you can store important things for dining, such as forks, knives, and spoons as well as all kinds of glasses and plates, both flat and shallow. You can even store napkins and decorative pieces prepared for times when you have guests over.
It can also be used as a Swedish table with lots of beverages, food, glasses, and plates on it for guests during parties. In addition, it can be decorated depending on the type of party the host is having.
Read more: What Is a Hutch Desk?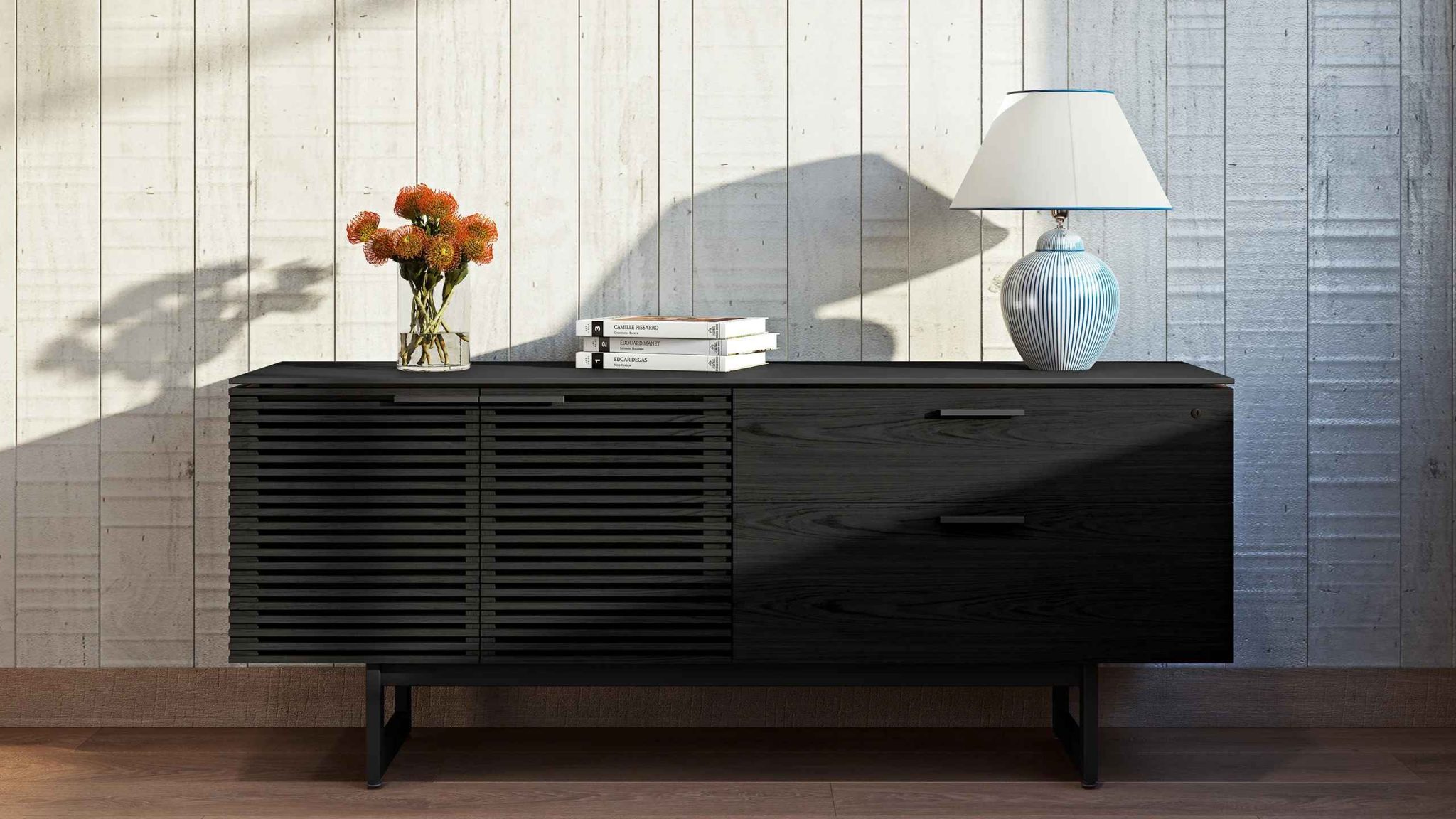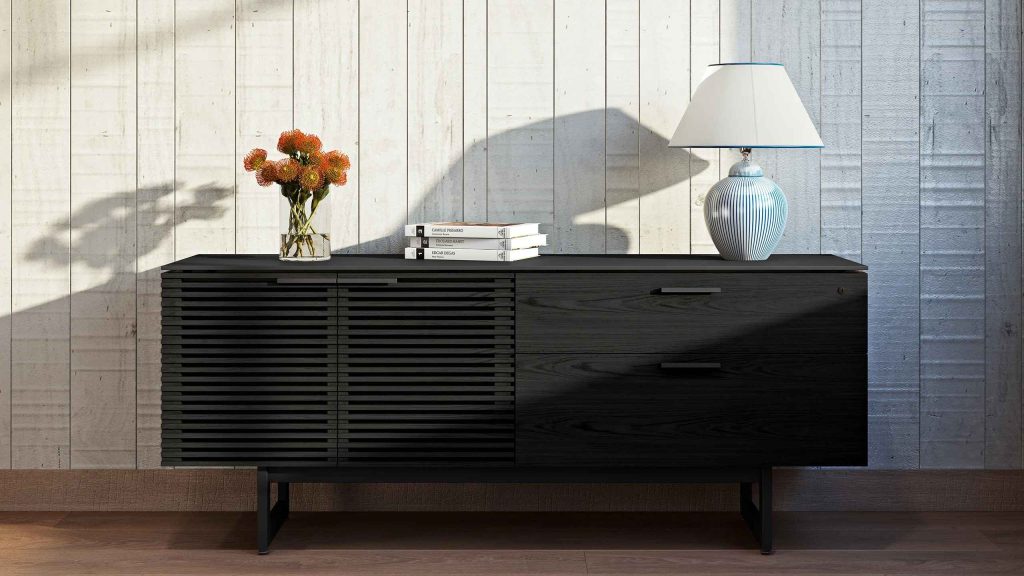 Living room
The living room is the second most used room where people place credenzas. Here it can mainly serve as a decorative piece of furniture, but you can also store things like documents, albums of photos as well as all kinds of snacks.
Moreover, you can use it to put other things on it. For instance, you can place all kinds of electronics like a TV, which means positioning it in front of a couch or an armchair. Secondly, it can be used as a table for laptops, desktop computers, DVD players, boomboxes, or for those very old-fashioned gramophones, etc. All these can add to the appearance of the living room greatly, but you must consider not making it look too cluttered
Office or home office
Many people would like to have credenza in their offices. It can be a very convenient piece of furniture because in a workplace it can be used to put personal belongings inside and on like photos, phones, and even notes and documents.
It can become a useful piece of furniture where you can put everything. You can even place it next to your desk in the office, getting an extra desk space that will offer more drawers for notes and files that you are working on.
Next to the front door
Another place where people may benefit from using credenzas is by placing them at the entryway or next to the entry door of the house. This is a very convenient place because it can be a holder for everything you need before leaving the house.
One of the best uses of an entryway credenza is for placing shoes inside it. This will make it suitable for everyday use because you can easily organize shoes inside. Another thing you can do is place all of your keys on top of it for an easy "grab and go" before leaving the house.
Lastly, decoration is also very important when having an entryway credenza because that will be the first thing guests see when they enter the house. So a well-decorated and stylized entryway credenza will go a long way to make your home feel more welcoming and well-arranged.
Is Credenza Different from Other Furniture?
While many people consider the credenza to be very similar if not the same as other pieces of furniture like sideboards and buffets, we are here to tell you that it is not the same and it does have differences. If you are thinking about what is a credenza feature distinguishes it from the other two, just below you'll find them explained.
Differences with the sideboard
A sideboard may have the same functions as a credenza, but it has a lot of shape features that make it different. Even though they both share the wide style and the access to more storage space for your house, the credenza is very low to the floor and sometimes is not designed with legs, while the sideboard is taller and is usually designed with legs that aren't short.
Another thing to consider is that the credenza is considered more formal than the sideboard, which is because of the larger size of the sideboard but also because many credenzas have glass display cabinets of either size.
Differences with the buffet
The buffet is very different in design compared to the credenza. It originally was used to serve buffet-style spreads and Swedish tables, but these days it is more commonly used as a holder for different things such as linens, decorations, and as a place to serve food at parties or gatherings.
The main difference is that the buffet is much taller than the credenza and it is made for serving large meals.
You might be interested: What to Put in Corner of Living Room?
Conclusion
When choosing which furniture to buy and decorate your home with or maybe use for something practical, it is always good to do a bit of research beforehand. You will discover the many pieces of furniture that exist and there is always something for everyone.
The credenza is one of these pieces of furniture that can suit almost any need you or anyone else might have. It doesn't take up much space, therefore it is small and it isn't designed with legs or has very short legs. It can be used for a variety of things like storage and to better the appearance of any room.
Furthermore, it can be used in almost any room you'd like, perhaps in a dining room, living room, bedroom, hallway, or maybe next to the front door as an entryway credenza which can amaze any guest.
We covered what is a credenza and we highly recommend this piece of furniture because it can truly be used for whatever you'd want to and we are sure you will be happy having it in any room.