As the price of apartments and houses is constantly rising, many people do not have a choice but to decide on smaller places to live. Although there are many positive sides to living in a smaller place, free space is not one of them. Every piece of furniture you buy must be carefully thought through so that it doesn't unnecessarily take up more room than it needs to.
Therefore, we wanted to assemble this article as a solution for everyone in this situation. Our goal was for the people to see that besides their smaller homes, they could still live comfortably and relaxed. As many pieces of furniture will come in handy in this situation, we wanted to pay attention to the hutch desk separately in this article. So keep reading to find out what is a hutch desk and how you can incorporate it best in your home so that lack of free space never becomes an issue again.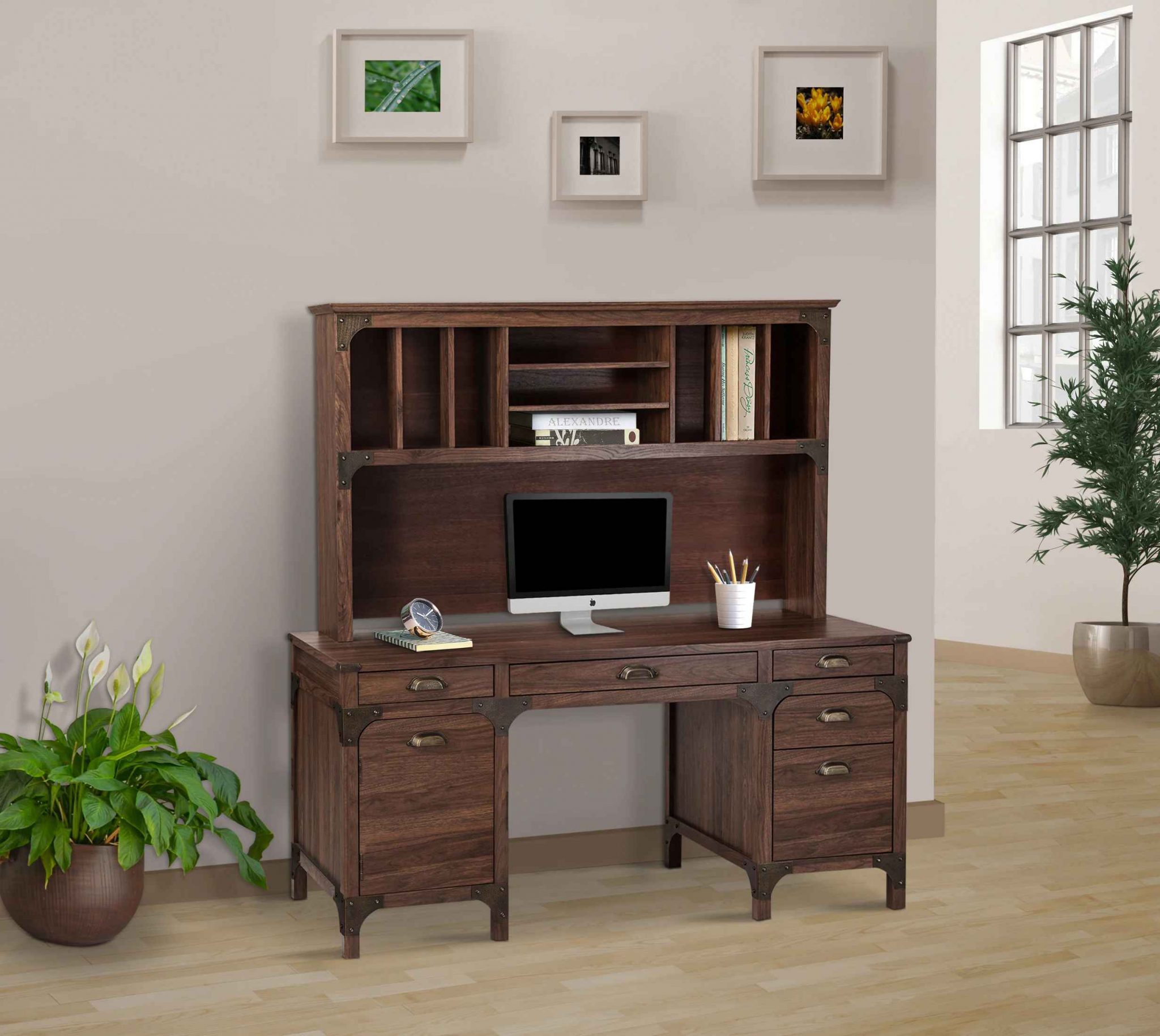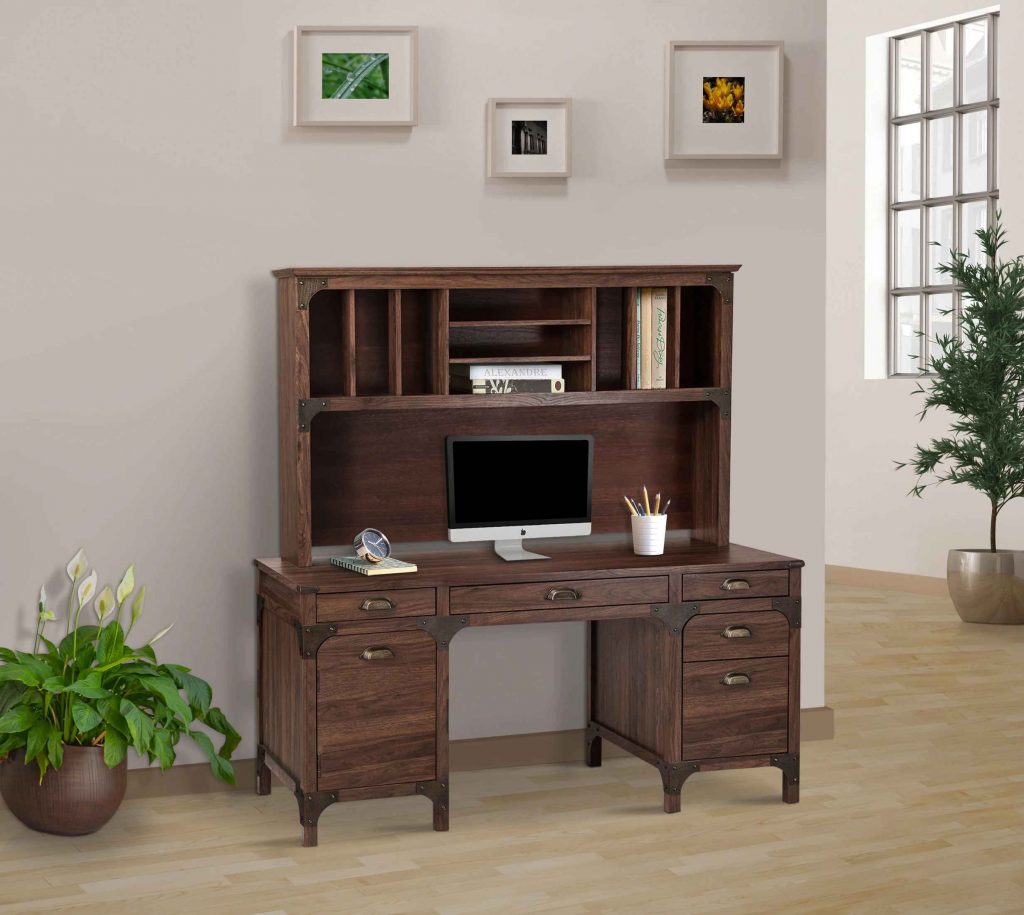 What Is a Hutch Desk?
A hutch desk is a regular desk but with added shelves on top of it. This piece of furniture consists of two parts that work together as one unit. The shelves are the top part, which is much larger, and the desk is the second part, which is smaller and on the bottom. There are many different types of hutch furniture, but this article is specifically about what is a hutch desk.
So now that it is finally more clear what this piece of furniture is, let's look at some other equally important things regarding hutch desks that will help you to make the most of it.
The History of the Hutch Desk
The prototype of hutch pieces of furniture originates back in the 18th and 19th centuries when the term hutch table referred to something a little bit different than what we know as a hutch table today. Namely, back in the day, a hutch table was a name for a tabletop set on a base, and when the table was not in use, the top had a mechanism to pivot to a vertical position to become the back of a chair or even more expansive settee. Since then, there have been many changes and significant modifications to that tabletop because as time changed, people's needs for home functionality and goals changed as well.
Things to Consider Before Buying a Hutch Desk
Now that we have established what is a hutch desk, and if you are considering buying this super-functional piece of furniture for yourself, here comes the fun part. Because there are hundreds upon hundreds of hutch desk designs and varieties, choosing the one that perfectly matches your living space can be tricky. Therefore, we wanted to include an expertly-written guide with a few things that will make your hutch desk hunting easier and more productive. In continuation, you can read the things you should take into consideration before purchasing a hutch desk for your home.
Dimensions of the room
The first factor you should consider is the dimension of the room where you plan to place your hutch desk. More importantly, you should consider the room's height. As these desks tend to be quite tall, you must take appropriate measures of where you intend to put your hutch desk. Moreover, by measuring the room's height, you can fully use the free vertical space, meaning you will automatically have much more floor space.
Amount of storage space
Because hutch desks come in numerous designs and forms, you need to plan how much free space you need before buying one. Then, after having this information on hand, you can look for a hutch desk that offers that amount of storage space. By doing so, you will be able to use the hutch desk as efficiently as possible, meaning the money you invest in it will pay out well, and you will not need to purchase additional space-saving furniture.
Design of the hutch desk
Besides its functionality, it is also essential to pay attention to the design and appearance of the hutch desk. This being said, you will have to choose wisely between hundreds of available designs so that the desk matches your overall room design and interior. As you want to ensure that the desk blends in well with the rest of the furniture, go for a similar color palette and style as the other furniture and decoration in the room.
For instance, if your room is designed to look industrial, buying an eclectic or coastal-styled hutch desk will disrupt the room's balance and create a clash between the two styles.
Read More: How to Decorate a Rectangle Living Room
Benefits of Having a Hutch Desk
A variety of designs
To fit in every household, furniture designers included every possible variation of hutch desks in their offers. So regardless of what you are looking for, we are sure you will find a suitable hutch desk for you. Some of the most popular designs of hutch desks are hutch desks with open shelves, paper slots, drawers, cabinets with hidden shelves, small compartments, cutouts for wires, etc.
Increases storage
As we all struggle with a lack of storage, hutch space is the ideal solution to get your items in order while being within a reach of your hand. Now you will not feel bad if you stack up on pencils or books as you will have lots of space where you can put them.
Makes use of vertical space
When it comes to smaller apartments or houses, the best way to make more storage room is to make 100% use the vertical space. By doing so, you will be able to find a place on the vertical shelves for all of your things instead of stacking them up on the floor and losing valuable living space.
Offers flexible storage options
Regardless of your storage needs, hutch desks offer a variety of solutions to fulfill your needs to the max. So if you need smaller compartments, ample drawers, or even a place for some plants, you can find the exact dimensions and storage options you are looking for without the hassle.
Related: What Is an Adirondack Chair?
Conclusion
You have just read the most important things you need to know regarding what is a hutch desk, its history, the things you should consider before buying one, and its benefits. Therefore, you are now ready to boost your confidence and feel like an expert while searching for a suitable hutch desk and buying one.