The corner is the area of the room that mostly symbolizes seclusion and remoteness. But why does it have to be the dead zone of the living room when it can be bright, open, and deliver some kind of energy?
To help you make it a more joyful place, we've decided to compile some universally accepted ideas from many people who know what to put in corner of living room.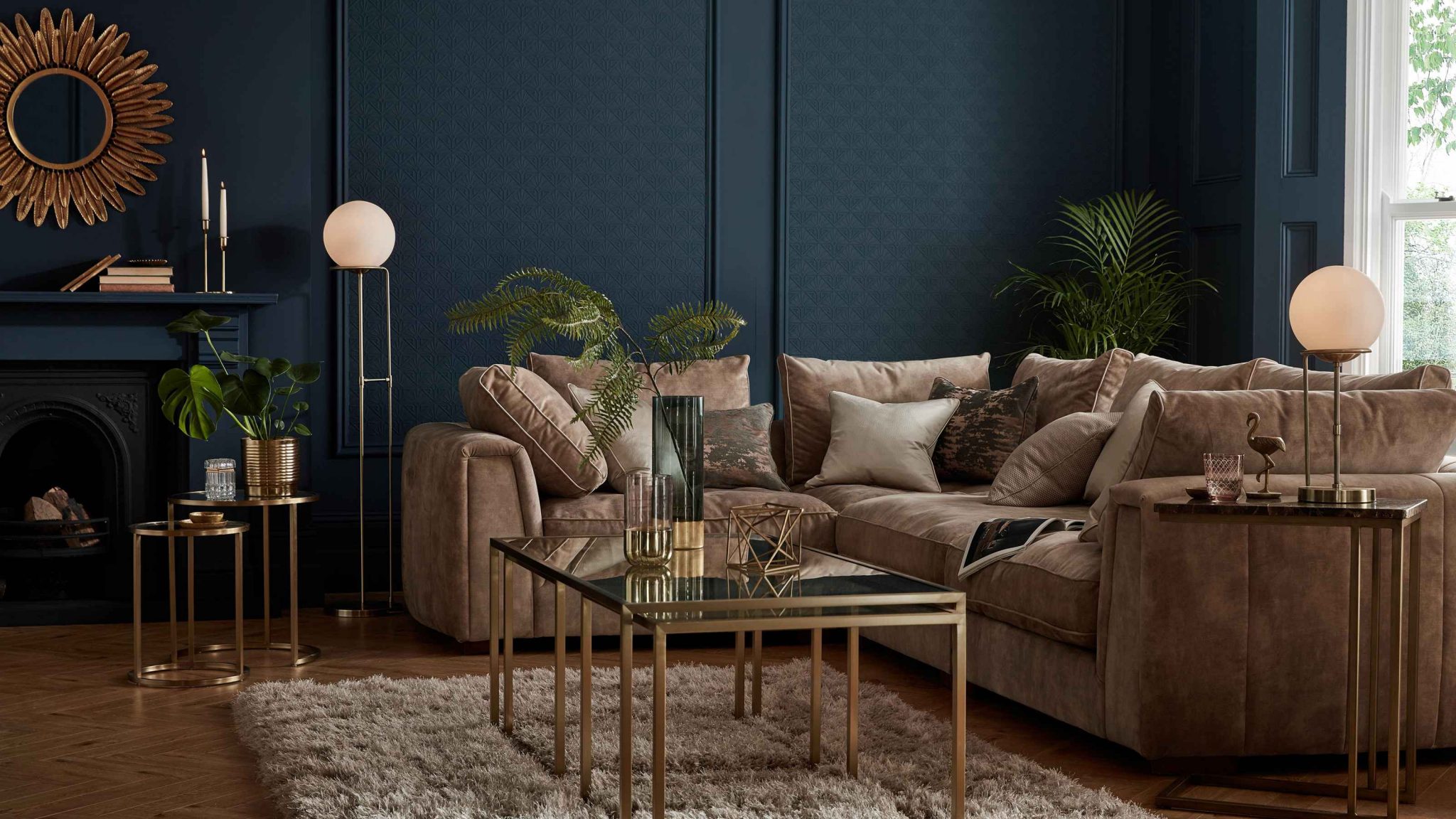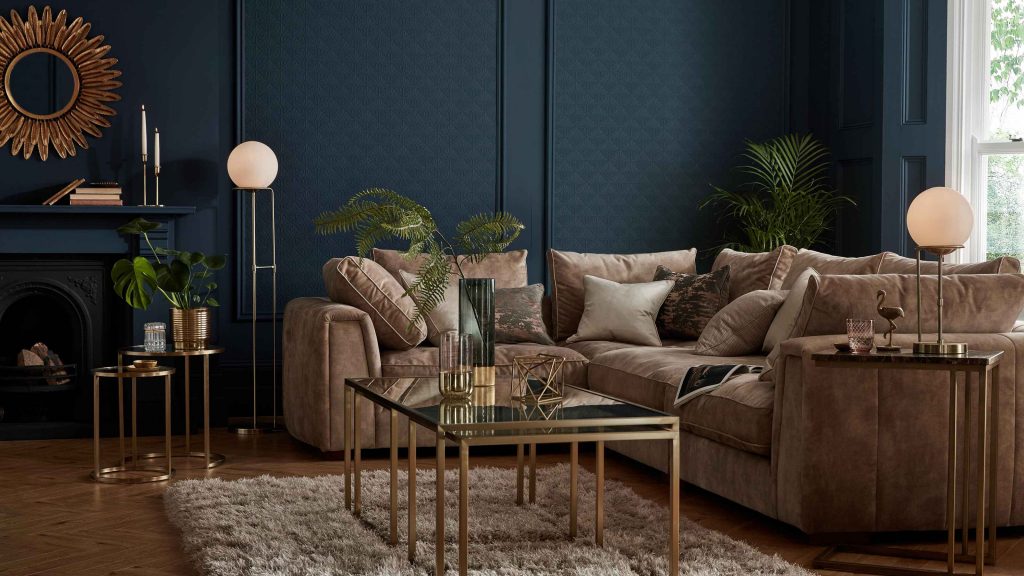 How Can Corners Contribute to the Design of the Living Room
A well-organized small or large room always leaves a visual impact. This goes not just for a dedicated workspace but also leisure and space where you spend most of your day.
The living room is an essential part of the house where all family members gather. This is a space where ideas and emotions come together over breakfast, lunch, and dinner. This space should be well designed for maximum comfort, but it also needs to add character to the household.
To create that uniqueness in your living room, you must utilize those empty corners, which can greatly improve its style and appeal.
So if you want some tips and ideas on arranging living room corners, we have assembled some that were most appealing to us in hopes that you also like them.
14 Ways to Utilize Your Empty Living Room Corners
Smartly utilizing an empty corner means adding something to it that simultaneously makes the room feel complete and functional. Depending on the size of the corner, we've gathered some of the best ideas to make the most of it while looking as appealing as possible.
A plant in the corner
Placing a plant in the corner is a universal choice for many people since plants go well in almost any household's living room. The corner determines the size of the plant, and large corners can accommodate large plants that look good in any style and decor.
A popular plant for a corner can be a variegated fiddle leaf which takes years to grow and slowly fill up that corner space.
You can also use a climbing plant that will follow the corner nicely in height. Ferns are great as well, and you can place them hanging from the ceiling while using the lower part of the corner to place something else, like a small coffee table.
A corner bookcase
Another common problem solver regarding an empty living corner is a simple corner bookcase. This item complements the living room nicely, adding traditionalism and simplicity.
Depending on the corner's size, it can either be a square bookcase shelf or one that follows the walls in a corner-like pattern. The first would be great for small corner spaces, while the latter can fill a larger space and accommodate more books.
Remember that a bookcase doesn't just have to store books; you can also add a nice vase or a picture frame to it for diversity and uniqueness.
Wall corner shelves
You can always fill an empty corner with some wall shelves. They are a great way to display character, as you can decorate them with your personal items. A picture frame is an excellent choice for a wall shelf, accompanied by a book or a small sculpture.
Installing two to three wall shelves should be enough, but you can go for as much as you want as long as everything looks tidy and symmetrical. Opting for floating shelves is even better, as they incorporate better with the corner and appear seamlessly attached to it. 
A floor lamp
A straightforward solution to decorate your living room corner is to place a floor lamp. Depending on the corner and the surrounding area, you can place a thin, one-arm lamp or a bulkier lamp with multiple headlights.
You should choose a thin and tall lamp if the corner is small and compact, as placing such a lamp in a large corner will not fill it well enough.
Larger lamps are ideal for large corners, especially if the corner is surrounded by a sofa and one or two armchairs. If the lamp has several headlights, it will illuminate the surrounding area nicely, giving your living room a nice and cozy feeling.
Related: How to Furnish a Long Living Room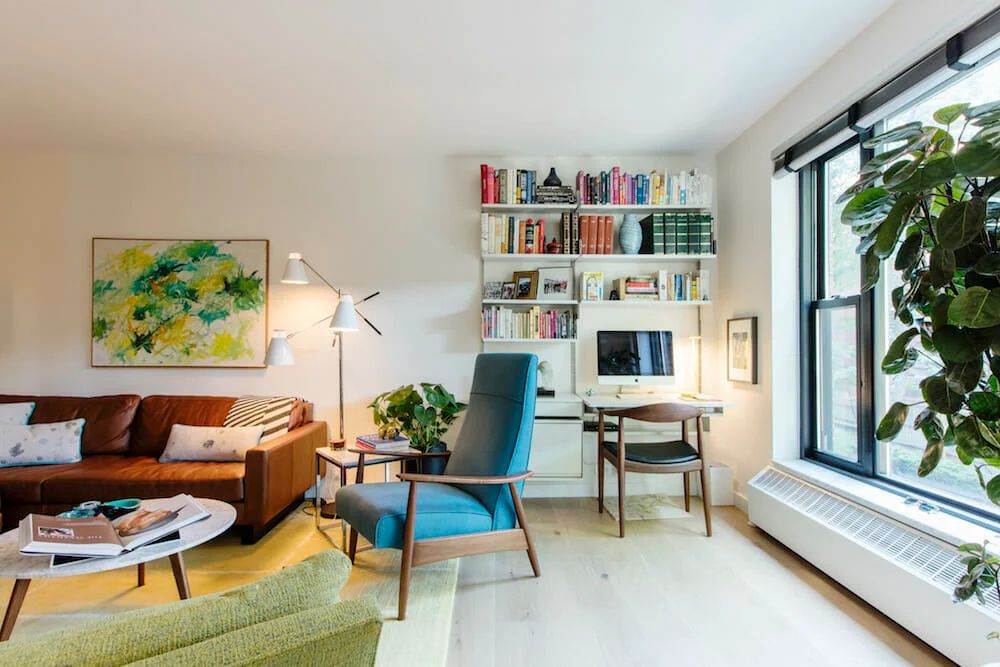 A corner desk or small workstation
If you live in a small apartment and need a dedicated workspace, especially if you work from home, then maybe the empty corner in your living room can provide the solution. Depending on how much space you have available, you can either add a corner desk or a small workstation to it. 
Corner desks nicely follow the corner and are a more suitable choice if you have very limited space. It would be just enough to get work done, and if it's too small, you can always place a nice vase on top, giving it a more decorative effect.
On the other hand, workstations are somewhere between a corner and a full-sized desk. They would require larger space, which doesn't necessarily mean they must follow the corner. If you're a productivity-oriented individual, this might be your ideal solution.
One or multiple sculptures
One thing is for sure; a sculpture will never lose its fancy as a great corner decorative piece. Wealthy people have been using sculptures for centuries to decorate their large estates, and they are something that even small apartment corners can accommodate nicely.
Based on your taste, you can choose a more traditional or antique sculpture or one that reflects today's modern times. What also stands true is that not all sculptures are expensive, as there are many affordable pieces today that you can afford and make your living room corner one of a kind.
An artwork corner
Another splendid classic idea is to make an art space out of your living room corner. Adding one or multiple pictures and paintings to the corner will produce more visual appeal. This will add interest to anyone who comes by for a cup of coffee, as it could easily become a center point of your living room.
Besides, adding pictures or paintings in a corner takes very little room, leaving space beneath for other things, such as the corner desk we've mentioned earlier. It all depends on your preference; just try not to make the space cluttered with too many things.
An L-shaped sofa
L-shaped or modular sofas are a great alternative to traditional furniture that fits into living room corners. There are various types of modular sofas to choose from, depending on the living room's shape, size, and length, and they are also made from many different textures and materials.
Using a modular sofa to fill that large corner of your living room means you kill two birds with one stone. Namely, you're solving the furniture problem of the room while also making it feel comfy and well-designed. This piece of furniture is an all-rounder and a great space saver.
A lounge chair
Since we began discussing adding furniture to a living room corner, why not consider adding a lounge chair? It can be the piece of furniture you've been looking for while wondering what to put in corner of living room to make it cozy.
The lounge chair is a piece of furniture you can use to take a nap, relax after a long day at work, or even read your favorite book. If you decide to place it in the corner of your living room, it can create a sense of a safe and secure nook in which you unwind and recharge your batteries every day.
Positioning the lounge chair a little away from the corner will allow you to add a floor lamp to illuminate the space adequately, and you can even add a small bookshelf right next to it, filled with all your favorite books.
A bar cart style table
A unique solution to an empty corner would be to add a custom bar cart table. Bar carts have a simple but very interesting design, and implementing one into the corner of your living room will most certainly draw attention.
The bar cart table can be mobile or fixed, but remember that this could be an expensive solution. A pre-made bar cart table could also be hard to find, so having someone make one for you could be easier.
If you want to go even more creative and have the space, you can make a minibar in the corner to keep all your drinks and glasses neatly organized. You can place some bar stools around the minibar to complete its look and functionality.
A mirror with a small table
Even though people rarely put mirrors in their living rooms, some still prefer them if they fit well with the ambiance. If you live in a small apartment and there is nowhere else to put the mirror, the small corner of your living room can be the only option.
As long as the space allows, you can place any kind of mirror you want. If you want to be able to look at your whole self, then adding an elongated one will be a good choice. They come in various shapes and sizes, from plain square to oval, to any interesting and artistic form you can find.
Complementing a mirror, especially a smaller one, with a minor accessory table, for example, would also be an excellent choice, especially if you live in a small apartment and need to save some space.
Read more: How to Decorate a Rectangle Living Room
A hanging chair
Adding a hanging chair to your living room corner is an unusual idea but one that more and more people have started implementing. Hanging chairs have become very popular as garden accessories, but you can also use them indoors to provide a unique look and feel.
A hanging chair is a great piece of furniture to relax in, with your favorite book, for example, and it can either be hung from the ceiling or have a dedicated stand for it. They can be quite bulky, so you must have a larger corner space if you plan to add one.
It's always best to take accurate measurements before purchasing a hanging chair so it doesn't turn out too big for your living room corner.
Pet furniture
If you're one of those people who live with pets, then adding an accessory for them in the corner of your living room would be a great addition to your room and furniture.
Cats and dogs have their own needs – having a nice and cozy place to sleep. Cats can also be annoying scratchers and often damage your furniture, so having a dedicated piece for them is a good idea to prevent that.
Besides being practical, pet furniture can also be aesthetic and promote interest each time you have guests.
A coat and hat rack
Last but not least is the universal piece of furniture that serves a great purpose and looks good whenever you put it – a coat and hat rack.
The coat rack is an ideal accessory for corners; every household should have one. Depending on the size, shape, and personal preference, it can have a traditional or a more modern look and feel. Old coat racks were ideally made out of hard bent wood, but new and modern ones are made from aluminum for less weight.
For people living in small apartments, placing a coat rack in the living room might be the only option, and you can also combine it with an umbrella stand.
Also read: How to Decorate a Living Room on a Budget
Conclusion
We trust that the ideas we gave you in this article will prove enough to know exactly what to put in corner of living room and how to make it look good and appealing. Ultimately, it all comes down to you and your decision to make your personalized corner. It doesn't matter if it's a coat rack or lounge chair, as long as it fulfills you and your needs.