The furniture is the most important part of every home. Everyone wants different designs, and people buy furniture according to the space they live in. No matter how big or small the space is, there are always furniture pieces that can fit in perfectly.
However, choosing a new sofa for your home can be one of the hardest things you'll have to do. There are countless designs out there to choose from, and it's really challenging to pick a favorite. Other factors join in when you buy a sofa, like the price and size of the sofa.
When you went shopping or you did your research on such a topic, you probably came across the word modular sofa many times. You might be confused about what it means. Here we'll clear up the confusion and explain what is a modular sofa.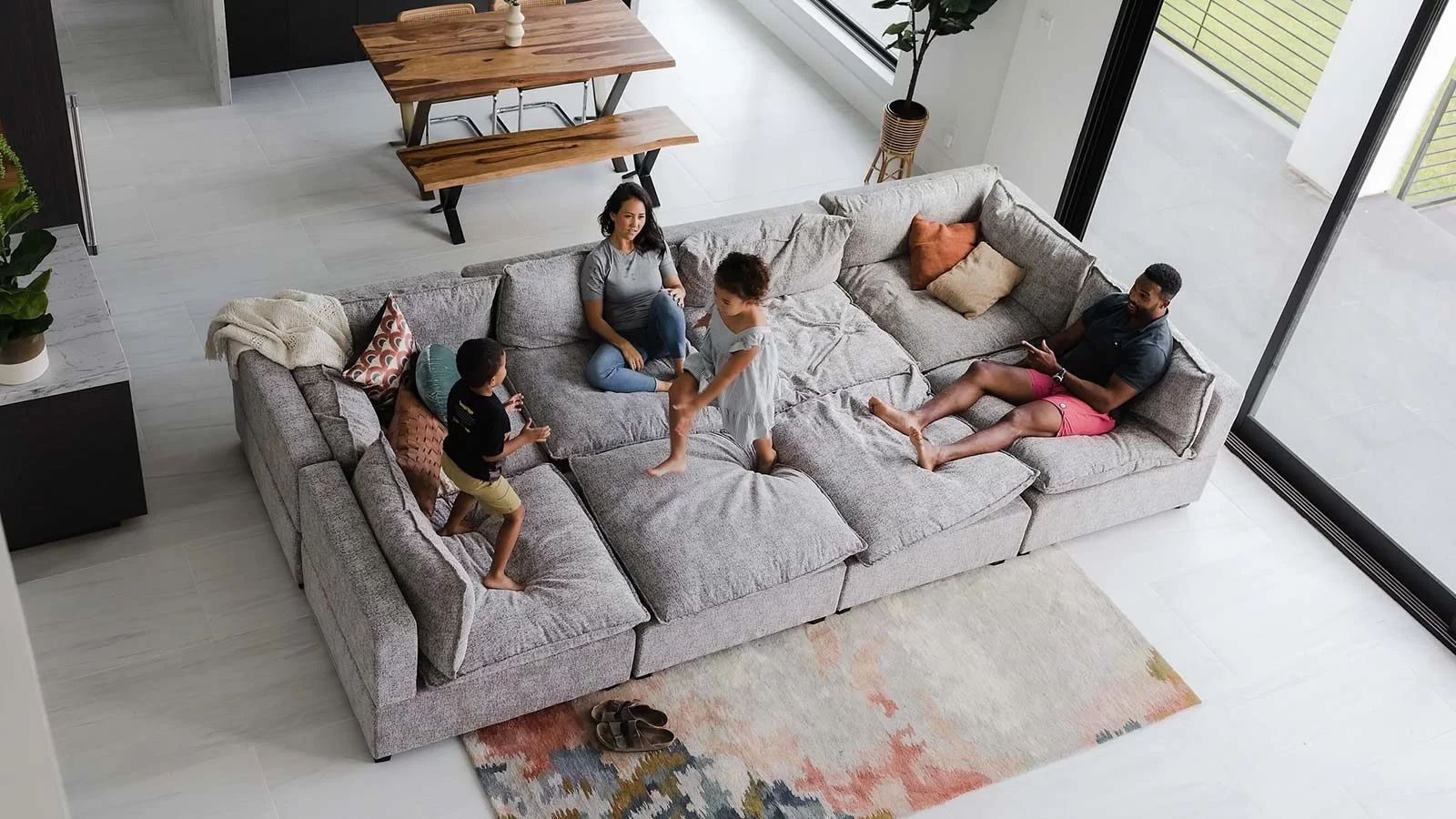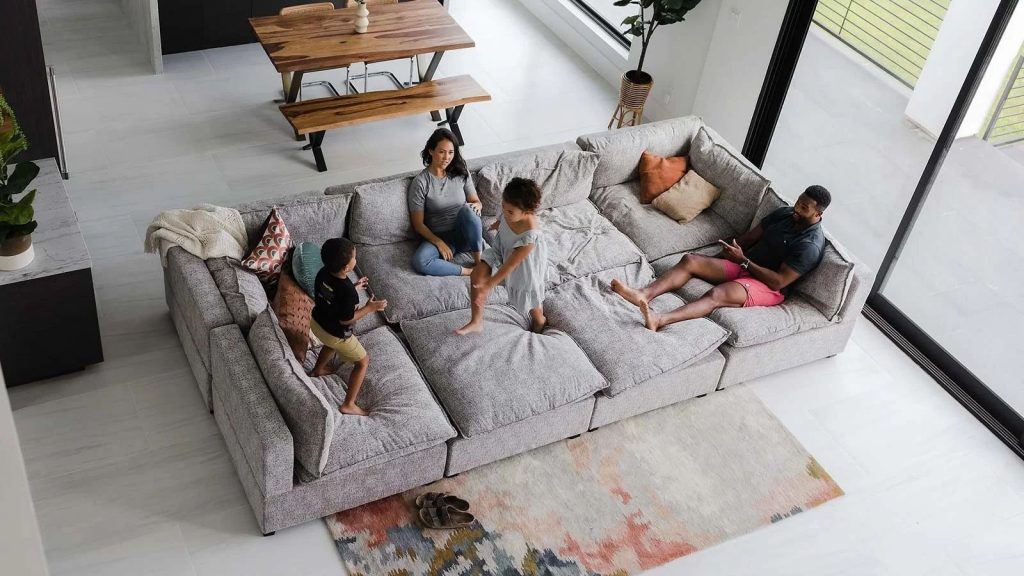 What Is a Modular Sofa?
A modular sofa is a sofa that is made up of more different sections that are movable and called modules. You can customize the sofa according to your place. You can either buy these modules together or one by one.
The design of modular sofas is flexible and offers style and comfort at the same time. By choosing this type of sofa, you have all the freedom of customization. There are many styles you can choose between for these modules. You can choose arm or chaise pieces, and by doing that, you can configure the sofa the way you want and according to the space you have.
There are many variations you can do. For example, a really popular design of this sofa is choosing two arm pieces and choosing one central unit. That way, you create a regular three-piece suite. You may want to add a corner piece for comfort. Well, you can do that.
Choosing a modular sofa will give you the option of making a custom one, depending on your space. The best part is that, usually, these sofas come with an ottoman that offers you even more flexibility. These sofas are fun and ideal for every household.
What Are the Benefits of a Modular Sofa?
As you expected, there are countless benefits of modular sofas. They're really popular. And as more companies started manufacturing them, new prototypes were created, and the benefits just increased.
These sofas are so practical and look amazing. There are all kinds of designs out there. You can find whatever matches your needs. You can find retro vibe sofas, or you can find the latest modern designs. You might want some funky and exceptional pieces; well, you can find them.
Many companies make these sofas, so one of the benefits is that you can find one that is in your price range. These sofas can get expensive. But that doesn't mean that you have to spend a lot of money to get a great one. With the number of options you can choose between, there will always be something that's cheaper but still looks fantastic.
In our eyes, they are a win-win situation. Now we will take a look at the three key benefits of modular sofas. And you will further understand why they're one of the best furniture pieces out there.
Comfort
Sofas are one of the essentials of a home. You can't imagine a home without a sofa. It's the place where we sit to relax from all the stress and work that we have throughout the day. Many people prefer the modular design of the sofa because they're comfortable and give a fantastic look to the living room.
Having a place where you can sit comfortably or rest is a crucial part of every home, and modular sofas offer just that. What's more, they come in different forms. Because there are countless designs out there, you can pick your favorite that looks great and is extremely comfortable at the same time.
With the sofa being modular, you might want to turn the sofa into a chair, you can do that. Or you might want to turn a small sofa into a full bed that you're going to sleep on, you can do it as well. All you have to do is add a module, and you're set.
You can even choose a corner piece and two other modules. That way, you get all the comfort in the world by saving up space, and multiple people can sit on the sofa feeling cozy. You don't lose anything, you just get the long-term benefits.
Read more: What Is a Hutch Desk?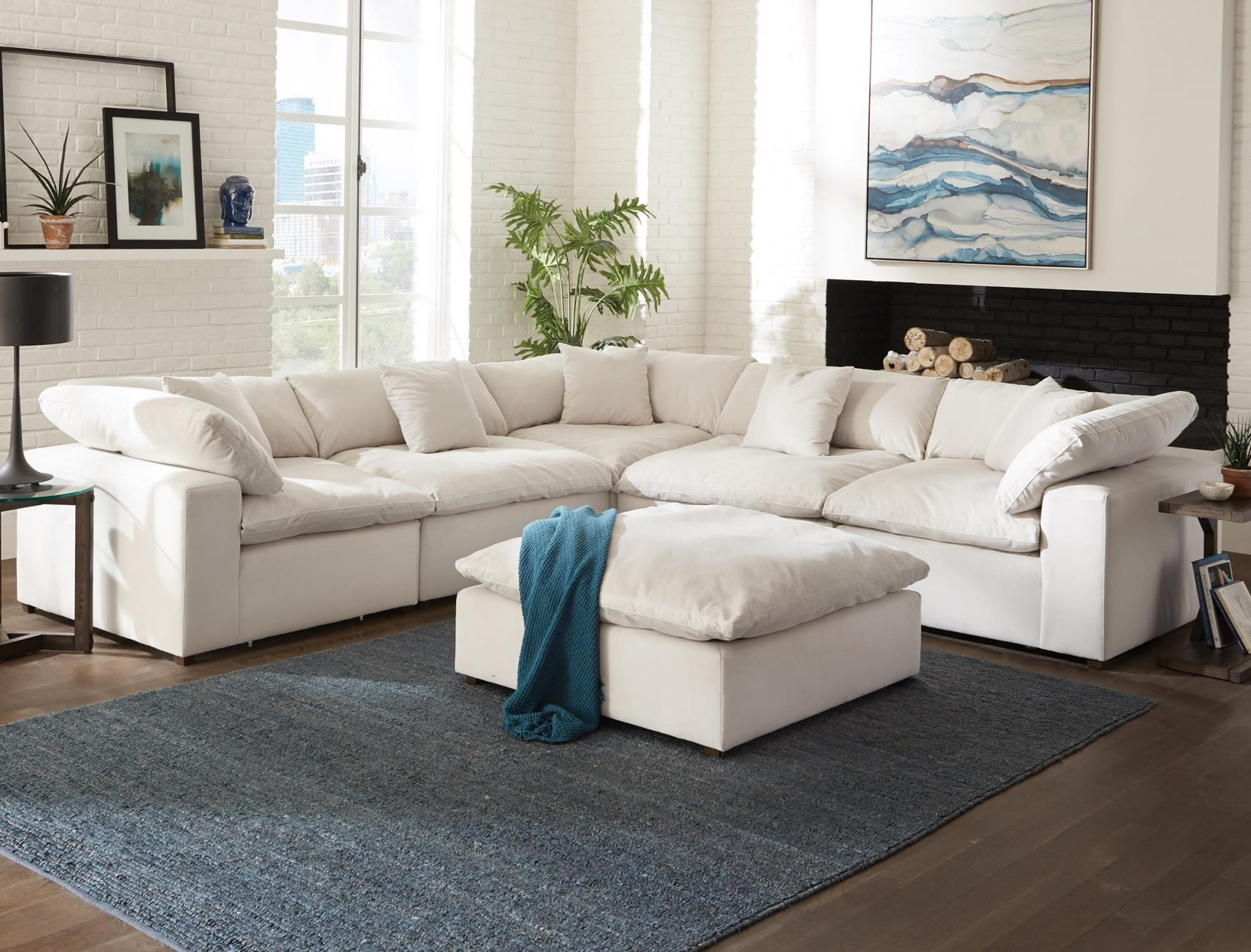 Flexibility
Of course, when it comes to sofas and furniture in your living space, you want to have as much flexibility as possible because not every piece matches your space. Every room has a unique shape, and it's organized differently, which means the more flexible your sofa is, the better.
And by flexibility, we mean arranging your sofa in whichever way you want. Modular sofas are the way to go if your space is smaller or more limited because, as we mentioned, modular sofas are made up of different sections/modules; you can arrange them in whichever way you want.
It's great that you can choose the modules in the first place. When you get them, you can arrange them in so many ways. There are a lot of combinations that you can find on the internet and do yourself. For example, if you're having a party, you can arrange the modules all around the room so that everyone has a place to sit.
Sometimes you might want to make the room more spacious. Well, if you have a modular sofa, you can do that. You can move one module to another room. That way, you automatically get a larger space and still give the room an aesthetic look with fewer modules arranged perfectly to your tastes.
Practicality
Practicality is the third and one of the advantages modular sofas offer. They are so practical, you can't even imagine. Personally, when I think about modular sofas, I think about the ease of moving around the modules and not a whole sofa.
Sofas can get heavy. Especially when you're getting them in your home, fitting them through all the doors is sometimes impossible. Living in a building and having to take out or get the sofa inside is a complete nightmare. But you won't experience this with a modular sofa.
When you buy a modular sofa, you immediately know that the modules are much lighter than the full thing. The modules are also not as bulky as a full sofa. And moving the modules around your room will be easier than ever.
Cleaning is a procedure that everyone must do in their home. Cleaning the sofa and around it is crucial to have a healthy environment. Moving the modules to clean under them is so much easier than moving the whole sofa. This is an aspect you should consider too when you buy a new sofa.
How Do You Keep a Modular Sofa Together
As much as people love to hear about the modules of sofas and how they can separate them, many people are confused and worried about how the modules stay together and form the sofa. We're going to answer this question immediately.
To be straightforward, it depends. Generally, modular sofas are created to stay together, and they're specifically designed not to separate easily. But it generally depends on the brand you get the sofa from and if the brand offers an alternative to prevent the modules from separating and keep them attached together.
There are some companies out there that make modular sofas with clips. Those clips are designed to attach the modules quickly and securely. That's a nice feature to have. But even if the sofa doesn't include these clips, you most likely won't have this problem.
It's great to ask the company about this before you order the sofa. Customer services will always be there to help you and answer all your questions.
Also read: How to Place Accent Chairs in a Living Room
Conclusion
Modular sofas are the new trend, and you can find them in almost every home. They give you all the comfort and flexibility, and they're unique and trendy. You can't go wrong by getting one. And you can always find one that matches your budget because countless companies are making them, meaning they have different price tags.
Shopping for sofas is always really fun. You're probably on the hunt for a new sofa if you come across this article. Keep in mind that you should pick a reliable brand for buying your modular sofa. Also, pay close attention to the small details, like the sizes of the modules.
Generally, modular sofas are a pretty new concept, and that's why many people are interested in having one. Now you know what is a modular sofa and how you can benefit from it. Either way, we hope that today you learned all you wanted to know about the modular sofa. Now it's time for you to go and find the perfect modular sofa that matches your needs. Stay safe, and happy shopping!