Whether you're planning to buy a dry leather couch or simply have an old one in your storage garage, it's time for the leather to be alive again. Of course, this may not be as simple a process, but with your consistency and effort, you can turn your old one into the new one.
Your couch should be the luxury in your house that you and each of your guests can enjoy. This won't be possible without the learning phases of how to treat dry leather furniture in your home. So stay with us and check out the tips we prepared for you, our reader!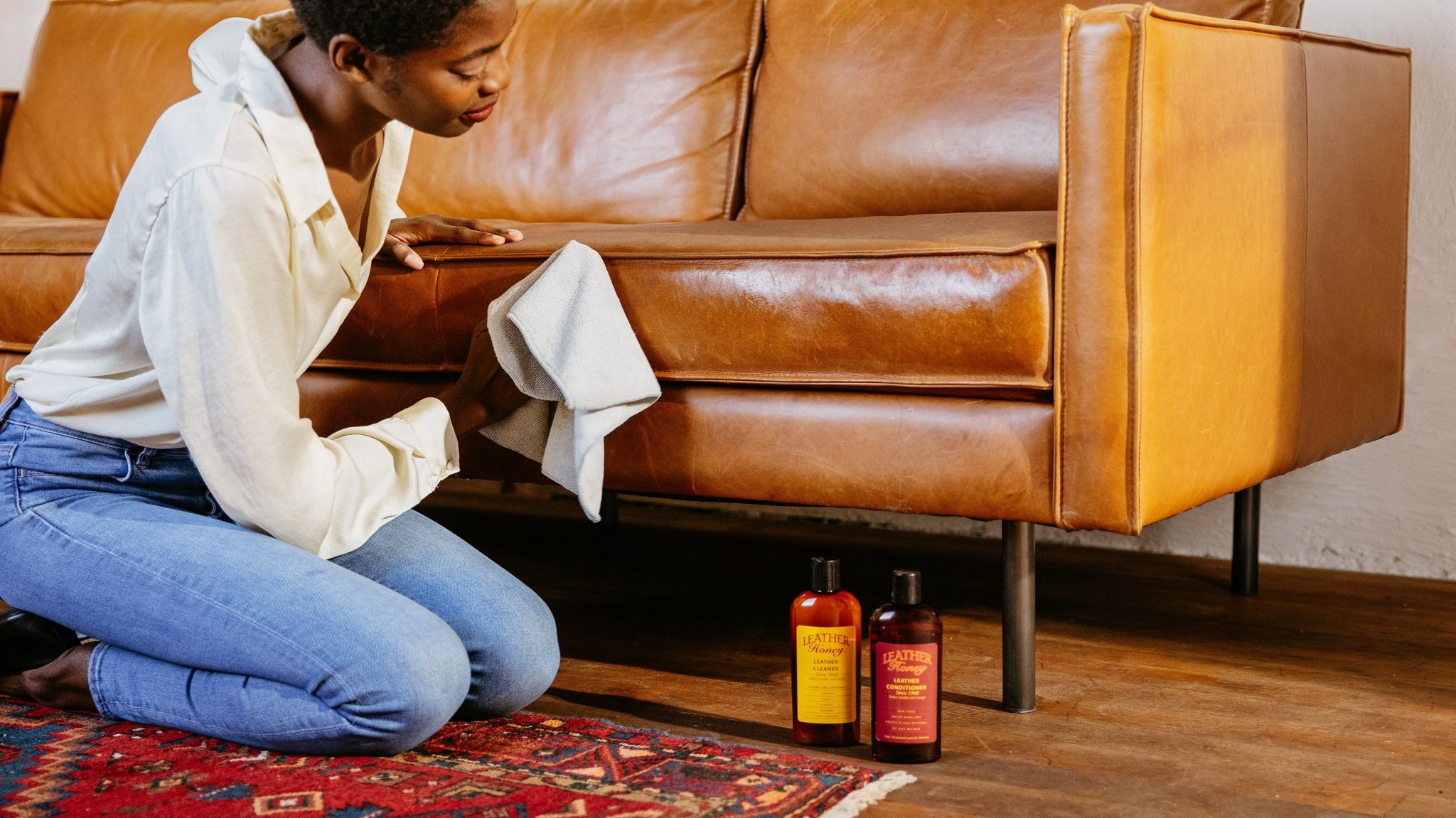 How to Treat Dry Leather Furniture
Today we are going to talk about a few useful tips that will help you learn how to treat dry leather furniture. As they are a great addition to your home, you should do the extra work or take proper care of them. Let's start with our list full of tips:
Clean the furniture with leather conditioner
Applying a leather conditioner to help replenish the leather's natural oils is the best way to treat dry leather furniture. You can go to your nearest home improvement store and buy the leather conditioner. If you're more of a DIY person, you can even do it yourself by mixing white vinegar with linseed oil.
While applying the conditioner, use a cloth, then wait a few minutes before you wipe the conditioner off. Natural oils like mink, coconut oil, or specialized leather oils like Obenauf's leather oil can also be used to treat dry couches, chairs, and other furniture.
These oils can be used to replenish the leather's natural oils and to help the material regain its humidity and flexibility. In addition to preventing further damage, this will help keep your leather furniture soft and supple. 
It's crucial to start with a small amount of oil when treating dry leather and to add more as necessary. Always have in mind to wait a few minutes after applying the oil before erasing that off. Before treating the entire piece of furniture, it's a good idea to test the oil on a small, discrete area of the furniture to see if it is safe.
Regular vacuum cleaning
Once a month, vacuum the entire piece of furniture. Take advantage of your vacuum's attachments to clean the furniture's crevices and gaps. Any cushions should be taken out, and all dirt should be vacuumed up.
Clean the surface of the furniture with the soft brush attachment as well. Use the vacuum attachments whenever possible rather than picking up the entire vacuum and setting it down on the furniture. The leather could be easily scratched by the vacuum's weight and sharp edges.
Moisturize the dry leather
It is possible to rejuvenate stiffened leather. When leather frequently gets too wet or dry, it can stiffen as a natural byproduct of aging. Fortunately, leather is a material that responds well to treatment, and leather items, such as furniture, can be revived to look almost brand new.
Read more: How to Make Leather Couches Look New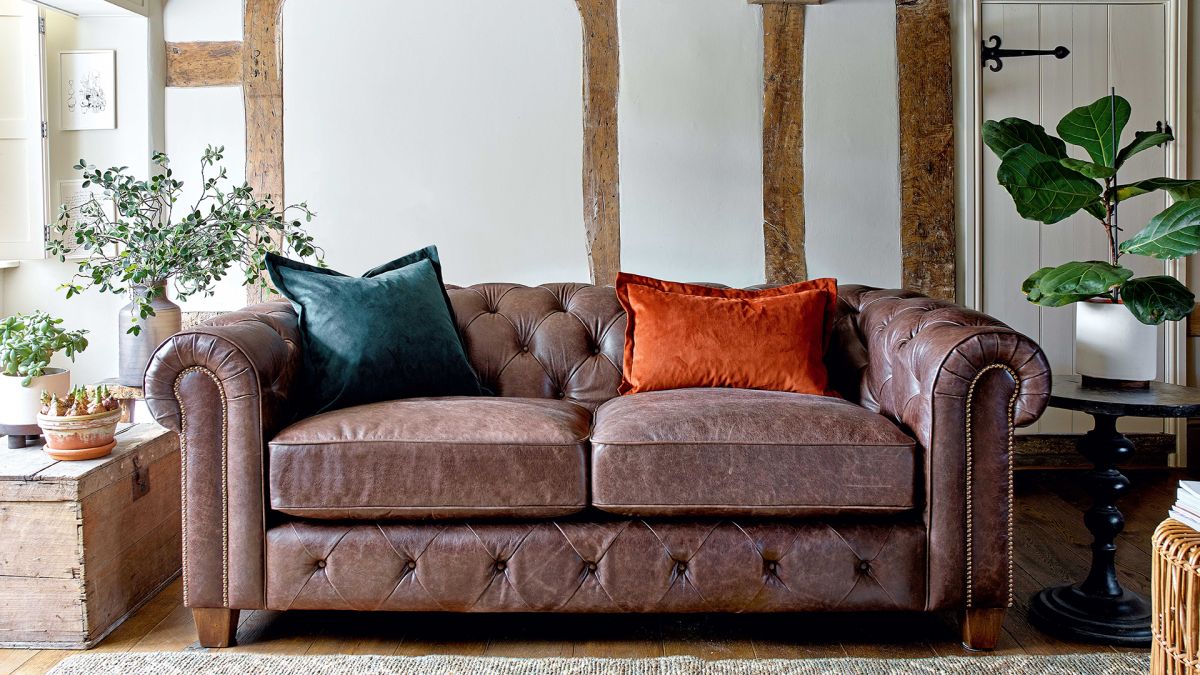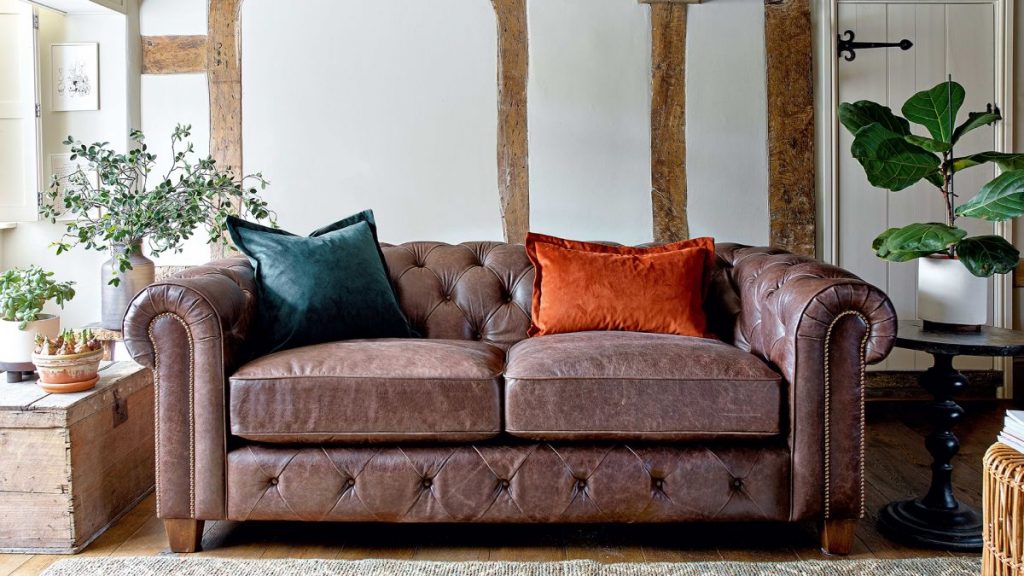 Protect it from sunlight
For leather furniture, sunlight is among the worst things. For starters, its UV rays degrade color. On unfinished and darker leathers, this can be particularly damaging. It may also lead to drying, second. Leather, like skin, cracks when it becomes too dry. Over time, leather will gradually lose its natural oils if exposed to excessive heat or sunlight.
Although some items can help shield your leather furniture from the sun, we recommend keeping it out of the sun as much as possible. If you can't, choose finished leather in a lighter color that is protected or pigmented, and make sure to keep it well-conditioned.
Why is leather your best option when your pets are around?
Any upholstered piece of furniture is most vulnerable to pets. Actually, leather will hold up against your pets better than most types of upholstery materials. It can withstand a lot of abuse, so keep that in mind.
But aesthetics is the problem. The natural markings, or "grain," that are present in genuine leather are adored by many. These organic markings, however, typically do not include years of cat scratches and dog slobber.
This is, of course, a matter of your own preference. Many owners of protected-finish sofas and armchairs don't mind, especially when they have dogs.
Remove dirt from your furniture
When spills occur, blot them as soon as possible with a dry cloth and let the area air dry. Because you want to remove all of the moisture rather than spread it, it's crucial to blot rather than wipe. Also, try that technique with fabric.
In order to remove stains, never use ammonia, harsh soap, cleaning agents, or detergents. Never let the stain sit in water for an extended period of time. Keep in mind that none of these techniques may remove the stain.
Blot excess with a fresh, dry cloth to remove grease stains. After a brief interval, the spot ought to gradually blend into the leather. In order to prevent potential harm to the leather itself, have the spot cleaned by a qualified leather specialist if it persists.
Debris removal
Any debris on the armrests, the back, the seat cushions, or underneath the seat cushions should be cleaned off. As people use the couch, it's just a simple matter of keeping the leather free of crumbs, fur, dirt, and other grit.
Wipe down all of the couch's surfaces using a white, cotton, slightly dry cloth. The leather won't be harmed, and you can see the dust you gather this way. Use the brush attachment when vacuuming, not just the hose by itself.
Also read: How to Reupholster Leather Chair
Conclusion
As we are here at the end, it's good that you've learned how to treat dry leather furniture so you don't make any mistakes when it comes to your leather couch. It can be heartbreaking to have such a beautiful piece in your home destroyed by your cats, kids, or wine stains.
We hope you'll use the information we provided you with, so you can take precautions even before there's damage to your brand new dry leather sofa.