Sometimes we don't want to get rid of old furniture because it's still functional, feels comfortable, or simply because we're emotionally attached to it. Fortunately, there are ways to fix, remodel, and keep old furniture, which is why today, we're going to talk about how to reupholster a couch without removing old fabric.
Reupholstery in interior design is a procedure used for covering a piece of furniture and giving it a new look without removing the old material. To reupholster an old couch, you need an upholstery stapler, new material, and a screwdriver or a drill.
So, roll up your sleeves, and let's start!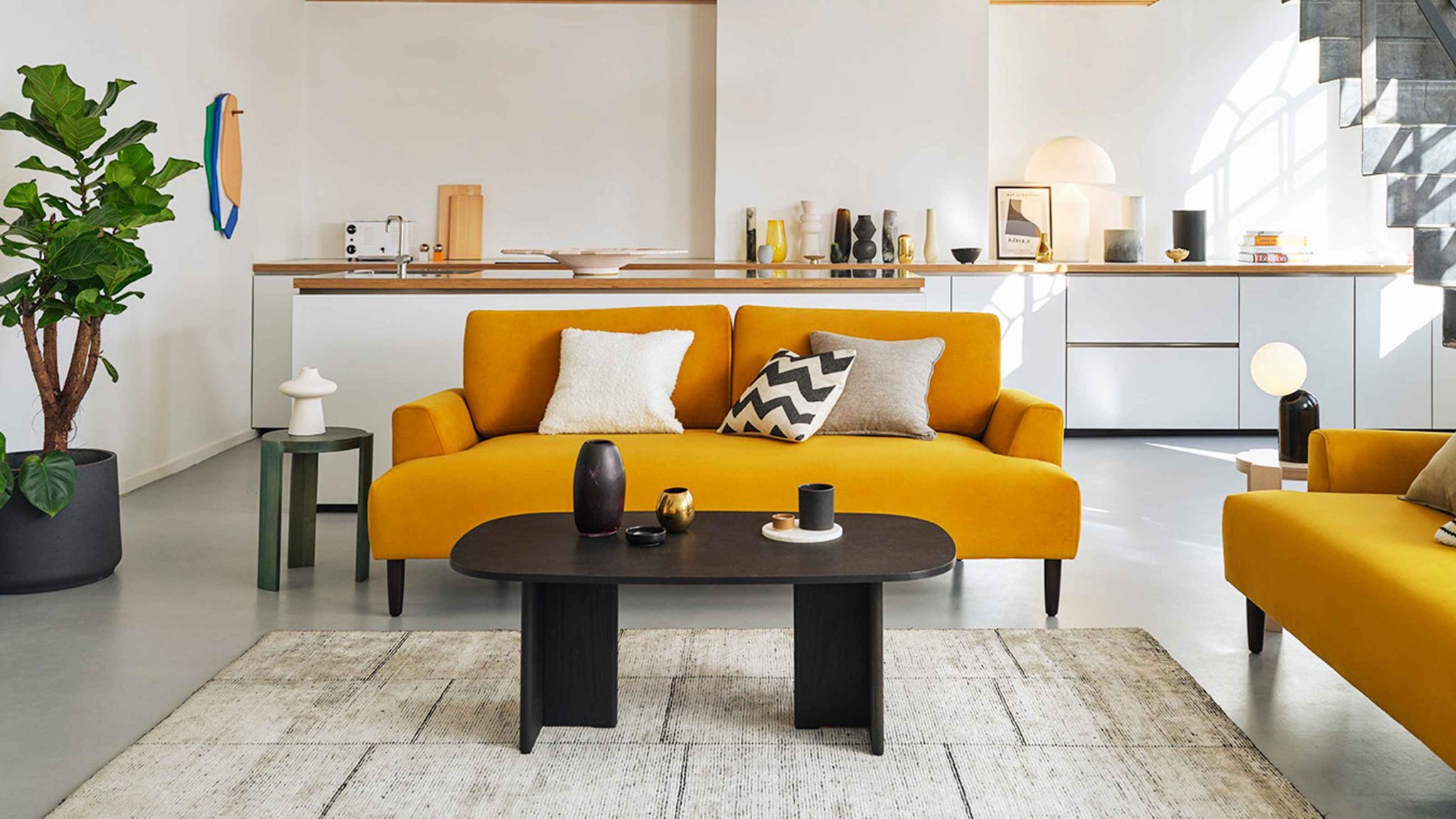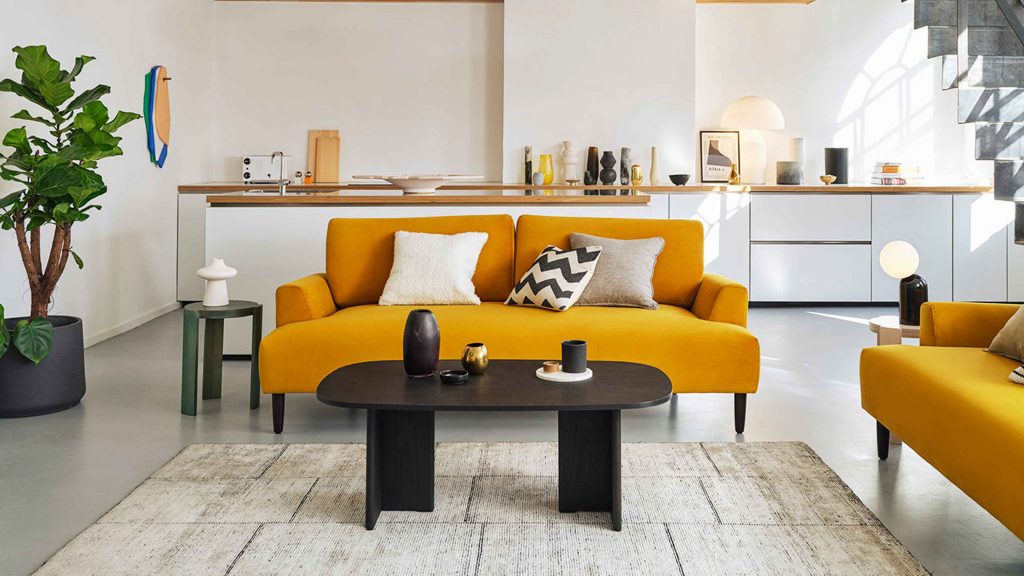 Give Your Couch a New Look
Choosing the fabric
Since you're not willing to give up on your old sofa, the first thing to do is to choose a new material. This is a crucial step, as the new material should be durable, good-looking, and easy to maintain.
We're not going to talk about personal style and taste. Therefore, the color and the design of the new material are out of the question.
However, we're going to discuss some of the most important factors you have to consider when looking for a new piece of cloth for your couch. Keep in mind that you won't remove the old material, meaning the new one has to fill out all the boxes.
Durability
The durability of the material should be a number one priority when the furniture in question is something that will be used every day. Since you're planning to reupholster your couch, we assume you want to use it regularly. So, we recommend a more durable material.
However, you can also look out for other performance standards. This means that you can choose a material that has a higher strain resistance or is water-repellant.
Additionally, you have to think about comfort. For instance, cotton is commonly used in upholstery fabrics. It's breathable and comfortable. However, the fiber is not fade resistant, and if you use 100% cotton for a regularly used sofa, it will fade away very quickly.
On the other hand, faux suede can be an excellent choice for heavy use because it's strong, abrasion resistant, and easy to clean. Typically, faux suede is a polyester material, which is suitable for heavy-use furniture.
Commonly used fabric types
Before we name a few of the most commonly used fabrics, it's important to note that you should pay attention to the material very carefully. Also, keep in mind that what's best for one couch or home interior does not apply to another.
Of course, we suggest considering the fabric's durability a top priority. However, besides its thickness and durability, you should also consider your home, the furniture, and the style of the room where the couch will be placed.
Cotton
Of course, we'll start the list with cotton, the most commonly used couch fabric overall. It belongs to the group of natural fabrics and is recognizable by its softness and versatility. Cotton fabrics provide comfort because they are durable, easy to dye, and breathable.
Moreover, they can last longer and may be ideal for people with sensitive skin. However, cotton fabrics can stain easily and absorb liquids and dye from the clothes. Moreover, this material wrinkles easily, meaning it's not suitable for sofas that are regularly used.
Leather
If you're interested in high durability, natural materials, and a timeless style, leather fabrics are the way to go. Whether you go for ultra-modern or old-fashioned, you can't do wrong with this material.
Most importantly, leather is easy to clean and maintain, doesn't absorb water, and it's resistant to stains. Moreover, it will not absorb smells.
However, leather fabrics also come with disadvantages. For instance, if you have pets, their sharp claws can tear leather, or it can be damaged by sharp objects. Also, thanks to the heat and humidity, it may feel sticky and uncomfortable.
Polyester
Polyester is one of the most commonly used synthetic fabrics, mainly because it's rather cheap, resistant to smells and stains, and durable. If you're into vivid colors, polyester may be the best choice, as the colors don't fade easily.
Additionally, polyester it's easy to clean and maintain. Usually, it's combined with other materials, such as nylon, for higher durability and stain resistance. It can also be combined with natural materials, such as cotton or wool.
Keep in mind that polyester materials are not timeless. They are great for couch upholstery, but they are prone to abrasion and can become loose over time.
Read more: How to Clean a Polyester Couch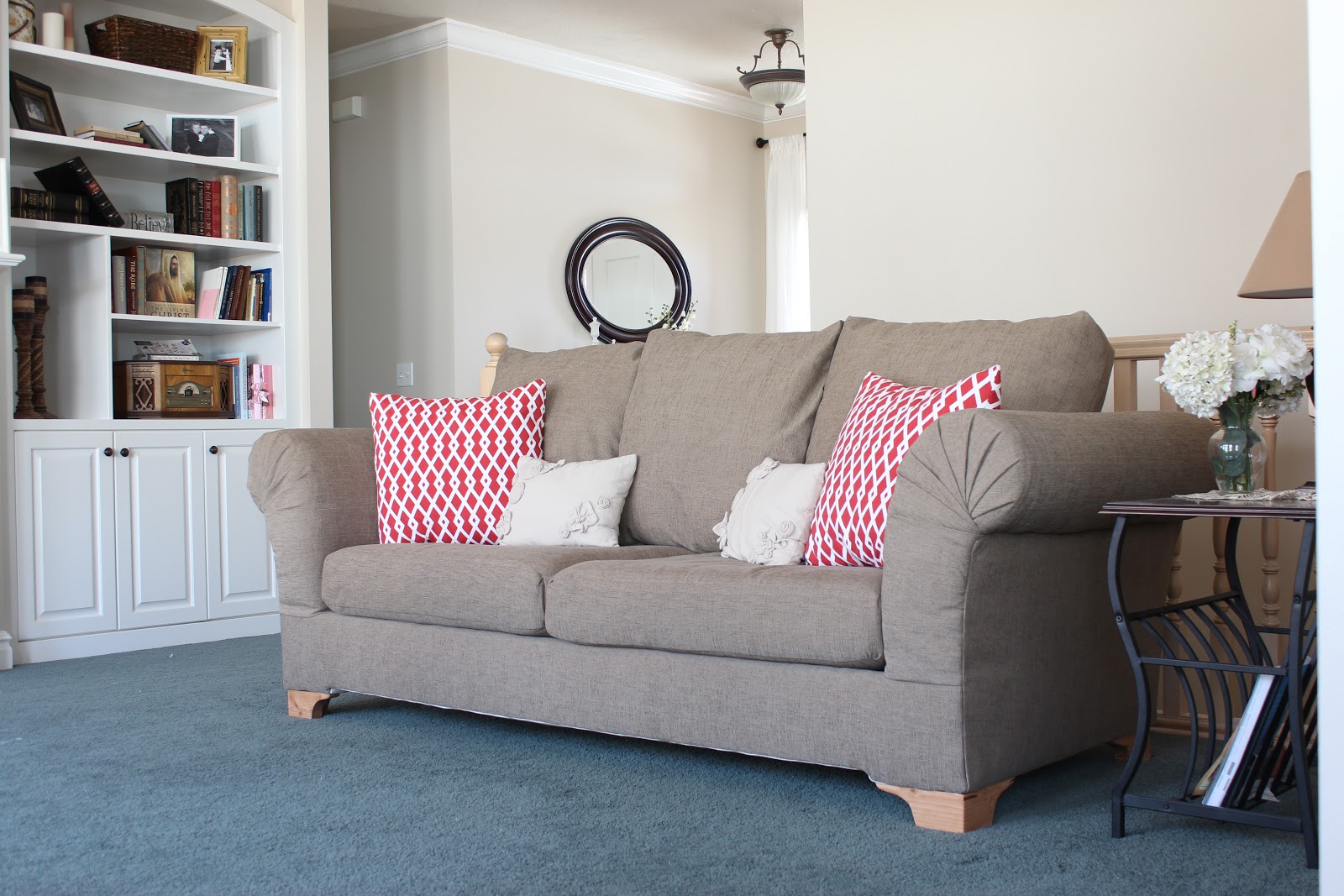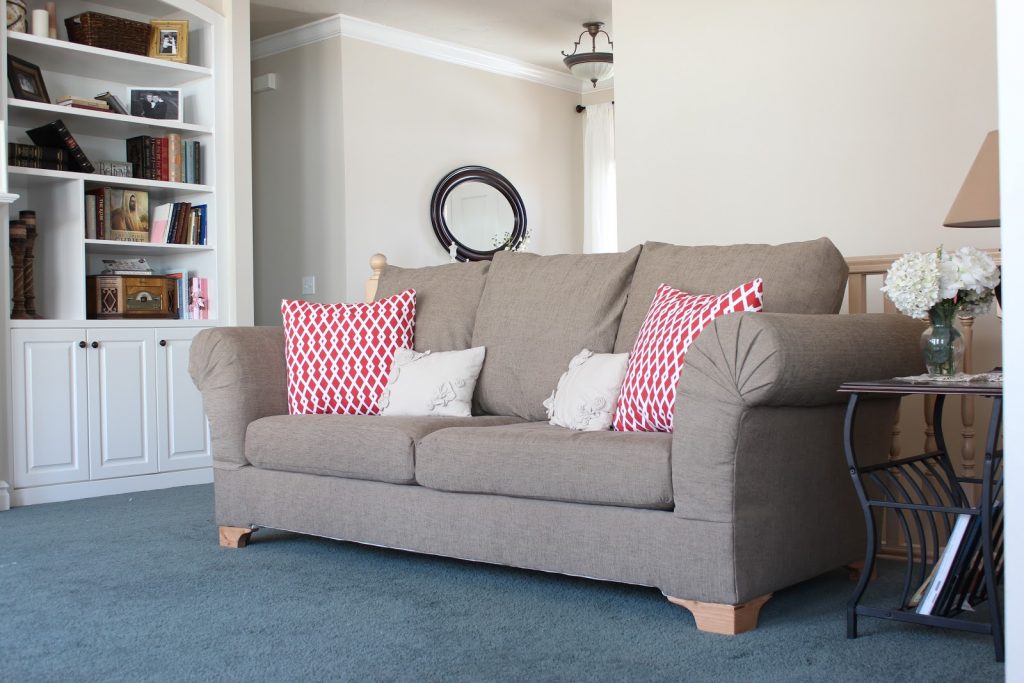 Take measures
Choosing the right fabric is the first step you'll have to take. However, if you want to know how to reupholster a couch without removing old fabric, there are a few more steps to take before you start to work.
Now that you know which fabric you will use, it's time to take measures of your lovely sofa so that you calculate how much material you will need. This is very important because if you calculate wrong and run out of fabric, you may not be able to find more of the exact product.
You should start with the back of the couch. Take measures from bottom to top and from end to end. Thus, you will get the length and height of the couch. You should do the same in front of the couch by taking measures from the floor to the top of the seat.
If you have cushions, you have to measure them too. Also, keep in mind that if you choose a fabric with patterns or a specific design, you will have to buy more fabric yardage. That's because you will have to adjust specific patterns to specific places, and thus, you may lose fabric.
Start reupholstering
At this point, you have already bought upholstery material. Take all the tools you may need, and you can start to work.
The first suggestion we will give you is to start small. This means that you should divide your couch into several sections and work on each of them separately, if possible. If you have a sofa and you only want to reupholster the seating area, logically, you'll do it all at once.
For starters, cover the couch with the new fabric. Once you check the measures you've made previously, you can cut off excess material. However, be careful since you'll need extra fabric so that you can tuck it into the couch until you reach the frame of the sofa.
Once you tuck the fabric, take your staple gun and make sure to staple the material to the wood part of the couch. At this point, if your couch has arms, especially curved ones, you have to make sure that the new material lies neatly on them. Thus, you will secure it and give it a more tailored look.
It's always good to have a screwdriver and a hammer around. This way, if you are not satisfied, you can pry out the staple and reposition it.
Also read: How to Dispose of an Old Couch
Finish touch
How tight you'll pull the new fabric depends on the material itself. For instance, some soft materials, like cotton, are better if placed slightly loose. However, if you use leather, check every corner and curve, and make sure the material is secure and tight.
We also highly recommend you add extra staples on the corners. That's because you will probably have excess material in the corners, and those places have to be more secure.
After you finish the entire couch, take a step back and check your work. At this point, you should check for staples that are visible. If you find any, replace them closer to the corner or the bottom for better aesthetics.
Now, you should cut off the excess fabric, if any. If you're reupholstering only the seating area of a simple sofa, you should flip over the couch and make sure that the seating area is secured to the frame.
Additionally, if you have cushions, you can reupholster them with the same fabric. You don't even have to use a sewing machine because you only have to sew the ends together. We recommend adding a zipper for easy maintenance.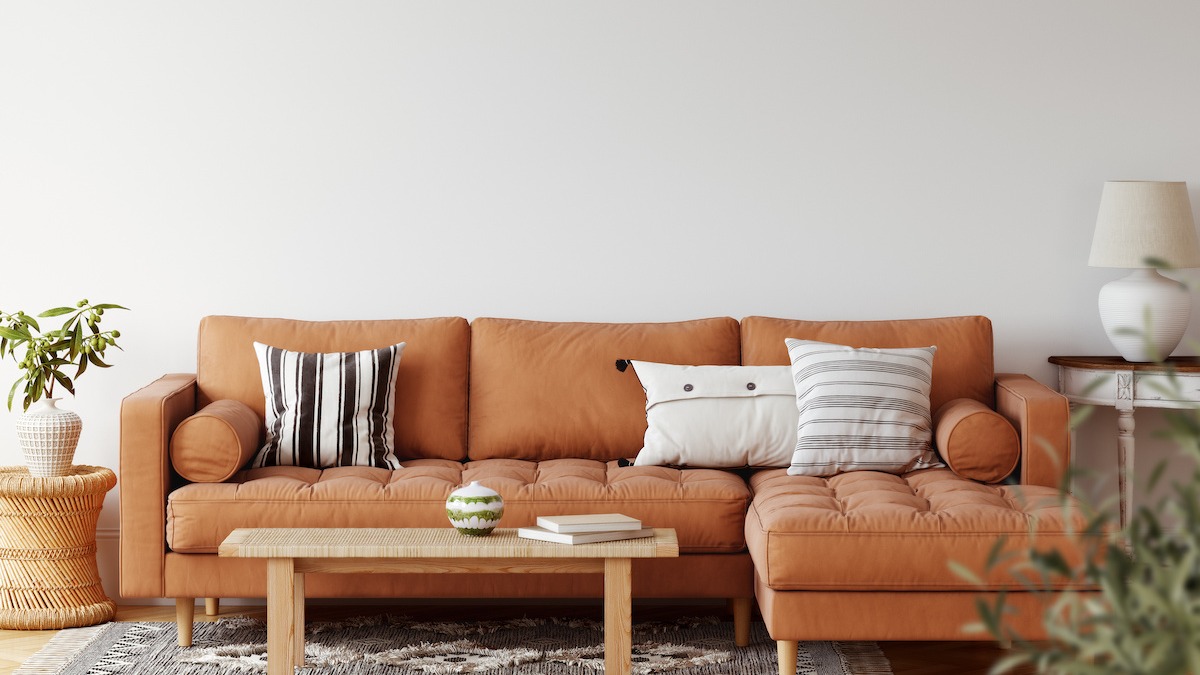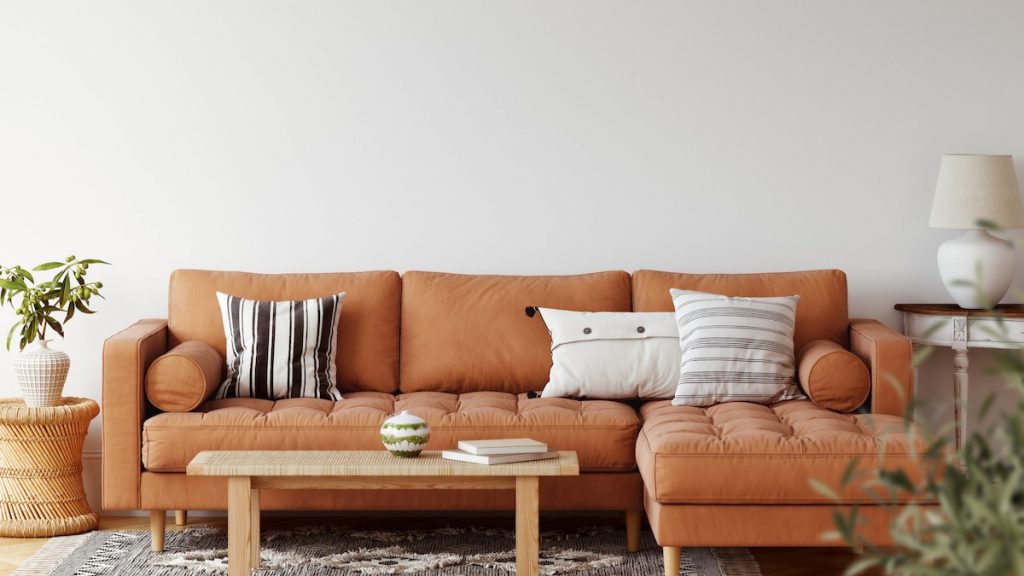 Wrapping Up
Just because your couch looks worn down and has a bunch of stains, it doesn't mean you have to throw it out. Your favorite comfortable couch is crying for help, and you are more than able to change its fate.
You were wondering how to reupholster a couch without removing old fabric, and now, after reading our article, you're familiar with the steps you have to take to give your sofa a new life and look.
Reupholstering your old couch can be very beneficial because you don't have to waste time removing the old material. Moreover, there are tons of couch fabrics that vary in texture, durability, and style, meaning you can adjust your sofa according to your preferences and needs.
However, we have to remind you that you should carefully consider the materials and pay attention while taking measures. If you're not sure you can handle the project yourself, it's always good to consult a professional, which is also fun as it can be a friendly group project.