An affordable yet luxurious-looking polyester is a versatile option for your couch. However, life happens, and things can get dirty. Pets, children, food, and fabric residue could make your couch look dirty and old.
Wondering how to clean a polyester couch? It's easier than you think. If you're wondering how to bring life back into your favorite couch, keep reading.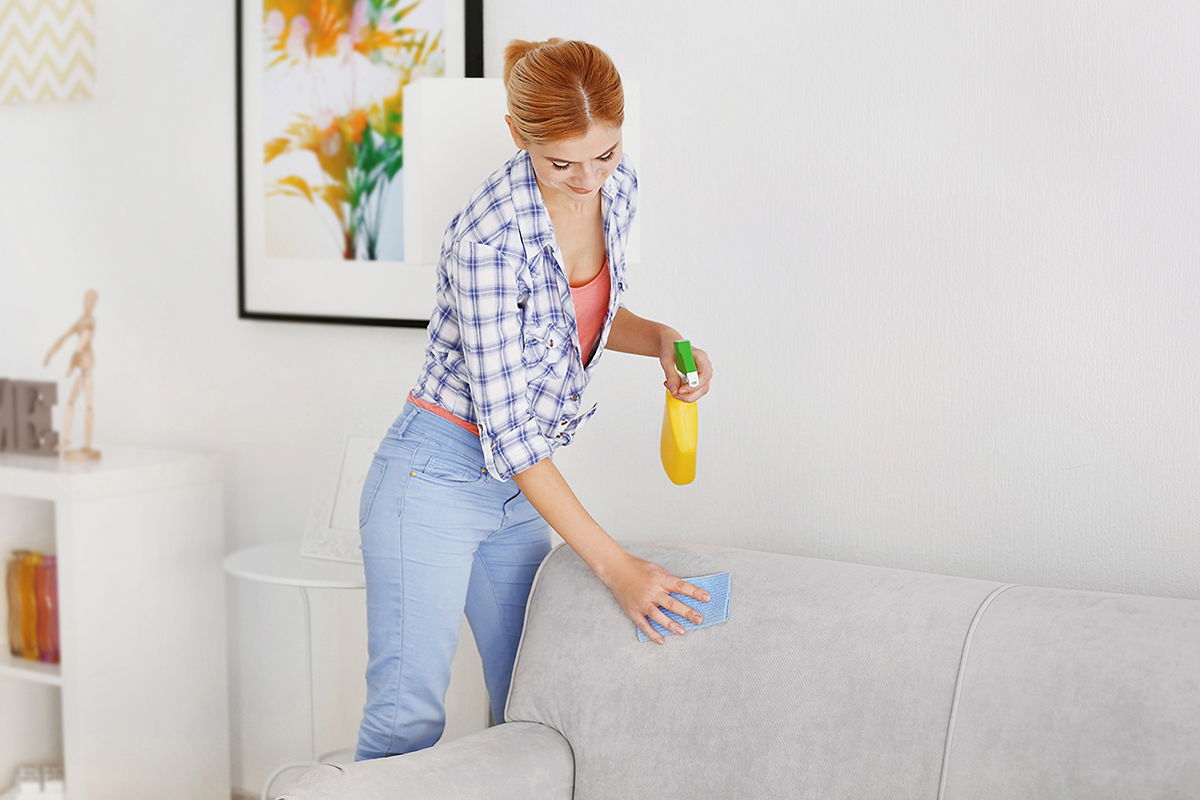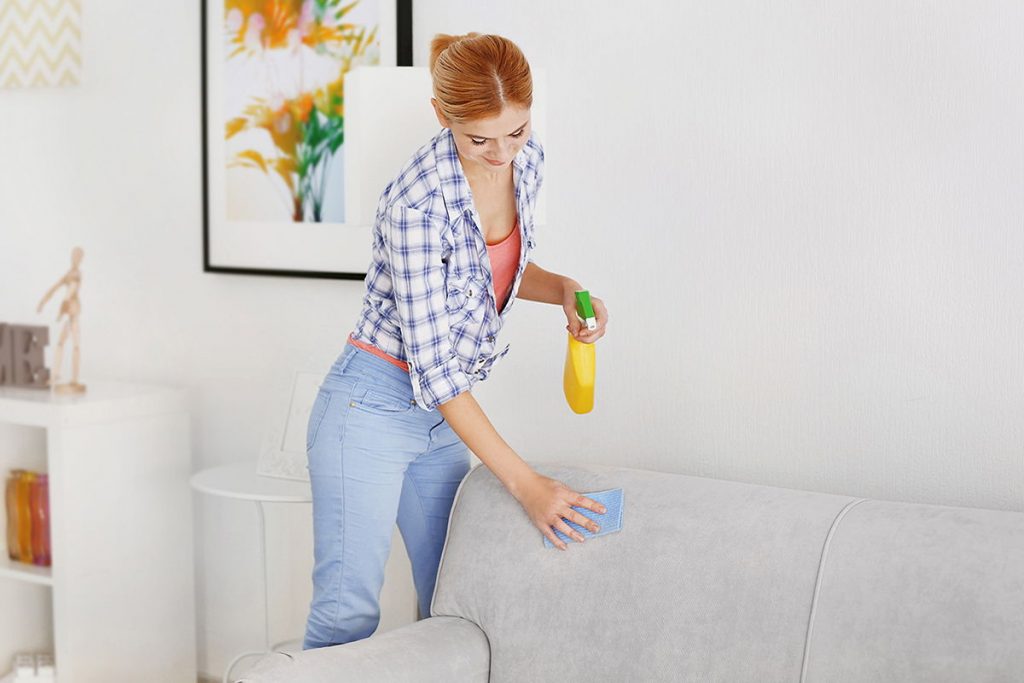 How to Clean a Polyester Couch
To extend life expectancy, you should deep clean your polyester couch at least twice a year. Follow these plain steps for easy cleaning:
Vacuum to remove dirt
Go over with a damp microfiber cloth
Cleaning a Polyester Couch for Beginners
Each material thrives and grows old differently; some are more resistant, and others are easy-on-the-eye but unsuitable for everyday use. While some materials require professional dry cleaning, polyester is a simple synthetic material that only needs regular, at-home cleaning sessions.
To cleanse a polyester couch, you need a brush or a vacuum and some water to spritz the upholstery. Then, gently rub down moisture and treat spots. Give it a good fluffing, and you're ready to use it again.
Before the actual cleaning process
It's easy to damage the upholstery, so you should always check the cleaning code hidden underneath the cushions. Most couches have a tag that guides you on how you should and shouldn't clean them. These tags include simple symbols. Let's see what they stand for.
W – stands for gentle water-based cleaning (you can use plain water or mix it with vinegar or lemon juice).
S – indicates you can conduct a solvent cleaning with harsher detergents.
S/W – although rare, this symbol allows cleaning the couch with a detergent and/or water.
O – you should use only cold water when you see this symbol.
X – indicates you should leave the cleaning to professionals or just vacuum the couch. These materials are more prone to damage.
What you'll need to remove dirt from a polyester couch?
A vacuum cleaner
A soft foxtail brush (optional)
Water
A soft cloth or a sponge
Vinegar or lemon juice
An appropriate mild detergent
Spray bottle
Make your cleaning solution by diluting one tablespoon of vinegar with one tablespoon of water and a tablespoon of laundry detergent. This natural cleanser is safer if you have children and want to avoid chemicals.
Related: How to White Wash Furniture
Cleaning Method
If you're still unsure of how to clean a polyester couch, here's a quick breakdown of the two steps:
Vacuum to remove dirt
Start by removing the pillows and detachable cushions and vacuum the entire upholstery. Using a vacuum will eliminate loose debris and leftovers hidden in hard-to-reach corners. You can also use a soft bristle brush to dislodge fine particles, pet hairs, and food residue. Brushing dirt out won't damage the upholstery.
Pro tip: Try layering baking soda to neutralize smells and refresh the material before vacuuming. Let it sit for at least 15 minutes, then vacuum.
Go over it with a damp microfiber cloth
Use a microfiber towel or a sponge for the actual cleaning. You can use only a dampened towel or make a natural vinegar cleaning solution and put it into a spray bottle.
Always make sure you follow the cleaning guide from the manufacturer. If allowed, you can use a gentle detergent and carefully wipe down the entire surface of the couch or treat stains.
You want your polyester couch damp, not entirely wet. After you blot down the upholstery, ensure it's dry – you don't want to attract mold.
Pro tip: To avoid a stiff feeling on your polyester couch, take a soft brush and give it a sweep after it's dry. A circular motion should soften the fibers and make your couch feel smooth again.
Read More: How to Clean Upholstered Chairs
Helpful Tips When Cleaning a Polyester Couch
Check the couch tag for cleaning instructions. Follow the dos and don'ts for best results.
Test the cleaning solution on a small patch before you apply it to the whole couch. Watch for discoloration or other signs of damage.
If you're using a detergent, open your windows for better ventilation and to avoid the harsh smell. The fresh air will also help with drying.
Likewise, a harsh detergent can damage your skin, so use reusable rubber gloves for protection.
Don't overdo it – whether you've chosen water or a cleaning solution, only use a light layer. Polyester doesn't need lots of rubbing and detergents. Moreover, your couch will dry faster if you use only a damp cloth.
Deep clean a polyester couch twice a year to avoid staining, and gently dust it at least every week.
To remove bad smells, use simple household products such as lemon, baking soda, hydrogen peroxide, and vinegar.
Food stains and pet urine are easily removed with a mixture of white vinegar, baking soda, and a mild cleanser or laundry detergent.
Grease doesn't need water; in this case, apply a thick layer of baking soda on the spot and let it work its magic for an hour before brushing it out.
Chewing gum stuck on the upholstery can be loosened with an ice cube and peeled off.
Dry brush and fluff the upholstery after a deep clean to make it softer.
Conclusion
People often wonder how to clean a polyester couch, and we've got good news. It's a simple task for which you don't have to be an expert or require professional help.
A polyester couch is an inexpensive, long-lasting option for active families and minimalists alike. It will withstand most stains and won't fade when exposed to sunlight. It's perfect if you have a pet living with you since you can use a lint roller to remove hair last minute before your guests arrive.
Polyester is a resilient fabric that doesn't require much attention or heavy-duty cleaning. So, to learn how to clean a polyester couch, you'll only need a few household items, such as a vacuum or a brush, and some water to give it a nice new shine.