Seems like nowadays everyone is crazy about ottoman furniture. Even though this piece of furniture is not new, as a matter of fact, it dates centuries ago, slowly but surely it starts replacing the coffee tables as it has a little more glamor and character. It's multifunctional, and you can use it as a footrest, a spot to hold your remotes, and a casual table.
So if you were looking for something that can fill the gap in the center of the room, or you want something soft that can feel cozy, ottomans are the ideal option as they come in various materials and styles.
You can put a tray and different things to make it even more glamorous. There are many options, which can be both practical and aesthetically pleasing too, so if you are looking for ideas on decorating a tray on an ottoman, check for recommendations and get inspired.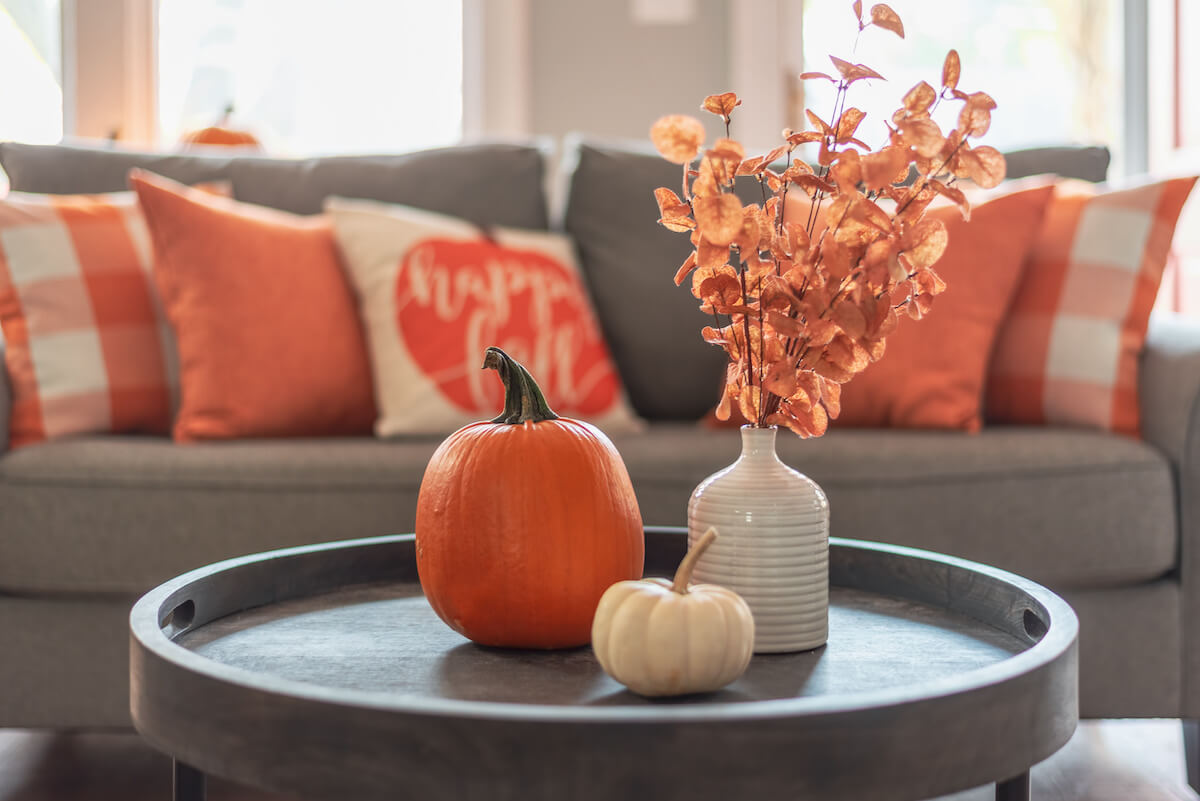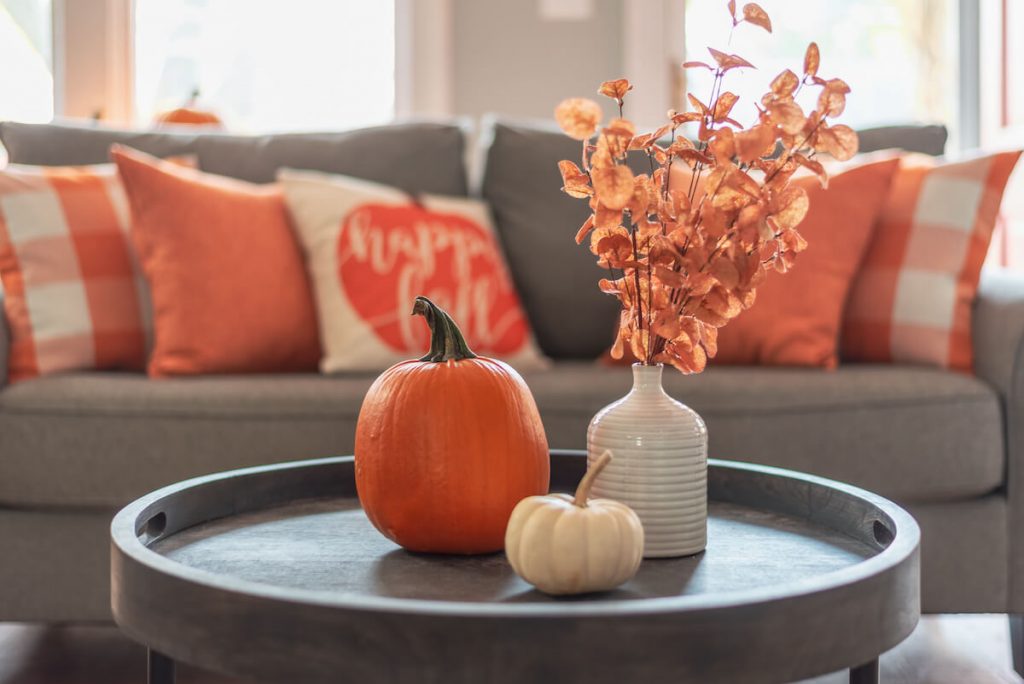 Tips on How to Find the Perfect Ottoman and Tray Combo
There are no specific rules when picking the ottoman and tray combo as long as it looks good to you and matches the furniture style in the room where you will use it.
However, if you still think that you won't be able to make the perfect match, we will share some ideas that might help you find the best style to enhance your room decor.
Picking the right tray for your ottoman
If you have a leather ottoman, there are a lot of tray options that would look good on it. A wooden serving tray can bring warmth to your room and look classy, especially if there is another wooden furniture around. If you want to add a little bit of modern flare, you can go with a marble serving tray. Another terrific option can be mirrored glass, silver, or gold to add a simple and crisp look.
Furry ottomans have that boujee type of feel and would look exceptional with metal trays in gold or silver. You can also use a ceramic or wooden serving tray for a cozier and laid-down look.
For other fabrics, you can choose almost every type of tray; however, if there is a busy pattern on the ottoman, you might want to consider using one color tray and something with a very minimalistic appeal.
Large round tray
Choosing a larger round tray with a clear finish is the best design if you want to play it safe. For that industrial appeal, you can combine it with a round ottoman in the center of your living room. You can use it to place tea, cookies, milk, and snacks. Also, it will look especially pretty for putting flowers and colorful house plants to bring life and beauty to your room.
Contemporary ottoman tray
Some people like traditional-looking things, and if you are one of them, then picking a traditional ottoman tray would be the ideal choice for storing decorative items, drinks, and food. You can pick one with matching colors to your ottoman to give a put-together look to your living area.
Silver and gold tray
The metallic design adds a stylish and glamorous look to any black-designed living room and ottoman, especially if you have other elements and ornaments in this color. You can use it to store organizers, photo albums, and keys or decorate it with food and drinks.
Decorative brass tray
The brass design tray is another beautiful and classy option where you can accommodate everyday useful things like your remote controls, glasses, and snacks. To balance the look and fill the space, you can put a small flower pot and candles and stack them with napkins. But be careful not to overload it as it can look clumsy.
Painted tray
The handmade painted trays can add a new vibe and aesthetic appeal to your room. Navy blue and crisp white hues will be perfect for placing fruits and drinks, especially on a warm summer night if you have an ottoman on your balcony. You can add a small vase with fresh flowers to add an even prettier touch.
Wooden tray
Wooden things never go out of style, and that's a fact. In this design, you probably own several trays in your home, so you don't have to buy one, especially for your ottoman. You can use it as a snack stand with fruits, cakes, and drinks and also use it for Christmas-themed decorations.
Marble tray
This is a simple yet beautiful design for inspiring a sophisticated feel in your living room. The marble tray would perfectly match flowers, jewelry, and other decors, especially if the ottoman has some matching hues with them. Maybe store your keys, wallets, sunglasses, and other everyday things.
Because of their non-removable fabric, you might need to be extra careful when placing food and drinks, so in this case, trays are the perfect solution. They give a firm foundation and also serve as a decorative display where you can put everything without worrying too much about causing a mess.
And then, whenever you want to use the ottoman as a seat or footrest, you can simply remove the tray and enjoy it however you like it.
Read more: How to Decorate a Rectangle Living Room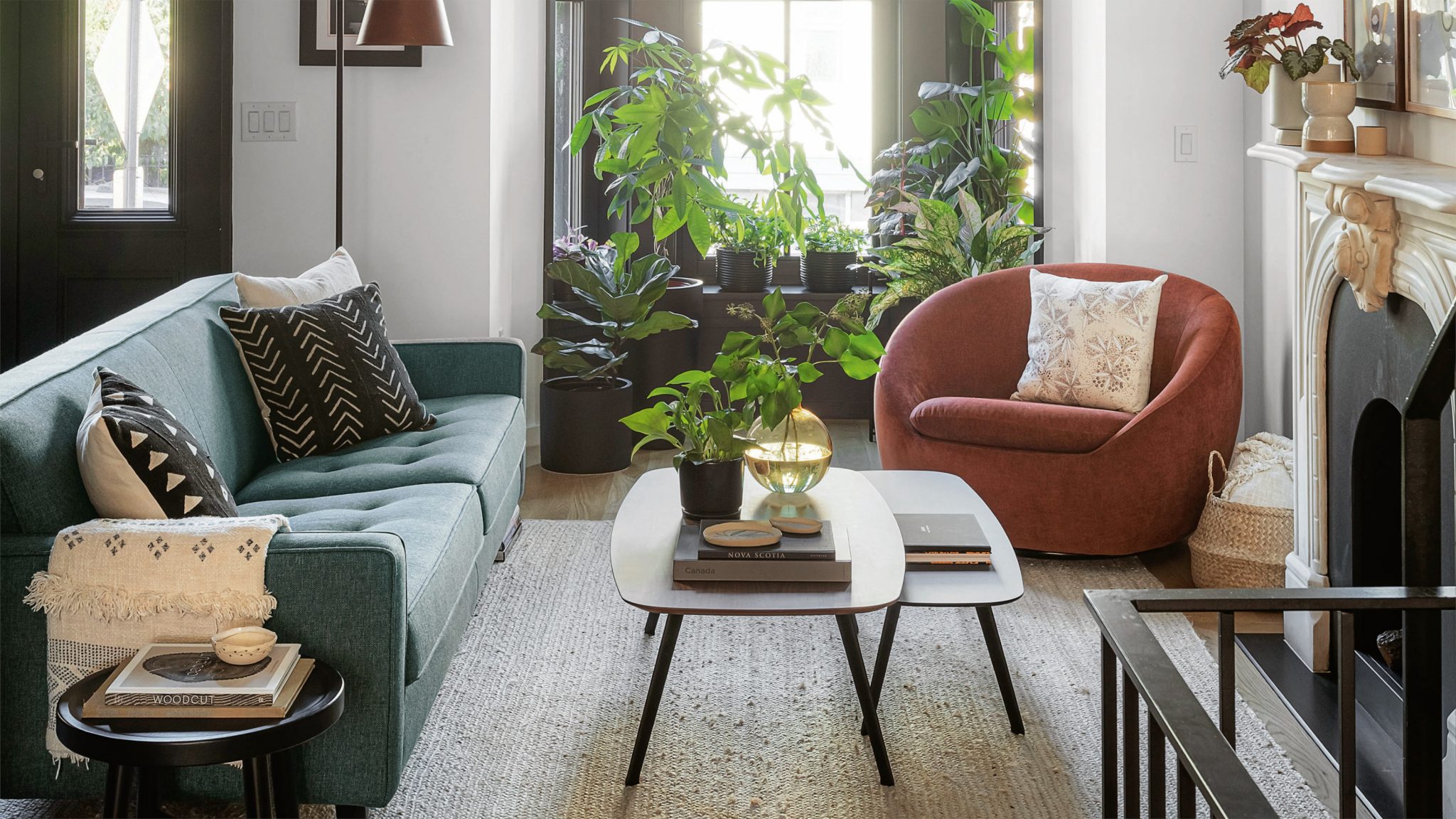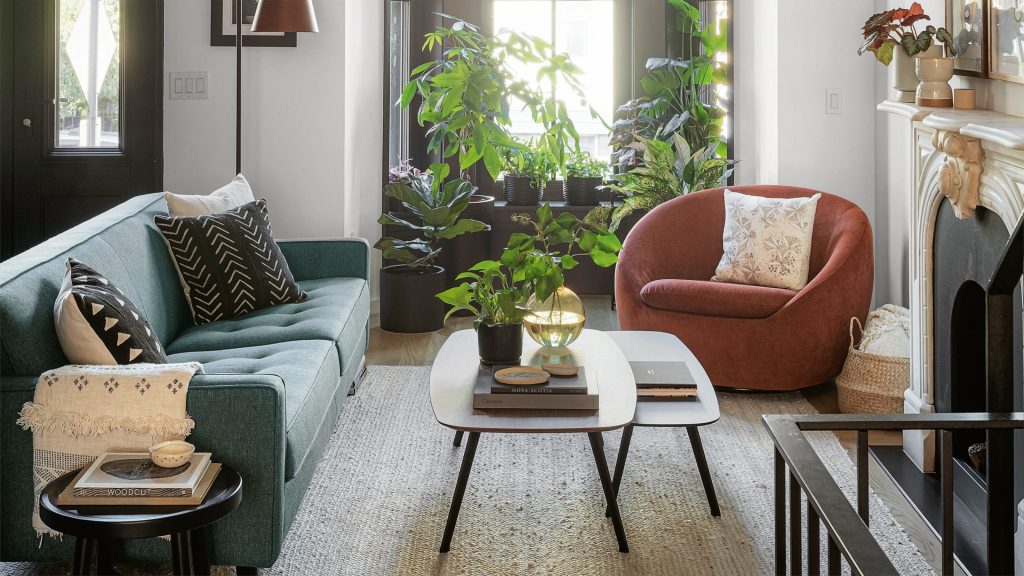 The Most Stylish Ideas on How to Decorate a Tray on an Ottoman
Ottomans are way more functional than coffee tables, especially for their functionality in small places where furniture often needs to do double duty. Their appearance brings warmth and coziness thanks to their tufting and upholstery.
When we mention trays, we usually think of tools used for serving food, but they are so versatile and valuable that you can use them in almost every room around your house for various purposes.
Storing things on your tray will make the countertop look more organized and neat and also hold all your supplies in one place so you can reach them easily whenever you need them. Since both the ottoman style furniture and the trays are multipurpose, you might want to consider placing different styles in every room.
These are some of the ideas on how to decorate a tray on an ottoman we find most creative and versatile.
Books and candles in a cool color scheme
If you are a book lover, having your favorites or the ones you are currently reading close to you would look especially pretty sitting on your ottoman tray. You can experiment with warm colors if your ottoman has neutral shades.
Picking a sleek and clean-looking tray with your books and a candle or two would bring that modern and minimalistic feel to your living room. If you aren't a candle person, you can put decorative boxes or some small plants.
Vanity essentials
Having an ottoman in your bedroom as a focal point is another great option where you can put your essentials. This includes your jewelry, perfumes, makeup, and other toiletries that you use most of the time so you can have them handy when you are getting ready in the morning.
Make it fun and playful, and most importantly, it needs to have your personal touch.
Entryway essential holder
Putting an ottoman in the entryway will surely make your area feel more polished and inviting. If you choose a larger model, you can place a tray with your everyday essentials like keys, mail, wallet, and all your other daily necessities so that you can have them handy every morning when you're putting in your shoes or when you enter your home.
Bedside personal care holder
If you want to keep your bedside tidy and you want a multifunctional piece that you can use both for sitting and as a nightstand, then the ottoman can get in both roles.
You can put all your care essentials near you, like your creams, lotions, books, vitamins, and headphones, so you can reach them easily when you are preparing for sleep.
Flowers, greenery, and other natural elements
For all lovers of natural elements around their home, you can bring freshness into your living space by setting flower decorations using fresh bouquets on your ottoman tray. You can add more life and soul by arranging multiple trays with different flowers and greenery. 
Work stand
The versatility of the ottomans is endless, which is why they fit almost every place in the house. If you have an ottoman in your work room, you can put a tray that would be easy to maintain and keep its surface clean.
So if you want to make your work area more enjoyable and comfortable, you can put your morning coffee and breakfast and store your daily journals, phone, notebook, pens, glasses, and everything that you need handy.
The ideal tray models for this kind of purpose are those with built-in handles so you can take them down whenever you need an extra seat for guests.
Dining room essentials
Having an ottoman in your dining room isn't something unusual; it can be used both for sitting or storing the other elements during gatherings like drinks, spices, and additional eating utensils.
When picking the tray design, you can choose it to match the dining service or simple metallic gold or silver for a clean, sophisticated style.
This way, you can make the whole area more organized so you can clean it easily afterward and transport the napkins, additional plates, and glasses between the kitchen and the eating area.
Little mini bar
What would make a more perfect minibar than a sleek leather ottoman and metallic tray, adding classic beauty to your living room by acting as a stylish vignette? You can display your liquor, decanters, martini shakers, and glasses to make it easier for your guests to serve themselves.
Another option to make it more organized is to pick several smaller trays personalized for each drink category, for example, having the wines sorted in one tray and the whiskey, vodka, and other liquors in another. You can also add some snacks and fruits in between them.
Little luxury spa for your bathroom
One of the most elegant ways to enhance your bathroom look is to put a round ottoman in the middle of the space. It can be both trendy decor and store some items like towels or bathrobes. Setting a tray with some of your essentials like lotions, shampoos, oils, and conditioners will turn your bathroom into a luxury spa center.
Leather ottomans are mostly preferred for this use as they are much easier to clean and maintain. When you are choosing the style of the tray, it's preferable to go for wooden, concrete, or plastic. Glass trays are also beautiful looking and easy to style; however, in case it breaks, you will end up having glass all over your bathroom risking getting an injury.
Also read: How to Decorate an Ottoman Coffee Table
Final Thoughts
The best ottoman trays are the ideal option to keep the content from sliding and potentially topping. So even if you aren't a very careful person, you won't have to fear spilling anything and making a mess. You can rest assured that every item you store will be kept secure in its compartment.
Ottomans provide an additional layer of organization and appealing decor because they can be used everywhere around the house. They are perfect storage organizers, and they can also act as a settee and a coffee table all in one, so if your living area or other room is too small to accommodate a coffee table and an ottoman, then why don't you have them both in one piece?
Rather than going to an interior designer asking for advice, you can check our ideas and learn how to decorate a tray on an ottoman like a pro. You can easily mix and match multiple styles and colors to make them look cute and eye-catching.
We hope that you like our guide, and if you did, follow our page for more posts in this category.