When you or your guest enter your house, you first see the entryway. As you want to feel pleasant and cozy the moment you enter your home, paying a lot of attention to the details in this part of your place is essential. Therefore, we wanted to write this article to combine your creativity with our expertise and look at the best ways to decorate an entryway table.
To decorate an entryway table as a pro, you will need to consider the color palette, textures, materials, sizes, and style of the decor on the table. You will also need to match the entryway's table design with the room's design. Choose decor that is cohesive with the overall style of the entryway. That way, the table does not clash with the other items.
In continuation of this article, you will be able to read more expertly-written tips and tricks in detail that top-notch interior designers keep a secret. Still, we reveal it, especially for you.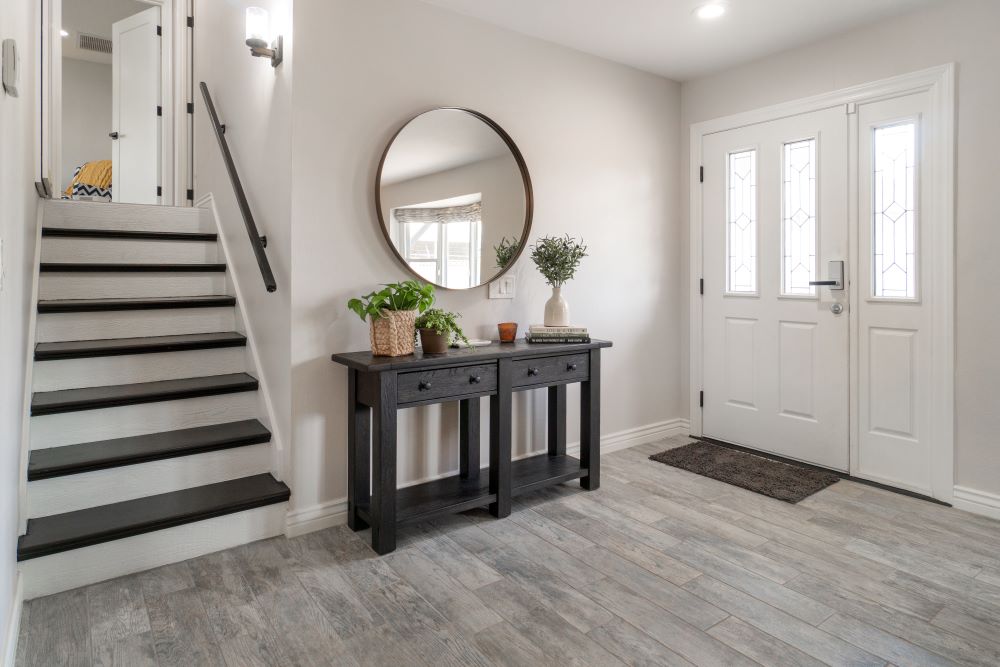 How to Decorate an Entryway Table
The entryway table is the statement and center of attention piece in the entryway. Unless you have something more eye-catching in this room, it is only natural that your attention first goes to this piece of furniture.
Therefore, paying a lot of attention to decorating an entryway table is crucial if you want your home to feel pleasant and inviting from the moment you step into it. But, although it sounds easy to say, decorating such an essential part of the house can be real trouble, so you must be extremely cautious not to overdo it.
For instance, you must know which decor pieces to use to achieve specific effects. If you want more traditional, use whites and neutrals; if you want to add height, you will need to place lamps or vases; if you want eclectic or boho style, you will need to add lots of greenery.
As all this can sound scary, in reality, it can be enjoyable. That's why we have explained in detail some of the most effective tips on decorating your entryway table just as a true professional.
Tips on How to Decorate an Entryway Table
Incorporate smart storage
More storage is always needed. Therefore, you need to try and incorporate it wherever you can. If you have not decided on an entryway table yet, the smartest thing to do is choose one with free storage so you can store your shoes, keys, or other necessities you need on hand while going out or coming home. As this clever storage is hidden from the eyes of the people, the entryway will still look tidy and clean, which is a great plus.
Try to create balance
Creating balance in spaces can be the most satisfying thing to look at. Additionally, the feeling of symmetry has some remarkable positive impact on people.
For instance, you can try and experiment with creating balance and symmetry by placing two matching pieces of decor on both sides, such as wall lamps, and in the middle of them, you can place some big vases on the entryway table.
Keep the color palette consistent
If you do not want it to look as if your entryway does not belong in your house or apartment, you might consider sticking up to a similar color palette that is dominant in your entire home.
For example, if beige is dominant in your rooms, you can include shades of beige, whites, browns, or even muted oranges in the entryway so that it looks complementary to the rest of your home.
The decor you place on the entryway table should also feel consistent with the other materials that dominate the room. If there is more metal, try and place some metal candle holders, small metal statues, decorative metal bowls for your keys, or even metal lamps.
Related: How to Decorate a Glass Table Top
Go bold in a smaller place
Whether you live in a smaller place or have muted tones in your entryway, decorating an entryway table with bold pieces and colors can be a great idea. For example, you can include some big statement pieces such as a big vase or a big, eye-catching lamp that would draw attention from the tiny space around.
When it comes to bold colors, they are always welcomed. Just make sure that they are complementary to the rest of the decor.
Match the overall style with the rest of your home
This is maybe the most crucial item on the list. You need to pay the most attention to matching the overall style with the style of the decor on the entryway table.
So if vintage is your style, you can place some unique vintage framed paintings on the table that would get supported on the wall behind it. In front of these paintings, on one end, you can thrift some big vases with flowers of your choice and place them there, and in front of them, you can lay some books.
If you go for minimalism, you can choose simple geometrical decor in a muted palette that would go great with the overall aesthetic. The options are endless!
Include greenery
Regardless of the style your home is decorated in, greenery is always welcomed. As there are many options, shades, and styles of plants, real or faux, we are sure you will find what will work for you best.
If you go for more boho or industrial style, greenery in wooden boxes is the way to go. If you prefer elegance, greenery in a white rounded simple vase will look incredible. If you prefer art deco or eclectic style, vintage and eccentric golden vases with greenery will look top-notch.
Read More: How to Decorate Walls on the Side of the Fireplace
Conclusion
If decoration was not your strongest side, or if you wanted to upgrade your knowledge, we are sure that with the help of this article, you have not just learned how to decorate an entryway table, but you are equipped with the knowledge to do it like a pro!