Just because the hall isn't a 'room' in a traditional sense doesn't mean it should be neglected from being decorated. Your hallway is the first place you and your guests step in, so consider it a room where you can inject personality and create a statement by decorating it.
Knowing how to decorate long hallways will set the tone and style for the rest of the rooms in your home. This room will speak to your design sensibility and be functional and welcoming. You can create a pretty pathway with plenty of personality and options.
If you ever had to look for long hallway ideas, you're more than aware of the tricky task of making a long hallway look wider and nicer. We hope this article will help you learn how to decorate long hallways. Multiple long hallway ideas will help you turn that boring and awkward hall layout into a stylish and sophisticated hallway. So, don't give up yet!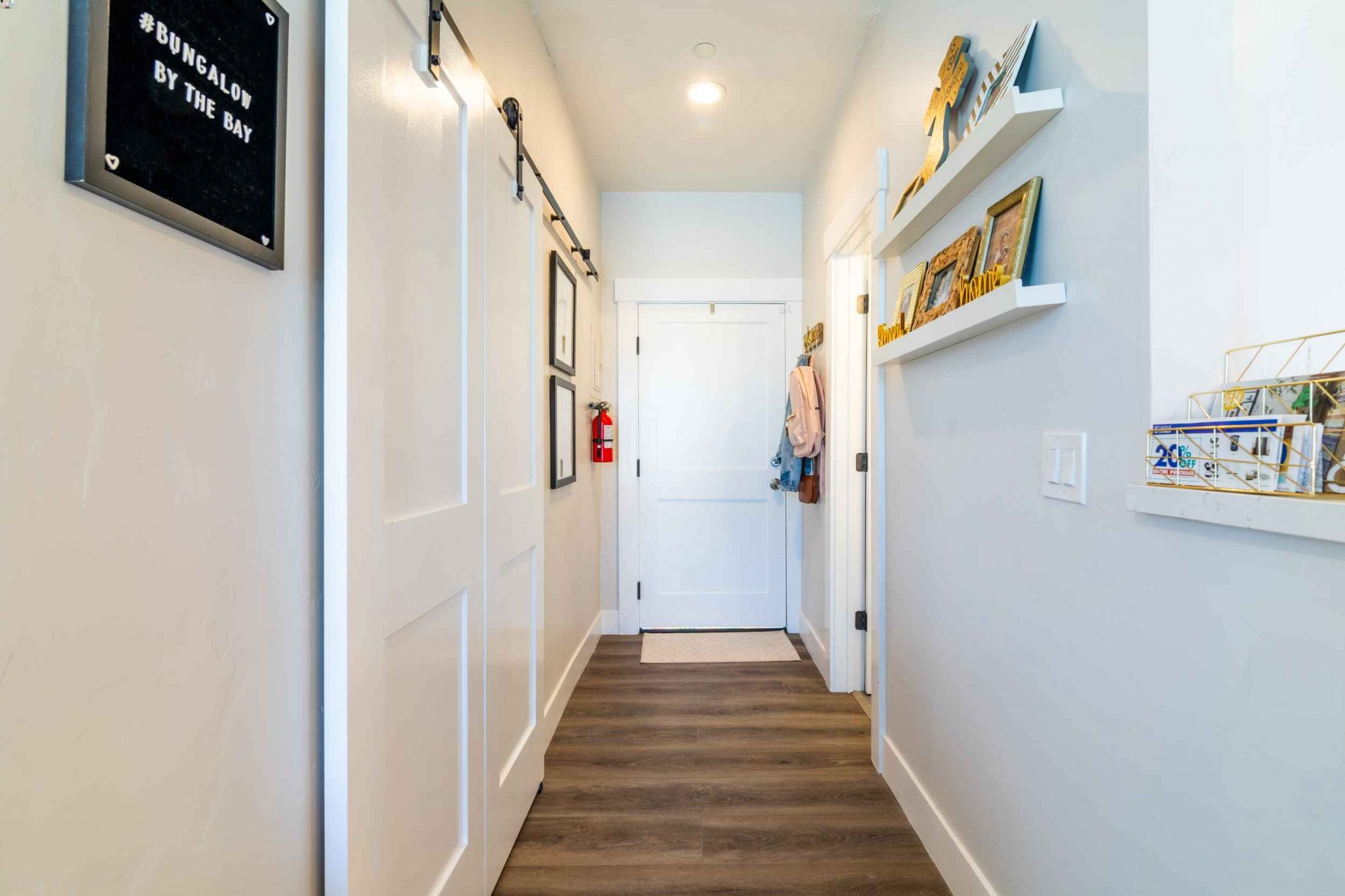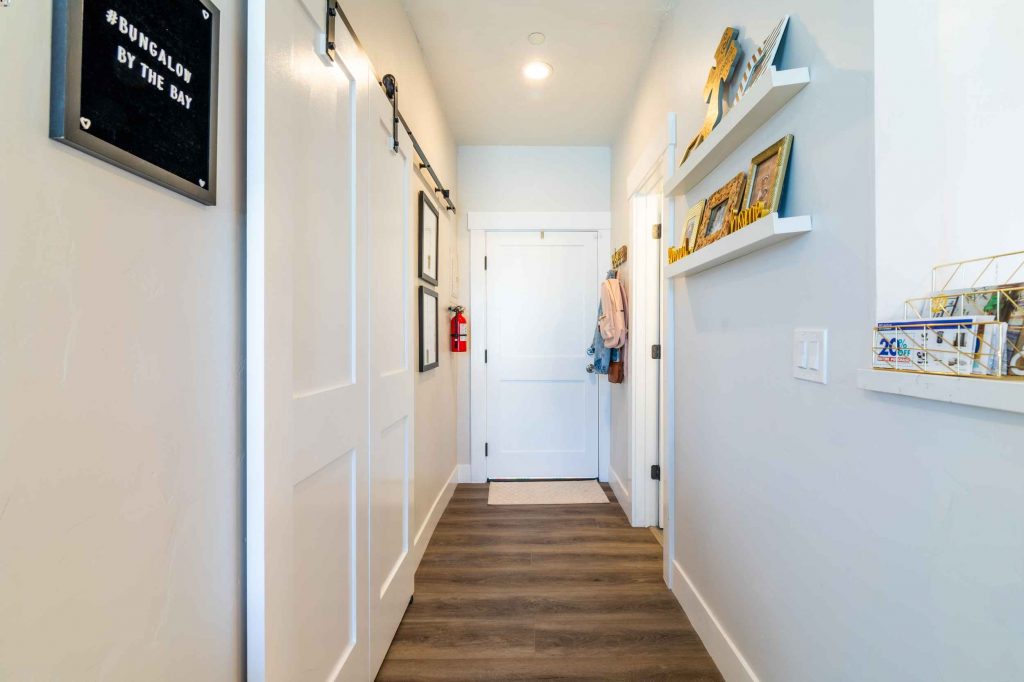 19 Best Ways to Decorate a Long Entry Hallway
Use multi-functional furniture
There are multiple ways to invest and make the most of your narrow hallway space if you know how to decorate long hallways appropriately. You can use furniture items to make the hallway appear more expansive. It is always best to use something functional, like a bench that could be used as a storage unit. Console tables with drawers are also a good option.
Make sure you use big furniture against the walls so that the space in the middle of the hallway isn't broken up. Don't just block pathways; instead, scale your furniture so it fits well.
Light up a small space
If a long hallway has windows, they may be the best source of light in the room. But if there aren't, try installing chandeliers, wall sconces, or table lamps if there are any tables. Light will most definitely help brighten up a narrow hallway.
The dark corners of your hallway may close off the room, making it smaller and more cramped. Try visually expanding the corners by placing a standing lamp or a lamp on a table in that corner.
Hang up a mirror
Mirrors may make a hallway appear more spacious. If there is a window in the hallway, place a big mirror opposite the window to reflect the outdoors and make the room feel broad.
Mirrors will also make your room brighter, reflecting natural and artificial light. At night, they bounce light deep in the room, making it feel like it's larger.
Display oversized wall art
As we focus more on making our hallway feel more spacious, avoid placing too many things on the walls. This makes the room feel more closed in. Instead, hang a simple, large painting. It will help make the room feel more expansive.
You should also place the art pieces lower on the walls. That way, you'll avoid highlighting the imbalance of the wall's proportions.
Liven up the space with greenery
It is always a good idea to place a plant in any room. A small plant or a tree in the corner of a hallway, mainly at the entrance, livens up the place. The space will feel more homey and welcoming.
There are plenty of varieties and styles to choose from, allowing you to bring the outdoors inside. Plants will be a decorative presence and add a natural touch to the space. You can try to stick to different small pot plants or choose one large plant to steal the show.
Organize the hallway with slim storage
It is good to organize and keep a hallway tidy and welcoming. It is practical in a room like this to store shoes and coats. You could place a small desk as a remote workstation.
What storage furniture you're going to place depends on the size of the hallway. If the entryway is narrow, choosing slim storage with tilting drawers for your shoes would be a great idea. You can also pick a slim bench with storage inside. These would be excellent spots for placing coats and shoes and for sitting.
Dress the hallway with distressed furniture
Second-hand cabinets and consoles would look great in a hallway of a house that has a history. Not everything has to be new.
Search antique or charity stores for gold or brassy frames. And don't worry about scratches or scuffs; they add a lot of character and beauty to your interior scheme.
Read More: How to Decorate an Ottoman
Place a warm and welcoming carpet
Since hallways are the first place guests enter, a carpet is a great way to keep your home clean and make it feel cozy. You can also place an indoor doormat.
A half-moon doormat would look great in a small hallway. It is a good idea if the mat matches the decor in the room, the style, and the colors.
Add entryway decor
The console table is the first thing guests will see when walking in the hallway. Decorating this console table would be great with a 'less is better' approach. This is the perfect place to pack in as much personality as you want.
Including a dish for keys, a bunch of flowers and candles, a photo frame, and other little things that won't make clutter is a wise way to make the space look lovely. These pieces should give an inviting first impression to the guests. They should also speak to the design and style of the house.
Add hooks for coats and jackets
Hooks for coats are a great practical solution. But, the place where you mount it is crucial. When looking where to mount it, break up the hallway into sections. You don't want to put it next to the console table.
Ideally, you want to mount the coat rack opposite the console table but further down the hall. You don't want it to be above the console table.
Remember that shoe storage would also work here, but place just one of them. A storage unit and a coat rack together would be overkill.
Install pendant lights down the hall
If you've put a console table next to the entry, we don't recommend you put a table lamp since the space on the table is small. You can do this in a broader hallway, for sure.
Try illuminating the long hallway with one pendant light inside the front door and several other pendant lights down the hallway.
This is probably the best way to reduce the dark feel in these long hallways. Avoid boring flush mounts and instead install lights with personality. You have the opportunity to play with eclectic styles.
Add a gallery wall with family photos
It is always a good idea for the hallway to reflect who lives in the home. So, a gallery wall with family photos might be a great idea to decorate your long hallway.
Showcase your family and make it a fantastic place to display your best memories. This will not only give you a reason to stop in the hallway but also allow you to cherish and celebrate some family memories.
Add a long runner
If you have wooden floors in your long hallway, placing a runner is a good idea. This would make a huge difference by reducing the noise from loud footsteps when the hallway gets crowded. It will also make your hallway calm, warm, and welcoming.
If you can't find a runner that is long enough for your hallway, don't worry, you can always buy a larger one and have it cut down. You should choose a runner with durable material, in a bold color or more subdued, and enjoy the personality it will bring to your floors.
Add a seating area
If you want to make your hallway feel cozier, place a bench seat if you can fit it. You can build it into the wall or place a freestanding bench seat if you have enough space.
It is a clever idea to utilize storage by buying a seat with a lift lid. It would be a handy use for storing school bags and shoes.
Choose a theme
Try choosing a unifying style to center the decor around it for a cohesive look and a first glimpse of the whole house's style. Try mismatched items and furniture with bold colors to enhance that eclectic style if you want to go for it. If you're more into boho, you should gravitate towards more botanical and natural textures.
When you decide on the style and choose your preferences, it will be easier to set the tone for the hallway space, and it will be easier to decide what to include and what not.
Also Read: How to Decorate a Glass Table Top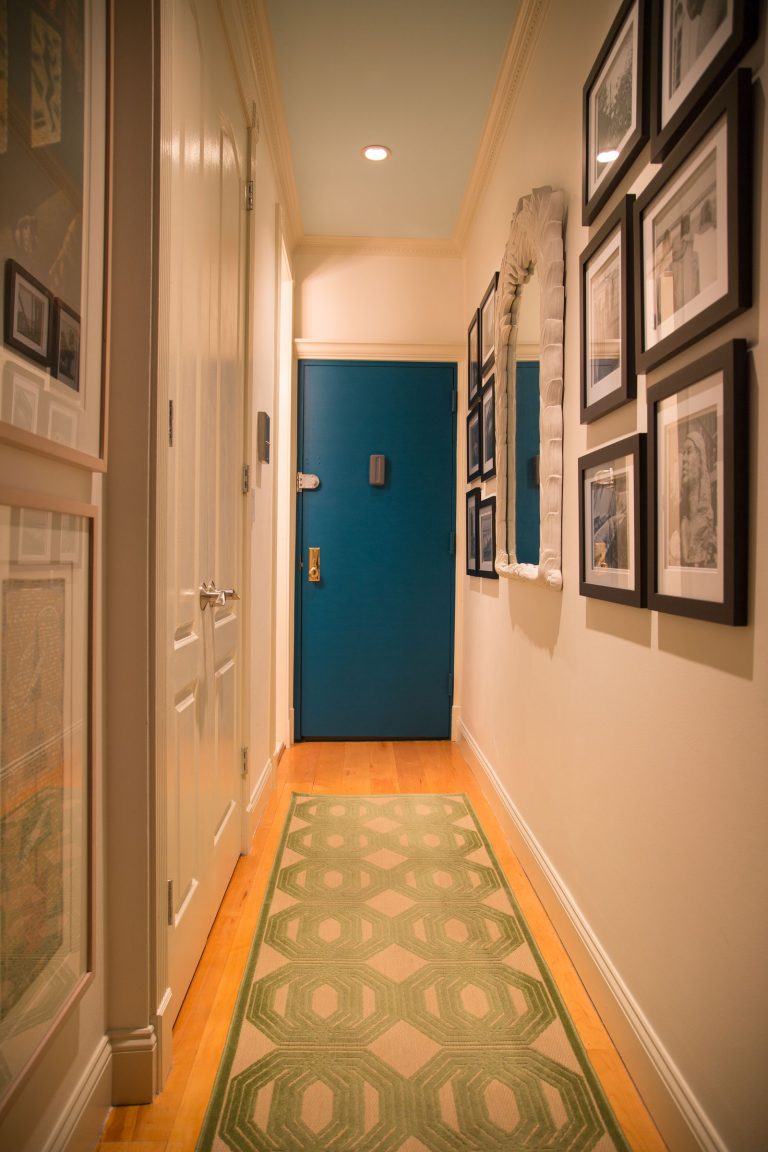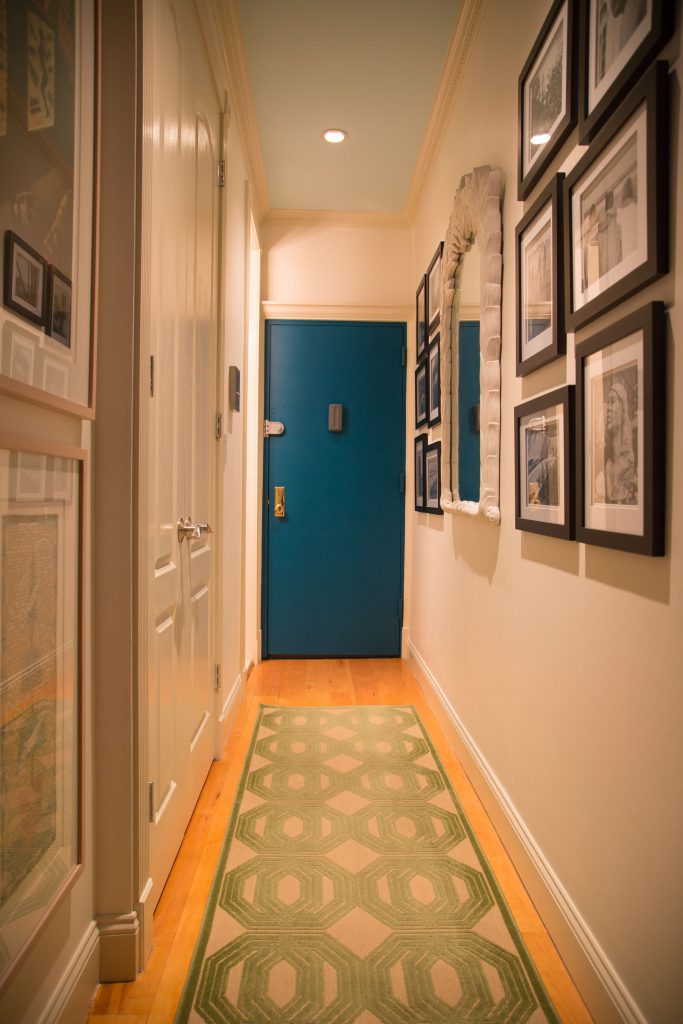 Try going bold with the front door
Wooden doors open up the house and give it a more traditional look and feel. But sometimes, it is fun to try something different and exciting. You can draw a lot of attention to a small space by just painting the front door of your home. And go all in with a suitable color.
It's hard to go wrong with a neutral color. Black, gray, or brown are classic hues. If brights are too daunting for you, try dark versions of those colors like burgundy, dark green, or eggplant. If not, go for the light colors. For example, a blue front door will speak of feelings of calm and serenity.
Add decorative tiles
Try to make your floor stand out. Rugs and carpets can be a godsend in changing things up. But with the entryway usually being a smaller space, have fun and try placing decorative tiles. These stunning visual patterns with gorgeous colors will surely make a great first impression on guests when they enter your home for the first time.
Dress up the stairs
If the stairs are the first thing you see when you walk into your hallway, it is best to dress them up to avoid the monotonous view. You can add the decorative tile on the front of the stairs from the floor to make them pop.
Another option is adding draping fabric over the stairs, securely held in a place to prevent you and others from slipping. This fabric can add a cool splash of colors and design in unexpected places such as the stairs.
Add texture to your walls
You don't always have to paint the walls. You can get very creative with the walls and switch them up. Plenty of methods can help you bring life to your hallway.
Textured walls are a worthwhile option and are often overlooked. Avoid the bare look and go chic with some effort by adding paneling or wainscotting with wooden strips.
Another thing to keep in mind is wallpapers. They are the most common and easiest way to decorate your hallway walls. Choosing neutral light colors will make a surefire way to create a lasting impression.
Conclusion
When searching how to decorate long hallways, you'll first read that the less-is-more approach is the best, which is 100% true. So, start by highlighting the strengths of the small space you have.
All the long and narrow hallways lack light. So, make sure you turn your hallway into something more than just a transitional space. Try changing up things like updating your front door with large glass panels. This will illuminate the area significantly.
Your hallway has a lot of design potential. You just need to learn how to style it to your advantage. We hope that at least one of the 19 ideas on decorating long hallways will work for your home. You're bound to find a decorating idea that can work for your long hallway.
Do you feel like now you know how to decorate long hallways? If so, we're glad.