Making a mess in our home is part of our daily life. Sometimes, no matter how careful we are and how clean we keep our sofas, they tend to get dirty even in the most unexpected ways. That's why we put our main focus on learning how to clean upholstery with baking soda.
It's time to return the spark and color of our sofas and couches, even when our little gremlins of kids are going to dirt it all again.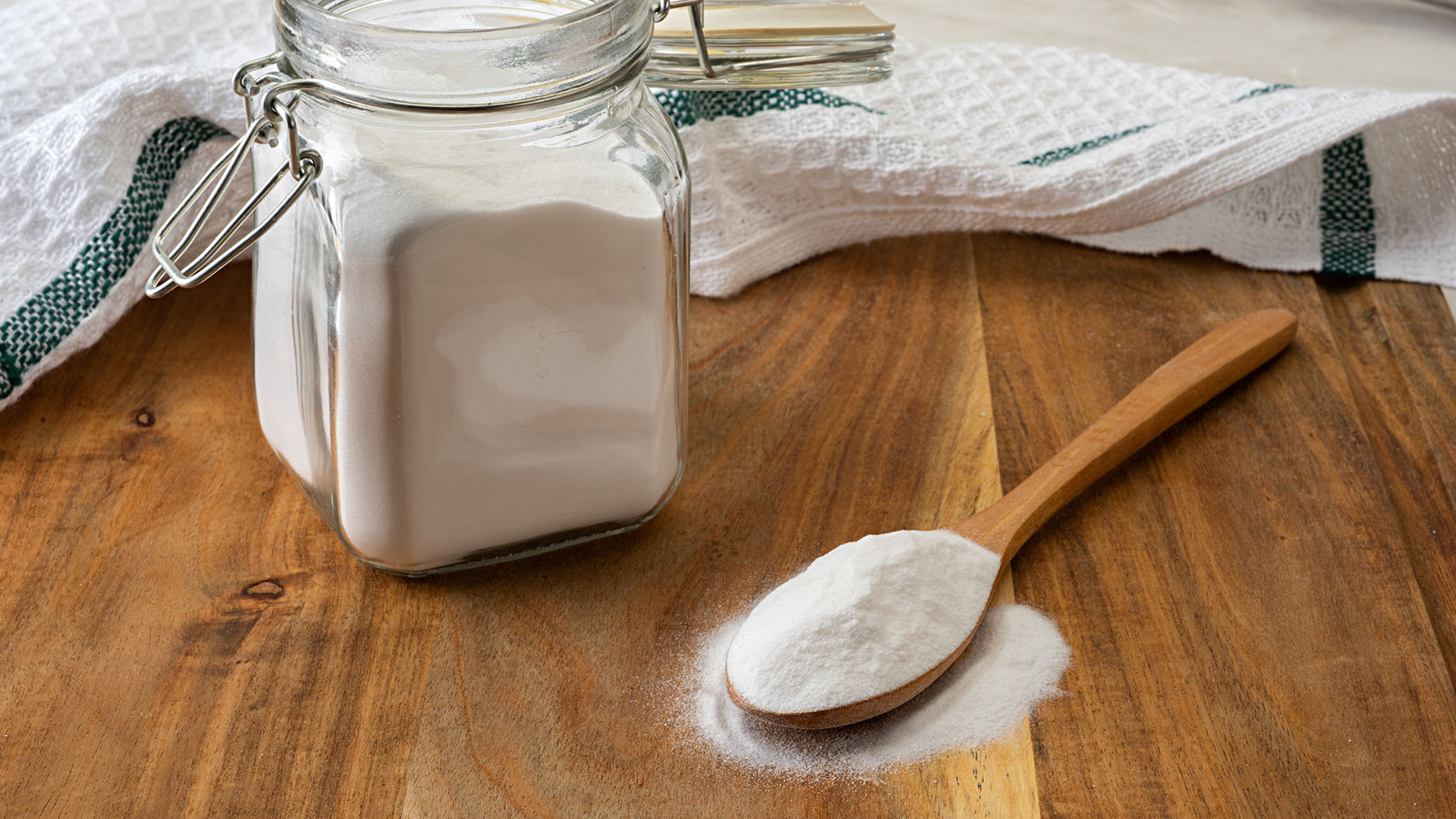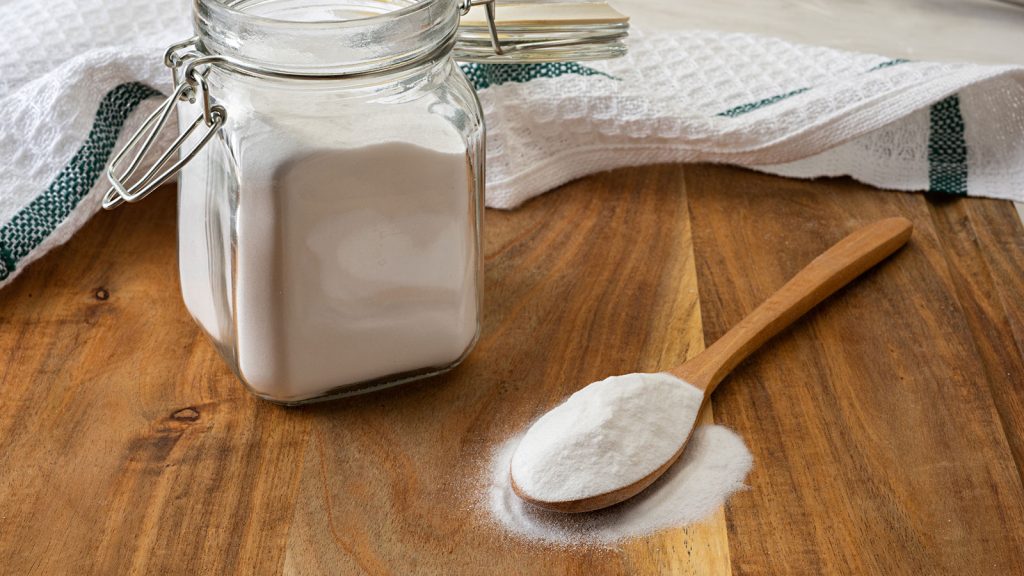 How to Clean Upholstery With Baking Soda
A baking soda is an ingredient that we all have in our homes and doesn't require us to buy something special from the stores. Your upholstery's foul odors and other foul acidic scents react with this natural product. Its ability to absorb every odor and perform better than any air freshener is its best feature.
Process explanation
Simply sprinkle some baking soda on the top of your couch or cushion if you want to clean your upholstery. Then cover the area with a thin layer of it.
Await its absorption; once it does, all of the offensive odors and stains will be removed.
Vacuuming the upholstery should begin after 20 minutes. Make sure everything has been sucked up and dust off any leftovers. As you can see, the whole process of it it's really simple and doesn't require you to waste a lot of time cleaning the dirt off your sofas.
Therefore, the ideal ingredient for you in the case of upholstery cleaning is bicarbonate soda, which can restore everything and make it look clean and well scented. The furniture or other upholstery always gets the smell back, thanks to the bicarbonate of soda.
The gentleness and slight gritty nature of the bicarbonate of soda make it an excellent abrasive that effectively removes stains and keeps everything looking new.
Read more: How to Clean a Polyester Couch
What do you need for the cleaning?
Baking soda
Brush but only soft one
White cloth, so it doesn't leave its color on the couch while wet
Vacuum cleaner
Warm water
Liquid detergent
Lemon juice or white vinegar
Steps
The first step is to prepare the couch while removing everything from it. This includes removing all the dust and debris. Then you need to sprinkle the baking soda, as we explained in the previous part.
Don't use too much baking soda because you may clog the vacuum cleaner in the next part. The vinegar or the lime juice will help you to even better get rid of the stains while you're using the baking soda.
While you mix all of the soda, vinegar, warm water, and detergent, you simply place it right on top of the stain. When you're finished with the process, make sure to leave the sofa overnight so it can dry deeply and properly.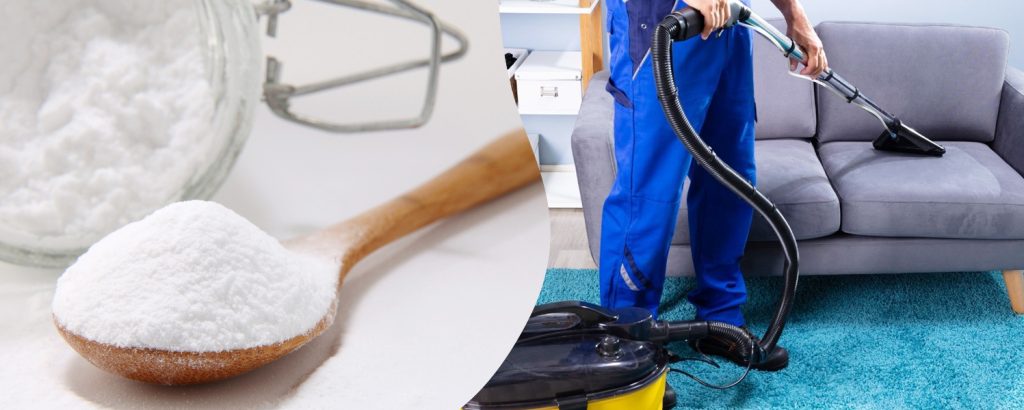 How to Remove any Stains Quickly Utilizing Baking Soda
The method for cleaning any upholstery with bicarbonate of soda is the same regardless of the product. Let us demonstrate how to do it:
Remove any marks or stains first by applying watered-down dish soap with a clean sponge and letting it sit for a while. The stain should not be rubbed, though. Using a paper towel, pat it dry.
Try a different product, such as Vanish Carpet Cleaner, for tough stains if stains are still present.
Vacuum all of the upholstery with the brush attachment.
The fabric should now be covered in bicarbonate of soda. To make it easier to sprinkle the soda over the stains, place it in an empty talcum bottle.
Wait about 30 minutes before removing the soda.
Make sure no bicarbonate of soda is left behind by vacuuming the area once more.
All done. You have completed your task. The baking soda can be utilized to remove any such stains quickly, leaving your upholstery looking cleaner and newer over time.
Why is Baking Soda the Best Alternative For Cleaning Upholstery?
Instead of spending a lot of money on buying all the "good" chemicals to clean your upholstery, you can do it easily with ingredients that you can find in your nearest grocery store, even though we believe that you already have them in your home. You can nearly find them anywhere, and they're affordable.
Baking soda it's a great way to leave your sofa feeling fresh by absorbing the bad smell. Soda bicarbonate is better than anything else because while it acts gently on the upholstery, its abrasives allow it to penetrate and clean all the dirt and stain on the couch.
It is free of harmful chemicals that could ruin your upholstery or harm your health. Due to its frequent use as a leavening agent in baking, it is actually safe for human consumption.
You might be interested: How to Reupholster a Couch Without Removing Old Fabric
Can Baking Soda Ruin Your Upholstery?
The vacuum cleaner may become clogged if used excessively or while wet. Applying too much of it to the couch will prevent this. Use a wet-dry vacuum cleaner or a clean cloth to remove stubborn stains if you must make a paste. Even though soda bicarbonate is not a bleach, it may discolor the skin.
It is crucial first to determine the kind of fabric used in your upholstery and to look for the cleaning tag attached by the manufacturer. Additionally, you should perform a spot test cleaning on a concealed area of the couch first to ensure the cleaning agent is secure.
Conclusion
Now that you learned how to clean upholstery with baking soda, you surely noted that it's an affordable and cheap method at the same time.
You may be used to spending thousands of dollars on detergents and chemicals just because they are popular. But that doesn't mean that this alternative that uses baking soda it's less worthy. You should definitely try it, and we are sure you won't regret it.