The entrance console table is usually the first thing you or your guests notice when you walk through the front door. It has both a functional and decorative purpose. Therefore, decorating it properly might be difficult.
Console tables, commonly found in hallways, are one of the first things guests notice when they enter your home. Your console table is an opportunity to showcase your unique personal style and impress your guests.
We've gathered a list of styling ideas on how to style a console table to add to your collection of living room ideas for a setting that's unique, inviting, and elegant.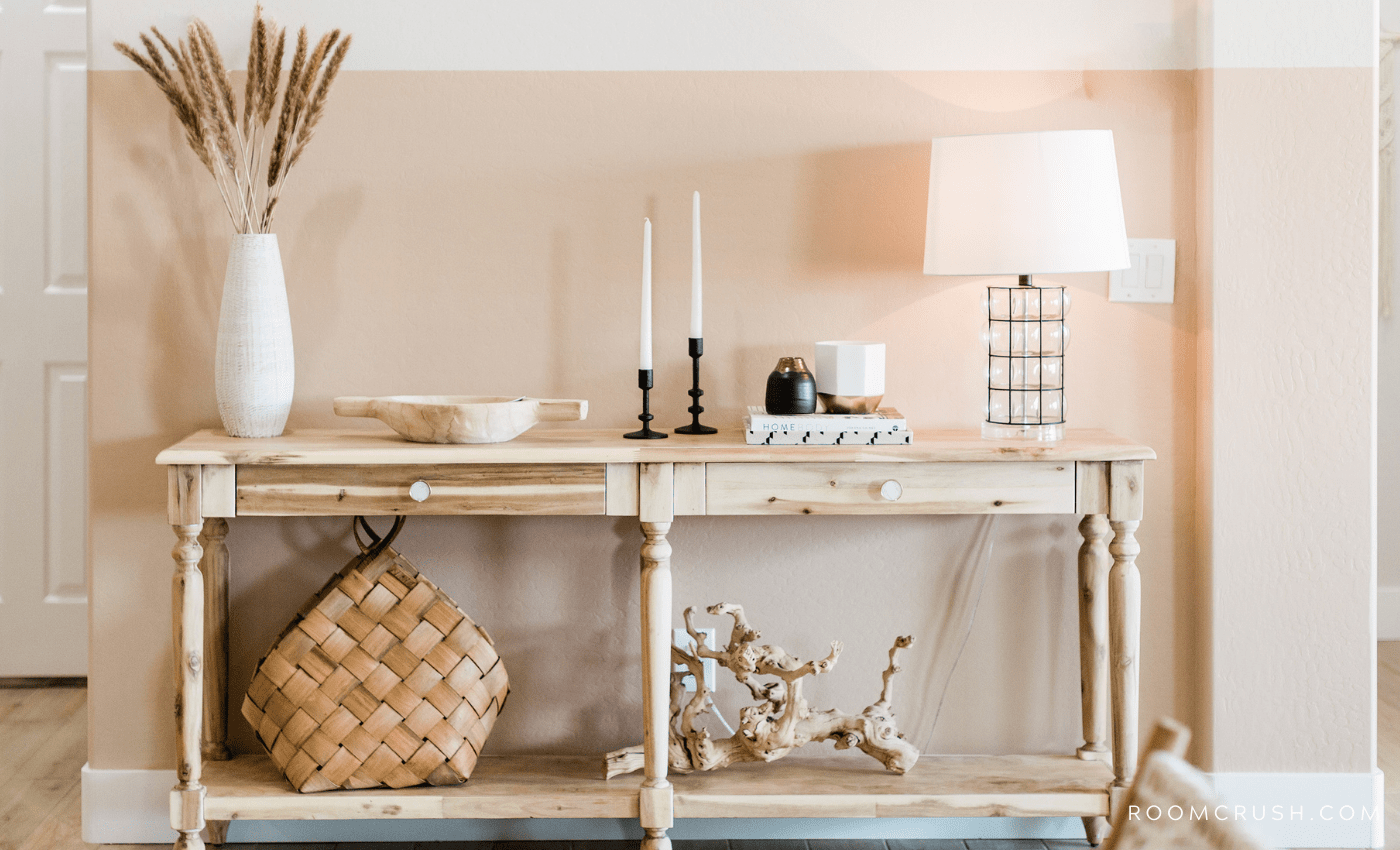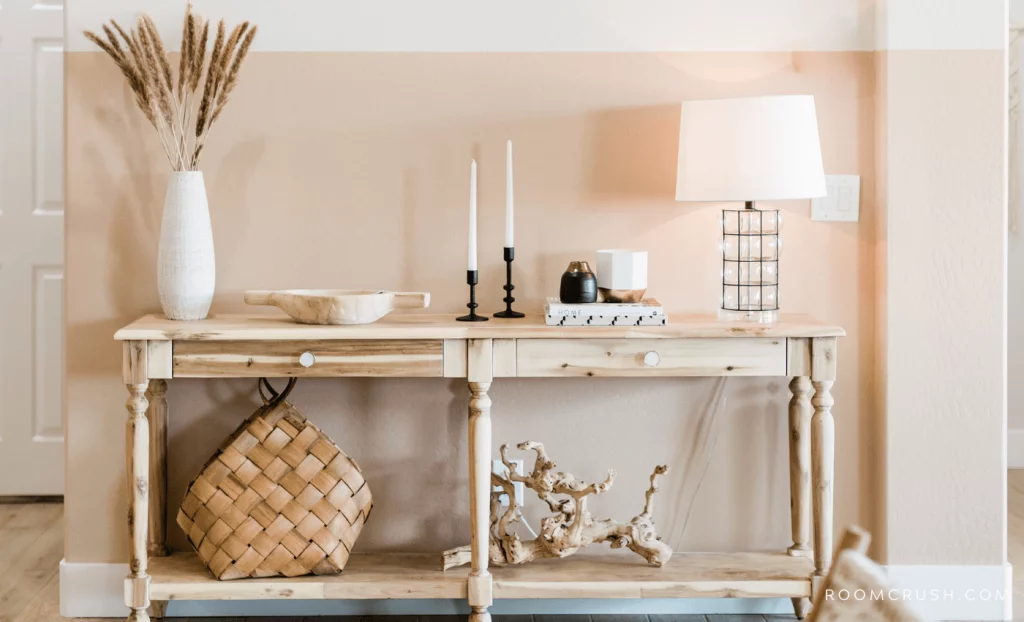 How to Style a Console Table?
Whether a console table is positioned in a modern or traditional area, the color, line, texture, and scale of the objects, such as table lamps, objects, artwork, and books, are all significant factors to take into account when deciding how to style one.
Create a cohesive look
Consider using a theme for the items on a console table for a cohesive design. An antiqued glass mirror serves as the focal point, while various items are casually but purposefully exhibited.
A frame for the exhibit is created by pieces that don't follow the same cues to keep the overall from looking excessive.
Accessorize
If possible, use symmetry while decorating a console, whether it is with lamps, vases, or other decorative items. Use this method while decorating a console table; you might not need to add much else for a lovely presentation. Maintain a straightforward, organized, clean aesthetic while highlighting unusual trinkets like flower collections and adding height with books.
Make it minimal
The best technique for a modern interior design may be to reduce the number of items on the console table. If so, it's important to choose ornamental items that are large enough to appear thoughtful.
Keep it natural
Are you wondering how to arrange a console table for a relaxing look? A great idea is to choose a color scheme with soft, natural tones, especially in an entryway. There are many ways to decorate an entry table. You can design it with a plant pot with natural colors and textures, and the lamp base has soft colors to match.
Change the lines
We don't usually think much about entryways because they are just ways in and out and usually don't have any interesting architecture. Choose a console table with curved lines and put vases and sculptures on top with the same shapes and materials. This will make the room look more stylish.
Play with pastels
Make a nice piece on a larger console table by putting a bunch of pretty pieces and a flower arrangement in a pastel color scheme. The effect stays fresh and classy with the addition of white.
Smaller decorative pieces look best when grouped. At the same time, taller designs will give a bigger piece of furniture the height it needs. If you want to include artwork, hang it close to the table so it looks like it belongs there, and use color to tie it in with the rest of the room. Learn more about how high to hang artwork above console tables
Display antiques
Beautifully made antique console tables can look great and add instant character to entryways. A narrow piece can fit perfectly if you're lucky enough to have the space. Learn how to decorate an entryway table to enhance the overall decor.
Add a pair of multicolored table lamps to each end of the table to create balance, a gallery wall of well-framed paintings, and a large vase of flowers to soften the look. You can also find many great things to show off at antique fairs, from small trinket boxes to beautiful ceramics.
Add a rug
A well-placed rug instantly warms up a doorway. They also serve to visually partition what could otherwise appear to be a large open space. Make sure to choose an extremely sturdy rug that can withstand daily foot traffic.
Slide a bench
In that gap zone, as elegant as decorative objects may seem. You can also pick a more functional element, such as a bench. To keep that walkway clear, choose a seat that fits nicely under the console table and can be put away when not in use. It makes excellent use of unused space beneath a stairwell.
Add storage
You don't have to be a minimalist to style a console table. Numerous storage options are available to make your home look lovely and tidy. We like this style because it includes bins for extra storage and a drawer for storing loose goods. There is no correct or incorrect method to stock your shelves.
Create balance
End tables and side tables are shorter than console tables. Avoid putting everything in the middle or to one side when styling yours. Balance the table by adding objects to more than one side and piling them towards the middle.
What Are Console Tables Used For?
The beautiful thing about console tables is that there are many ways how to style a console table to meet your requirements. Suppose you have a habit of leaving your mail all over the dining room table, or you never know where your car keys are as you rush out the door. In that case, a front entrance console table with a designated drop zone for keys, mail, your handbag, or your wallet could be useful.
A console table can also be used solely decoratively, which can serve to tie together any negative space or nooks throughout the house. Many people prefer to organize a collection of books, small design objects, or even a few lights to add visual appeal to an otherwise empty area.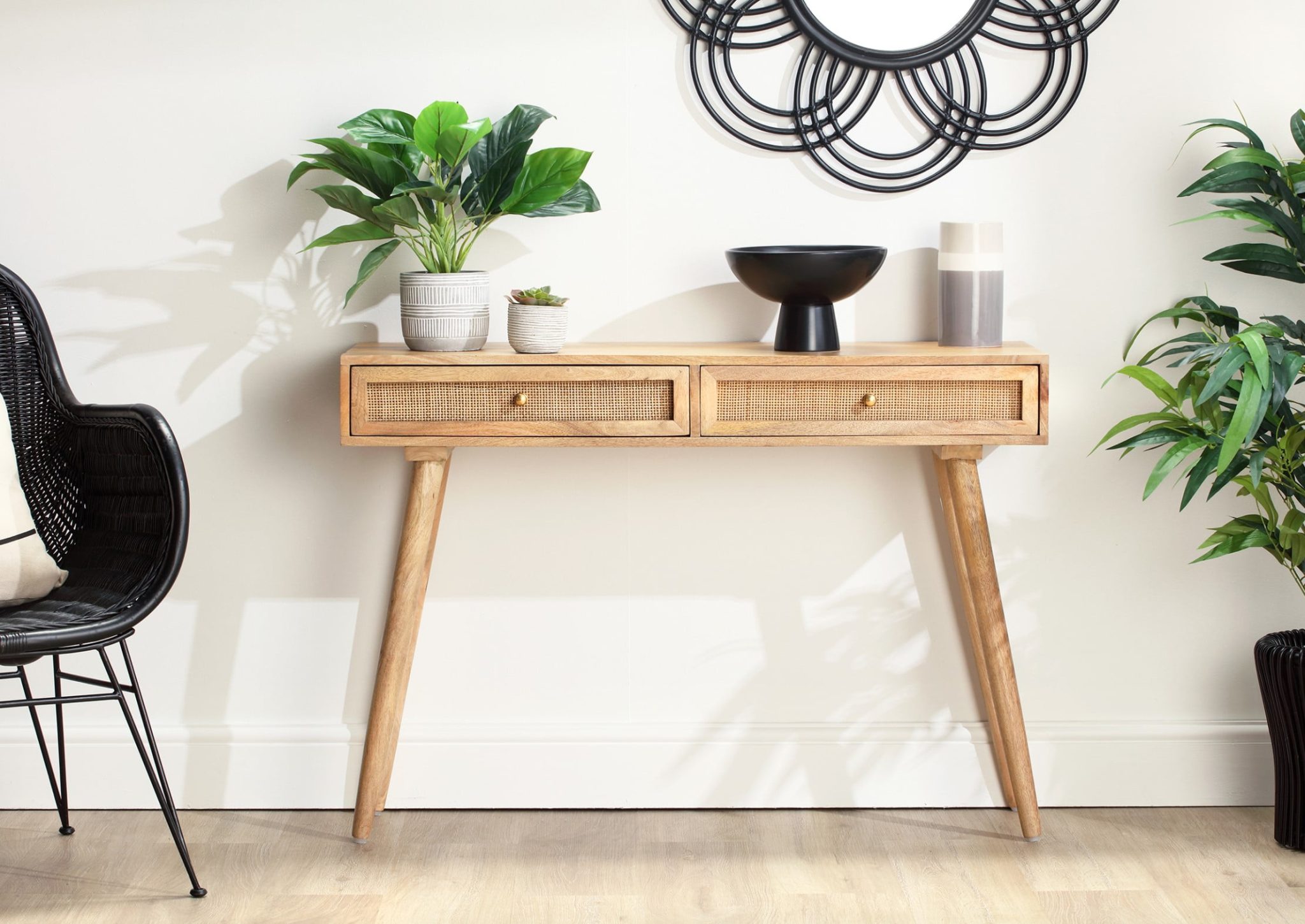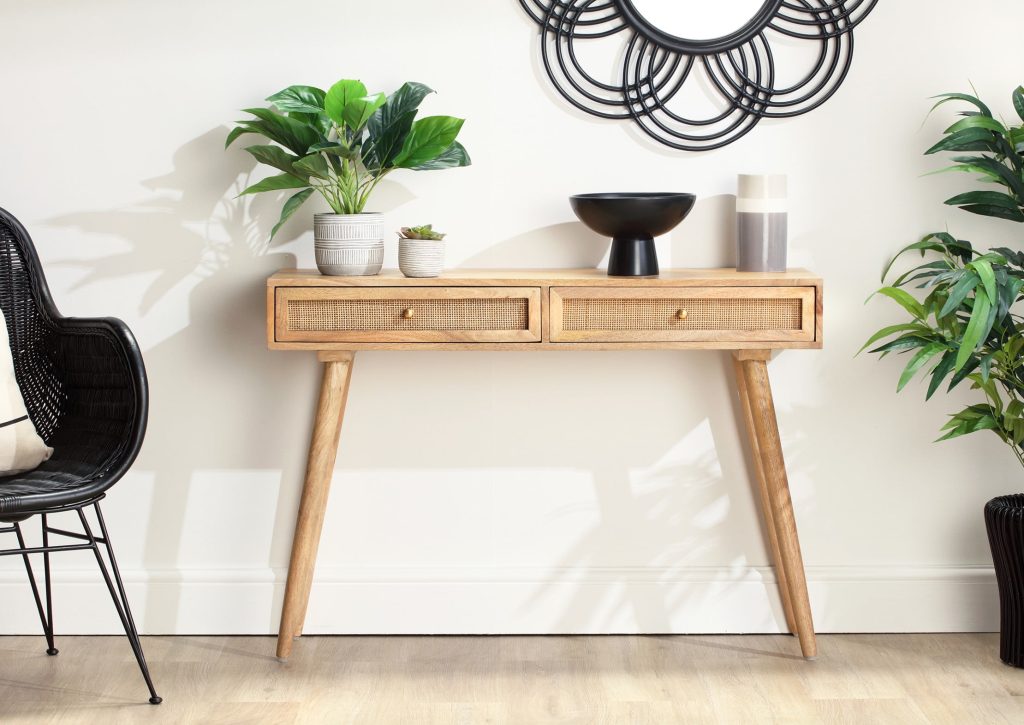 Where Should You Put Your Console Table?
Hallway
A console table works well in an entrance hall, either as a practical platform for dumping goods like keys and mail when you enter the door or as a gorgeously attractive piece to greet guests as they approach your home. If interested, you can also learn how to decorate long hallways.
Dining room
If you have a huge dining table in your dining room, you may not have much space left, so a long, narrow console table may be exactly what you need to finish the room. The console can also provide useful storage for your tableware as an alternative to a dresser or display cabinet. You can add an arrangement if you choose a console with a lower shelf.
Bedroom
In a bedroom, a console table makes an excellent dressing table. If you pick a table with open legs, you may set a stool or chair underneath it and add a table mirror to create the ideal beauty room. In the bedroom, a mirrored console table looks very wealthy.
Home office
Do you need a dedicated work or laptop space but don't have enough floor space for a typical desk? You might want a console table with a desk chair or stool. Create a fashionable and pleasant workspace by transforming a spot beneath the stairs or an unused corner. You can place beautifully piled boxes or baskets beside the console table for storage and use a floor lamp or anglepoise lamp to illuminate the space.
Kitchen
A console table in the kitchen could be useful for extra work space or surface area for tools or culinary books. Baskets for veggies or logs, as well as a freestanding wine rack, can be placed beneath. If the console has drawers, this could be a good spot to keep silverware or napkins.
Bathroom
If you have space in your bathroom, a console table is a fashionable way to stack towels and display cosmetics or other decorative objects.
Alcove
Do you have a bare alcove or recess that needs to be spruced up? This could be the ideal location for a console table to showcase a few of your favorite decorative pieces. You can add a lamp to change the space from a forgotten dark corner to a useful and elegant component of your room. If you want to lighten up a dark area, a floor lamp to one side or a mirror console table with a desk lamp on top will help by reflecting light and opening up the space.
Conclusion
As we said above, console tables offer a place for table lamps and displays of decorative items and artwork. Since they are slim, they may fit into narrow locations such as corridors, entryways, and dining and living rooms. Instead of placing it against the wall, you might place it at the back of a sofa in the latter space. Also, there are many ways to style them, making your home even richer.
We hope these console table decor styling ideas answered your question on how to style a console table, bringing a much-polished personality into your area. And we mean class when we say refined personality. Because class is what makes a house appear to be rich.