If you have a long and narrow living room, you understand the struggles of trying to decorate it and make it a more welcoming space. Wanting your room not to look like a bowling alley or just a simple hallway is not a crime. In fact, there are some tips and tricks that can turn your room into a comfortable living space and an attention-grabber.
If you have spent many hours rearranging your furniture while trying to make your rectangular space look more like a square, we feel you and are here to help. The idea we know you had on your mind, which is to knock down the walls and rebuild the room from scratch, has to vanish because there is a solution.
The best way to create a space with an easy flow is to keep the main walkway to one side of the room. This will enable people to walk freely without bumping into obstacles such as lamps or tables. You can sit and relax without any disturbance.
For the mission to be successful, you only have to follow our article, where we will address the question of how to furnish a long living room and show you ideas that can easily be implemented in your home.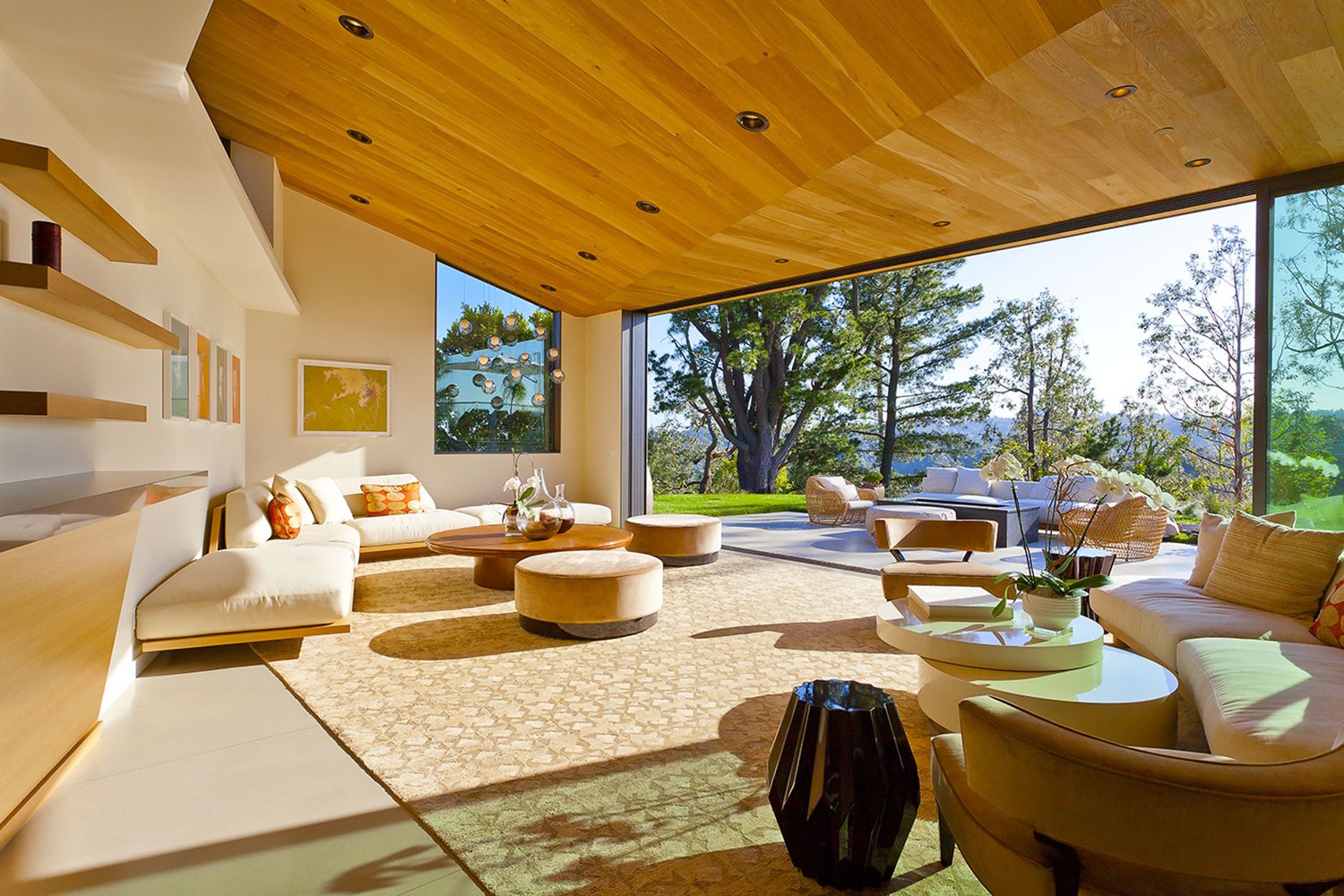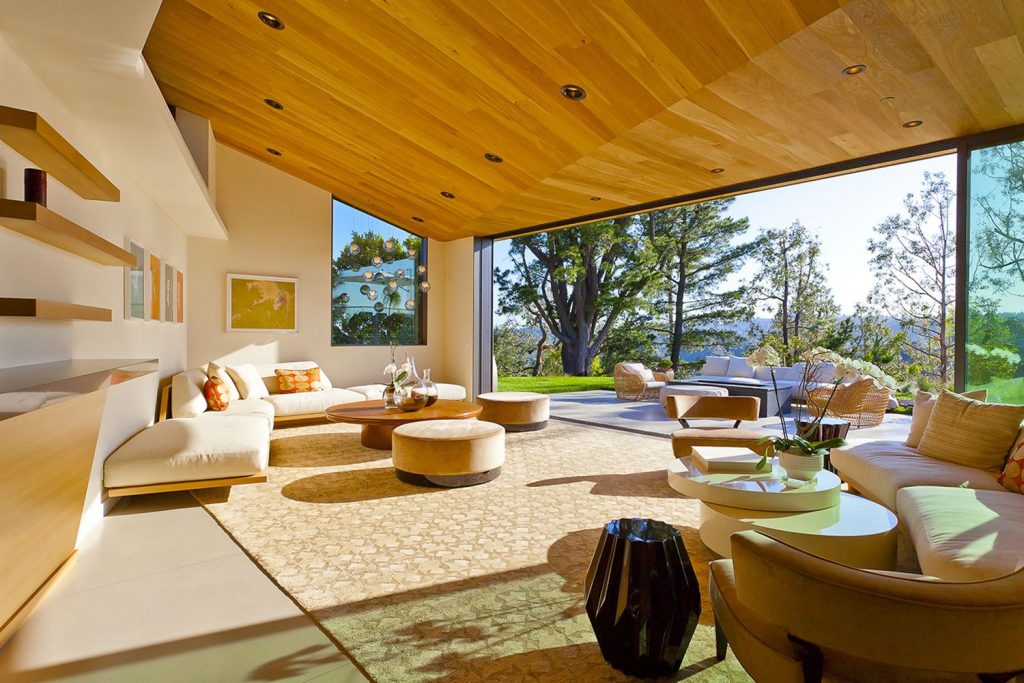 How to Furnish a Long Living Room
Often called family rooms, the long and narrow living rooms can be challenging for decorating and not to mention living. Nobody enjoys watching TV or relaxing in a space that looks like a train carriage. However, with some visual tricks and layout tweaks, you can style your room and turn it into a sophisticated space which you'll love. Here are some ideas and bonus tips that can brighten up your long living room and make it a conversation starter for every visitor to your home.
Keep your room free from any clutter
If there is one way that you can create an illusion where a room seems a lot bigger than it actually is, it is by decluttering. Getting rid of any clutter can make your narrow and long living room much wider. The best part is that you don't need any tools, and the entire process can be done in seconds.
You can make a small effort and organize your room. Removing plants, toys, or shoes allows the entire living room to be tidier, and the space will immediately become a much more pleasant environment.
Use the correct furniture
Furnishing a long and narrow living room can be a daunting task. We recommend considering the arrangement carefully and investing only in eligible pieces. Plus, you can ask for advice from a reputable interior design firm and decorate your small space.
A super helpful tip would be finding chairs with exposed legs and open arms, a glass coffee table, and a small but comfortable sofa. The appearance of your long living room will seem more open and add a lot of free space. Also, this arrangement will allow more light to filter inside and around the room. 
Also read: What to Put in Corner of Living Room?
Place the furniture away from the walls
The chances are you stumbled on our article while looking for ways to style your living room so it seems larger and welcoming. You cannot place large pieces of furniture against the walls to achieve that. This is such a huge and important pointer that the entire article could just end here. How to furnish a long living room? Remove the furniture from the walls.
All jokes aside, just because a room is long does not mean that every corner of it should be filled with house fittings. We recommend you place all your furniture arrangements in the middle of the room. By doing so, you can leave the sides of the room open, giving you more free space and allowing anyone to walk freely.
Scale the furniture – perfect fit for a long living room
To fit the size of your living room, you can try and scale the furnishing. However, be careful not to block any walking pathways. You can start by picking the perfect couch that will go together with your small room. It goes without saying that you should avoid any oversized sofas or additional appliances because they can make the living room even smaller.
Also, if possible, try not to block the view into the room with any accessories or furniture because you will end up with a cramped space. Here is a pointer you can use while scaling your furniture – if you cannot see the floor, the room will look smaller, and if you can see the floor, it will immediately feel larger.
Light up your room
As you already know, light can instantly brighten up any room. What we mean by lighting up your room is, allowing any natural light to come in. For that purpose, don't implement any heavy and dark window coverings.
You can easily make the room much brighter by installing white wooden blinds or shutters. A great thing about the shutters or blinds is that while allowing sunlight to enter during the day, they offer a lot of privacy during the nighttime. Sheer window treatments can also do the trick and allow a flow of natural light into your room during the day.
Read more: How to Decorate a Rectangle Living Room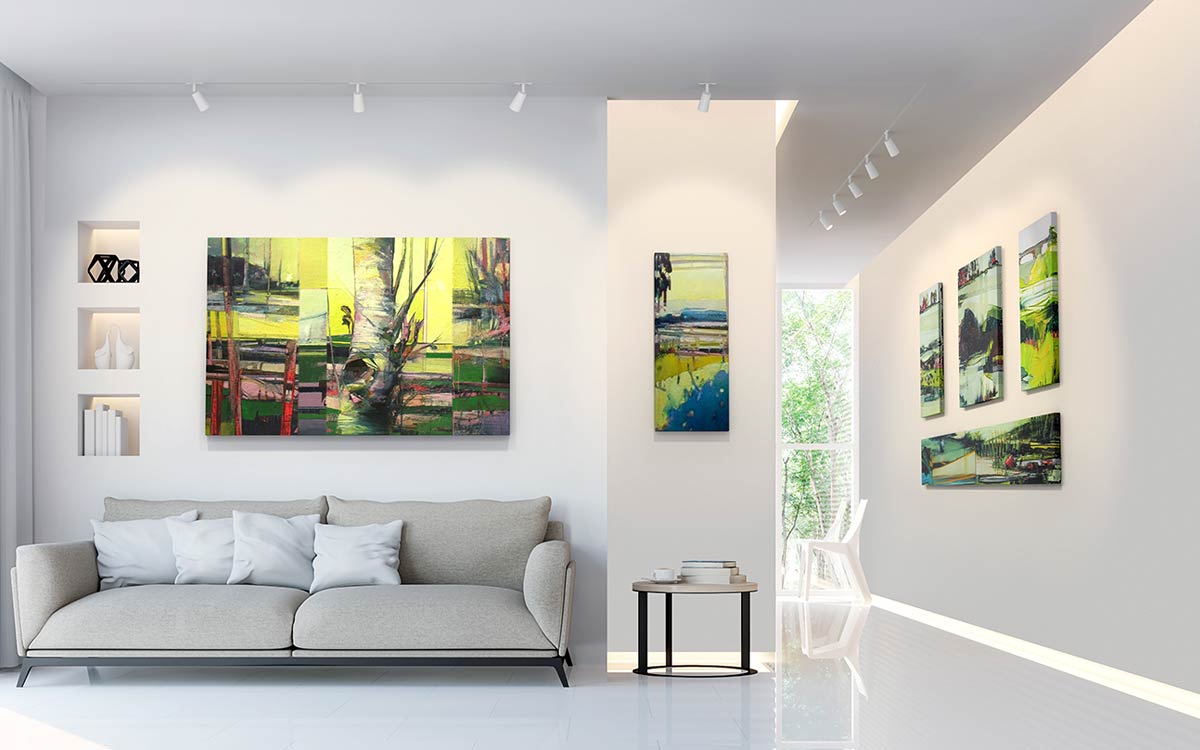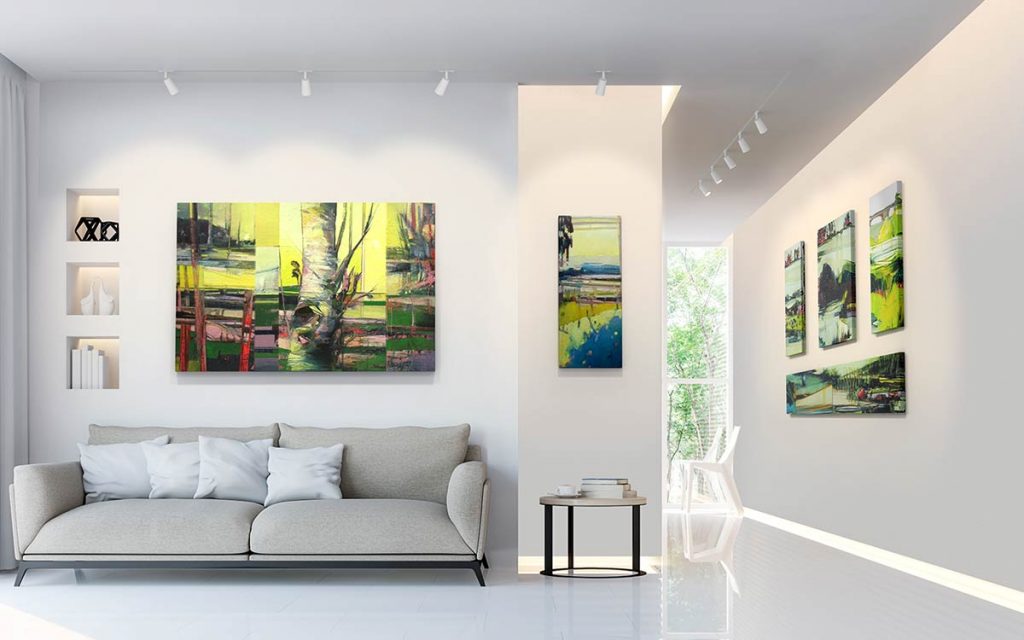 For light reflection, use mirrors
It should be no surprise that adding a mirror to your living room can make it look much larger. However, it would be best if you placed the mirror on the opposite side of the window. Another great spot could be right next to the window, so it reflects the outdoors. Hanging the mirror next to the window will broaden the entire feel of the room because the mirror reflects artificial and natural light, allowing the space to be more bright during the day and night.
Implementing a mirror will make your long living room appear much larger. If you like to take things to another level and give the space a more open flow, you can add glass tabletops or small mirrors on the walls.
Paint the room so it seems visually larger
By painting the two end walls of your long living room with a darker color, you can make it look visually larger and turn it into a rectangular shape. The gradation of the darker color and the shade on the opposing walls can lengthen the room while using a lighter color will do the opposite.
Add accessories
In almost every case, long living rooms don't give out a welcoming and homely vibe, but you can try and use a few ingenious tricks to make the room feel much cozier and zone the space.
Adding a rug to any small space can make the visual picture seem more tightly together. The carpet will draw the furniture and give the entire room a touch of comfort. While some contrast in the room can be interesting to look at, the layout can be awkward and uncomfortable. In addition, you can try to hang a vintage picture, add a quirky piece of art, or decorate your table with a lamp or a striking vase.
Hang pictures
Every room with picture-covered walls tends to give a closed-off or busy vibe. Therefore, we recommend hanging one or two pieces of artwork to make the room feel wider and more spacious.
The most suitable artwork would be pictures that sit wide but low, for example, over a fireplace or sofa. Hanging pictures at a lower point can bring the eye level of each visitor down and help the room seem larger than it actually is.
Join two rooms
You can try to unite the two if you have an extra large living room with a dining room at the end. This can be a great idea that only requires a couple of your favorite colors. Using your favorite shades as key tones, you can coordinate the space and make it look like one large, sophisticated room.
Another thing you can try to make your long living room wider is turning your sofa vertically against the room. At the end of the day, no one likes their sofa line to run into the dining table.
Also read: How to Decorate a Living Room on a Budget
Utilizing a Long Living Room
You can make the best out of your long living room and utilize it by picking out pieces of furniture that are proportionally accurate to the size of the room. You can exclude large sofas, chairs, and oversized cabinets, making a small space more narrow-looking.
Another thing you can pay attention to is the angle of your furniture arrangement. Choosing the correct angle may create a sense of depth in the room. On the other hand, if you place every piece of furniture against the walls, the room will definitely feel small.
What's more, if you paint the living room ceiling in a lighter shade than your walls, the top will seem visually higher regardless of the chosen color.
Final Thoughts
Now that you have ten ideas on how to furnish a long living room and make it appear much larger, the choice is solely on you. Our ideas can turn every awkward-looking room into a comfortable and cozy space that can catch the attention of every one of your house guests. Good Luck!