Ceilings, most of the time, are a synonym for boring white flat surfaces with only one function. If you are one of the many people that agree with this sentence, we hope that with this article, we will be able to change your mind and show you an entirely new world where the ceiling can be the most beautiful and interesting wall in the home.
For instance, just think of the mesmerizing ceiling paintings or those tall ceilings made of delicately carved wood. If this sounds like something unreachable for you to have in your house, do not give up the idea just yet because thanks to our efficient tips and tricks on how to decorate the ceiling, you can turn your ceiling into absolutely everything you can imagine.
Moreover, we made sure to include a variety of on-budget ideas as well, through which you can decorate your ceiling and save some money in the process. So if this sounds like something you have been looking for a long time, we are glad you clicked this article because with our expertise and your creativity, you will have the most captivating ceiling ever. Guaranteed!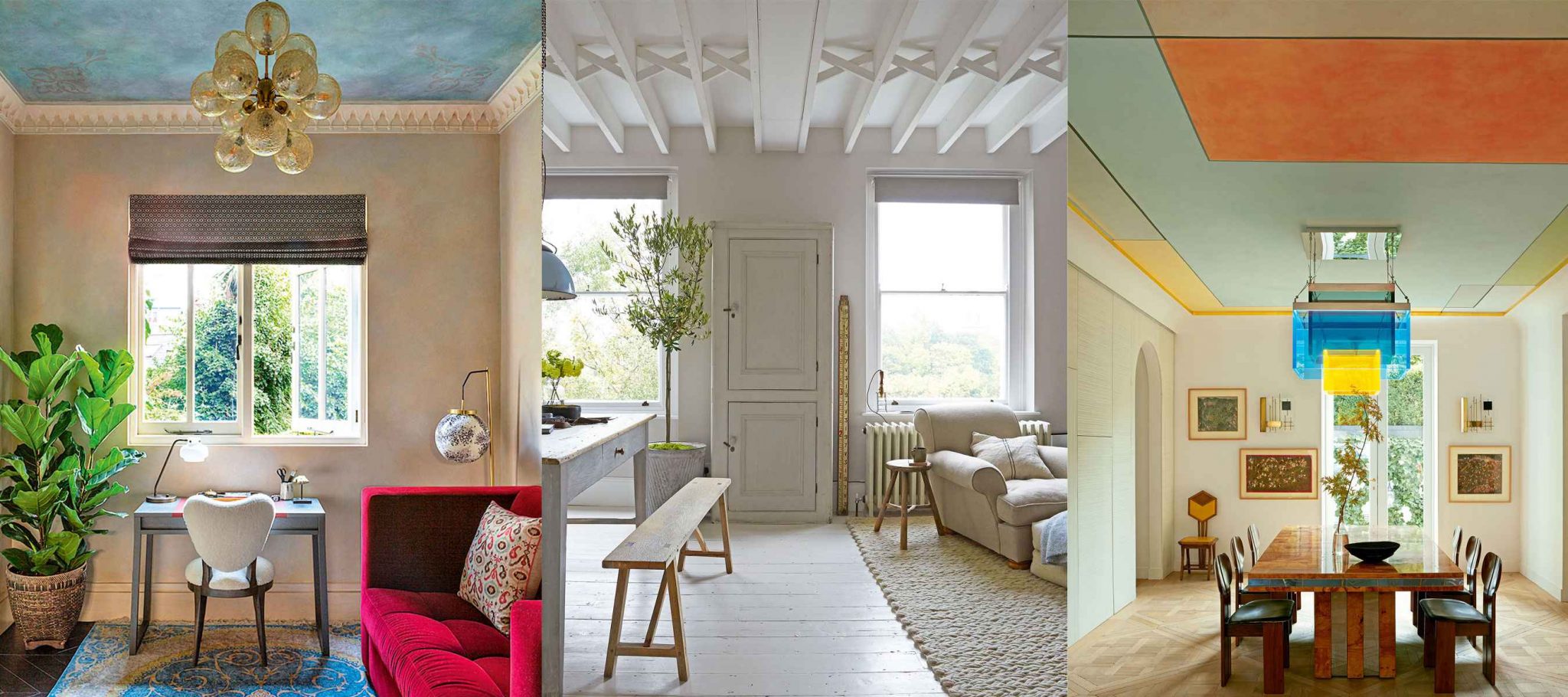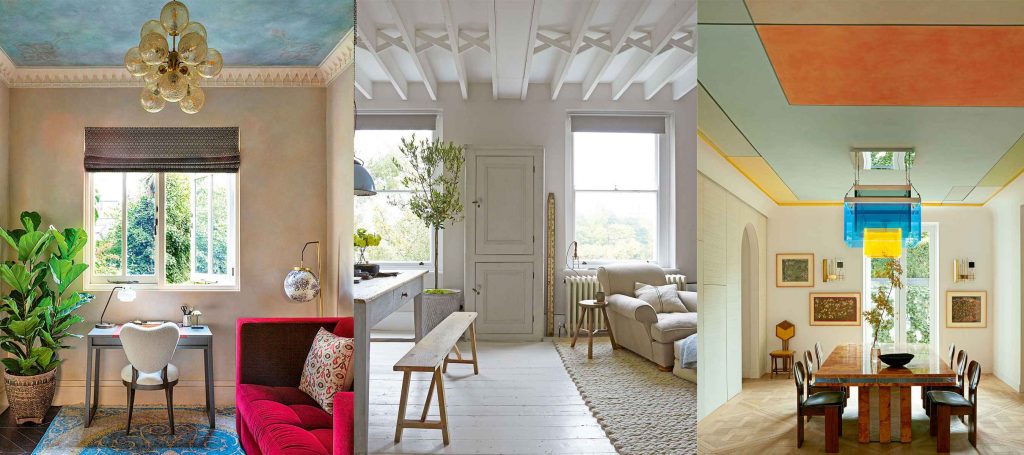 How to Decorate the Ceiling: Tips to Make Low Ceiling Look Higher
Not all of us have those grandiose tall ceilings. Actually, many people across the world have medium to low ceilings, and we just want to say that a low ceiling is not always a downside. On the contrary, if you have a low ceiling, you can experiment with various interesting-looking techniques for decorating the ceiling to make your home look amazing.
Choose low-slung furniture
The first and maybe most important item on the list for making the ceiling look higher is to choose low-slung furniture. Deciding on lower furniture that hugs the floor with a simpler design, shape, and form is automatically less distracting. As a result, you get more space between the floor and ceiling, making the ceiling look significantly higher.
Hang tall, slim mirrors
It's an unwritten rule that if you have a smaller room or lower ceiling, adding a mirror will visually make that room appear bigger. Therefore, if you struggle with a lower ceiling, incorporating a tall but slim mirror will change the overall feeling of the room thanks to the characteristics of the mirrors to bounce the light around while creating an illusion of more space. Just hang the mirror as high as possible for maximum effect, and you get yourself a new room.
Opt for a single color, floor to ceiling
One continuous shade will make the details, such as wood door frames or decor, less attention-catching; therefore, the wall will seem taller, instantly making the ceiling look higher. Pick a shade that would work best with your overall room decor and design, and cover every little detail on the wall, including the door and all of its components.
Hang a vertically striped wallpaper
Vertical stripes will be your best friend if you have a lower ceiling. By including vertically striped wallpaper and vertical wood paneling, you will get a cohesive look and, more importantly, a visually taller room.
Hang drapes up high
The higher you hang the drapes, the higher the ceiling will appear. Also, choose floor-length drapes that touch the ceiling and floor simultaneously. This way, the room will look as if it is twice taller than it really is.
How to Decorate the Ceiling: Tips to Decorate the Ceiling on a Budget
Do you want to spice up the appearance of your room but not spend a lot of money? By choosing some of the following tips about decorating the ceiling on the budget, you will have a different room in no time without spending a lot of cash.
Paint your ceiling a contrasting color
Choosing a bold color for your ceiling will make the room feel different. Just be sure to choose a shade that matches a piece of your furniture or decor to get a cohesive look. For instance, one of the best-looking combos is to include decoration pillows with bold colors or details and choose that same color for your ceiling. You won't be spending much money, but you will feel as if you have redecorated your entire room.
Add a ceiling medallion
One ceiling medallion will modify the entire room. Choose a piece that would work well with the rest of the metal decor and furniture in your room, and you get an incredible ceiling detail as well as a fabulous-looking light fixture for only a few dollars.
Read more: How to Decorate a Rectangle Living Room
Install moldings on the ceiling
If you want to add some interest and definition to your ceiling and even your ceiling medallion, consider installing moldings. With their help, you get to creatively fulfill all that empty space, making the room look much fancier and with a lot more character. You will only need some construction glue and nails to install the moldings, and the end result will look like you have spent thousands upon thousands of dollars.
Paint stripes
Painting stripes is the most cost-effective way to make your room feel as if it has been completely redecorated. There are wide varieties when it comes to stripes. You can paint light ones or dark ones, and you can even try some criss-cross effects and whatever you feel like. The only thing you need to ensure is that the stripes do not clash with the overall colors and design of the room.
Install some ceiling wallpaper
Many people think that wallpapers are only meant for walls. Well, the ceiling is a wall too, the fifth wall to be precise, and you can put some wallpaper on it too. Here, the options are endless. You can choose a bold design, simple, in one color, patterned, or any wallpaper you love, as it goes well with the pre-existing room decor. Although putting wallpaper on the ceiling might be a little tricky, the result is worth it.
Related: How to Decorate Around a TV on a Large Wall
How to Decorate the Ceiling: Unique Tips to Decorate the Ceiling
In this article segment, you will find some unique and bold ideas on decorating the ceiling for all who feel courageous enough. If you want the ceiling to be the accent wall in your room, you better incorporate one (or more) of these extra tips that will make your room one of a kind.
High gloss
If you are wondering what the hottest trend regarding ceiling decoration is, it would be the high gloss finish. Be aware that if you have a popcorn ceiling, the gloss effect will only accentuate the texture, which is not something you want. This ultra-glossy reflective finish is the ideal solution for making the room feel unique and look larger and more spacious. Make sure to choose a lighter color; you will feel as if your room has doubled in size.
Plants and greenery
For all of you nature and plant lovers, this goes for you. One of the trendiest and most loved ceiling decors is exactly this. Adding greenery and plants makes the room feel ten times fresher and more relaxing. Be sure to include some wooden frames with overflowing fronds; your room will become your oasis. A great idea is to cover the whole ceiling with a particular pattern of wooden hanging boxes, and we guarantee you will never want to leave your room again.
Wood
Wood is always an amazing idea in achieving many different effects in your room. Regardless of the style of your room, you can add suitable wood and bring the room to the next level. You can choose between different wood shades, stains, shapes, etc. The best thing you can do is to mix different plank lengths, finishes, and stains and try different patterns to see which one flatters your room best. If desired, you can try plank on a plank for a bolder effect.
Stenciled
Do you want to have a ceiling like no one else has? Stencils might be the right thing for you. If you want a 100% personalized ceiling, you might even decide on custom design stencils to get what you want. By choosing stencils for your ceiling, you will put an accent on this wall, and even if you do not have much furniture in the room, the ceiling will make up for it and make the room feel complete.
Photos and art
If you are an art lover and can not get enough of the paintings on your walls, why not try putting some art on the ceiling? This technique is the right choice for those who would like to feel as if their home is their personal art gallery while giving that eclectic home vibe. You can decide on abstract art or a combination of various smaller art pieces, or you can stretch one piece through the entire ceiling. It is up to you.
Also read: How to Decorate a Living Room on a Budget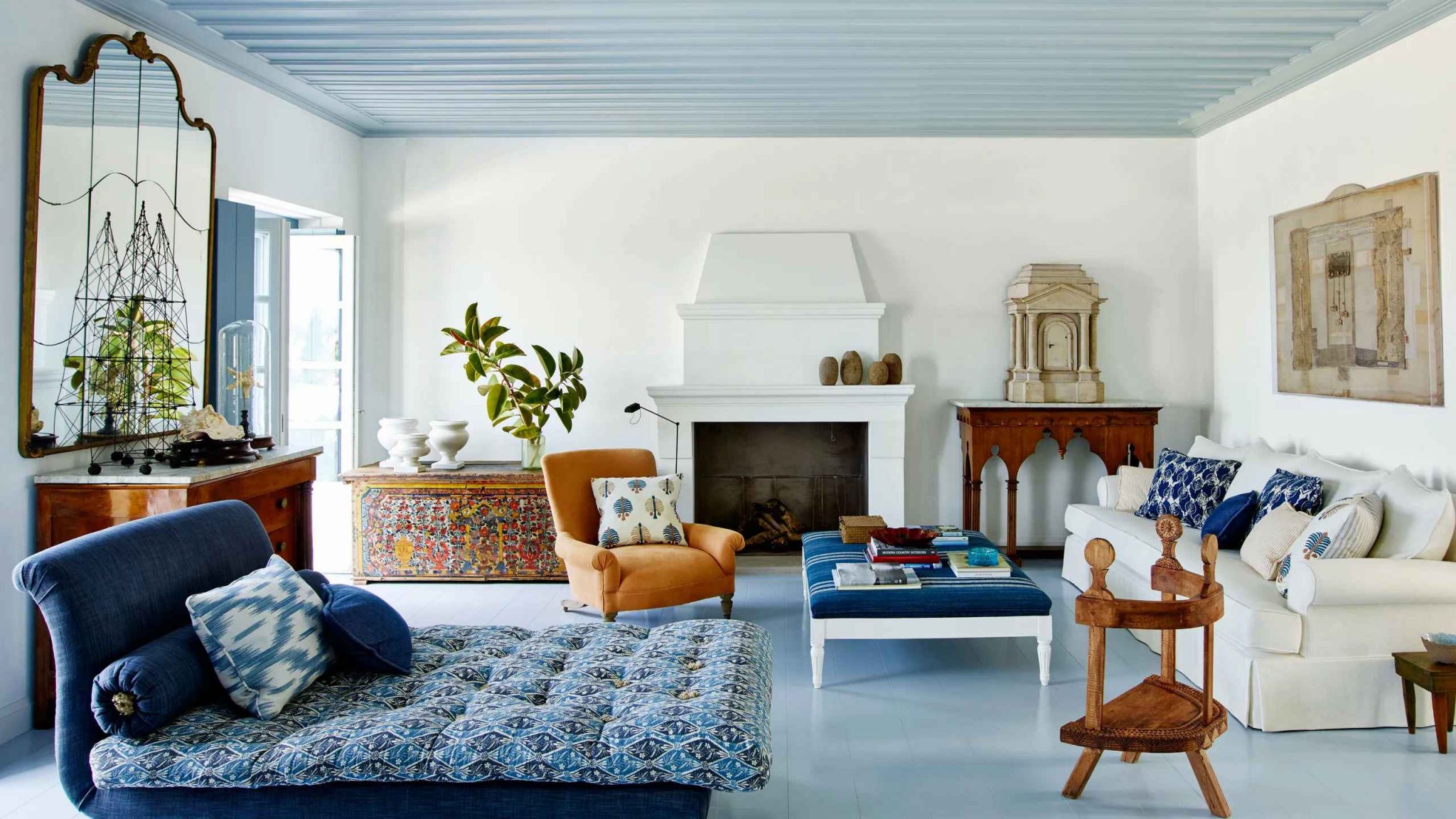 Conclusion
Regardless of the type and height of your ceiling, with our expert tips on how to decorate the ceiling, you will turn your room into a showpiece in no time. You can try only one or make a combination of a few different techniques until you get the result you are most satisfied with. With the help of this article, we hope your ideal-home vision will become a reality. Happy decorating!