Having a big flat screen in your living room seems like it doesn't do the charm quite enough, and the truth is if you are someone who wants pretty and aesthetically pleasing things, you might like to have some unique decorations and ornaments around it so your artsy little heart will be finally at peace.
The next thing you spend hours on Pinterest is looking for the best interior designs, panicking from having so many options, and being overwhelmed with which one to choose. Don't call a professional interior designer just yet, because this article comes to the rescue. The truth is, it's not a complicated task at all; you must find the style that pleases your eyes the most.
We have dug deep into the internet to find you some unique ideas so the next time your friends visit you for a coffee, they will be in awe and jealous of your impressively creative skills.
Here are some of the most unique and pretty cool ideas on how to decorate around a TV on a large wall;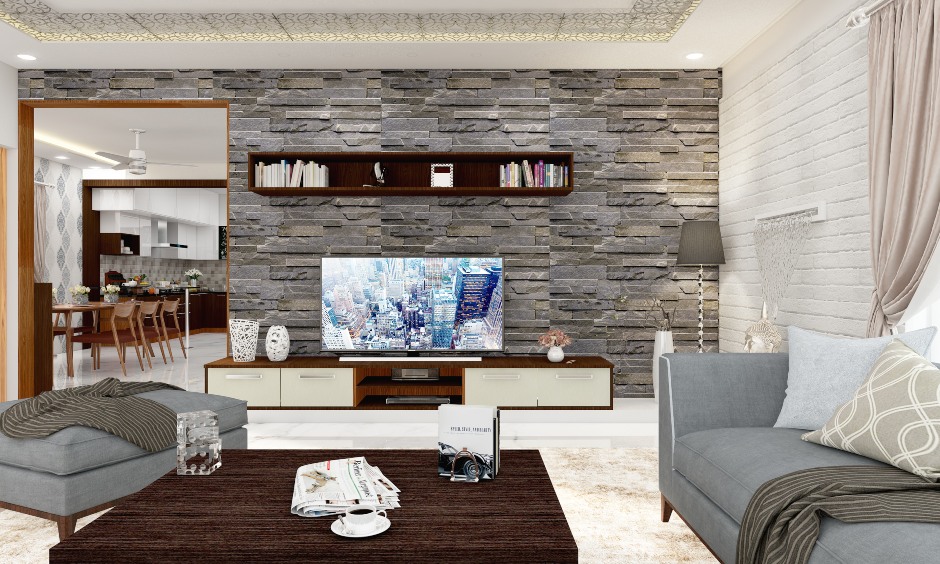 Totally Stylish and Unique Ideas How to Decorate Around a TV on a Large Wall
Turn it into art
Art gallery wall
It's simple. Treat your TV like a large piece of art. At first glance, all TVs look large and dark, so why not make a group of art pieces around them? Arrange all the pieces vertically and horizontally to ensure they look equal and balanced.
You can practice a little on the floor by using small pieces of paper to get an idea of how you want them to look so you can arrange them easily on the wall later. You can make them perfectly aligned and minimalistic or messy and quirky looking with all of them in different designs and shapes.
Keep it sophisticated, quirky, and unusual. Don't just go with simple frames; instead, get some shiny ones, maybe with gold, silver, or bronze color. Don't be afraid to pick even bolder colors to match the art on the pieces.
Turn your wall into a giant piece of art
If you are a painter, or your friend is a painter, or if you could hire a painter, why not turn your wall into a big piece of art? You can paint anything, from an abstract, to a landscape, anything at all.
This can bring a whole new dimension and surreal type of feeling to your room. However, pick bright and warm colors like black, white, or their shades but don't go beyond with the hues since the strong colors might become distracting to the eye core if you plan on watching TV for long periods.
Turn your TV into a piece of art
Why not take a step ahead, and turn your TV into an actual piece of art? You can put your TV screen in a large frame so when you turn it on, it will look like a piece of "digital art". You can choose a whitewashed wooden frame that can add a little edginess and texture to the wall. You can use different methods and make your own DIY frame.
Incorporate a wall unit
This is another great trick if you want an extravagant-looking background around your TV. Wall units can hold many items depending on your creativity and well – personal taste preference.
But sometimes, having too many ornaments might be distracting, so it's good to only put a few pieces here and there. The wall unit style should be the main start catching the attention.
Also read: How to Decorate Walls on the Side of the Fireplace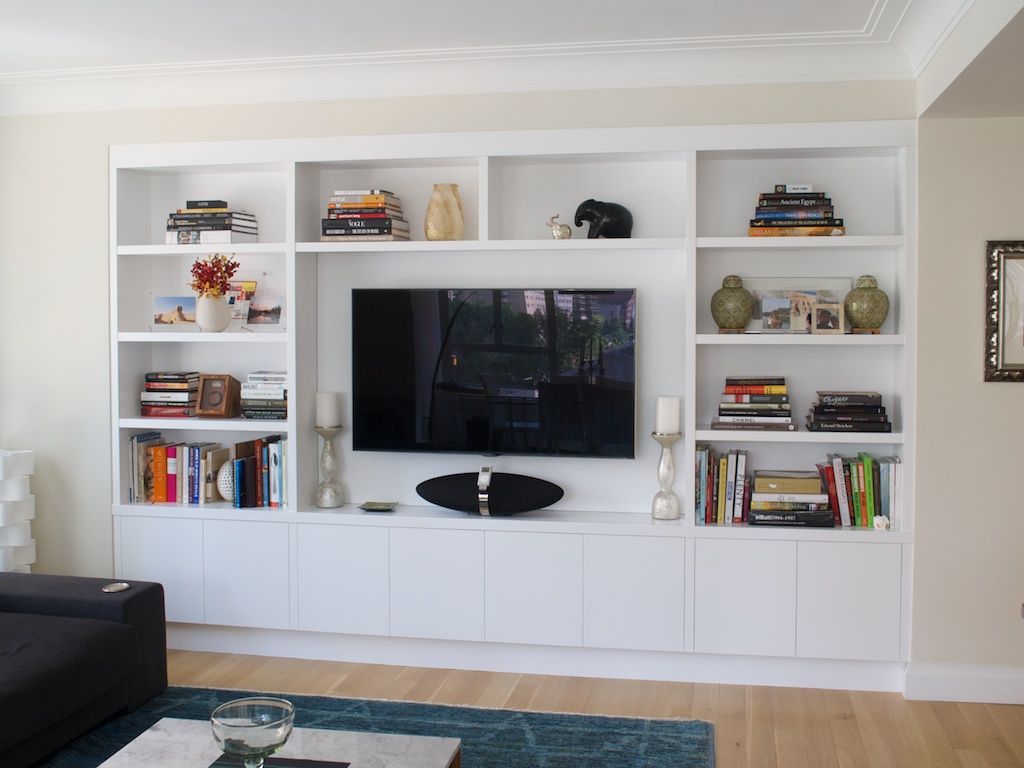 Keep it simple
Floating shelves
If you don't like the part around the TV to look too cluttered, putting on floating shelves is always a good idea; moreover, they are super useful. Depending on your skill and effort, you can either purchase them from a store or make them yourself.
However, let's face the truth, putting floating shelves and choosing where each shelf will stand can be the biggest trouble. The trick is to visualize the shelves as one piece of furniture. You don't want one weird shelf sticking apart from the others. Draw the shapes you want and then put them on the wall.
If you aren't into symmetry too much, you can place them at varying heights around the TV as it will do excellent framing of the space. Just make sure not to exceed the maximum width of the cabinet since you'll lose that in-built look.
Industrial shelves
If you want to add a little edginess, there is just something about the industrial shelves that can spunk up the space. You can style them according to your preference; put some style decoration with a certain theme; for example, if you are into biology, put some plants, animal-looking ornaments, globes, etc.
Built-in units
The built-ins would always be a classic and one of the most common designs, so if you want to play it safe, they can bring dimension and functionality to your room. Most importantly, this design always looks the best when it looks intentional.
Depending on the size of your space, you can find some interesting ideas that can be turned into a DIY project, or if you have the money, you can call a professional, and they will suggest the best-looking style.
Surround the TV with books
What is a better idea for a bookaholic? And if you are one and you have quite an impressive book collection, this idea is perfect for you. Frame your mounted TV with bookshelves that match the colors and designs of the overall vibe in your room and, of course, arrange your books.
However, when your guests come, they might be interested in looking at what titles you have and stop you from watching the TV if there is something entertaining going on.
Set unique lighting
Sometimes just having the right lighting around your TV can bring a whole new atmosphere while watching your favorite TV shows and movies, especially if your room doesn't have the right lighting. Install a couple of spotlights above to highlight the stand-out design. To keep the room cohesive and interesting at the same time, you can place built-in shelves with the same pattern.
Traditional brick wall
Some things will never go out of style, and one of them is the built-in accent brick wall. You can choose whether you want it to look modern or the traditional one with old red bricks. You can combine it with the floating shelves and place some electrocutes and other ornaments like greenery.
Also read: How to Decorate a Rectangle Living Room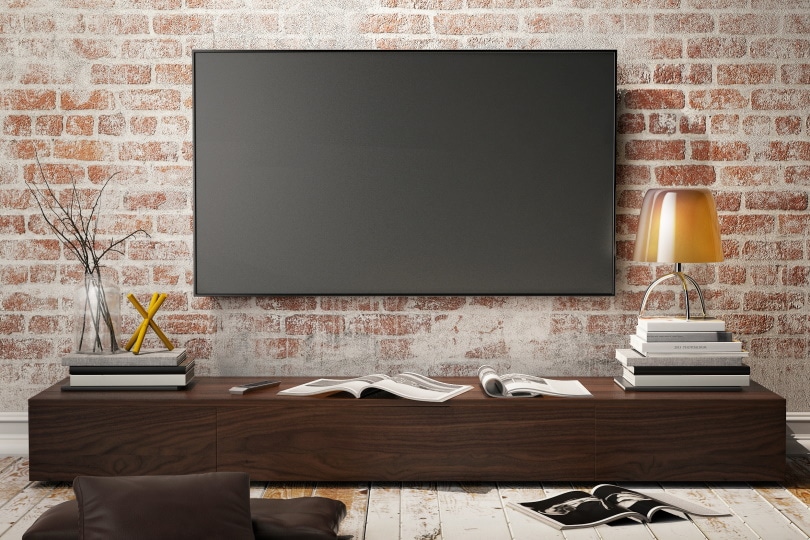 Minimalism, on a whole other level
Colorful aesthetic
If the simple minimalism doesn't do the trick for you, and you want more of an aesthetically looking type, consider different coloring patterns that look tidier and more beautiful and can be easily noticeable. You can get inspired by the rest of the furniture's colors and combine them all together on the wall.
This is one of the easiest yet affordable ways to add some distinctive art to your TV stand.
Monochromatic aesthetic
Don't like the color? Basic monochromatic in white, black, and gray colors can add contrast in a subtle yet effective way. This look can be exceptionally elegant if you add ornaments in shiny gold color for a little pop of tone.
Show off your collectibles
What better way to show off your personality and interests than by showcasing all the little collectibles from your travels? For all the well-traveled adventure souls, this is the true time to shine; however, not necessarily, since you can still hit up your local arts and crafts shop and find the most fascinating and unique pieces to bring more depth and character to your personal space.
Indoor garden
Yes, books can be an easy and fun way to decorate your furniture, but plants can be another great option, too, especially if you are into gardening and you have plenty of indoor plants. You can arrange them on the bookshelves and turn your wall into an indoor garden. It is not only visually relaxing and inspiring comfort, but the greenery is also healthy for your well-being.
Bring out that rustic spirit
Hide your TV
Why not just make your TV blend with the rest of your furniture? You can set some DIY window frames and close them down whenever you aren't watching TV, if you don't like that blank-looking decor.
If the rest of your furniture is in a rustic style, you can create big whitewashed doors and completely hide them while being a beautiful decor – kill two birds with one stone.
Decorative plates
If you are still thinking about how to decorate a TV on a large wall and modern ideas aren't your cup of tea, the rustic setup involving decorative plates and platters can surely be the point of a conversation. This is an impressive decoration without being too cluttered and distracting you from watching TV.
Maybe you are someone who has this hobby, or someone in your family does; nonetheless, you can either make or purchase these items and arrange them either symmetrically or all over the place for an even better effect.
Fancy farmhouse vibes
What about a horizontal planter underneath the mounted television to bring a cozy touch for the night? You can arrange the planter with greenery and a subway tiled fireplace. The farmhouse decor brings out a homey and inviting space for your television that everyone will enjoy spending their nights by. Perhaps add a few candle lanterns here and there.
Wooden retro accents
Adding wooden accents is another way to add a little bit of retro touch to your surrounding TV wall – you can either use entire wall wooden shelves or a coordinating entertainment console. If your room is light-colored, neutral wood tones would perfectly blend in with the couches and the other furniture.
You can add other decorative pieces in the same style with matching accents like family photos, artwork, and candles to liven up the area in a cool yet traditional way.
Read more: How to Decorate Dining Table
Bonus Tips: What You Need to Avoid?
Even though it might look like something that has no rules, you can easily make some mistakes and turn your wall into a disaster. Here are some useful tips that might help you avoid making a mess and find the best option to suit your TV wall perfectly without being "too much" in the eye.
Make sure you don't hang your TV too high
As much as it sounds obvious, you must be especially careful when placing it not too high, especially if you have a TV console; it shouldn't be placed higher than 6 to 12 inches, depending on the size.
Measure the exact size of the TV console
If you are considering purchasing a console for your TV, you should never do it without measuring the size of the TV and the art pieces you'll be hanging on the wall behind it. Even though it doesn't look like it would make a big change, if it's smaller than your TV, then it will overshadow it and look unimportant.
Final Thoughts
Whether you are looking for how to decorate around a TV on a large wall hanging in your living area, bedroom, or workspace, decorations are always a good idea. They can fill out the space, bring more life and make it not look boring. Yes, minimalism is always a good option, but why not implement something that can be your signature?
Here are some of the coolest ideas where you can experiment and play with your creativity. You can always make a combination of multiple designs that will match your entire interior and overall vibe.
The truth is, there is no right or wrong, so if you enjoy interior design, you can surely find plenty of awesome options for your TV wall. You don't necessarily need to have a blank wall, as long as there is enough space to bring any of these tips and tricks into it.