If you own a bookshelf that has been with you for many years or was a recent and impulsive purchase, then you are probably looking for ways to spice things up. Maybe you don't have enough books to fill out the free space in between shelves that are tough to look at.
Now scroll down and reveal how to decorate a bookshelf without books!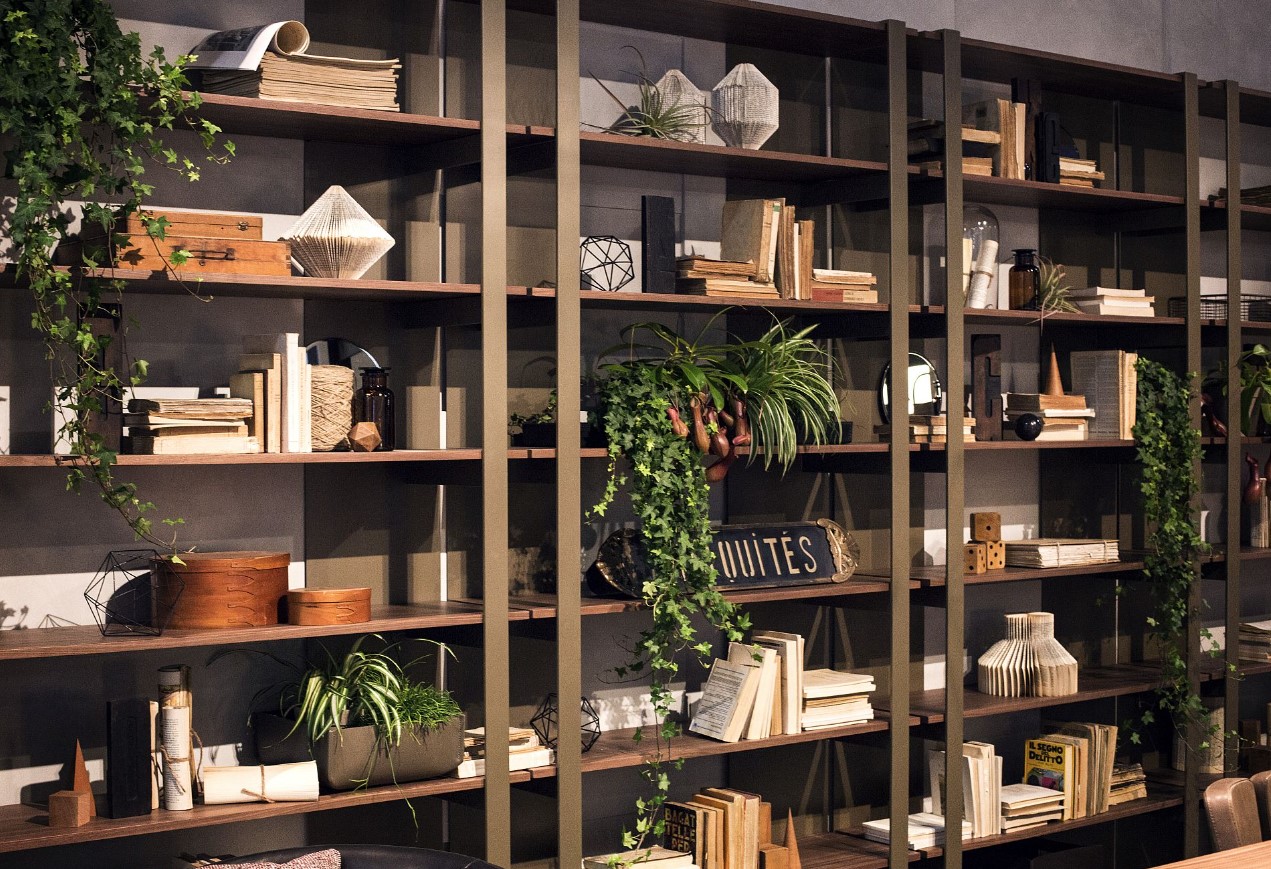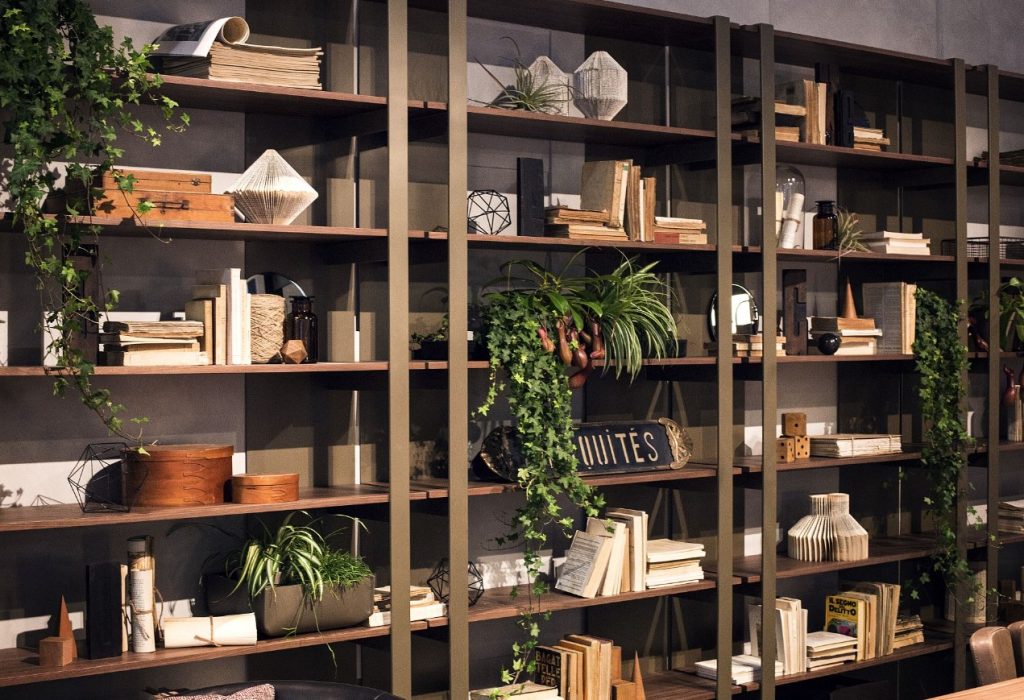 How to Decorate a Bookshelf Without Books
Bookshelves take on a double duty; they can be great novel storage or a display piece of furniture for any type of accessory.
In most cases, the best decor for your bookshelf comes from items you already own. While the traditional bookshelves have a library vibe with their vintage and unique appeal, making a modern twist on a classic shelf setup can be a fun project.
With the addition of colors, lush plants, and vintage finds, your bookshelf can become a perfect vignette with a unique style.
Steps
The first step of decorating your book rack is placing the largest items first. The staggering objects look great between shelves.
Look around your house for accessories like artwork, vases, or picture frames in a cohesive color style or scheme.
Use the rest of your things to fill in the rest of the free space. We recommend using magazines, potted plants, and books that can put a lot of texture and color to the piece of furniture.
Let's take a closer look at some easy-peasy decor ideas that will bring freshness into your home.
Ideas
There are so many approaches that you can take to make the most out of your space and decorate the bookshelf. The first step should be selecting a color scheme and modifying its exterior.
Also, you can paint the shelves and find other material things that can be neatly arranged, making the rack look more intentional and joyful. Here are some additional unique ideas:
Easy decor
Memento decor
Implement accessories
Plants
Repaint the bookcase
Add a wallpaper
Insert a mirror
Easy decor
If you like to achieve a perfect bookcase decor that will motivate you to take a picture every time you pass by, you need to resist the urge to pack a ton of stuff on every shelf. You can achieve an easy and simple decor by selecting one color or tone scheme for every figurine and vase you will place on the rack.
Every now and then, you can take a step back and assess the balance of your arrangement. This will allow your bookcase to be neat every time you have visitors.
Another thing we recommend is, placing the items off-center.
Read more: How to Decorate Long Hallways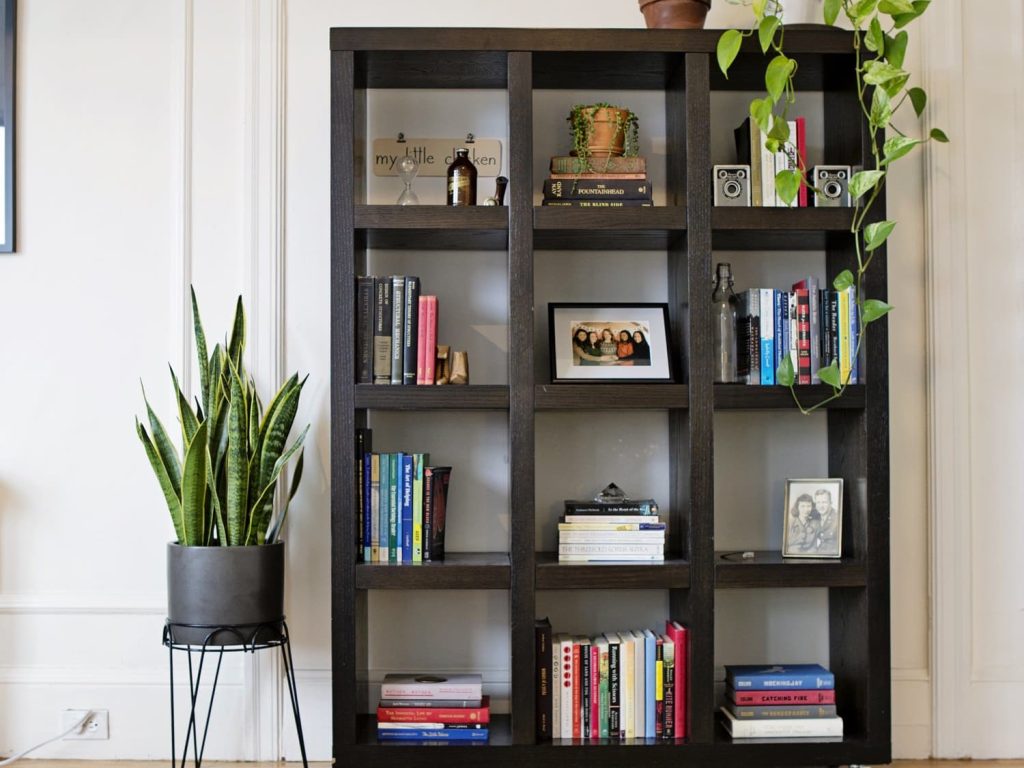 Memento decor
Materialistic objects with a special place in your heart can make you wander down memory lane and evoke certain warm feelings, making them perfect as decorations for your bookshelf. You can use your treasure collectibles from the flea market, old polaroid photos, or magnets from your travels as a decoration for your shelves.
To achieve a more dynamic display, try and add books by stacking them horizontally. This way, the books can serve as a pedestal for your small objects.
Accessory arrangement
Apart from books, you can make the bookcase richer by adding reading materials while alternating their position, vertically and horizontally. The most interesting idea for decorating a bookshelf is to use accessories as bookends. Picture frames and boldly colored accents can be great bookends and make every shelf interesting to look at.
Lush life
Even people who are not involved in the decoration of the home interior know that plants have the power to transform every space and make it more joyful. From small succulents to bigger palm leaves, a touch of green can transform your bookcase into an oasis of a higher style.
By placing a couple of plants on the shelves, you can make your piece of furniture come to life.
If you are interested in an extra dose of lush greenery, you can let the leaves fall over multiple shelves.
Fresh coat of paint
Many home interior designers explain how to decorate a bookshelf without books with simple words; they suggest you apply a fresh coat of paint.
We agree that repainting can add a very impactful and noticeable enhancement to your bookshelf. However, to successfully do so, you need to update the look of the bookcase from the inside and refresh its space without changing the vibe of the entire room. This operation allows you to experiment with color in a way that does not require too much time, and the change is not that drastic.
For example, the traditional wooden panels have a white built-in, perfect for a farmhouse and modern renovation. If you like to take a bold step, you can paint the bookshelf a deep shade of emerald and turn it into a focal area.
However, it all depends on the size and location of the bookstand. We recommend that you pick a color that matches the room's overall feel and adds a complementary pop.
Wallpaper
Many magazines have articles on this topic and remind us that adding wallpaper to your bookcase is a cost-effective, less time-consuming, and refreshing process. Plus, using wallpaper can be playful and creative with multiple styles and textures that cannot be achieved with a simple painting. Many people mistake the wallpaper for a picture, but it needs to be placed on a clean and uniform surface and, on top, it can be removable.
Putting wallpaper in your bookcase requires a couple of steps. Make sure you clean the shelves beforehand and take all the necessary measures upfront for a smooth application process.
Mirrors
Last but not least, mirrors can be a great addition to your bookshelf because of many factors. Firstly, they can create an illusion that the space is larger than it is.
Next, a mirror on the bookshelf can increase the room's natural light if it is strategically placed to reflect the sunlight. On top, a large mirror can serve as a focal point within the shelf while offering you a much larger area to decorate.
You might be interested: How to Decorate a Large Wall Behind a Couch
Conclusion
After the pandemic, we are trying to navigate the new normal in our homes. With so many people having a home office, everyone is eager to change the background of the Zoom calls.
After reading our listicle, we are confident that you have a better idea of how to decorate a bookshelf without books. Our recommendations can be done with little effort and don't require too much time. So choose one of them and bring freshness to your home!