Because it serves as the center point in almost every living room, the wall space behind your couch offers some real opportunities for interior design. But how to decorate a large wall behind a couch when you have no idea what would look good there?
In this article, we will talk about many ideas for decorating the wall behind the couch. With no further ado, let's get started!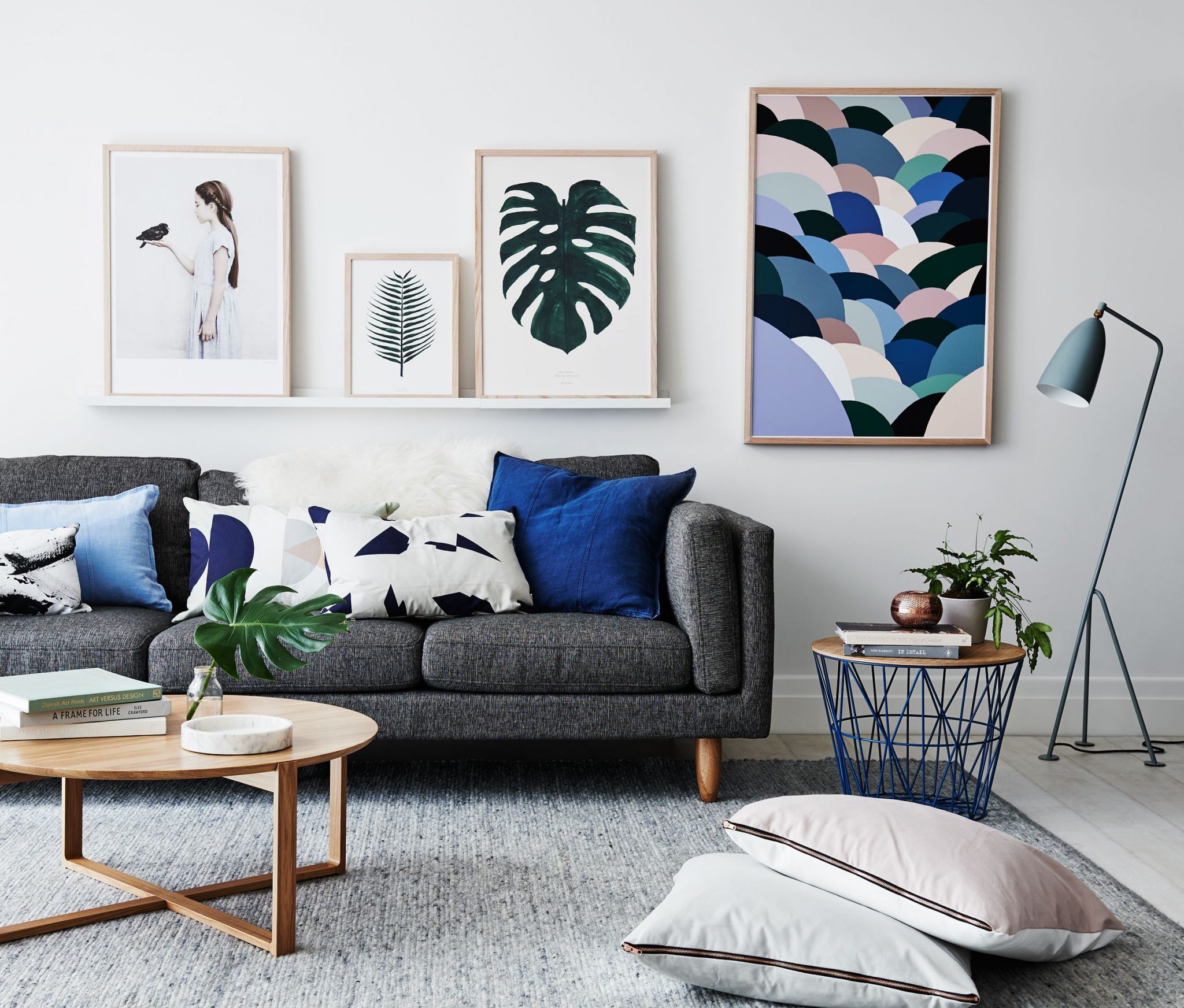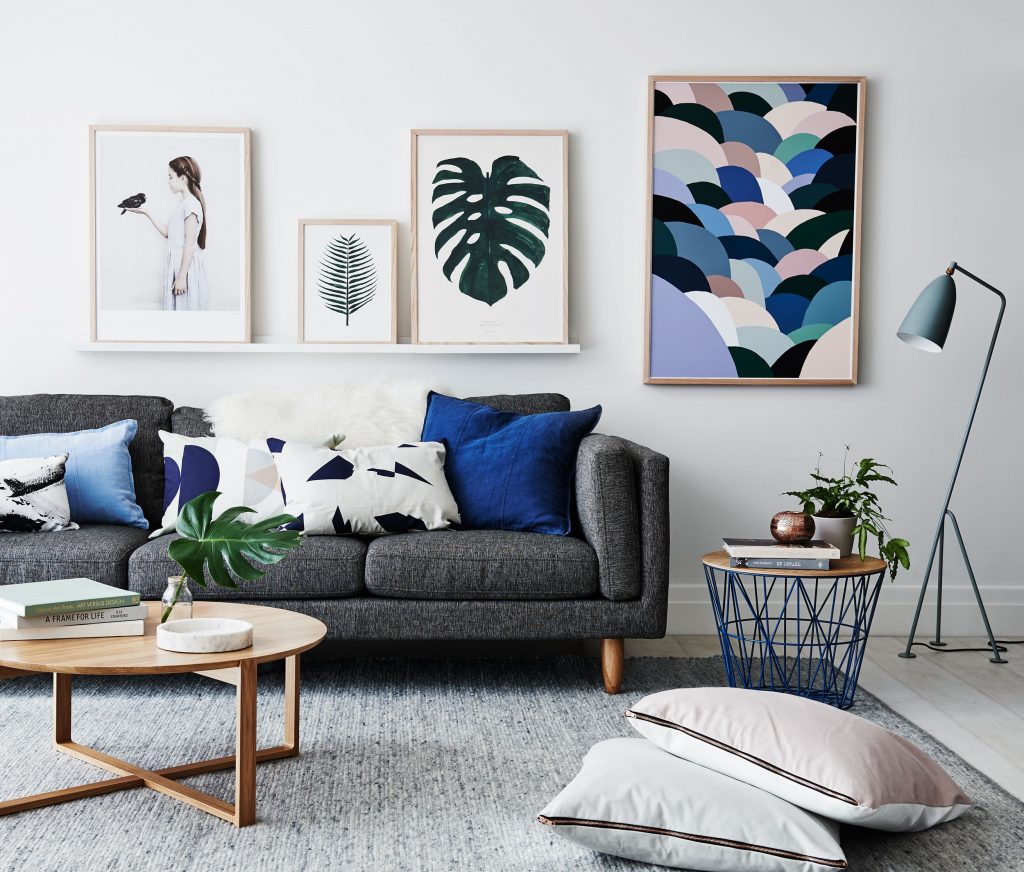 How to Decorate a Large Wall Behind a Couch
Begin by researching your alternatives, collecting images of rooms that appeal to you, and selecting your preferred source of interior design inspiration. After that, all that's left to do is locate the piece that is the most suitable addition to improve your living area.
Extra-large mirror
Because they reflect light, large mirrors are a terrific way to make your living room appear larger. Hanging mirrors next to anything aesthetically pleasing or relaxing is advised because mirrors tend to enhance whatever they reflect.
It is preferable to place mirrors across from or close to windows since the reflected natural light will brighten your space and give the impression that the room is more spacious. Of course, other home décor elements like artwork are also excellent choices.
Wall gallery
The top designers advise people to go with the gallery wall appearance over their sofa. Recently, gallery walls have drawn much attention, becoming more and more common in interior design.
Adding one unique object to your gallery, such as the blackboard next to the framed posters, adds diversity and excitement to your design. For instance, you may combine a mirror with several baskets or wall plates or hang several framed paintings beside a single tapestry.
For a unified appearance, try to choose items with similar color palettes. And before putting everything on the wall, arrange your gallery wall on the floor to get the ideal appearance.
One significant work of art
You can transform your living space by hanging one large piece of art over your sofa. If you're updating an existing space, choose something that goes nicely with the color scheme of your living room. Alternatively, base the color scheme on the hues in your large picture if you're starting from scratch and designing a room.
Generally, an oversized painting is preferable if it isn't larger than your sofa. When you search for something suitable to hang behind the sofa, you should take into account the size of both the wall and the sofa in relation to the size of your room. Just 8×10 photographs won't do.
Several shelves
You can give your room depth, broadness, and variety by placing many tall shelves over your sofa. Additionally, placing shelves behind your sofa can add valuable storage space if you don't have the space for a console table.
You might use them as bookcases to give the room a library-style appearance, or you could choose a more contemporary look. Several framed photos, trip mementos, books, vases, and a houseplant should be carefully arranged over the sofa in this room.
Pro tip: Keep the room's color scheme in mind when deciding what to put on the shelves above your sofa. Additionally, remember to place the sofa far enough from the wall so that your head won't contact the shelves when you get up.
Create a statement wall
The idea of adding a feature wall behind the sofa is one of our favorites. Feature walls often referred to as accent walls, can be an effective way to bring color to a room that is otherwise neutral in tone.
Pick a hue that complements the color scheme of your room, and don't be afraid to experiment with dark or striking hues. A trendy minimalist living area can feature a gem-toned accent wall and unusual lighting. The stark white walls, vibrant furniture, and understated accents can complete the style.
Renters occasionally strike it lucky with a "built-in" feature wall. However, feature walls are typically reserved for homeowners adept at painting their walls. Place your sofa in front of any brick or wood paneled walls in your living room, and choose colors that complement the style.
Read more: How to Decorate Around a TV on a Large Wall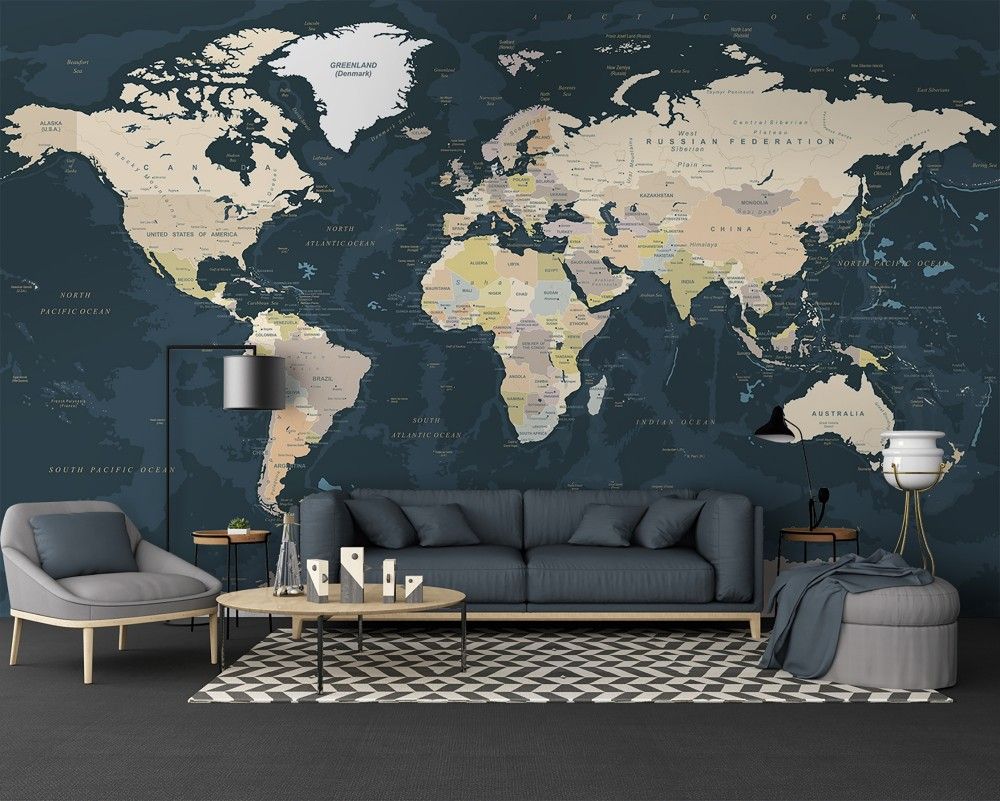 Build a map
Do you always plan your next vacation due to your wanderlust? Or do you have a favorite place in the world? If so, consider hanging a map over your couch to give it a captivating, international feel.
You could embrace your inner traveler and choose something like a scratch-off map to chronicle your travels across the world, or you could hang a historical map above your sofa. Also, don't forget to select your map while keeping in mind the color scheme of your living space.
Several large works of art
You can achieve an attractive, contemporary look by hanging many large pieces of wall art over your sofa. Additionally, combining artwork from the same set makes it simple to establish balance when using this strategy. This style works incredibly well if you place them with symmetry in mind.
Whether you hang many huge paintings side by side or arrange a grid of four or even six canvases arranged in two rows, it is all up to you. It's excellent if your arrangement is at least two-thirds the width of your sofa but not the complete width of the sofa when it comes to size.
Choose pieces with comparable sizes and colors, even if you're not utilizing artwork from the same set, to create a unified aesthetic that will tie your room together.
A wall clock
No matter your taste, wall clocks have a classic appeal that complements nearly any living room. Online, several options are available, ranging from modern to minimalist and everything in between.
You should place your wall clock just above eye level to command attention and draw the eye up the wall. As you can see, by framing your wall clock, you can give it more striking design elements without having them overpower the rest of your decor.
Decorative or special lighting
In addition to performing numerous roles in your house, lighting in the living room contributes to your sense of style. For instance, there are lights for chores, ambient lighting, accent lights for artwork, and other wall decors.
An open apartment with various lighting, which adds diversity to the room's brightness, is a clever idea. Also, you can make a modest living area appear vast and welcoming with bright lights and white walls.
Consider placing a floor lamp on one of the sofa's sides (or behind it, if you have room). Choosing warm-toned light bulbs will also help your living room feel cozier, so do so!
Consider placing an LED strip behind your sofa for truly distinctive lighting. Use your imagination to hang a flat, flexible strip in a joyful, swaying shape you like.
Textiles
There is a trend in textile wall art right now, and for a good reason. Above your sofa, you may hang a rug, a knitted or crocheted blanket, a quilt, an embroidered wall hanging, a tapestry, or a homemade macrame creation. Whatever you decide will give your house more character, depth, and texture.
Try a substantial textile wall hanging over your sofa if you have an enormous wall; this looks great with sectionals and large sofas. And to prevent making the area appear cramped and closed off if you're working with a little amount of space, try two or three smaller cloth hangings.
Wallpaper
As more designers get on board with this trend, wallpaper is currently making a comeback, in case you haven't noticed. Wallpaper is frequently used in contemporary homes as an accent wall behind the sofa to give color, pattern, and style.
When used as a background for a sofa, wallpaper can give a plain wall depth and intrigue. Wallpaper with a more maximalist design is usually okay to leave alone. Pairing it with prints or other art pieces might add depth if it's more understated.
Abstract artwork
Abstract art is an excellent option to give your living space some life because it comes in various shapes, sizes, and colors. This technique allows contrasting natural hues and geometric abstractions to give any space character and energy.
Place a mirror on the opposite side to magnify the impact of the artwork over the sofa. You can also add throw cushions and an area rug with the same design.
Also read: How to Decorate a Rectangle Living Room
Conclusion
This is it! These were the best ways you should know how to decorate a large wall behind a couch. As you can see, there are numerous options. This space is ideal for hanging any decorative item at eye level above the couch. Play around with many concepts until you find the one that best suits your personality. We hope these wall design suggestions have given you some inspiration.