When it comes to chairs, one of the most popular choices among customers is the wing chair. It was invented hundreds of years ago. But, thanks to the market expansion, this design is still alive today.
It has a distinguished style and can quickly transform your room into a royal place. Companies today sell chairs in many different colors and fabrics. But regarding the design, they kept it loyal to its original creation.
If we got your attention so far, continue to read and learn more about what is a wing chair. In addition, we have included professional advice on how to choose the best model for your room.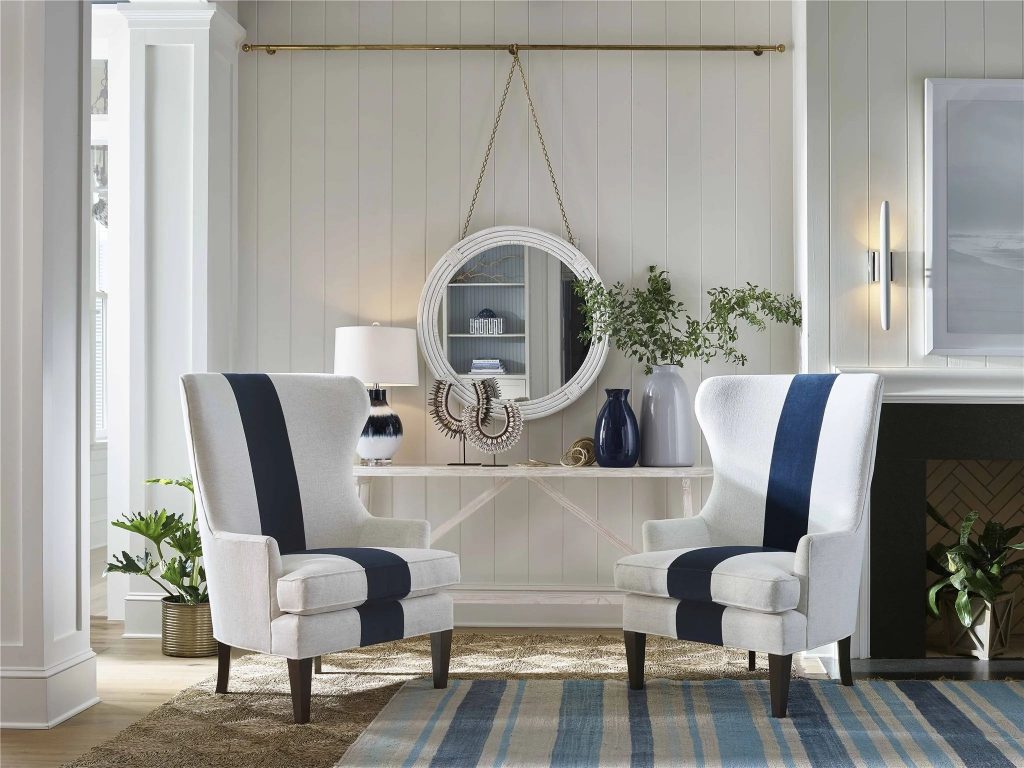 What Is a Wing Chair?
A wing chair is a chair that comes with attached "wings" to the sides of the backrest. Usually, they are extended down to the armrest. The initial purpose of the wings was to prevent drafts from disrupting the warm home atmosphere.
This is directly linked to the poor construction of houses in the past. Homes and buildings typically lacked weatherstripping, caulking, and triple glazing for windows. So drafts could easily sneak inside.
Therefore, the wings protect your ears and neck from any outside cold air. If you place the chair in front of a fireplace, the wings also protect you from the heat coming from the fire. This way, you can comfortably enjoy the warmth without any consequences.
So, now that you know what is a wing chair is, continue reading more about its history and what types you can buy today.
Also read: What Is a Zero Gravity Chair?
The History of Wing Chairs
The wing chair was invented in the 1600s in England. It was initially designed to protect people from drafts. Next, they appeared in Colonial America. The American design of the wing chair had curved legs and curved back lines.
In the 18th century, the designer George Hepplewhite tried to make a wing chair with a lower seat. Furthermore, as the popularity of the design increased in countries like France and Germany, it was considered the most suitable chair for bedrooms.
In England, the wing chair was considered an essential part of the living room. Even Victorian writers included it in their books. It was typically a part of an ideal family scene when members were gathered around the fireplace, sitting on wing chairs.
In the 19th century, the design of wing chairs was sold with thicker padded wingbacks compared to the earlier designs. Therefore, as time went by, the chair was transformed to be more and more comfortable by being upgraded with better upholstery.
Types of Wing Chairs
The initial design of this chair hasn't changed much since it was first introduced. However, in terms of the actual construction, today, we have two types of wing chairs: Flat wing chairs and scroll wing chairs.
The scroll-wing chair is considered to be a more traditional model. Scrolled wings and armrests characterize it. The backrest typically comes with a buttoned surface and tall legs. In addition, the studs are made out of brass.
Therefore, this type is the perfect statement piece to make your living room look more glamorous. It's usually sold in a leather edition, but you can pick any other fabric and color.
When it comes to the flat wing chair, it simply adds elegance to any room. Its flat wings best distinguish it. The rest of its design, similar to the scroll-wing model, also has tall legs.
Related: What Is an Adirondack Chair?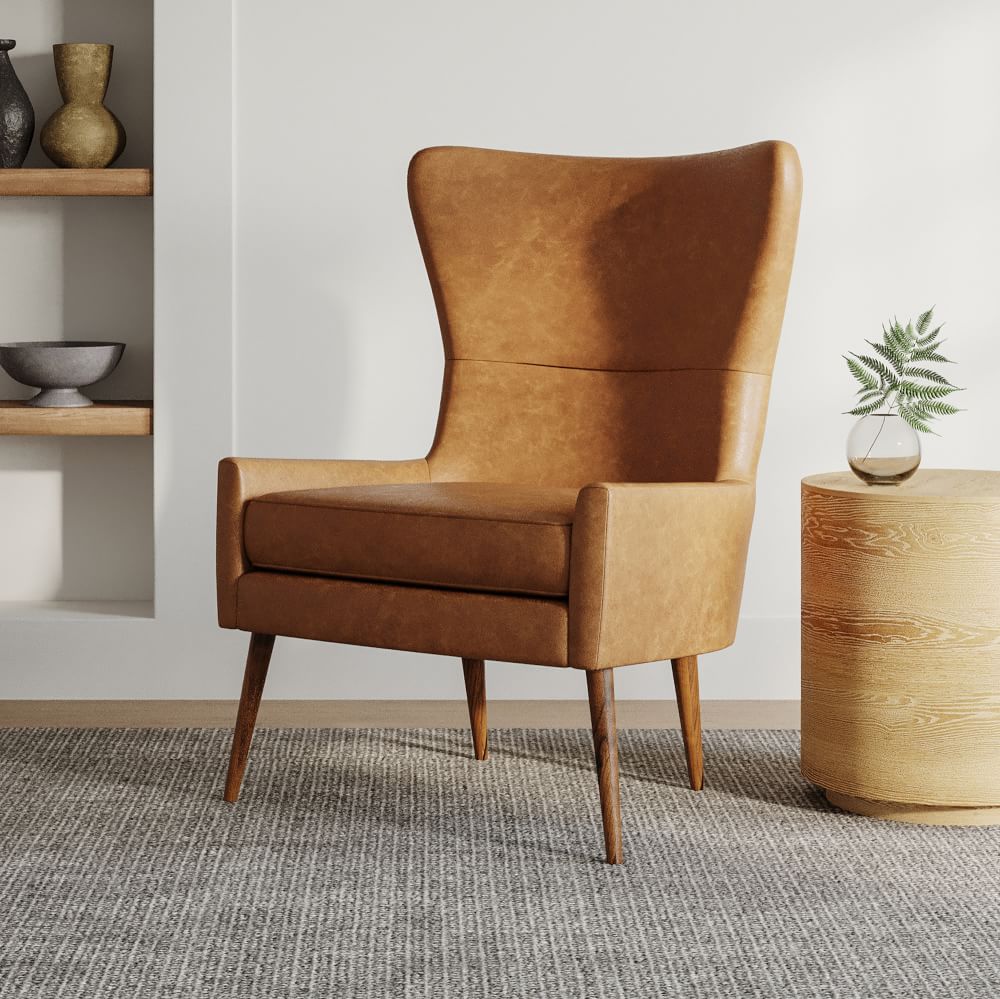 How to Pick a Wingback Chair
When it comes to choosing between the two types of wing chairs, take into consideration the style of the room. If you want your room to look more classic, then we recommend you choose a scroll-wing chair.
It can also fit perfectly in a room with a rustic style. However, if the room looks more modern, go for the flat-wing chair. It will give it a more sophisticated and minimalistic look.
Also, if the room is in light tones, we recommend you go for a wing chair with a soft cotton blend fabric. Regarding the colors, pearl and cream tones are the most popular choices among customers.
If the room features a dark interior style, choose a dark tone for the wing chair to blend better. It looks best in colors such as burgundy, navy, dark gray, chocolate brown, etc. In addition, choose dark wood for the legs.
Regarding the backrest and seat cushion, we recommend you choose leather. Simply because it flawlessly goes with the darker tones. You should avoid this fabric if the room is covered in light colors.
Wing Chair Placement
When considering the placement of the wing chair, simply consider your everyday lifestyle. If you spend more time in the living room, you can put it there. Like in the past, you can position it in front of the fireplace.
If you don't have a fireplace, you can always put it in front of the TV. However, if the bedroom is your place of relaxation, we recommend you place the wing chair there. You can also put it next to a window to enjoy a beautiful view.
Moreover, you can add a small coffee table next to the wing chair. Besides the living room and the bedroom, you can also make the wing chair a part of your dining room. It's all a matter of your daily habits.
Also Read: How to Decorate a Rectangle Living Room
Conclusion
The wing chair was initially designed to protect us from the drafts. But today, people are very enthusiastic about styling their interior with it. So choosing a wing chair for their living room is also for aesthetic pleasure.
Of course, that doesn't mean that the chairs aren't used for practical purposes. What's more, they are known to be super comfortable. In addition, since the market is extensive, you can easily find a wing chair in any color, fabric, and pattern that best suits your taste. So, if you were wondering what is a wing chair, we hope this article answers your question.