Nothing can be compared to adding a little wood furniture to make your backyard or garden look fascinating. We all love to play with the designs, and we should not limit our wishes just because of the changing weather that we can't control.
Just because it might rain doesn't mean you should use the furniture you're not totally and completely in love with. That's why you should check out a few tips on how to protect outdoor wood furniture. So stay tuned because you'll be surprised how much you can do with just a few tricks that are really easy and fun to do.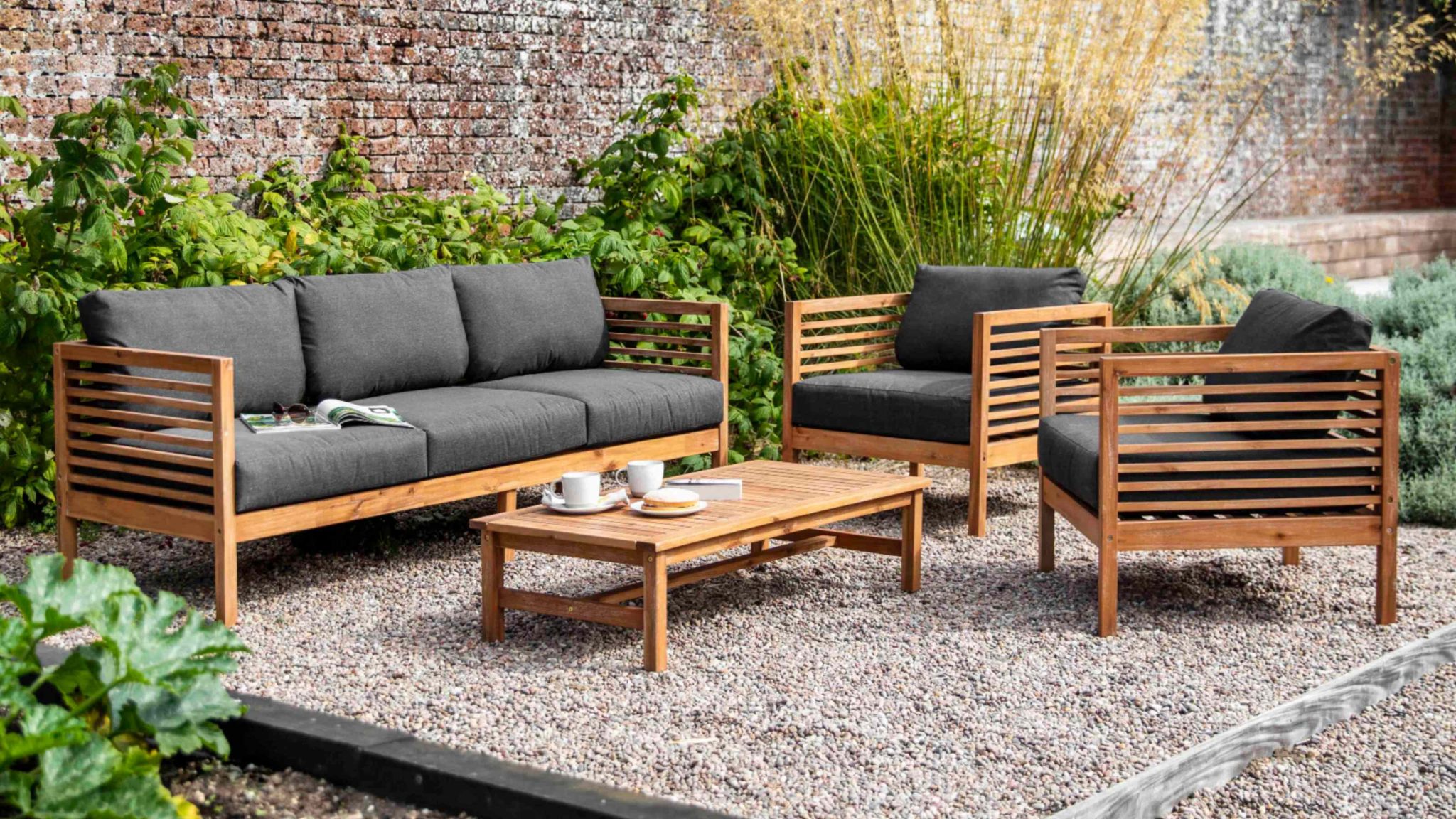 How to Protect Outdoor Wood Furniture
Some people may think that taking "special" care of your wood furniture is unnecessary, but in reality, it's important to take care of it unless you're planning on changing your furniture every few months.
Even when you think that rain is the only bad factor that can damage the wood, you're wrong. Even with too much exposure to the sun, you'll hear your wood cracks and the changing color of the wood like it's been bleached. Let's start with a few simple but useful tricks that you can do before it's too late.
Paint the furniture
Painting is a fantastic way to give your beloved wood furniture strong protection from the elements. The surface of the wood can be prevented from being penetrated by sunlight by paint. In addition, painting has the ability to filter UV rays and shield the underlying wood from a variety of issues, including discoloration.
Compared to traditional oil-based paints, latex paint provides outdoor furniture with longer-lasting protection. Easy-to-use latex paints are used as cosmetic fixes. In addition to hiding scratches, latex paints come in a huge variety of colors.
The protection from UV rays and outdoor elements is improved with a thick coat of paint. You should periodically check your wood for dents, peeling paint, scratches, and fading. In cases where you think it's necessary, it's good to repaint the wood.
Apply water sealers 
Consider applying a water sealant if you reside in a region with a lot of rain or even if you simply want to keep your wooden outdoor furniture fully protected. In addition to providing it with the protection it requires, this will preserve the lovely appearance of your wood. A water sealer has the advantage of shielding your furniture from moisture from the outside while also allowing damp wood to dry more quickly inside the sealant to prevent warping, splitting, and rotting.
Put covers 
Your outdoor furniture is shielded by covers from precipitation of all kinds as well as harmful UV rays. Ensure the cover is the right size by taking measurements. A cover that seals the furniture beneath it should be avoided as well. It's also important for the furniture to get air in order to prevent mold.
Relocate your furniture 
The majority of the time, we act in this manner whenever we believe that furniture has been harmed by severe weather. Basically, if you have room in your garden or other outdoor space and have plenty of places to store your beloved furniture, this is the best option you can choose.
The outdoors are not completely protected by sealants, paint, varnish, or shellac. In light of the fact that wood is extremely vulnerable to outdoor elements and offers very little natural protection, we strongly advise against keeping wooden furniture that is exposed to continuous sunlight, higher moisture levels, and other extreme weather conditions.
In order to avoid poor weather during the winter, move your furniture inside the garage. Due to the high levels of moisture during the winter, many finishers, sealants, and paints are unable to provide the same level of protection as they did during other seasons. So, it's your responsibility to move furniture to a secure location, especially in the wintertime.
In addition to moving the furniture around, you can create some shades to protect the wood from direct sunlight. Shades can absorb or reflect 98% of UV rays and allow only visible light to pass through, protecting furniture from UV damage.
Use wood preservative 
There are many things to take into account when deciding whether to buy an oil-based exterior wood sealer. If so, it's logical to choose a wood spray that contains oil or teak oil in a tin, which improves the surface of the wood furniture and makes it more weatherproof.
It would be wise to select a color tint or opaque protective oil that allows for a bolder natural or unnatural color choice, though, if color and UV protection for wood were more important factors. In between clear and colored finishes, tints allow the wood grain to remain visible after application like clear oil and provide excellent UV resistance like a colored finish.
Read more: How to Get Rid of Water Stains on Wood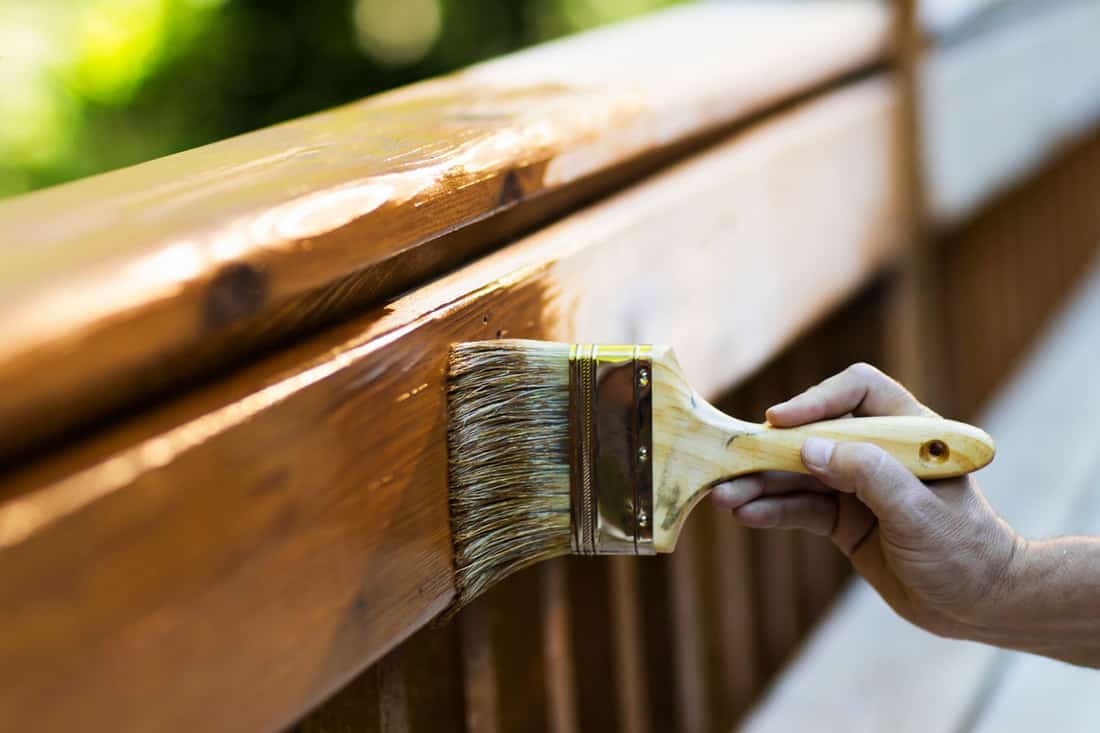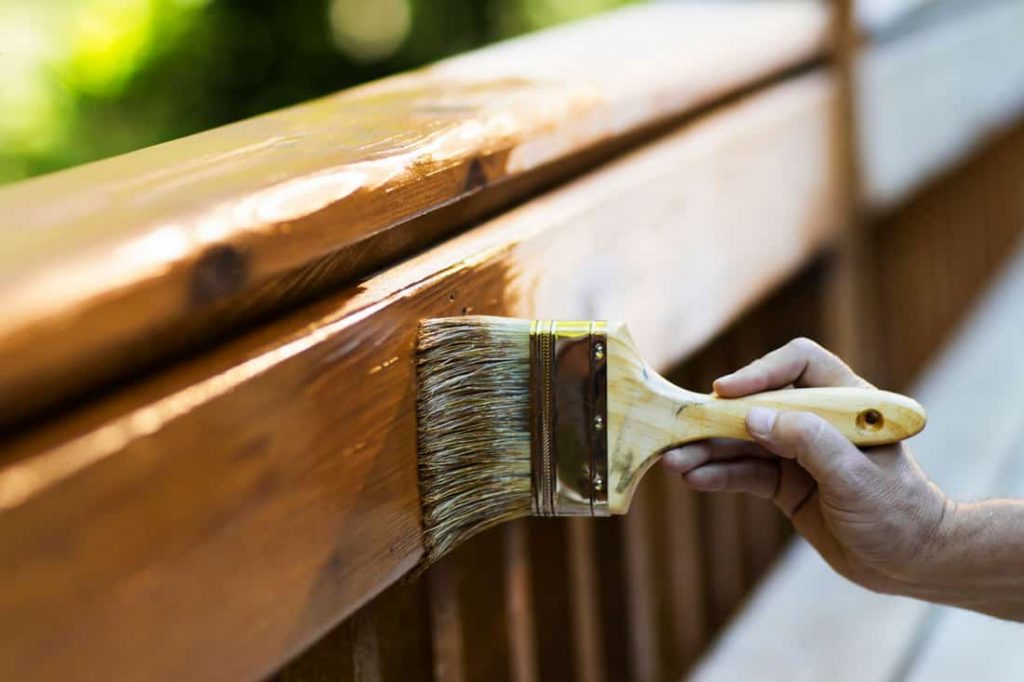 Regular cleaning 
Regular cleaning is essential for outdoor furniture to last a lifetime and to be protected from the elements. Wood worsens due to mud, mold, and dirt. No matter how completely covered or painted the furniture is, cleaning is still necessary.
The wooden surface can rot quickly if dirt and mud are allowed to build up. Dust can be easily removed with a tack or microfiber cloth by blowing it away if there is only a small amount. A perfectly clean surface can be achieved by using a tack cloth to remove every last particle of dust.
Sanding
It's time to let the wood dry after you've properly cleaned it. Sanding comes next because the process will undoubtedly raise the wood's grain. Although skipping the process might be alluring, doing so will not only deprive you of the smooth furniture finish but also ensure that all the dents and gouges that have developed over time will remain. Just select a medium-grit aluminum oxide sandpaper and make sure the grit matches the level of smoothness you desire.
Rub wood oil
The goal of wood oil is to make the material appear and feel richer while also providing adequate protection against certain chemicals, heat, scratches, and stains (depending on the oil time). Wood oil is used to protect and maintain outdoor wood.
Rub wood oil onto the surface of your furniture after it has been sanded, taking extra care to get the oil into all of the crevices and holes. After several hours, let the wood soak in the oil before using a rag to remove any extra.
Please keep in mind that there is a great number of options for treating wood, such as wax finishes, drying, and non-drying oils, and thinner oils that incorporate a varnish mixture.
Varnishing
Varnish is yet another effective method for safeguarding wooden outdoor furniture. Consider your options by going to a nearby home store. There are numerous types of varnish, so make sure to buy the outdoor version that is best for you.
Similar to the water sealer, this will keep the appearance of the wood in your furniture but won't protect it as well as paint. To maintain the strength of varnish, be sure to reapply a coat at least every few years.
How to Waterproof Your Outdoor Furniture
Sealing, varnishing, and covering, are just a few things that we've already talked about that will help you secure the wood in your yard. Protecting the furniture from water and keeping it out of the rain are both crucial. If the furniture is too heavy or immobile, waterproofing will suffice.
Let's find out how to waterproof your furniture. This process is done either by using oil or sealer. The simplest, most cost-effective, and quickest method to waterproof wood furniture for outdoor use is by using tung oil or linseed oil.
Quick and Simple Steps to Waterproof Your Furniture
Mix thoroughly
The wooden surface should be sanded and cleaned
Using the paintbrush, coat the surface with oil
Allow the wood to properly soak the oil before reapplying it to the missed areas
Let the wood completely dry after applying all of the oil. Depending on the wood and oil, this could take hours or days. But wait until it has completely dried before moving on to the next step.
Using fine-grit sandpaper, sand the surface
Reapply the oil coat and allow the wood to dry fully
After doing the coat two or three times, you should expect it to be fully waterproof. You can redo it every few months.
Also read: How to Care for Leather Furniture
Conclusion
As you can see, taking good care of your furniture shouldn't be hard, especially if you're doing it with love. The only thing is to learn how to protect outdoor wood furniture properly, and, after that, all your money spent on the new furniture won't be wasted.
We gave you a few interesting tips and we hope you found this article useful. Apply them and keep your furniture beautiful and undamaged!