It is not good to throw pillows and cushions into the trash can because they are hard to decompose. Because synthetics and other fabrics are bad for the environment, here are some useful ways how to dispose of pillows without polluting nature, such as making a bed for your pet, reusing the pillows for outdoor furniture decoration, donating the pillows to homeless or animal shelters, recycling the pillows in a textile recycling factory, using them for packing and moving protection, or making some DIY crafts and stuffed decor.
If the pillow is not good for sleeping anymore, there are a lot of other ways to reuse it. Reusing and recycling old pillows is best if you care about the environment. Donating your old pillows is the most heartwarming thing you can do because it might give good sleep to those who can not afford to buy a new sleeping pillow.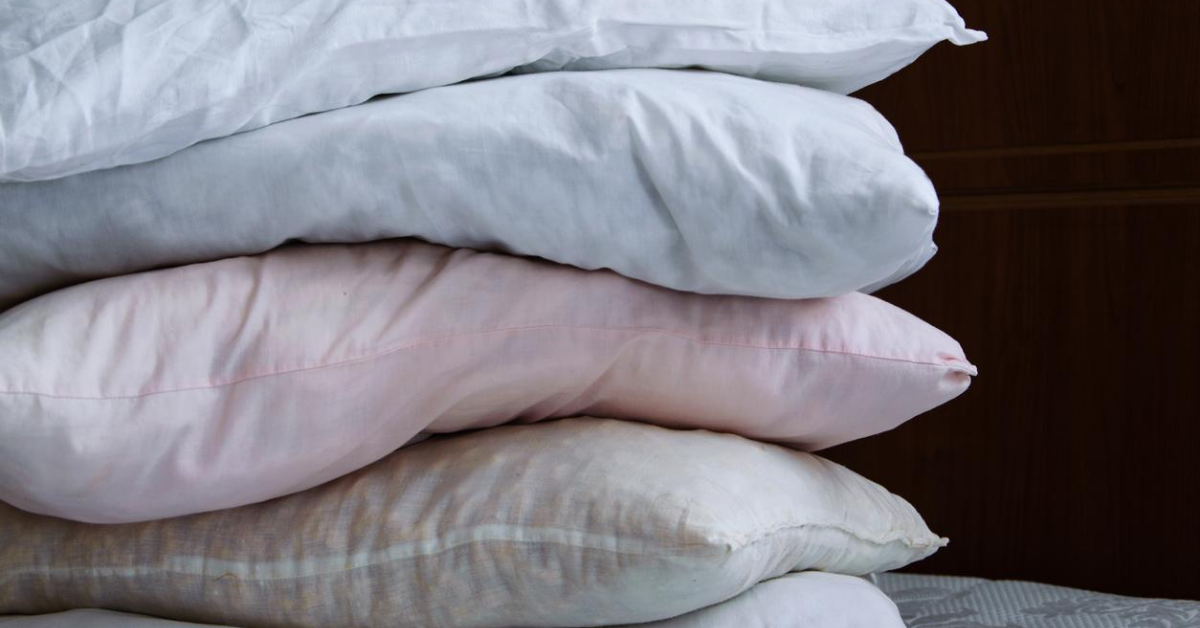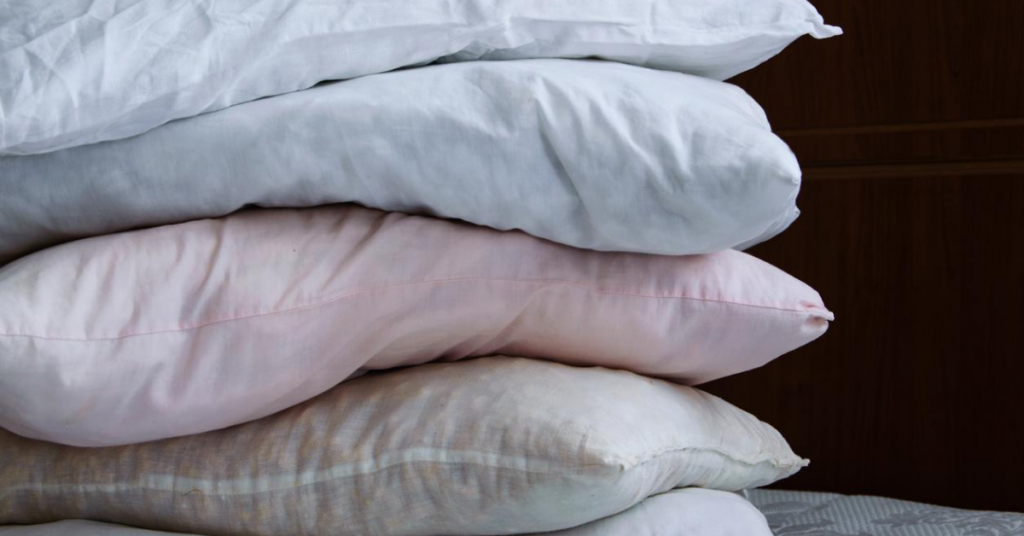 How to Dispose of Pillows
It is okay to change the sleeping pillows after time. Depending on the pillow insert, the pillow might lose its fluffiness or get flat if used for over two years. This might result in difficulty finding a good sleeping position, neck pain, headaches, and a bad mood. So, it is good to change the pillow and reuse or recycle the old one.
The first option might be making a new, comfy bed for your pet. Instead of wasting hundreds of dollars on fancy pet beds, you can make one at home. Your pet will love the old pillow bed because it will smell and remind them of you.
The second option is to donate the old pillows to homeless people or animal rescue shelters. Your old pillow can be a reason to smile for those who can not afford it and a warm bed for abandoned animals that live in rescue shelters.
The third option is recycling the old pillows in a factory with fabric recycling machinery. If you have a recycling facility in your town, you can take your pillows there and dispose of them easily.
If you have no recycling factory nearby but have creativity and some free time, you can make some DIY projects and reuse the old pillows instead of throwing them away. Decor your home or backyard, or make smaller pillows for a better-looking space.
Disposing of Old Pillows in the Best Way Possible
Make a pet bed
You can buy even the most luxurious pet bed for your dog or cat, but it will still sleep in places that are not supposed to be a bed. Using your old pillow can be a perfect pet bed because your pet would rather sleep on your bed or pillow than on the one meant for it.
Your smell will additionally make your pet love the new bed. It will make it safe and calm, knowing your smell is around it at night.
To make a pet bed out of your old pillow, you may need a needle and sewing kit or just empty the pillow insert and add the stuffing into the existing pet bed. The pillowcase can be reused for other things, like a cleaning rag.
Donate
Donating your old pillow might be the most humane thing you can do instead of throwing the pillow in the garbage. Unfortunately, the number of homeless people and animals increases, and a large number of them need things for a better life.
So, if there is a local shelter around your town, you can bring your pillows and other older things in good condition to the shelter and donate them. Many people will be happier and grateful for the chance for a better life.
If you opt for donating the old pillows, you can bring them to a non-government volunteering organization, daycare facilities, charities, and second-hand stores (if they sell used pillows).
DIY and reuse
If you think that the pillow's condition is not that good and can not be donated, you can add a pinch of creativity and make some catchy decorations for your home and backyard. You can use the pillow insert and make smaller pillows for your home or your children's play corner.
Wash the pillow insert in a machine if the stuffing is memory foam or cotton. When it completely dries out, put the pillow insert into a trendy pillowcase and decor your room.
Choose a waterproof pillowcase, put the old pillow insert into the case, and decorate your outdoor area. The waterproof pillowcase fabrics prevent environmental water from entering the pillow insert and cause mold and a bad smell from the outdoor pillows.
Also, you can use the stuffing to prevent cold air from entering underneath your door and freezing your feet during winter.
Read more: What Size Is a Standard Pillowcase?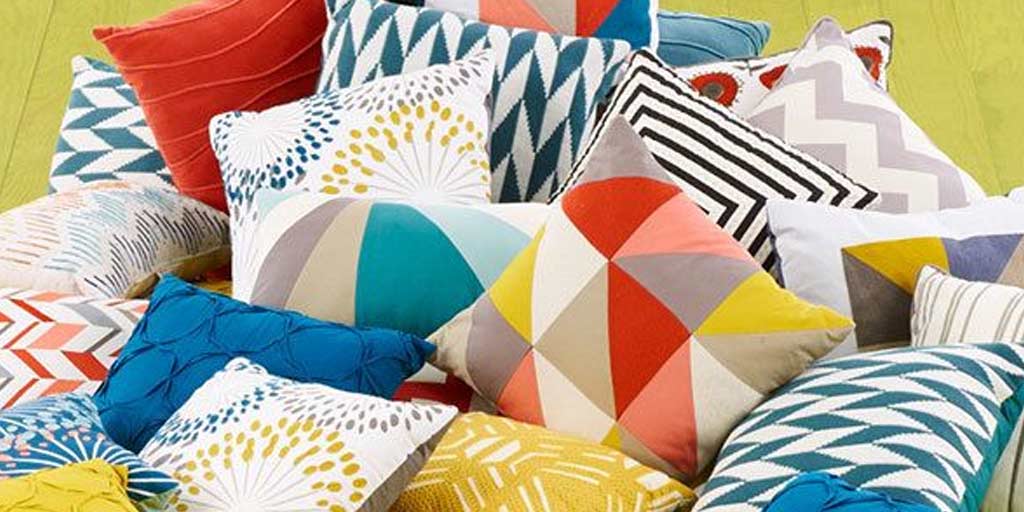 Transporting delicate items
The pillow insert can also be used for securing your easy-to-break objects while moving from one place to another. Memory foam pillows can be cut in smaller and adjustable shapes so that you can safely ship and transport the decorations and glass items to your new home.
Also, putting parts of pillow inserts between the objects in the moving box might prevent scratches and damage between the close objects in the same cartoon box.
Re-stuff your child's toys
Your children's favorite bear might get ripped by the pet. If you know how to use needles and threads, you can use stuffing from your old pillow, fill the missing part from the teddy bear, and sew it.
To Sum Up
We will be happy if one of these ways has changed your mind and helped you find how to dispose of pillows instead of throwing them into the trash and polluting the environment.
No matter which alternative you are going to choose, you will make a clever decision in reusing your old pillows.
You can find hundreds of old pillow DIY projects which might be useful and easy. Be creative and make something from scratch.