As coffee tables are the focal point of the living room, if they look untidy and cluttered, you get the feeling that the entire room is like that, even when it might not be. Therefore, when decorating a coffee table, you must pay enormous attention to every little detail, so you do not end up with a very simplistic design or clutter.
Although this sounds like a pretty easy job to be done, trust us, it is not that easy. Just like with everything, there are certain rules you need to follow if you want to make the most out of your coffee table, as well as if you want your coffee table to be as effective as it can be in all its beauty.
So because it seems that more and more people have decided on glass coffee tables for their homes, we wanted to assemble this article and help you with some expert tips and tricks on how to decorate a glass coffee table to match the interior of your room. If this sounds like something you would gladly need assistance with, we are happy to help you and make your living room the most important room in the house again.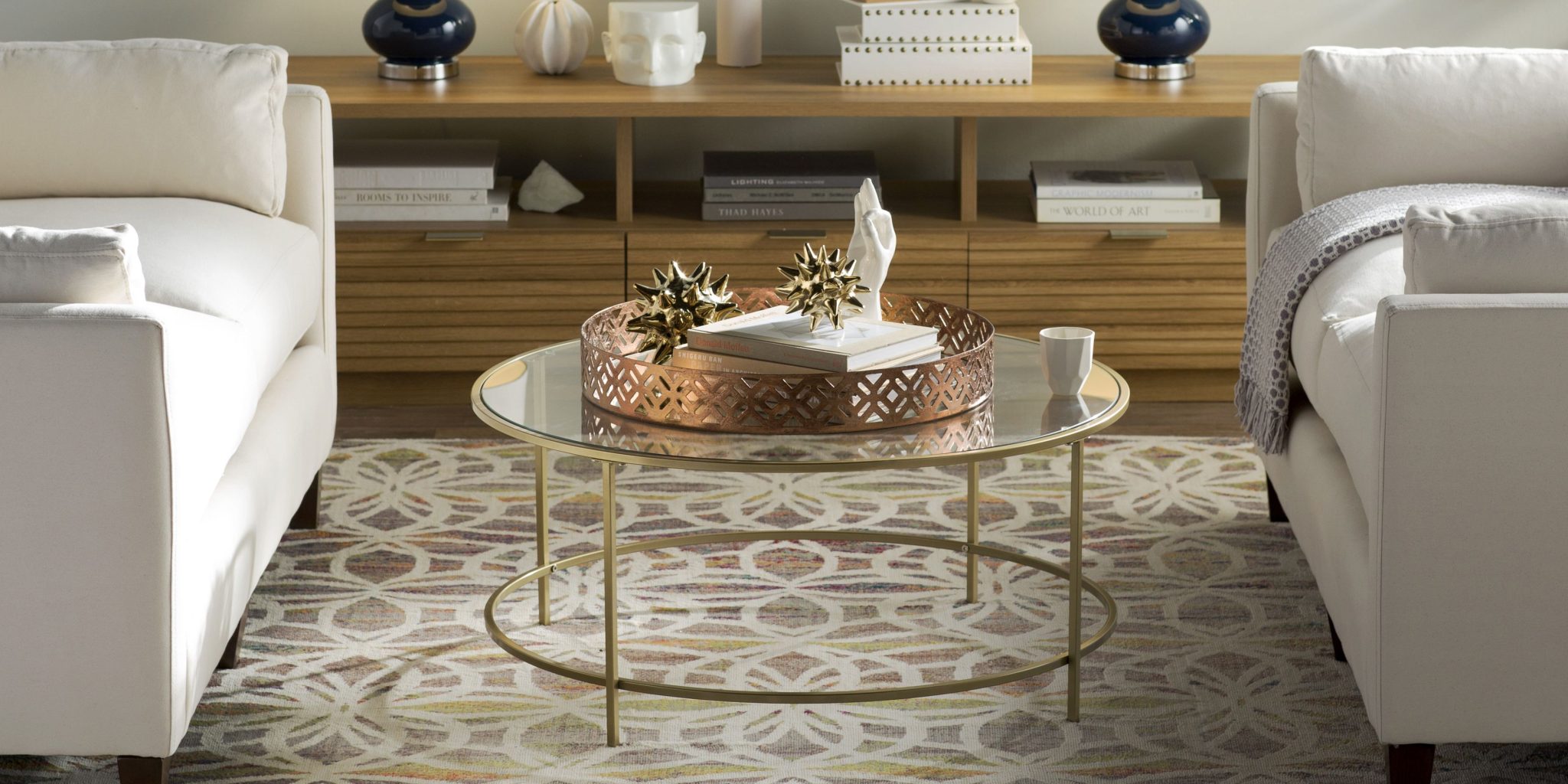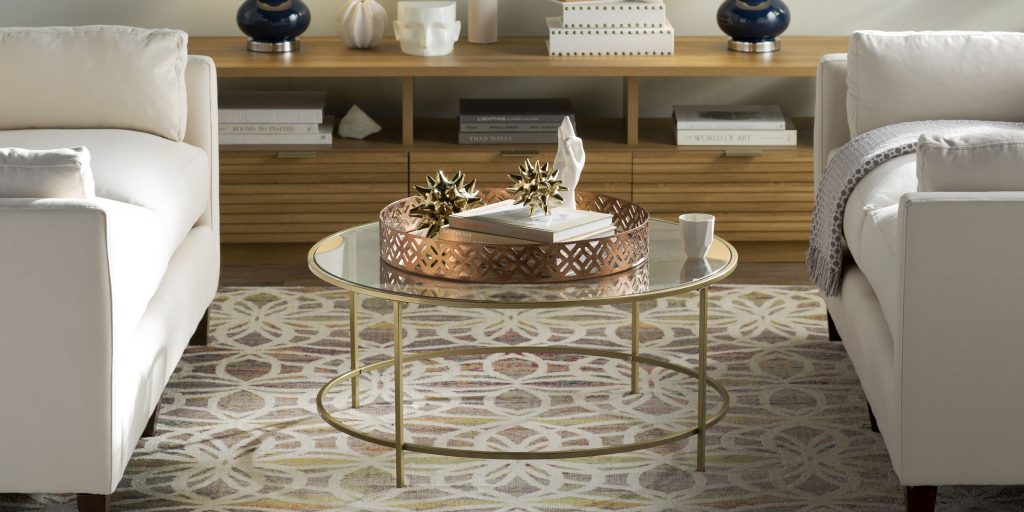 How to Decorate Glass Coffee Table – Tips
Add stacks of books
If you want your glass coffee table to have more personality and look purposeful, adding stacks of books is the right choice. Stack of books for great for every table size, especially larger ones, as they can fill up most of the free space without making the table look cluttered. Start with some large books and keep on stacking smaller ones on top to reach the full effect. Make sure you choose the books wisely as you want them to incorporate into the whole design, not break it. Also, if you have a round or oval table, books are a great functional decoration to break the circle shape and pattern that the table already has.
Decide on your must-haves
What would be the point of decorating your table if it is not functional? That's why before buying decor pieces, you should make a list of the must-haves your table must have on. These must-haves should be objects that you use most and are essential to your everyday life. For instance, if you love lighting candles, incorporate a stylish candle. If you need to keep your cell phone or remote on the table, include small decorative boxes where you can place these things.
Create layers
Having varying heights on your coffee table brings visual interest. By this, we do not mean an enormous glass vase you can see through, but smaller, delicately chosen things like stacked boxes, candles, mid-sized sculptural objects, and bowls that are easy to stack and play with height. Additionally, besides decorative boxes complementing the design, they are super functional to store some other things without disrupting the aesthetics.
Types of Glass Coffee Tables and How to Decorate Them
Before we jump into how to decorate a glass coffee table, we must go through some basics that will be of incredible help so that you can decorate your table successfully on your own. Do not worry, we will not get into some technical details here, but it is good to know the following few things.
Materials
Besides the obvious, glass tables can come in additional combos such as glass and wood, glass and metal, glass and molded plastic, glass and marble, glass and stone, glass and concrete, etc.
As all of these extra materials add a different look and feel, the first thing you will need to consider before decorating your tabletop is the types of materials your table is made of and how they would interact design-wise with the decor you plan on putting on the top.
How to decorate a glass coffee table based on the materials it's made of
First, glass and wood coffee tables almost always work well with metal decorations and vice versa. Additionally, if you have a glass and marble coffee table, it would be best if you decide on some gentle and soft decorations with no harsh designs and shapes. If your table is made of glass and stone, you would like to keep away from the wood and introduce some metal decor.
When it comes to glass and molded plastic, you might decide on some rattan decor. And lastly, glass and concrete coffee tables work best with a blend of soft and furry (fake fur) and golden metal decor.
Styles
The topic of the combination of glass coffee tables and styles can turn into an endless conversation. Therefore, we tried our best to pick the most common and loved glass coffee table styles that give various effects on the entire room they are placed in. As we have chosen to look at the most basic table styles, we do not doubt that your glass coffee table is in one of these styles. After researching which glass coffee tables are most popular, we came up with the following results.
How to decorate a glass coffee table based on the style
Traditional
Maybe the most common type. Almost always crafted from wood and glass, with a rectangular or oval surface, and never goes out of style. You can include many deco combos here, but it looks best with some greenery, like plants, some books stacked on top of each other, and small metal pieces like candle holders.
Rustic
Similar to the previous one, this style of coffee table is always made of glass and wood, but with one big difference. The rustic glass coffee table has brass-fitting contrast details and beautifully made wood carvings and engravings. As rustic-styled tables are enough on their own, you want to keep it minimal with the decoration, meaning you can stack some books and some rustic-looking plants.
Modern
Many people mix up this style with the contemporary. Still, the modern glass coffee table refers to Art Deco, Bauhaus, or any other design that originates from the 20th century. These glass coffee tables are usually very appealing and aesthetic; therefore, you can decorate them with glass decorations and maybe some fancy wooden coasters.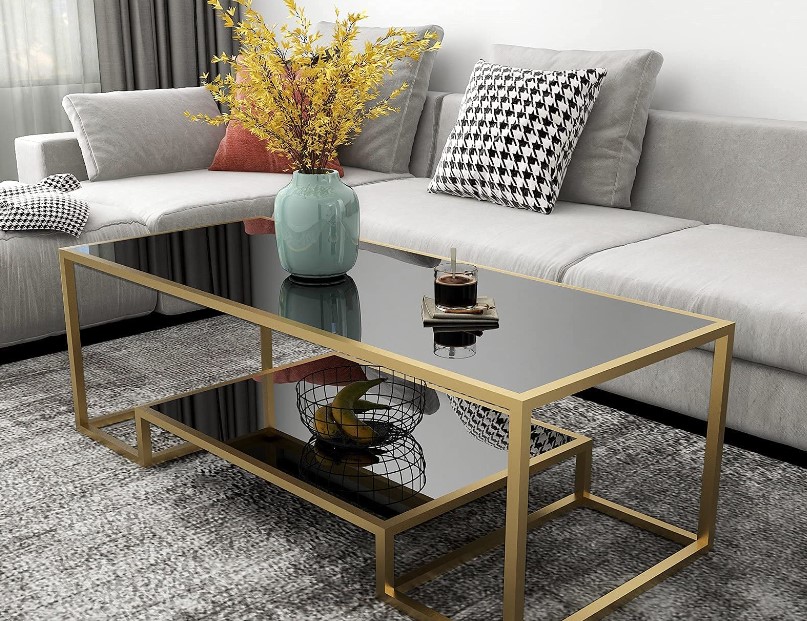 Coastal
These tables usually come in light-shaded woods and natural shapes to evoke a natural, airy beach feeling. That's why all the decorations made of natural materials work great with them. Whether you use some pebbles in a glass container, some white wood decorations, big books, etc., your coastal glass table will look amazing. As long as you make sure the decorations are made of natural materials and match the colors, you are good to go.
Vintage
These tables do not come in some particular style but rather in some of the most eclectic and quirkiest ones from the past, meaning they might range from looking classy to looking kitschy. Also, manufacturers use various materials while crafting these tables so that you might see many combos made of glass and some other material.
When decorating a vintage glass coffee table, you want to pay attention to its color and design. If it is too extra with lots of shapes and an almost eclectic-looking design, you want to use as minimal decor as possible. On the other side, if it is a more simplistic design, you might experiment with bolder metal decoration.
Industrial
Usually crafted out of glass, metal, and wood, the industrial style of tables is one of the most loved and utilized. This style serves to recreate the feel of factory tools purposefully. It can go well with many things, such as wooden decoration, glass decoration, etc. If you want to keep it on the stronger side, try using wood. If you want to soften its industrial appearance, try some softer decor like gentle green plants or some soft decoration.
Things to Do Before You Start Decorating a Glass Coffee Table
Decide on the style
Not to state the obvious, but if you have not decided on the particular style of how your glass table and living room want to look, you will not be able to move forward with the other steps. That being said, before buying decoration pieces, you must sit down and think thoroughly about what style you are headed for.
It is always a good idea to search for inspiration online as you will surely find decor that matches your taste and wishes best. In other words, when you have a clear vision of the result you want to achieve, it will be much easier for you to separate decorations on a pile that would work and a pile that won't.
Choose a palette and form a grid
After choosing the design of your glass coffee table, the next thing you should do is decide on a color palette. This decision will come much easier now that you already have established the design and effect you want to achieve. The best thing you can do here is to choose a color scheme that works well with the room and table itself and try to ensure that the colors flow naturally and nicely. A pop of color is always welcomed, but you must be very careful because the colors can often clash and look distasteful.
On the other hand, we assume you want your table to look balanced and uncluttered. That's why it is important to treat the table as a grid. More specifically, rectangle and square tables with a 3 to 6 sections grid and round or oval tables with three sections laid out in a triangle shape.
Set the foundation with a focal point
The whole table design might look weak and uninteresting without a focal point. You must choose one or two focal points and base your design on them. Large vases and trays are the best decors that serve as a focal point. By choosing them, you can always experiment and change things in and on the tray and vase without having to redecorate the entire table completely.
Glass Coffee Table Essentials for Any Style
Coasters
Besides being functional, coasters can serve as decoration pieces as well. Coming in various unique shapes, colors, and designs, coasters have become multifunctional and a staple piece in every glass coffee table decor. There are numerous options for using coasters; you can use them in a set, stack them, or even use only one. Many people decide on matching sets as they add plenty of personality to every design and often include a personalized holder, which can be a great addition to the entire concept.
Statement piece
A statement piece serves as a piece of decor that reflects your taste and personality while serving as a base for the rest of the table decor. The options for a statement piece are numerous. Depending on your style and preferences, it can be a ceramic statue, metallic decorative balls, a huge eye-catching vase, etc. Keep in mind that the statement piece must be something you love and something that, besides the table decor, will match and enhance the room decor.
Coffee table tray
If you want a great addition to your table decor, trays are the way to go! At the same time, being effective and stylish, table trays have become increasingly popular, especially as they can be included in every glass coffee table style and design. On large coffee tables, trays are an excellent choice to divide the space and make it look more organized. Ultimately, the best thing about table trays is that they can be easily relocated when needed, which is a great time-saver.
Vases
Who does not love vases? Especially since they come in different sizes, patterns, colors, and materials – you can never go wrong choosing a vase for your coffee table. You might fill them with rocks, shells, sand, plants, faux greenery, etc.; the possibilities are endless. You only need to pay attention to ensuring the vase fits in with your overall design perfectly because otherwise, you might get the opposite effect.
Conclusion
If you were not sure how to decorate a glass coffee table most effectively and tastefully while at the same time preserving your unique style and preferences, we hope that with the help of this article, you got the needed answers. By following our professional advice and tips, we are sure that in no time, you will decorate your glass coffee table like a pro.