If you're planning to decorate your home with something lush, stylish, and rich, then velvet furniture is your most recommended choice. The sofas with velvet upholstery would look more premium in your living room. Velvet also improves the overall appearance of your house.
Velvet furniture can be made up of materials such as Zircon, Jade, Mica, and many more material and color options. The biggest reason why people avoid velvet furniture is the cleaning process. There are different velvet types of material available for your needs. You can choose a suitable type for your couch and furniture.
The process of cleaning velvet material on a couch can be pretty tricky. If you struggle with cleaning a velvet couch, this article may help you. You first need to understand the process well to remove stains and other things from the material's surface without damaging it. Don't worry; we'll guide you through simple steps so you can learn how to clean a velvet couch without damaging the velvet upholstery.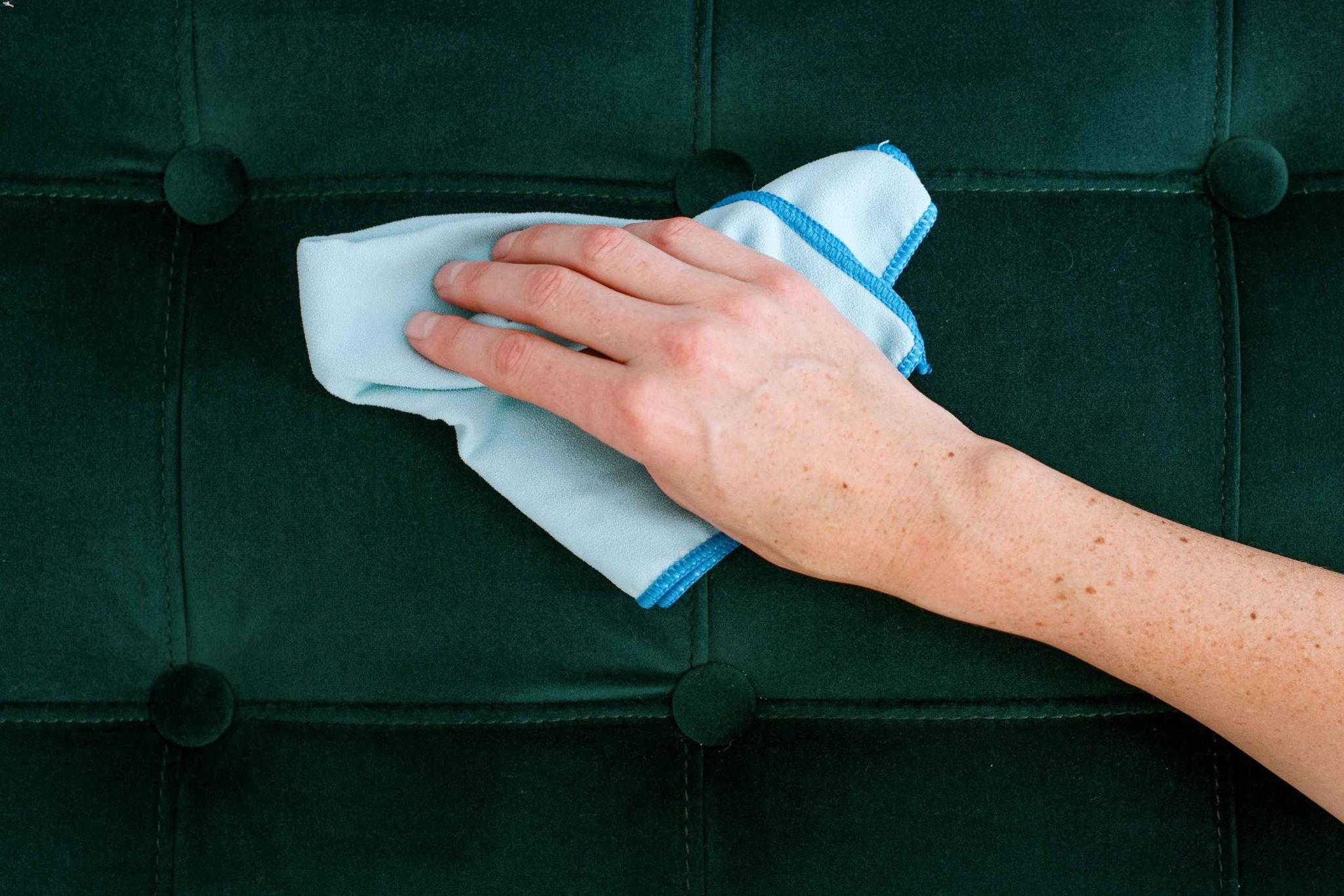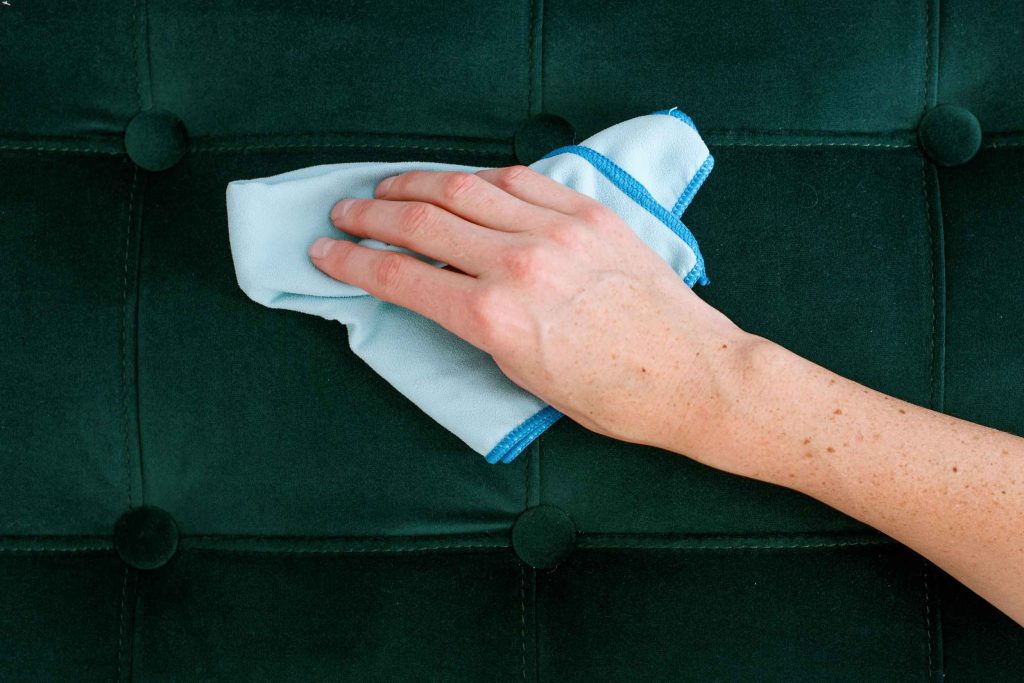 How Often Should You Clean a Velvet Couch
First, velvet should be vacuumed weekly to remove the dust that may weaken fibers and leave a stale odor in the upholstery. A clothes steamer can also help lift the pile, so the velvet doesn't look crushed. You can incorporate this into your weekly vacuuming.
A quick vacuum will deal with any dust or everyday dry messes. Ensure you use the soft brush attachment to avoid nicks or scratches on your couch.
If the furniture begins to look dull or shows signs of grime and grit, especially on the arms of the couch, then it is time for deeper cleaning.
Also read: How to Make Leather Couches Look New
How to Clean a Velvet Couch
Steaming
Since velvet fabric is plush and has taller strands of fabric, it tends to compress when under pressure or weight for a specific time. This will leave a crease or a white stain on the couch. But don't worry since it is easy to fix.
You first need to take a handheld steamer or the steam setting on your iron. Once the steamer or iron is hot, start in one corner and work across the fabric in the opposite direction. Keep in mind that you need to set the temperature of the steamer or iron to the lowest, and don't keep the iron on the same spot for more than a few seconds. You can also use a stiff lint brush to brush the fibers up as you steam, giving it the velvet look it originally had.
Color fading
Anything is prone to fading when exposed to light, whether it is from the sun or a bulb indoors. Velvet is highly sensitive to color fading. It is best to keep the velvet furniture in a space without direct sunlight to protect it. If that isn't possible, you can try placing a blanket over the sun-exposed areas on the couch.
Spot cleaning
You should check the manufacturer's cleaning instructions when something spills on your velvet couch. There you can read what you should and shouldn't do precisely when taking care of messes and spills.
The first thing you need to do when spilling something is to soak up the excess liquid with a lint-free, soft cloth. Make sure it is lint-free since lint can get caught in the velvet fibers and make a bigger mess.
Now it is time for the cleaning solution. Mix one to two drops of dishwashing liquid in a cup of water and shake it to create frothy bubbles. Take the cloth and dip it in the cup. Then, lightly blot the stain with the cloth until you remove as much as you can from the stain. Now, you should let the area dry.
Related: How to Clean a Polyester Couch
Test and Be Careful When Treating Velvet
The product for cleaning sofas and upholstery can be intense and can sometimes damage the surface of your furniture. It is wise to test the product first on a small couch area to see how the fabric reacts to it.
You don't always have to rely on these cleaning products. There are many homemade solutions that experts recommend. Baking soda and vinegar are very powerful. However, their mixture can be too much for a sensitive velvet. So make sure you use the right amount.
It is also essential to know that different colors of velvet respond differently to cleaning solutions. You might fade out darker colors, or you can make the lighter colors go darker.
Trust Experts to Clean Your Velvet Couch
It is simple. If you are not confident and don't want to risk damaging your favorite couch, simply book a professional upholstery cleaning company to take care of the cleaning. Many companies use high-quality tools and products for treating and cleaning couches. Deep cleaning is crucial for your couch's quality and looks. And sometimes you won't be able to do it alone.
An expert professional in his field is what you need to ensure that your velvet couch remains in its optimal condition. Don't hesitate and book a cleaning upholstery company to take care of the ugly stains on your couch. Next, sit back and relax on your good-as-new, fresh upholstery.
Read More: How to Clean Upholstered Chairs
Conclusion
Nowadays, velvet isn't stuffy and high-maintenance. It can handle a lot of spills from clumsy kids, slobbery pets, and a lot of life's messes in between. We ensured we'd put all the details so that you'll know how to clean a velvet couch in the best way.
The tips in this article are helpful to people that want to keep their velvet couch looking fresh and clean. You must clean velvet regularly.
Following the tips in this article and learning how to clean a velvet couch will keep the upholstery's premium look great. You can rely on a professional if this is too complicated for you. We're all sure that they will do their job as they should.