One of the easiest rooms to decorate to the nines is your dining room. It might not always be the busiest place, but it's a special room that's usually used for special meals with guests or holidays when family comes to visit.
You probably already have your dining room's main piece of furniture, the table, and the chairs that go with it. But you might be missing one thing that takes the look of the dining room to the next level. That's the rug in the living room.
It decorates your dining room, but it's very important to get the right size. If the rug is too small, it makes the dining table less useful. If it's too big, it takes up the whole room.
So, are you asking how big should rug be under dining table? Follow this guide and reveal the right answer!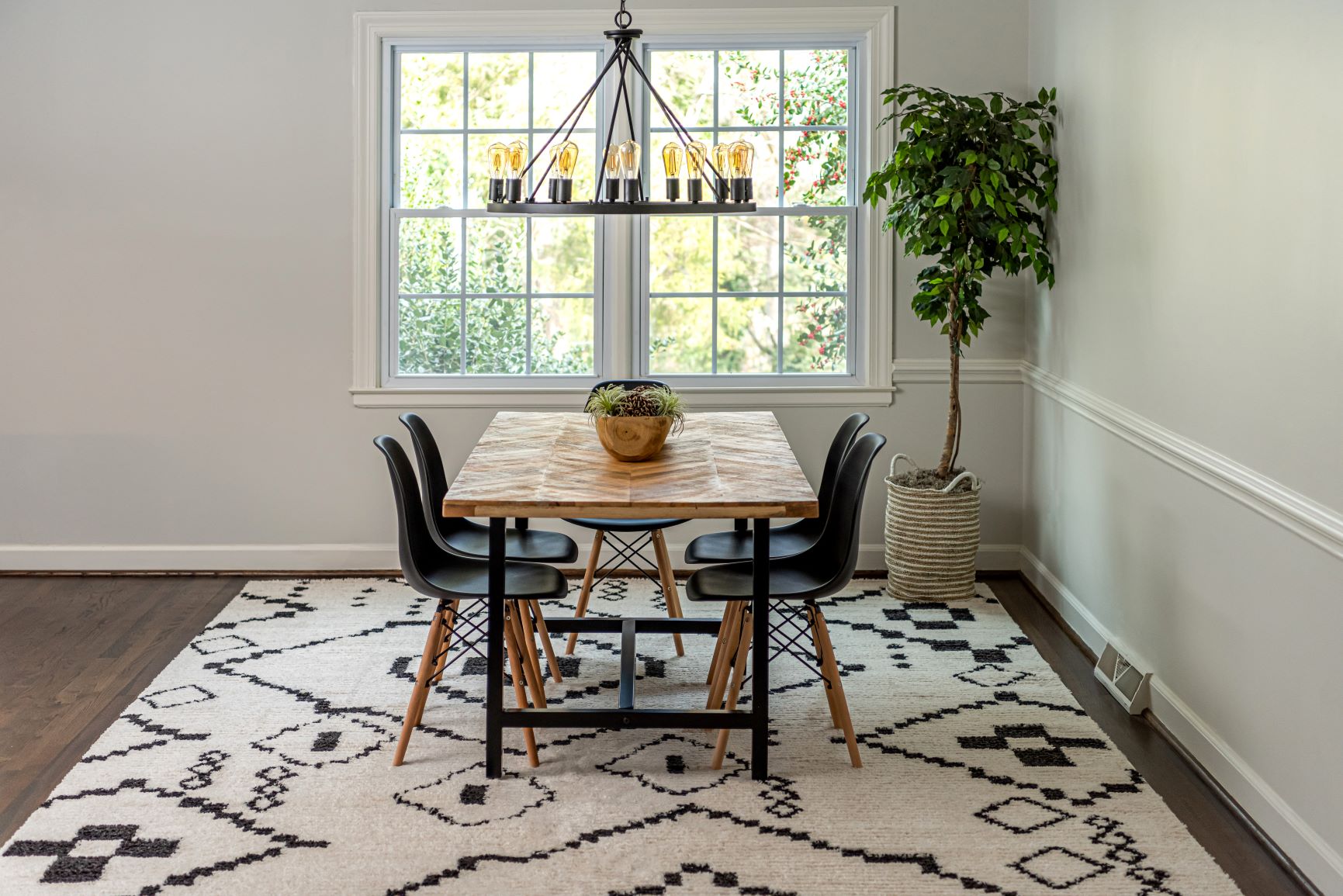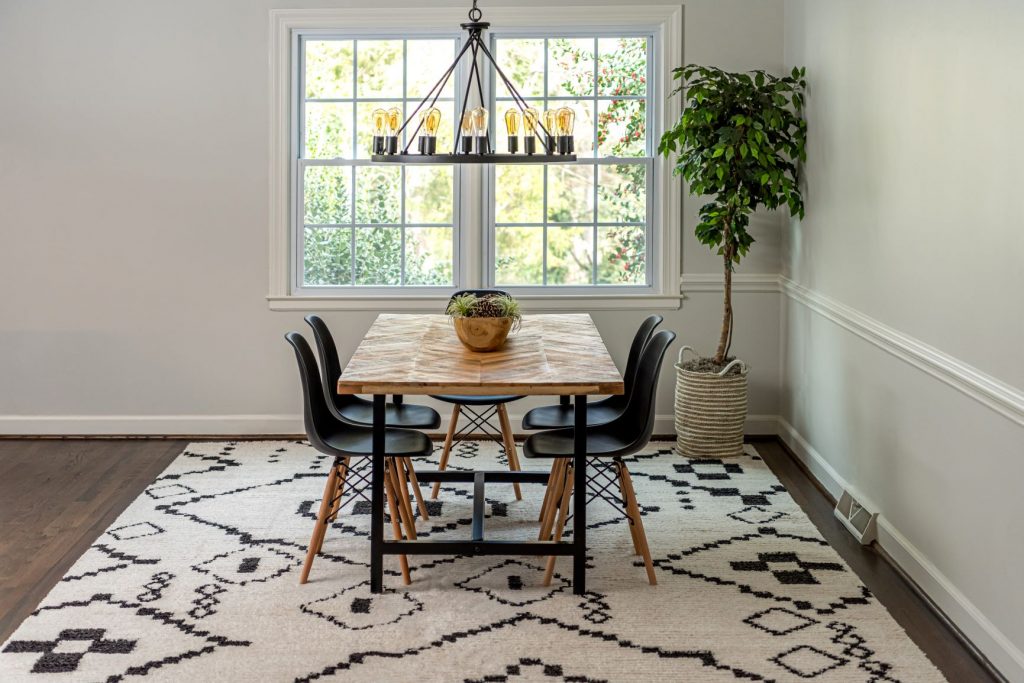 What's a Rug Under Table for Dinner?
Rugs have always been placed under dining tables. At times, it was rare not to have one, and at other times, it was rare to have one.
Most people still put a rug under their dining room table. Most rugs are rectangular and fit in with the style of a dining room. Some people say this makes it easier to keep the dining room clean, while others say it makes it harder.
Some people feel it takes the focus away from the elegance of a dining room, while others think it makes it seem homier. Some may consider it a strong statement in design, and others may consider it a silly mistake. Can you get what we're trying to say? Nobody supports such a straightforward aesthetic decision.
How Big Should Rug Be Under Dining Table
"Bigger is better" is the one rule we always follow when it comes to rugs. If your room or furniture is too big for your rug, it can make the room feel out of balance, cramped, and overcrowded. The first thing to keep in mind is to choose a rug that is bigger than your dining set.
How big is it? Well, think about what happens when we sit down to eat together. We never really stop moving. The chairs are pushed back, and we're getting up and down to make food, pour wine, clear plates, go to the bathroom, and so on. There is motion.
So ideally, your rug should be big enough to fit all of that activity. Think of it as giving the eating experience a "platform."
Your rug should generally extend at least 60 cm beyond the edge of your dining table. This will give your guests and their chairs enough space to stay on the rug even when the chairs are all pushed back and everyone is sitting down. That way, your dining room will look more spacious and open, with lots of room to move around.
General rules
The rug also serves as a frame for the table, drawing attention to the centerpiece of the room. Rugs should be at least four feet long and four feet wider than the length and width of the dining table.
The size of the rug you can put in your dining room may depend on the size of your table and how much space you have, but here are some general rules to keep in mind when shopping:
Consider a four-foot square rug as the minimum size for your dining area. You and your guests will require between 18 and 24 inches on each side so that chairs can be slid out without fear of tripping over the rug's edge. If your rug is too small, chairs can still scratch the floor, get caught on the rug's edge, and make you feel uncomfortable, embarrassed, or frustrated when you try to put the chair back where it belongs.
Find out what size rug you'll need by first measuring your table. After that, you should add 36 to 48 inches to each measurement. If you want your new rug to cover the entire length of your table, don't forget to factor in any additional table leaves. A rug of either 8′ x 10′ or 9′ x 12′ will usually work, with plenty of room around it for chairs.
Think about sideboards
Take into account any sideboards or china cabinets in the room as you think about your options and the best size for your space. Your new rug shouldn't go under those pieces in the dining room.
Read more: What Size Rug for King Bed?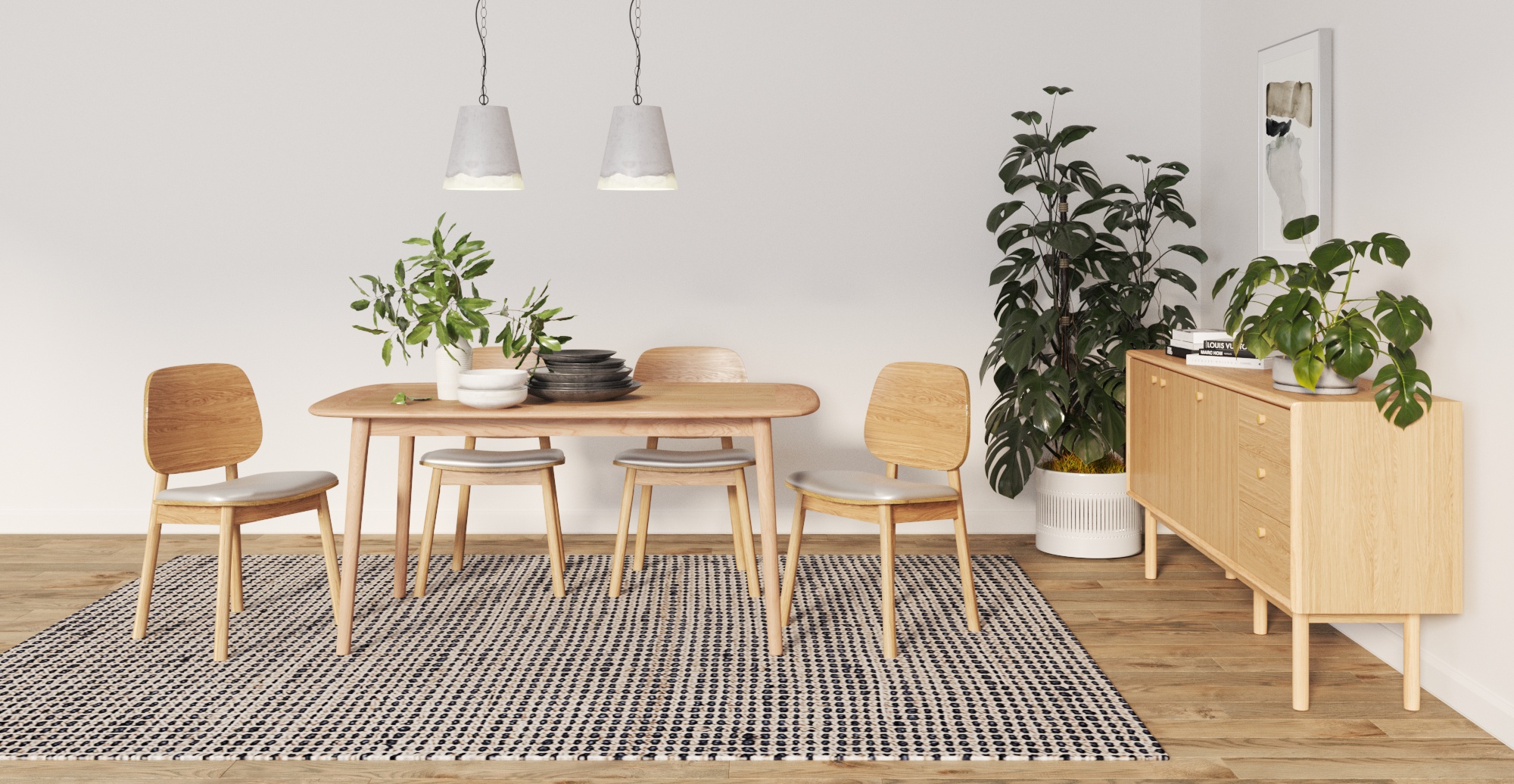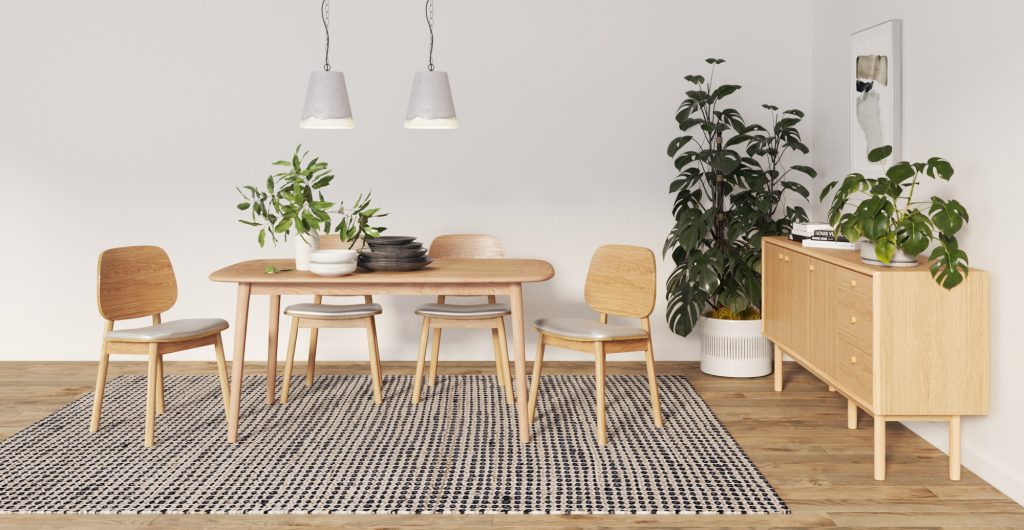 How to Choose the Right Size Rug for Your Dining Table
Rug size for a dining table with two chairs
You might not have much room for a dining room table, or you might not even have one. But you can still put a smaller rug under a small dining or bistro table that shares space with the kitchen or is in a cozier room of your home. In these spaces, you can create a dining area with a 2-seater dining table and a dining rug that is about 4′ x 6′.
Rug size for a dining table with four chairs
A dining table that seats four is still on the small side, but it is usually around 3 feet by 3 feet or 3 feet in diameter if it is round. Many designers suggest an 8′ x 10′ rectangular rug or an 8′ x 8′ square rug for a room this size. If you do choose a rectangular rug with a square table, you can use a credenza or buffet console to fill some of the extra space.
Rug size for a dining table with six chairs
A 5′ x 3′ dining room table is the smallest size that can fit six people. Professional designers suggest a 6′ x 9′ or 8′ x 10′ rectangle rug for a space that small. Both of these sizes will give enough room for the chairs to be pushed back and still fit on the rug.
Rug size for a dining table with eight chairs
Most homes have a dining table that has room for eight people. These bigger tables are about 3 feet by 6 feet or 4 feet by 6 feet.
In addition, most designers recommend choosing a 9′ x 12′ rectangle rug for these sizes of rectangular rooms.
Rug size for a dining table with ten chairs
If your dining room is big enough, you might be able to fit a 4-feet-6-inches-by-10-feet-long dining table. The best rug for this size table is a 10′ x 14′ rectangle. This large dining room table and rug set are great for large dining rooms that are convenient for dinner parties and fancy luncheons.
The Right Sizes of Rugs for Round Tables
If you'd rather have a round table, don't worry! The same basic rules still apply for how to measure the space between a rug, a table, and a room. For example, if you have a rectangular dining table, you'll still want to leave 18″ to 24″ of space between the chairs (which are tucked under the table) and the edges of the rug.
Four-seater and six-seater round dining tables are the most common sizes. If you choose a 4-seater, you'll need a 6′ rug to go with it. In the same way, if you choose the 6-seater, you should choose an 8-foot round rug.
Don't forget that a rectangular area rug will work with a round table as long as the table is in the middle of it.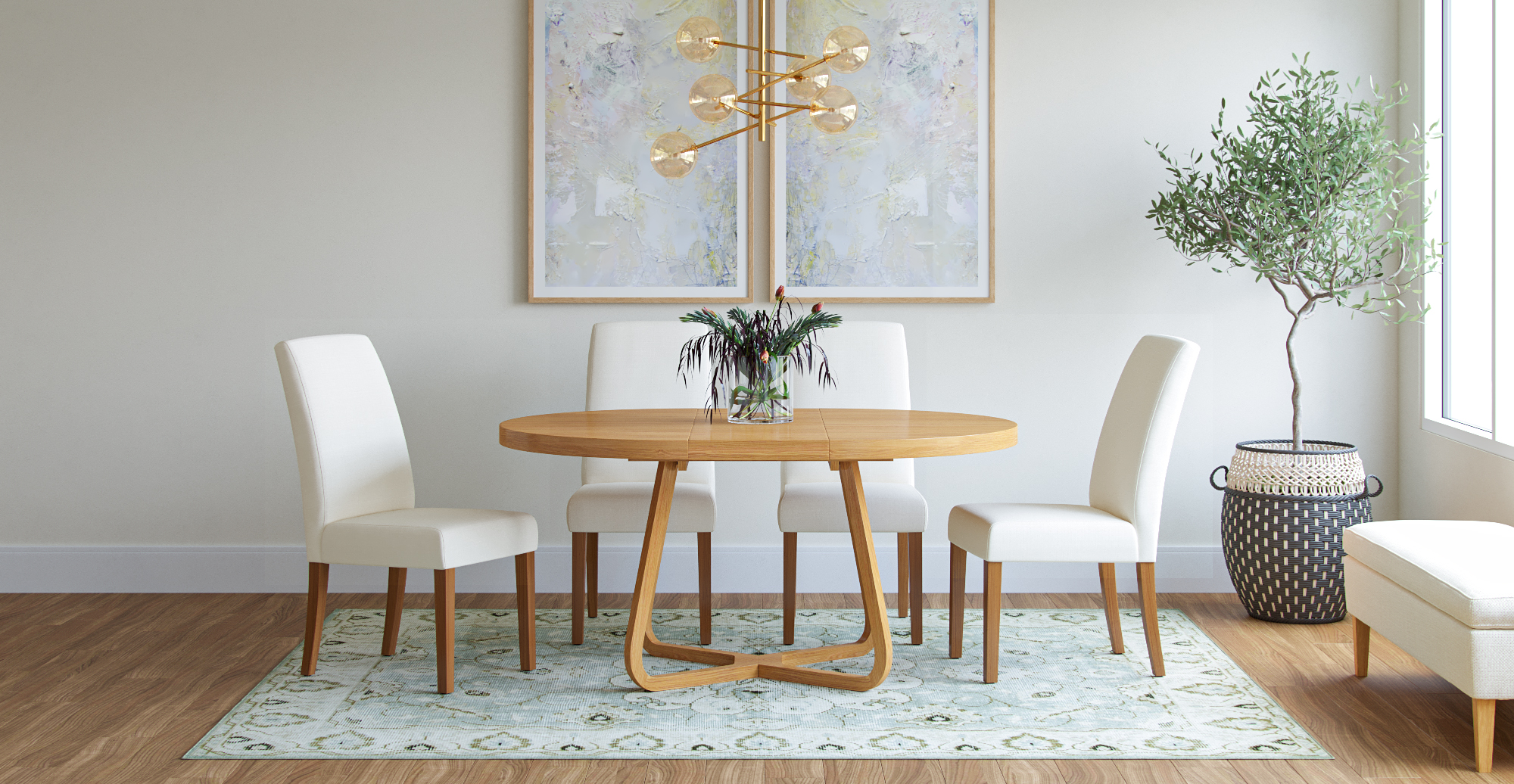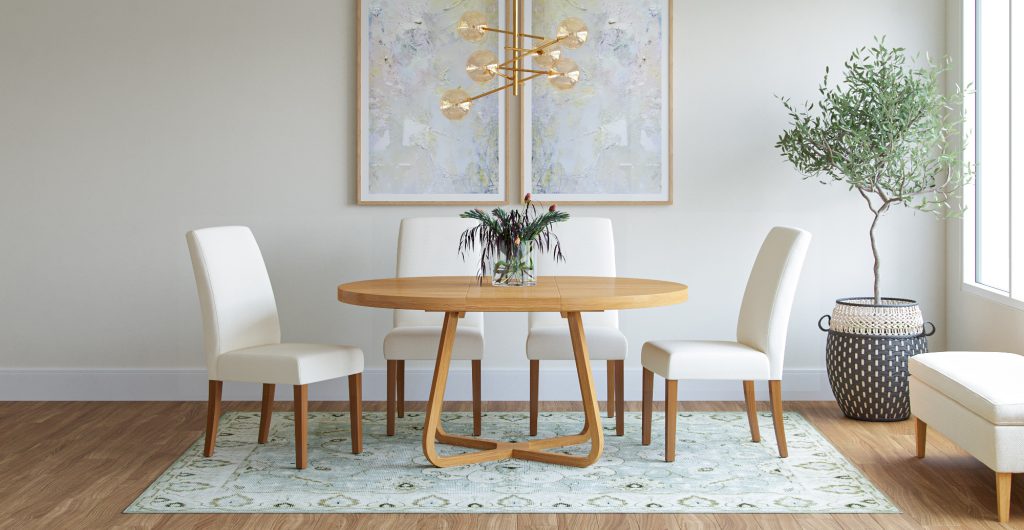 How Do I Keep My Dining Room Rug Clean?
People say that you can't make an omelet without breaking some eggs. Well, you can't have a good time talking to family and friends over dinner without dropping some food on the floor.
You should think about how you will clean your rug before you buy it. Cleaning should be easy and fit into your normal routine, so you don't need any special gadgets or magic cleaning products.
Vacuuming regularly will be your best friend. Get those crumbs off the floor as soon as possible, so they don't get tracked onto your rug and become even harder to clean up.
If you find a stain that won't come out, try cleaning it with a damp cloth first. Be careful not to rub your rug's fibers too hard; just dab lightly.
Sheepskin rugs have a defense system
We have to say that if you choose a short-pile sheepskin rug, you will immediately benefit from the wool's natural ability to resist stains.
This is because the waxy outer coating on wool fibers, called lanolin, contains fatty acids that stop bacteria from growing, keep dirt from sticking, and make it easy to get rid of dirt. The fibers of the sheepskin should make it easy for food or liquid to "slide" off.
Accidents do happen, so the most important thing to do if you spill something on your sheepskin rug is to act quickly to "contain the stain." Get rid of any extra liquid with a dry towel. Then, use a commercial wet stain remover, which you can buy at your local grocery store, to get rid of any stains that are still there.
What Kind of Rug Is Best for Dining Rooms?
Now that you've done the boring part, you can move on to the fun part, which is finding the right rug.
Wool rugs are the best if you have a bank account that never runs out of money. Did you know that dirt doesn't stick to wool? Dirt is sitting on top of the fiber. How cool is that? Wool rugs aren't cheap, though.
Most tables need a bigger rug to go under them. You can still get a nice rug for less than $400, but the material will have to be cheaper. Some people like natural fiber rugs (like jute or seagrass) or synthetic rugs in places where spills happen often and are likely to happen.
Synthetic rugs don't last as long as wool rugs, but they still last for a few years. It's the same as a boyfriend versus a husband. Most likely, a synthetic rug won't last forever, but they are cheap and easy to clean. Synthetic rugs do have a drawback: they don't work well in places with a lot of foot traffic.
There are many ideas for beautiful and durable dining room rugs on the internet. While researching, you keep yourself up to date on what's new in furniture and accessories for the dining room. Since it's your home, every room should have your style.
What Are Other Options for Using an Area Rug Below a Dining Room Table Other Than This?
If the dining area in your home isn't big enough to accommodate a rug of the appropriate size, wall-to-wall protection with a vinyl floor mat is a fantastic alternative. Vinyl floor mats are extremely long-lasting and come in a wide variety of designs, colors, and patterns.
Put vinyl floor mats down in your dining area to protect the floor from the wear and tear that comes from moving chairs in and out of the room. This is a great option if you don't have enough space for the rug you require or if your dining room is prone to a lot of mess and accidents.
Also read: How to Choose Dining Chairs
Conclusion
We can conclude that it is essential to calculate the appropriate dimensions of the dining room rug in order to protect the dining room floor from scuff marks and scratches. Putting in the time and effort to make a beautiful dining room with a beautiful rug is definitely worth it. This will set you up to easily host and entertain family and friends while keeping your ease, confidence, and sense of style.
So we hope that now you have much better understanding of how big should rug be under dining table!