Landscape design is now more popular than ever. This is simply because many people want their outdoor space to look equally amazing as the inside of their home. If you want to decorate it by yourself, simply turn on your creative mode.
The decoration process is all about choosing elements. Besides the canopied pathways, the furniture is an equally important feature. So start by picking the right one. It should provide you with maximum comfort while you are enjoying the view of your outdoor oasis.
In addition to this, what material is best for outdoor furniture is commonly asked by many customers. That's why we have written a detailed article that you might find super useful if you are on your way to outdoor decoration.
Therefore, continue to read and discover which 8 materials are on our top list. In addition, we have included a simple guide at the end. It's about which factors you should take into consideration before you go shopping.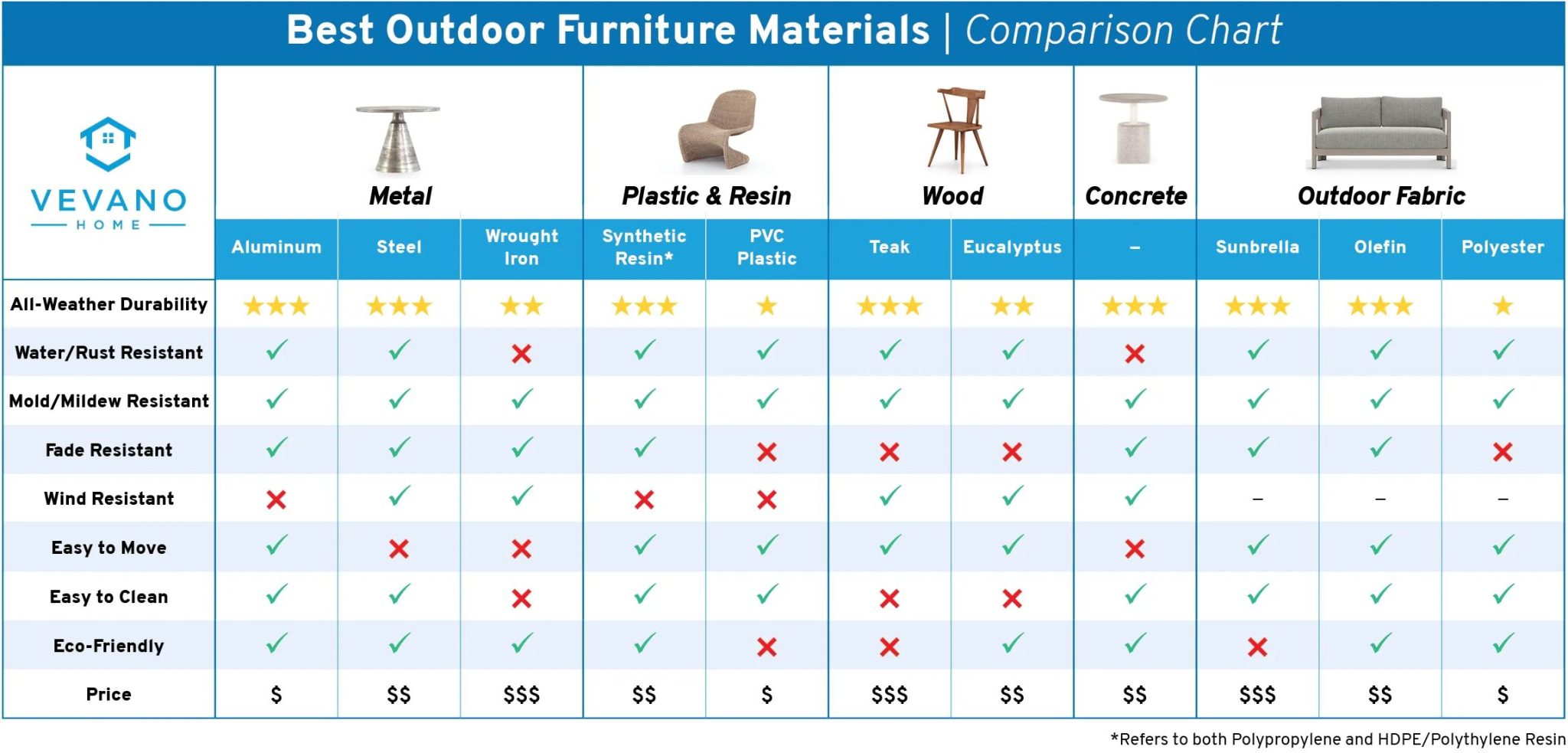 What Material is Best for Outdoor Furniture?
The material for outdoor furniture is important from both visual and practical aspects. It can define the overall image of your outdoor space. In addition, it will determine how pleasant and comfortable your experience will be.
But choosing between so many options can be a difficult task. That's why we are here, to provide you with simple, yet professional tips to help you make the best decision. Therefore, continue to read and discover what material is best for outdoor furniture.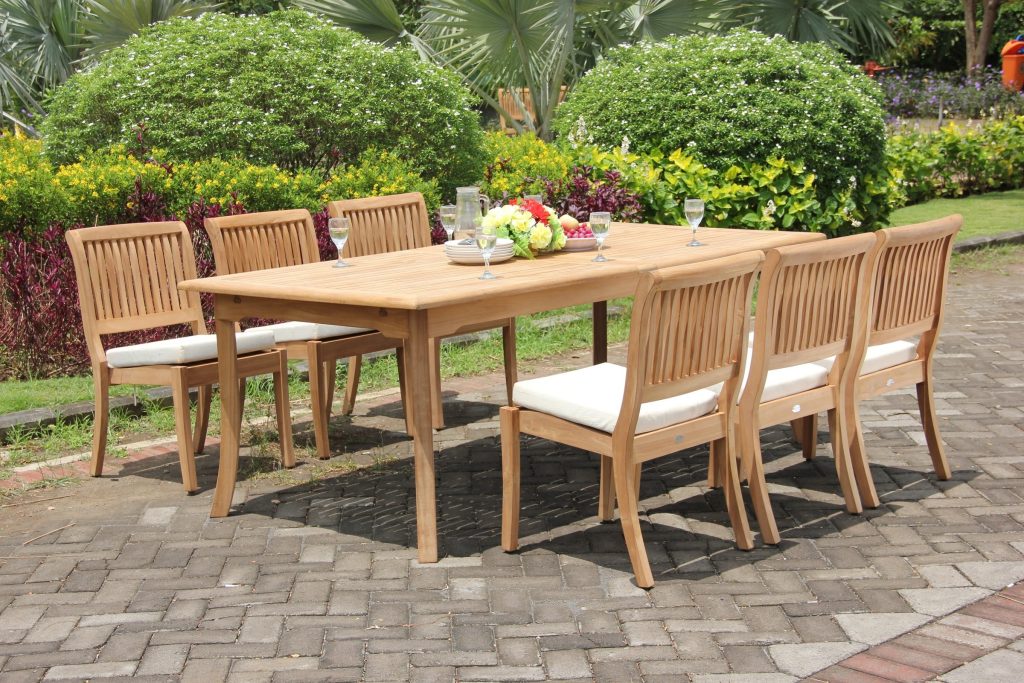 Teak
Teak is a tropical hardwood tree that belongs to the Lamiaceae family. When it comes to outdoor material, it's the most popular choice among many customers. This is mainly because it contains oils that make it resistant to different weather conditions.
Moreover, you can leave it out throughout the entire year. There is no need to store it. But best of all, during all seasons, it develops a naturally gorgeous silver tone. It's like an additional decoration.
Furthermore, it can't be easily damaged. This means that it's super resistant to decay, insects, and mold too. It's very long-lasting and it's quite strong. Many European designers precisely use its strength to shape it into an elegant design.
In addition, you can clean it easily. For that matter, you will only need warm water mixed with soap. Also, you can use a small brush to reach hard-accessible places. Lastly, use clean water to wash away dirty remains.
So it's safe to say that teak is an ideal choice for your outdoor furniture. Especially, if you are going for wooden decoration. However, teak's price can be a bit high. It's an expensive investment, but it comes with high quality.
Pros
It's naturally resistant to different factors
It can't be easily damaged
You can clean it easily
Cons
It can be super expensive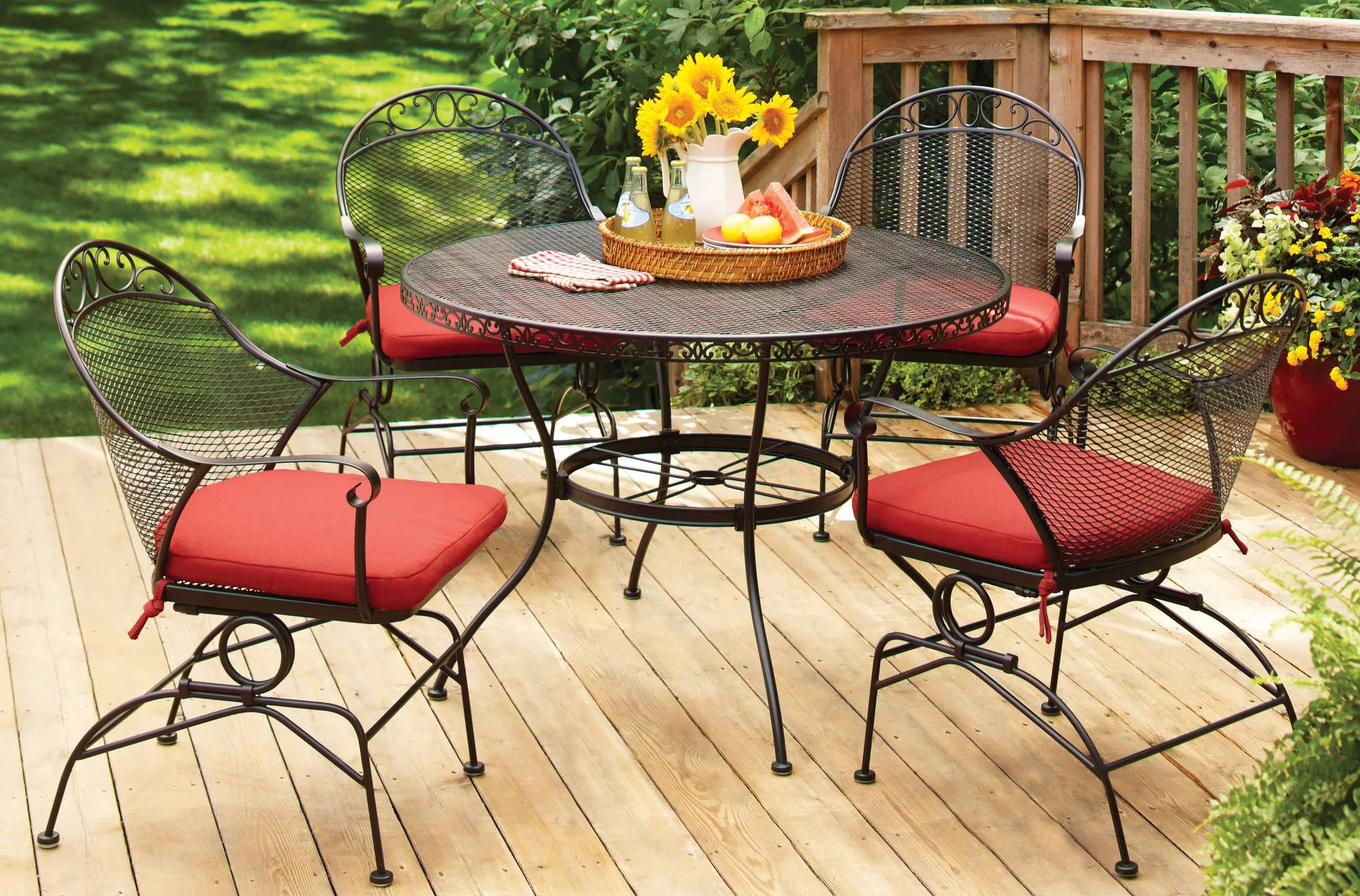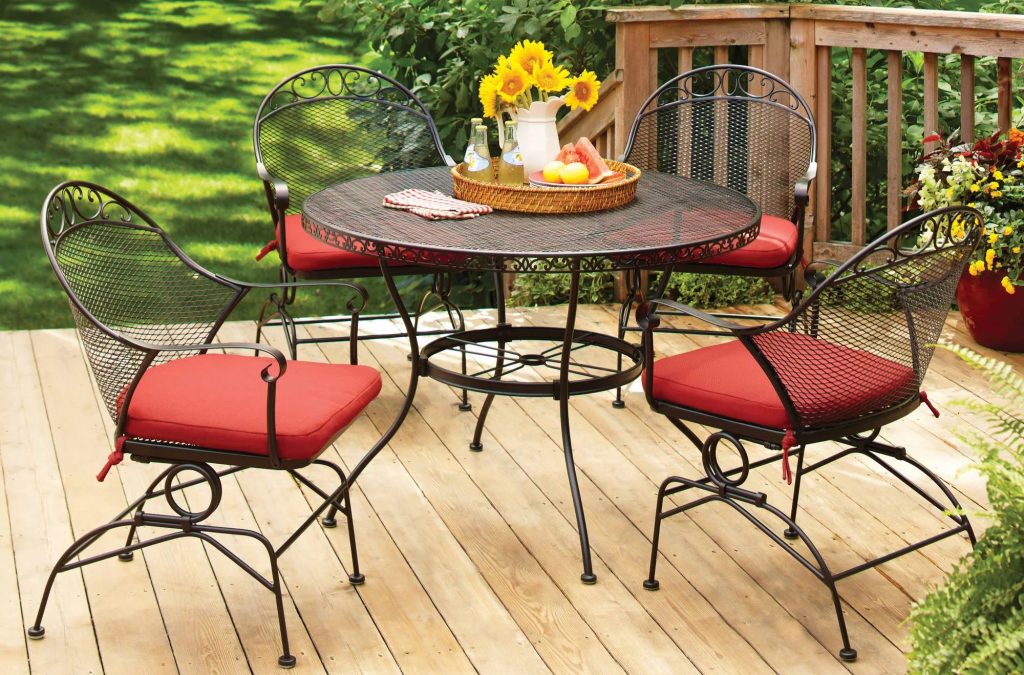 Wrought iron
Wrought iron is made from semi-used pure iron, typically surrounded by slag. Moreover, it's one of the strongest patio materials on the market nowadays. It's also soft and adaptable, so landscape designers love it.
Whether you want a more traditional or contemporary look for your outdoor space, wrought iron may be your perfect material. It can provide you with excellent comfort. In addition, it can be heated to be hammered into the desired shape. 
Besides, it's one of the heaviest metals. So, any furniture made out of it, it's difficult to be moved. But this way, it's an excellent choice in case of strong winds. Also, its classic look can make your garden look very royal.
This material is very practical. You can clean it easily by using warm water with added soap in it. You should use a brush too. However, it rusts easily, so you must keep it in storage during wintertime.
Lastly, it is super durable. On another hand, it may be a bit uncomfortable to use. Also, it's more expensive compared to the other outdoor materials. So you must also keep your budget in mind if this is your choice.
Pros
It has great durability
It's an excellent choice if you live in a windy environment
It's elegant
You can maintain it easily
Cons
It rusts fast
You must clean it more often
It absorbs heat and cold
Might be more expensive than other materials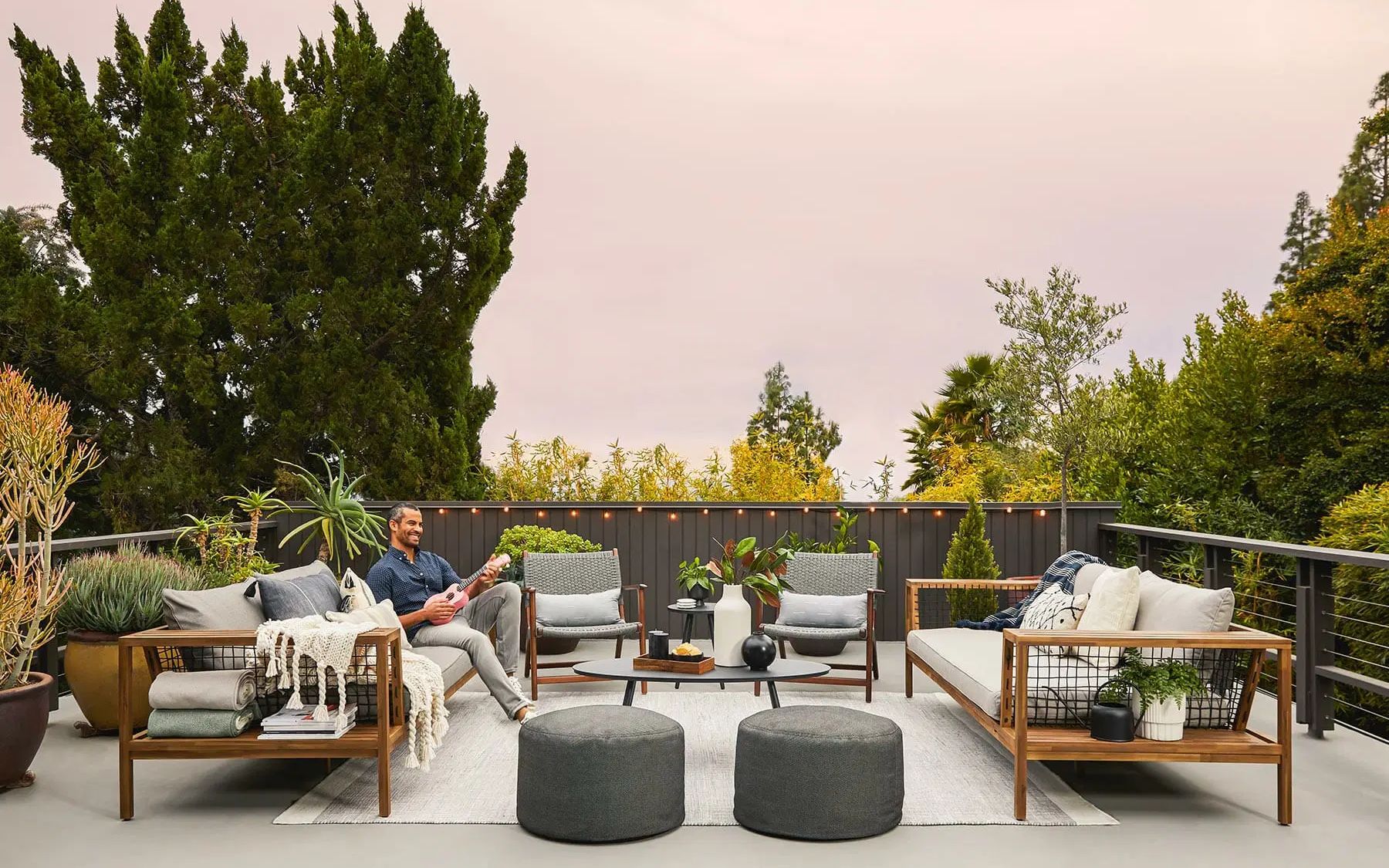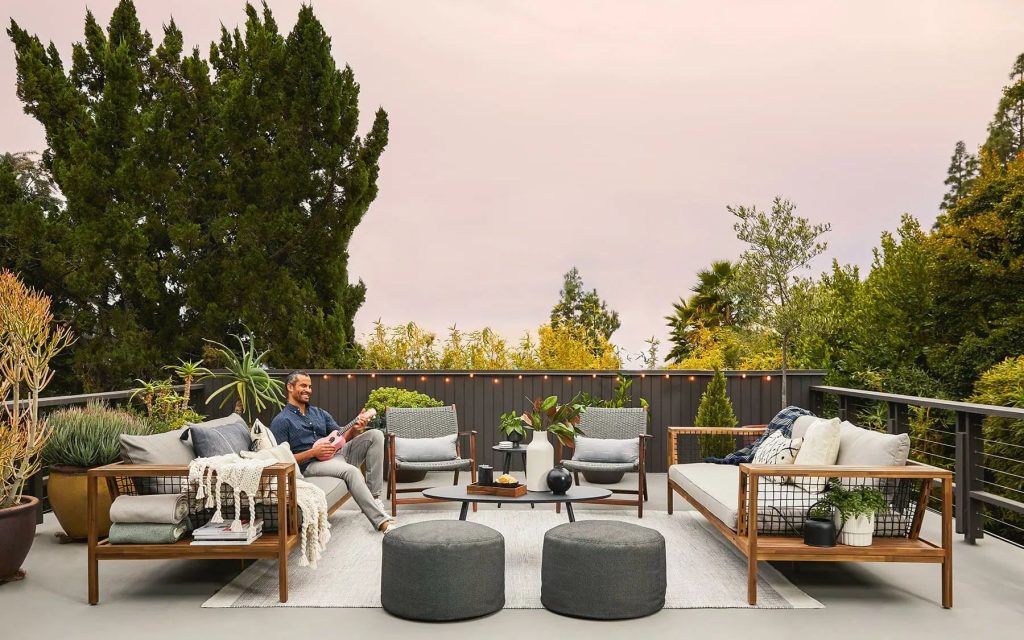 Wood
Wood is an organic material with an anisotropic texture. It's also a popular choice among customers. This is simply because wood is naturally beautiful. Adding it to your outdoor space can easily make it look like you are sitting in the heart of the forest.
It can easily fit any design, no matter if you want chairs, tables, swings, or benches. In addition, you can choose between softwoods and hardwoods. Softwoods are less expensive, but they lack resistance. Therefore, you will be obligated to protect them constantly.
On the contrary, hardwoods are known to have excellent durability and can last for ages. However, they are more expensive. Also, they are more difficult to be shaped in the desired form.
If you want your outdoor space to be strictly decorated with wooden elements, you can take into consideration other wooden materials. One of the most popular ones on the market today are eucalyptus, ipe (or ironwood), shorea, white oak, and many others.
They can all provide you with amazing qualities. All of them are long-lasting (they can last for decades). Additionally, they are very strong and resistant to different weather conditions, insects, etc. 
Pros
It's organic
Great choice to make the outdoors look beautiful
It's suitable for different types of furniture
Hardwoods have excellent durability
Softwoods can be cheap
Cons
Hardwoods can be expensive and difficult to be shaped
Softwoods are not weather resistant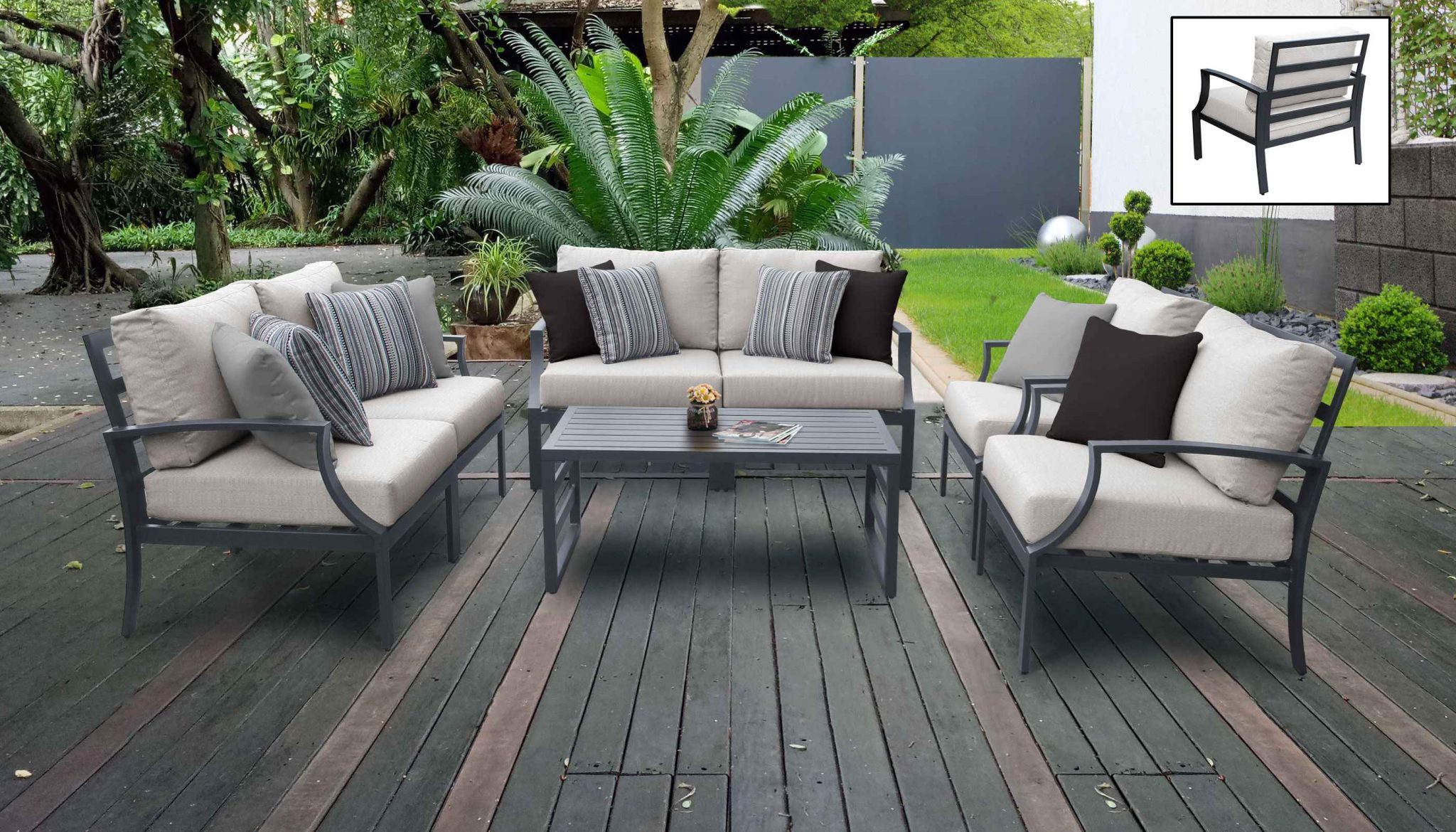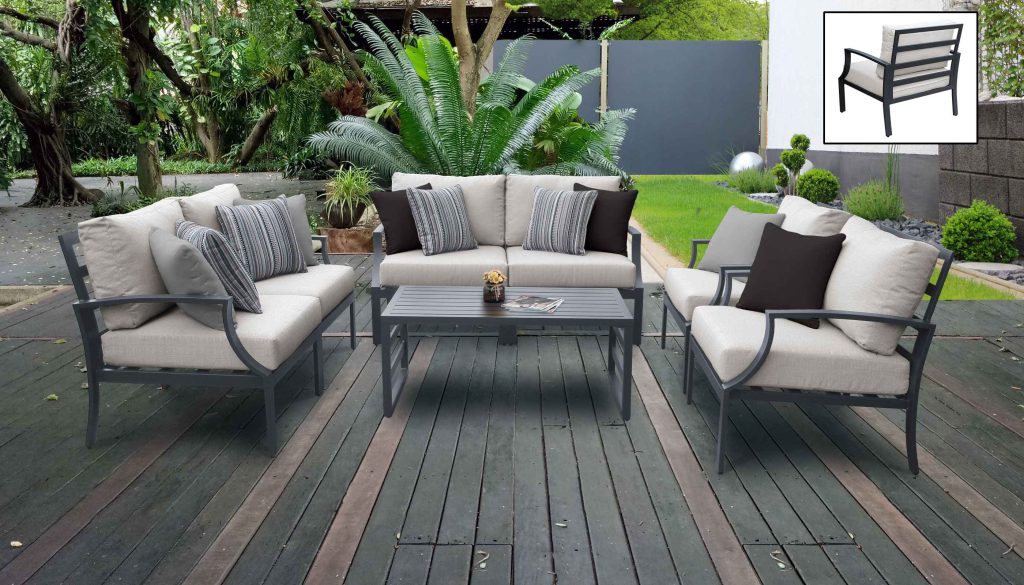 Aluminum
Aluminum is a metal in a silvery-white color. One very interesting fact about it is that it's the most widespread metal on Earth. Furthermore, it's an excellent choice if you want your outdoor furniture to be lightweight.
This unique metal can be easily moved around. In addition, it's easy to maintain too. For that matter, you can leave it outside, or you can put it in your storage. Both ways are ideal options for keeping it in top condition.
However, you must never cover it because it can easily deteriorate the finish. If you are wondering how to clean it, it's no different than the previously mentioned materials. You can use warm water combined with soap. We recommend regular washing to keep it super clean.
Since it's easy to clean, you don't have to worry about bird droppings, insects, dirt, leaves, and similar. On the other hand, keep in mind that aluminum can easily be damaged by water or simply scratched. For that matter, you must avoid putting decorative objects or plant pots on its surface.
Pros
You can easily move it around
It's effortless to maintenance
It can be stored or left outside
Doesn't rust quickly
Cons
Covers can damage it
Not suitable for extreme weather (for example, strong winds)
It requires often cleaning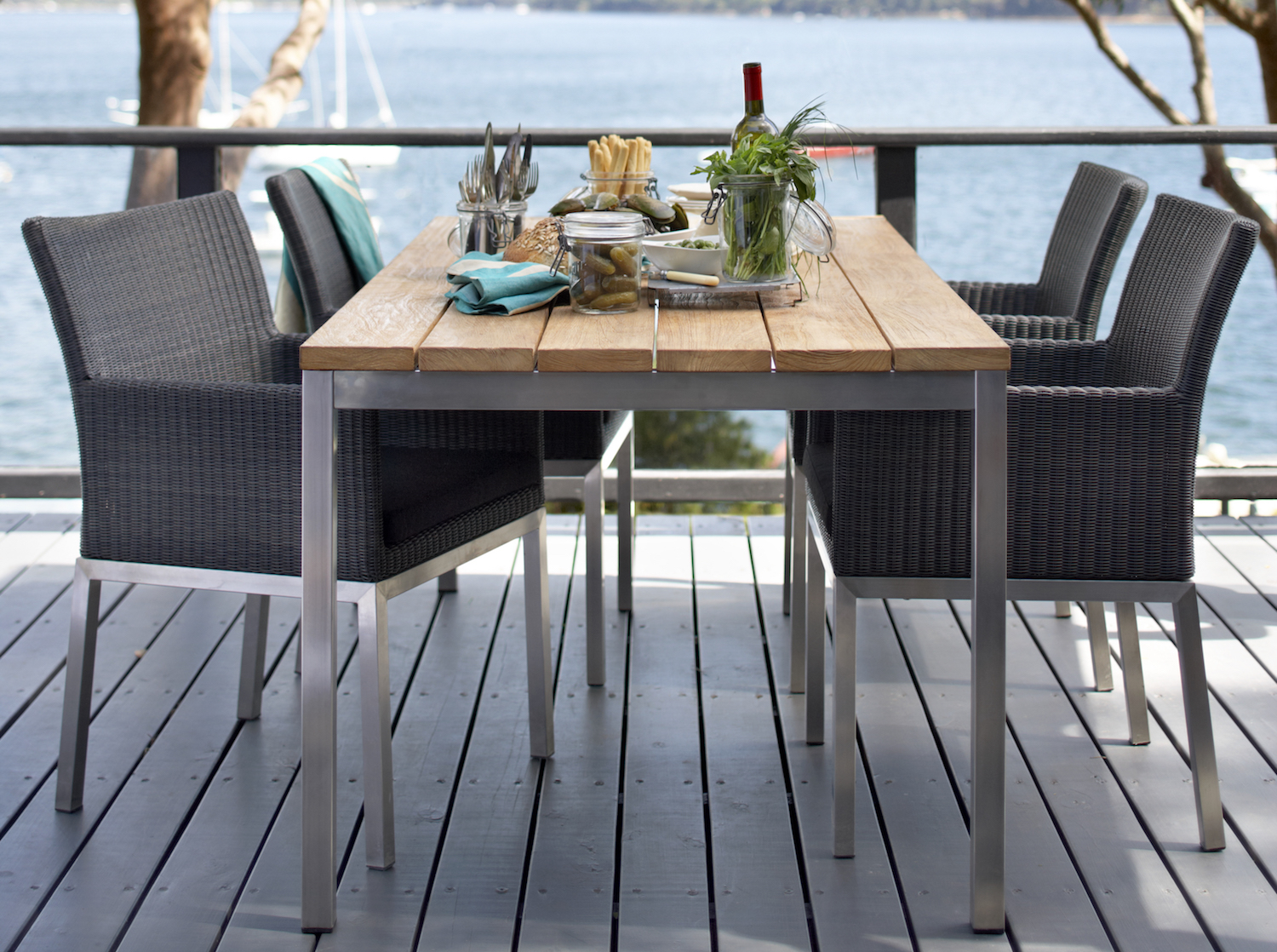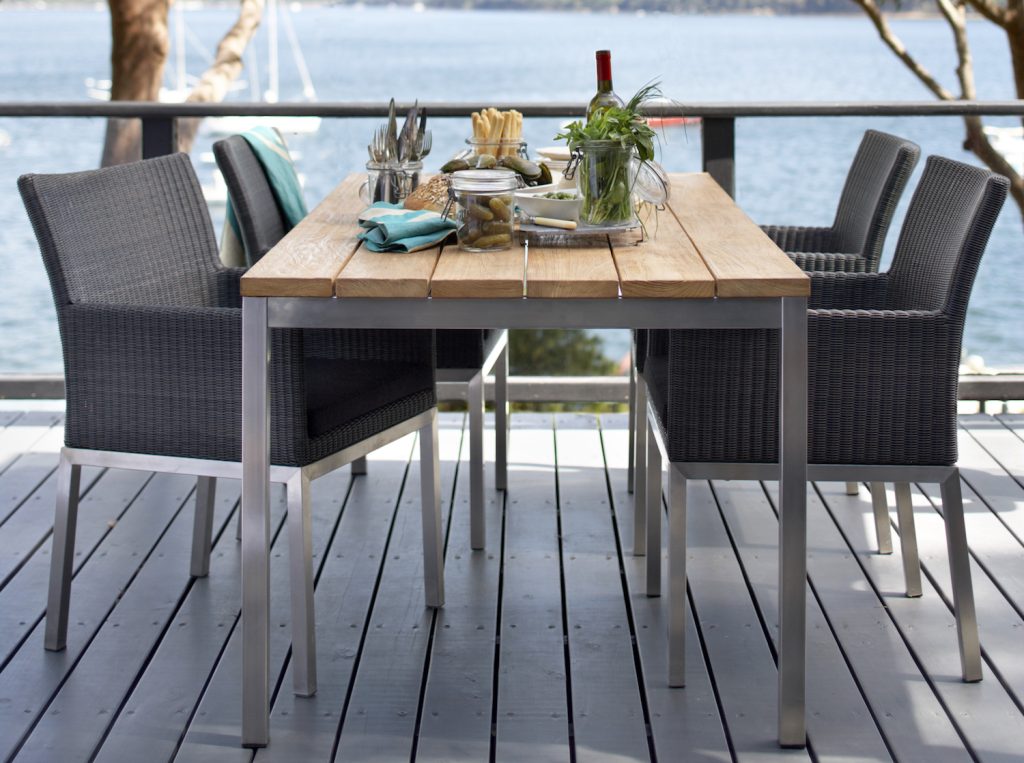 Steel
Steel is an alloy, made of iron. It's best known for being incredibly strong. It can resist extremely high temperatures in the summer period. Besides, it's a perfect choice when it comes to choosing larger tables and sofas for your outdoors. 
Additionally, it best suits yard spaces that have lots of grass or more spacious green land. This is because some other heavier materials can easily ruin the green field. Steel furniture is very popular on the market. So, you can easily find it in various styles to match your taste.
What's more, it's super resistant to harmful processes such as corrosion and rust. However, to ensure your steel furniture doesn't get damaged, we recommend you do a powder coating. It's sort of an extension of its resistance.
Also, if you live in seaside areas then you must do this dry finishing process to protect the steel. This is because in such areas the water and salt air are more present. Therefore, they can cause more damage to this material.
Regarding its weight, steel furniture is usually more difficult to move around. This feature is super useful when facing storms and other wind conditions. Especially if you live in an area where there is a common weather conditions.
Pros
Great durability
It's super resistant to different factors
You can clean it easily
Cons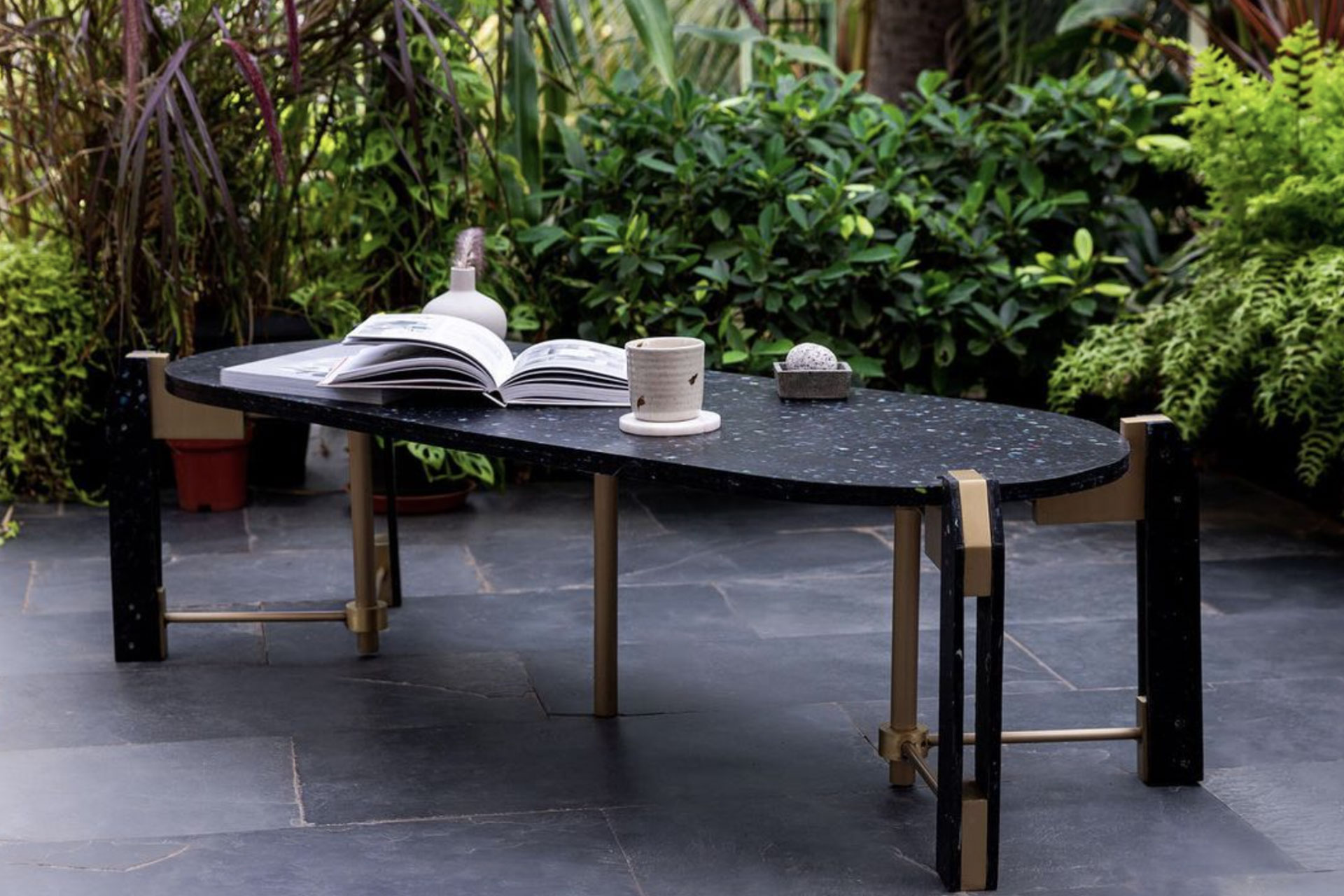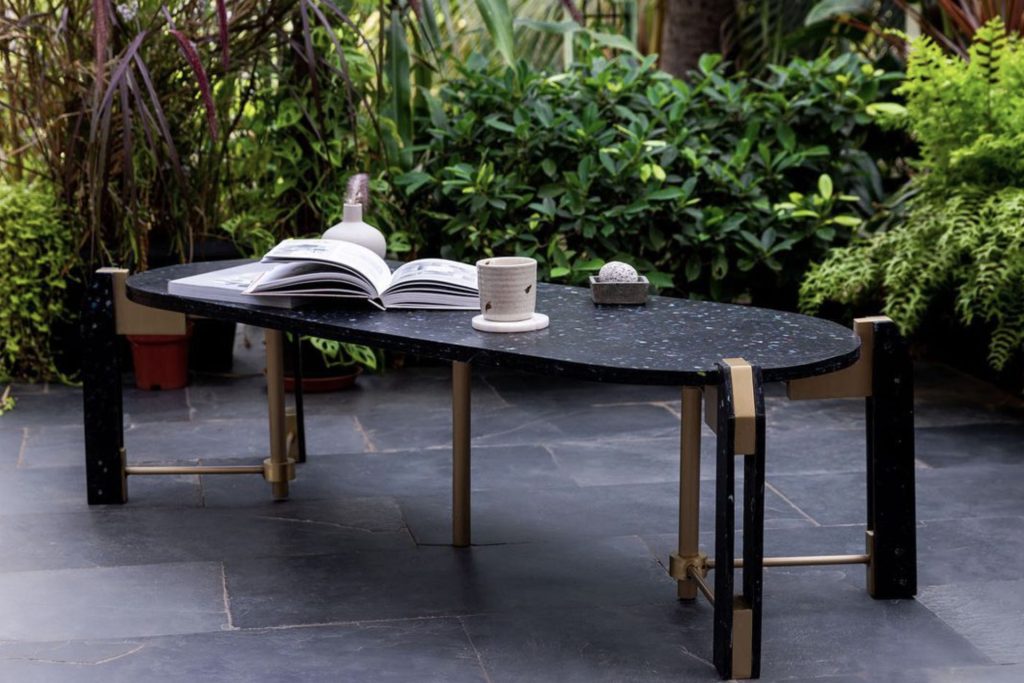 Recycled plastic
Nowadays, awareness of the environment is at higher levels compared to the past. So, it's no wonder that many clients want their outdoor space to be eco-friendly as well. For that matter, you should choose recycled plastic.
Recycled plastic is perfect if you want to give your outdoor space a sustainable upgrade. Therefore, it can easily make it more casual and practical. In addition, many eco-friendly companies offer incredibly attractive designs.
Lots of them invest in developing all sorts of furniture. So you will have no trouble finding anything you have planned for your yard. From garden benches and rocking chairs to reversible outdoor rugs, it's an amazingly wide range.
Besides, this unique material is famous for its excellent durability. It can last for decades. What's best, you can completely recycle this kind of furniture at the end of its life. Aside from lasting longer, this material is super easy to maintain. So when it comes to its cleaning, you will only need water and ordinary soap. For washing away the additional foam and dirt, simply use your hose. It will only take you a few minutes to make its smooth surface shine again.
Pros
It's an eco-friendly material
Great durability
No need for high-maintenance
You can always recycle it
Cons
Might be expensive
It's not resistible to weather conditions such as strong winds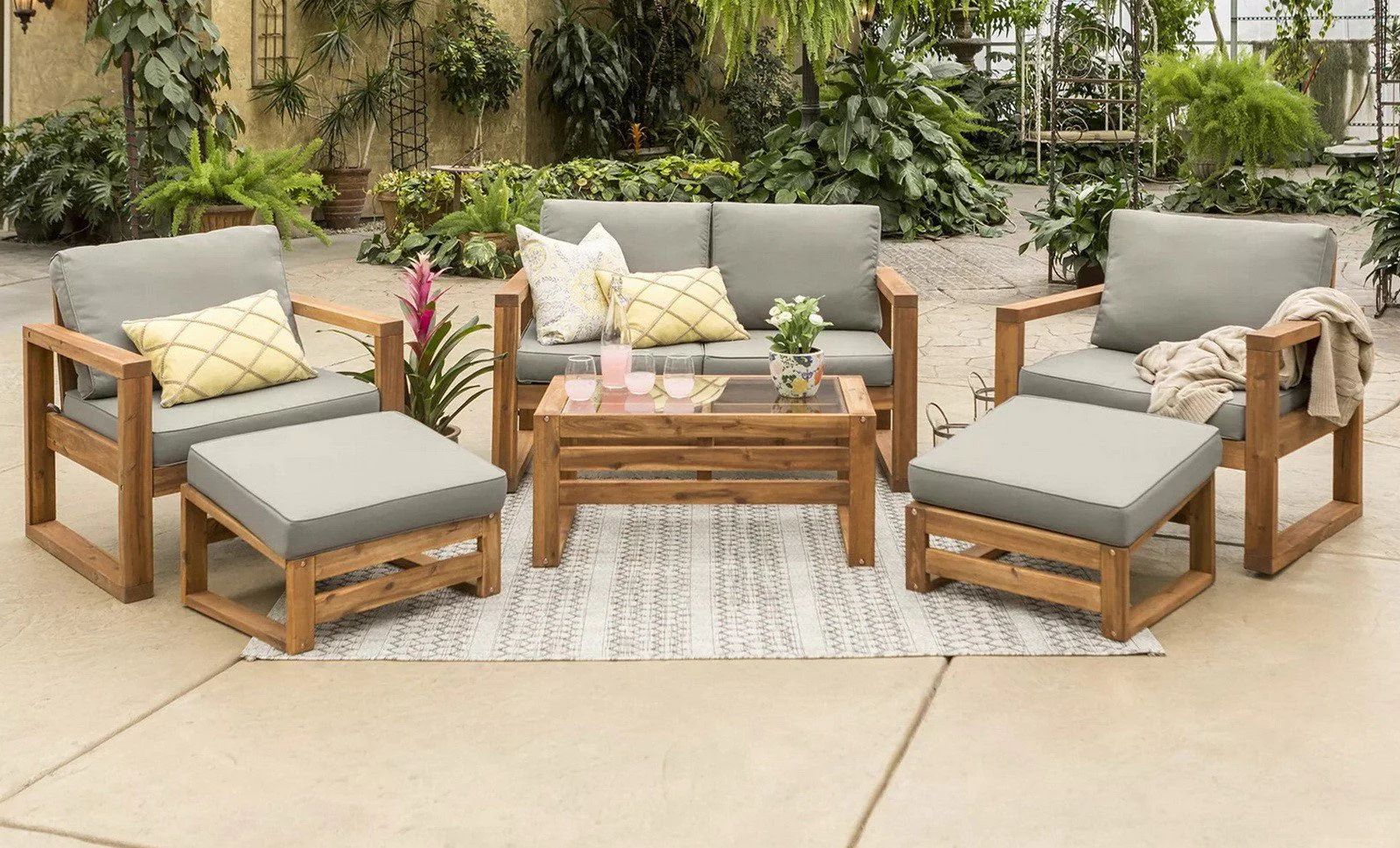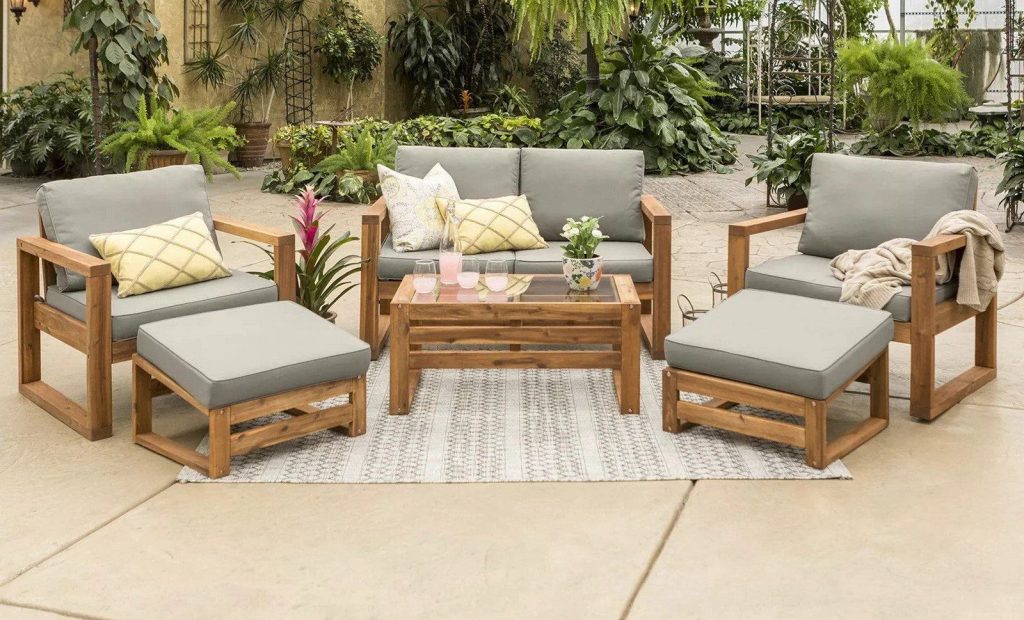 Acacia
Acacia is a genus of woody leguminous plants. This unique material is most famous for its amazing water-resistant quality. It has been used since the 18th century, mostly for building ships. Today it's considered to be one of the best outdoor materials.
Besides its resistance, acacia has excellent durability. It can last for decades. So, it's an ideal choice if you want your furniture to be long-lasting. Also, you should know that this material can change its color, similar to teak.
Due to the different weather conditions, as well as time goes by, the material can fade to a gorgeous silver tone. Moreover, if you want to keep its original dark gold color, simply use stain or oil.
Acacia, also known as mimosa, comes with a naturally fine texture. It's extremely resistant to scratches. Therefore, it can't be easily damaged. That's another feature that makes it a great choice for outdoor spaces.
Regarding its maintenance, you don't need any special product to keep it in top condition. For that matter, just mix warm water with regular soap. To apply this simple solution, use a clean soft piece of cloth.
Pros
Excellent durability
It's water-resistant
High maintenance isn't necessary
It's a hardwood
Super stylish appearance
Cons
It's better to clean it regularly
It can be more expensive than other hardwoods
You must apply oil to keep the golden color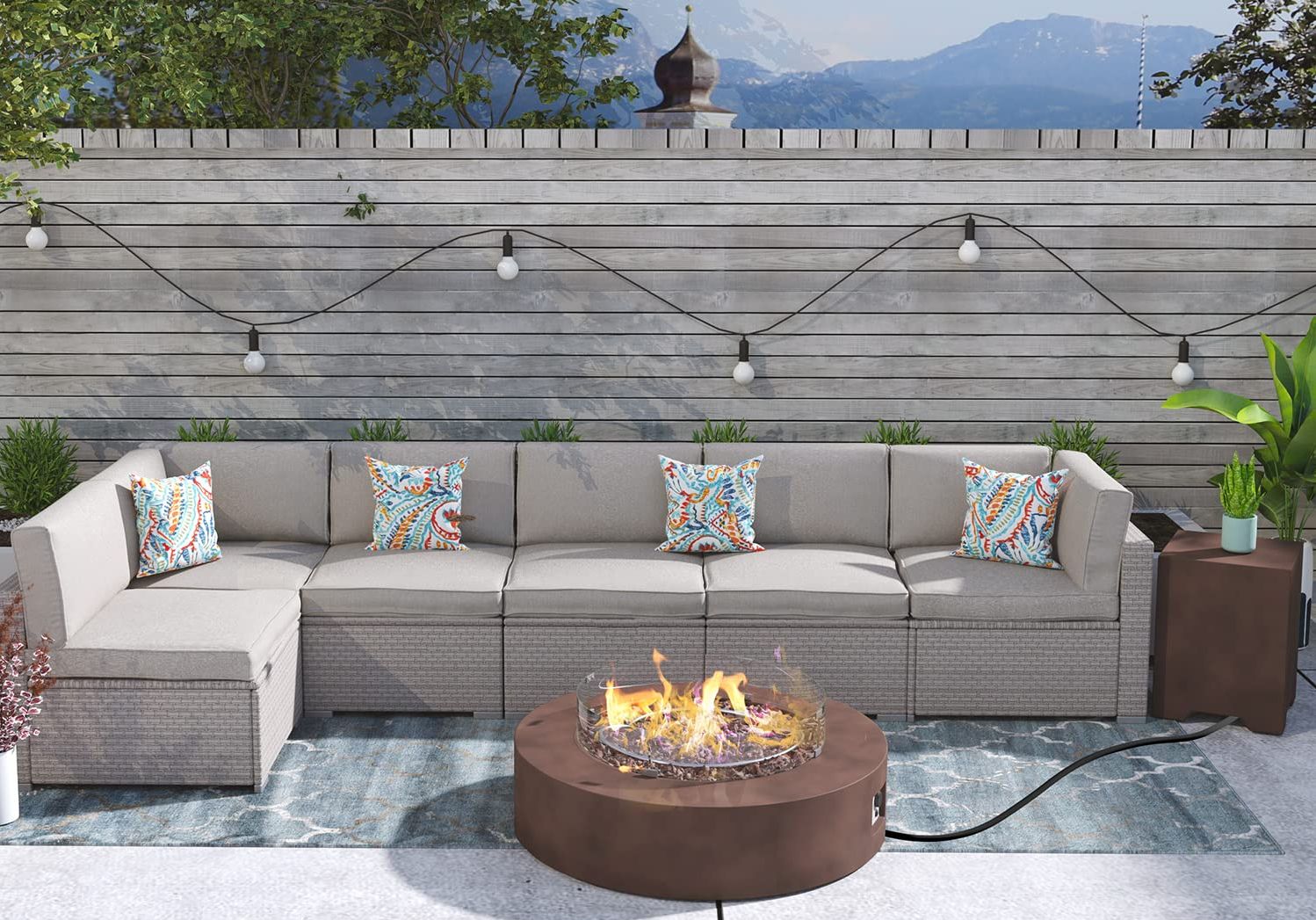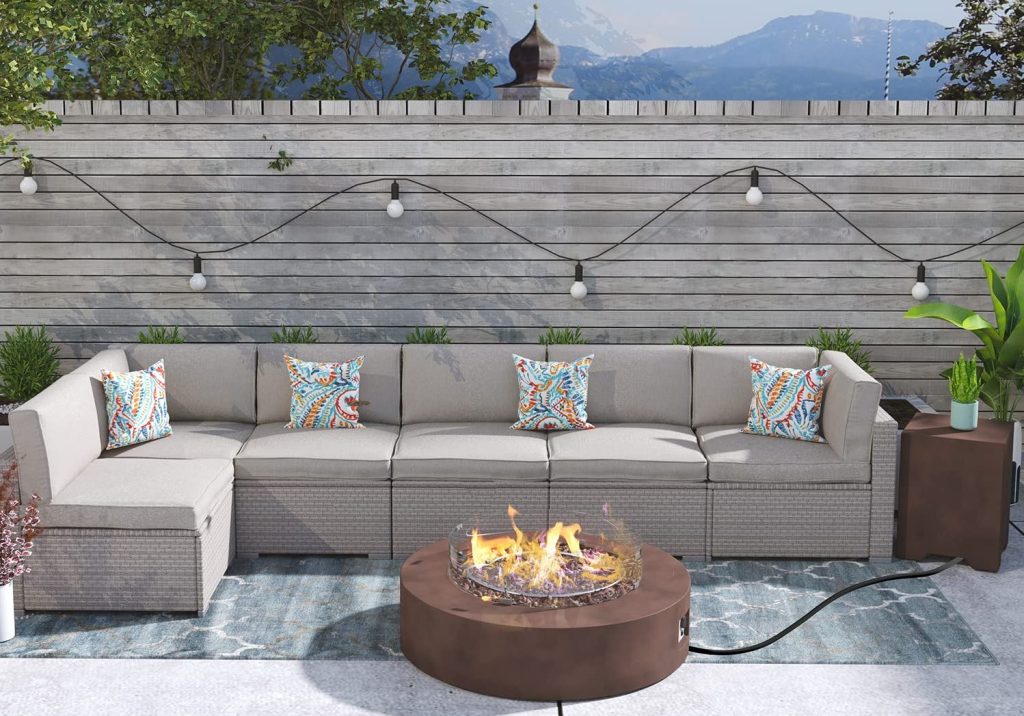 Concrete
Concrete is a composite material. It's typically made of fine and coarse aggregate. Both are bonded together with a cement paste that later hardens. It's a material commonly used by landscape designers that aim to create a minimalist outdoor space.
So if you nurture a minimalistic style as well, then this material may be just what you are looking for. Moreover, you should keep in mind that concrete is usually used in combination with other materials.
Since it's a very strong material, it's a great base for lounge tables. Additionally, it's also excellent support for glass dining tables. It can also be found in conjunction with steel, synthetic materials, and similar. It's malleable, so it's perfect for different shapes.
Furthermore, concrete has incredible durability. Therefore, it can last for decades. Besides, it can resist pretty much any harsh outdoor factors. This includes extreme temperatures, snow, water, etc.
Pros
It has a great durability
It's very strong
It can suit many shapes
You can always recycle it
Super stylish appearance
Cons
Too heavy to be moved around
The Best Fabrics for Outdoor Furniture
Now that you know what material is best for outdoor furniture, we think you should also know a thing or two about the fabrics. They are an equally important part of the furniture. So, we wanted to give you additional advice about them.
Cushions, pillows, and similar, all require strong fabrics. This means that fabrics too must be able to resist the outdoor factors. We highly recommend you choose fabrics made out of synthetic thread. They are very resistant. Besides, their color won't fade away.
Furthermore, fabrics made out of acrylic fibers are an evenly excellent choice. They can't be damaged easily. So you wouldn't have to worry about rubbing or tearing. Also, its color lasts very long, so your outdoor space will always look fresh and beautiful.
Lastly, you can also go for polyester. This synthetic fabric is usually coated with vinyl. This means that the fabric is super strong and it can resist possible damage. Additionally, it's very flexible for usage.
Read more: How to Make Outdoor Cushions
A Simple Guide: What to Take Into Consideration When Purchasing Material for Outdoor Furniture?
Your living area
The type of area you live in is the first factor you must keep in mind when shopping for material for your outdoor furniture. This is simply because different areas mean different weather conditions.
Moreover, different weather conditions can bring different kinds of trouble. This includes high temperatures, moisture, and extreme winds. All of these conditions can easily impact the materials to develop mold, rust, corrosion, twisting its original shape, and similar.
So, one of the ways to choose a material for your outdoor furniture is based on the type of area you live in. If your area has frequent rains, you must pick a water-resistant material.
If the weather in your living area changes often, then you must choose materials that can resist UV rays and extreme weather fluctuations. You must keep in mind that heat often leads to cracking the material's surface. Some can even heat up and be unsafe for usage.
So taking into consideration your living area and its weather conditions is something you must do. Choosing the right material will help you avoid the mentioned problems such as mold. But, you will also protect your health and prevent further risks.
The material's features
The features are the thing that distinguishes materials from one another. If they didn't matter, we wouldn't have written this article. Firstly, take into consideration the material's durability. It's important to be long-lasting and still look like new.
You will probably be using your outdoor space often, so it's important for the furniture to be high-quality. Besides its durability, make sure the material is resistant to extreme factors. This includes strong winds, high temperatures, water, and similar.
In addition to this, the material should be malleable. Also, keep in mind its maintenance. Often, high-quality materials require less cleaning. Besides, you should be able to only maintain them with simple warm soapy water and a brush.
However, some materials require regular cleaning. Additionally, others even require specific maintenance which includes special cleaning products. If you are a busy person, you should avoid buying high-maintenance materials.
Lastly, don't forget its appearance. The material should naturally fit the overall image of your garden. It should be eye-appealing and make your time spent outdoors even more enjoyable. Leave the aesthetics for last, but still keep them in mind.
The price of the material
Last, but not least. The price is equally important when purchasing materials for your outdoor furniture. You must be aware that an expensive material usually means high quality. High quality is what you should aim for because it means durability.
Your furniture should be able to last for many years. Additionally, it should be able to resist all sorts of outside factors, such as weather conditions, insects, and similar. Moreover, we would say that paying less often results in paying more in the end.
What do we mean by that? Well, if you buy a cheaper material to save money, it will probably get damaged more quickly. Now, you will have to buy a new one. So, in that case, you will be paying double and not to mention the rest of the problems like mold.
Besides, high-quality materials can be easily cleaned. Therefore, you wouldn't have to spend additional money on its maintenance. So, going for an expensive material can save you from a lot of aspects.
Of course, that doesn't mean you should overpay. The market today is overloaded with products. Therefore, you can easily find a material with excellent quality and a reasonable price. Simply pick wisely.
You might be interested: How to Get Rid of Water Stains on Wood
Conclusion
The outdoor space is an important part of every home. It's the perfect mini getaway you can escape to, to relax and enjoy the moment. So decorating it can be very exciting. You get to play a landscape designer and rearrange the space as you wish.
However, it can also be equally exhausting. The whole process requires you to know a lot of stuff. This includes things like picking the right lighting, knowing what material is best for outdoor furniture, what is the right time to plant and water the flowers, etc.
Simply always aim for high quality. This is an unwritten rule especially when it comes to picking the materials for your furniture. The material should have excellent durability, be able to resist many weather conditions and as well, to be easy for cleaning it.
Lastly, we mentioned the aesthetic aspect. So, don't forget to have fun while decorating your favorite space. Besides the mentioned features, choose the material that you think will suit your garden gorgeously.