If you're a black couch owner or thinking about buying one, you know these pieces are unique and can be decorated with different color pillows. Let's find out what makes them unique and what color pillows for a black couch are the best.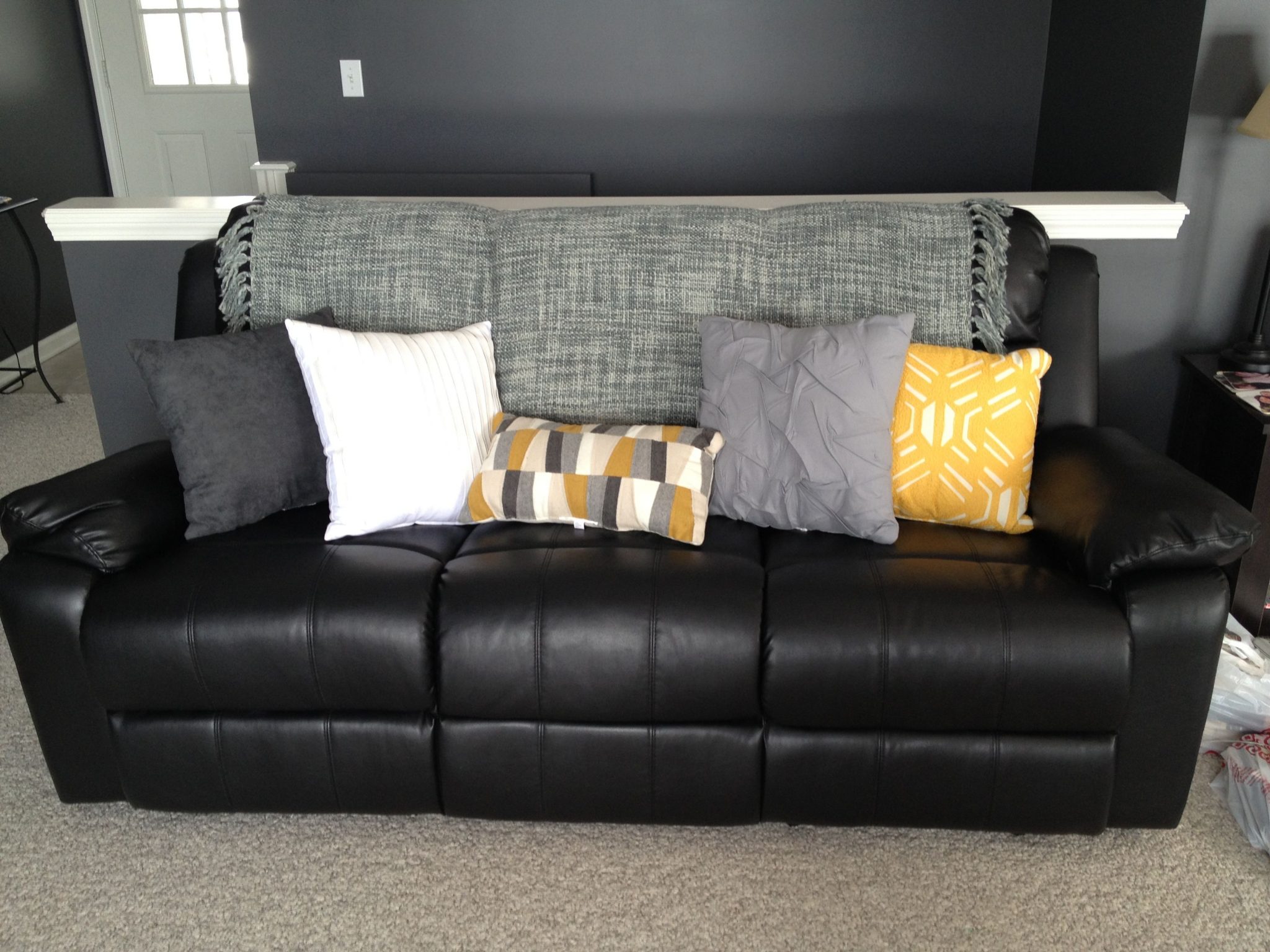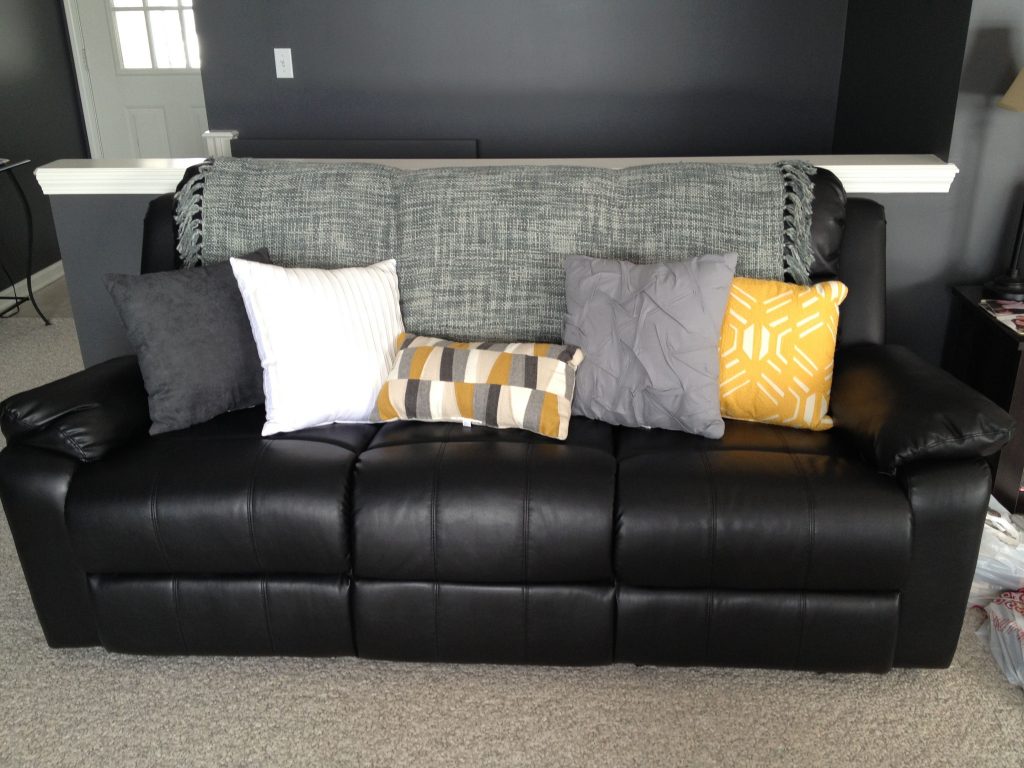 What Color Pillows Nicely Complement a Black Couch?
Black pillows
The first and obvious choice for a black couch would be to decorate it with all-black pillows. This is a natural combination since black already goes with black, especially if your couch is made of leather.
Combining black pillows with a black couch creates a sense of cohesion, giving a visual understanding that these pieces are one unit.
Black and white pillows
A combination of black and white colored pillows is another natural way to decorate your black couch. White contrasts with black, which will serve as a way to emphasize the couch and its curves even more. This also depends on the pattern and combination.
There are many patterns of black and white to choose from; for example, a half-black, half-white pillow made of leather looks simplistic, modern, and refined. A full white pillow with black stripes is another way to highlight the couch's beauty.
Full white pillows
Placing white pillows on your black couch will produce an entirely contrasting effect, emphasizing the entire seating area.
The materials used for the pillows can be similar to the couch materials. This will make the entire unit look seamless, just as they were made for each other. Bringing opposite colors together makes the furniture look stylish and gives it a high-end appearance.
Pillows with geometric shapes
If you want a first-glance visual impact, adding pillows with geometric shapes to your black couch is an excellent choice. They can be black and white, giving a more classic look, or other color combinations you may prefer.
Putting pillows with interlocking circles or triangles gives you excellent visual appeal to your couch, and you can combine them in any way you want. A popular combination is to put two pillows with circular shapes in the right corner and two with triangle shapes in the left corner of the couch. This unique setup will have an even greater visual contrast.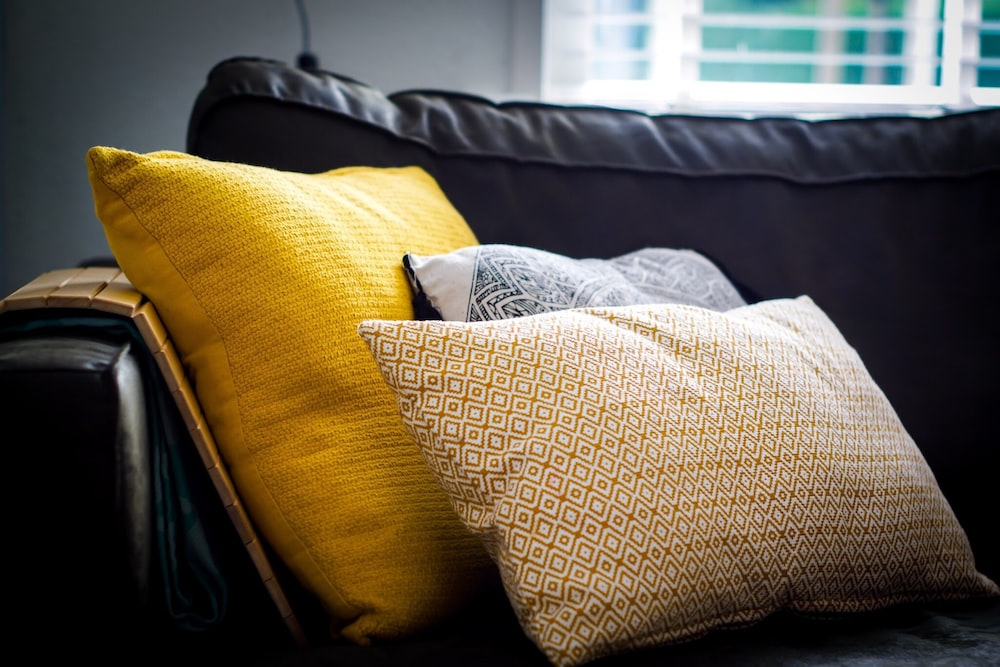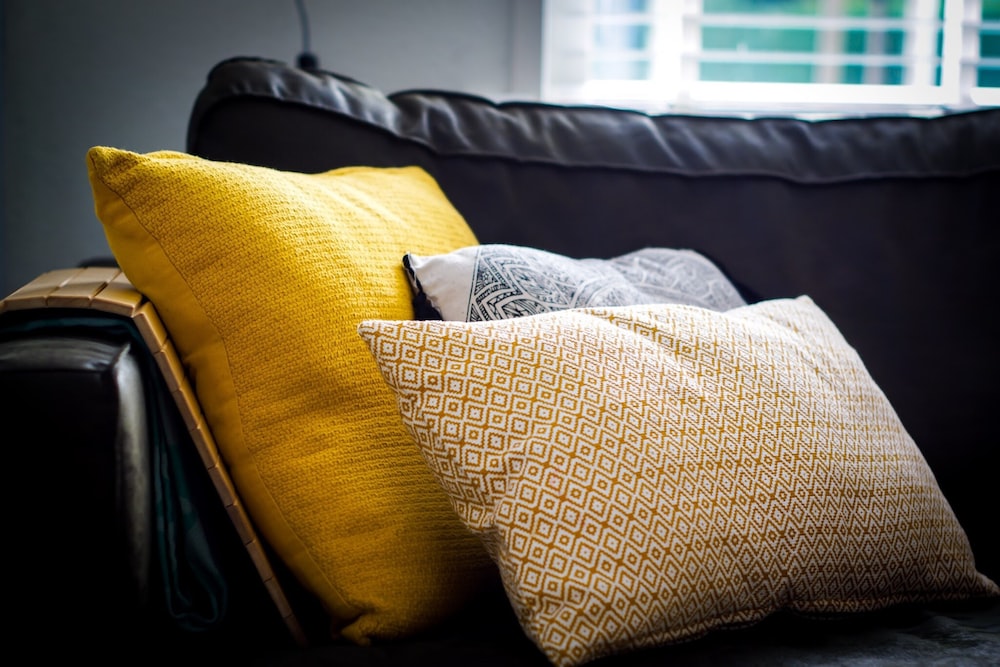 Gray pillows
Combining gray and black is a great way to show simplicity and continuity. This is a great color combination for neutral rooms but does not lack visual attraction.
Depending on the room's ambiance, the pillows' color can be either brighter or darker gray. If the ambiance is darker and lacks light, light gray pillows accent the couch beautifully.
On the other hand, if the room is painted white and does not lack light, then a darker gray color would be ideal for the black couches' pillows. The light will make them stand out more, but just enough to make a transitioning effect between them and the couch.
Yellow pillows
Adding yellow pillows to your black couch will not just give a vibrant effect to it, but it will also give a powerful and energetic feel to the entire room. This color combination is for anyone who loves a bold accent since not all would agree that this choice is a good one.
Many people think it's illogical to combine yellow with black, but we find it lovely since yellow adds some kind of asymmetry to the entire dark effect. This is especially true for darker gray-colored rooms that need something to brighten them up.
Plaid pillows with different color combinations
Plaid pillows were much more popular in the 60s and 70s, but many people still prefer them, as their classic look and style will always be loved.
One of the most popular color combinations for this pillow pattern is red and black. Placing them on top of a black couch gives an alluring sense of vibrancy and energy. And if you pair them with gray and black plaid pillows in an alternating pattern, you add an even greater contrast level.
Black and white plaid pillows are also great if you want to keep things within the neutral black and white tonality while adding some differentiation with the patterns.
Read More: How to Decorate a Rectangle Living Room
What Color Pillows to Avoid Combining With Your Black Couch?
Brown pillows
Mixing brown and black when it comes to furniture is not a good idea. Since they are both in the darker spectrum of colors, black is considered neutral, while brown can either have a warm or cool hue to it. Neither warm nor cool brown is suitable for black because it doesn't produce any kind of effect at all.
If you choose brown pillows, they may seem dull, uninteresting, and like something forcefully attached to the couch.
Navy blue is a dark and cool variant of the blue color and is not considered compatible with black in this case because of their similar hues. Navy blue pillows will not fit well with your black couch, and the whole visual appearance will be unexciting and unpleasant.
What Makes a Black Couch Unique
Black furniture is one of a kind because it attracts attention for being unique and uncommon. This goes for all types of black furniture, such as armchairs, tables, shelves, beds, and sofas.
A black couch is unique because it is considered a living room centerpiece. Its outline doesn't have a negative visual impact since its neutrality provokes interest and satisfaction even among those who don't like black. This piece of furniture easily adapts to any living room color, ambiance, and lighting, and you can also decorate it with multiple throw pillows.
Let's look at what color pillows for a black couch make it look better, sleeker, and more attractive.
Also Read: How to Decorate an Ottoman
Conclusion
Black couches are unique pieces of furniture that fit many room styles because of their neutral color. Now that you know what color pillows for a black couch are best to emphasize its magnificence, you will make sure to choose the best pillow color combination that will suit you most.