You'll want to choose your sofas and carpets carefully because they are both significant investments. Fortunately, the versatility of a gray sofa is one of its best qualities. It will therefore complement the majority of carpeting and flooring colors beautifully. Additionally, you may change it up whenever you want using accessories.
However, it can all seem a little daunting with so many carpets available and sofa upholstery in countless tones of gray. We've narrowed down the choices to emphasize what color carpet goes with gray sofa. With no further ado, let's get started!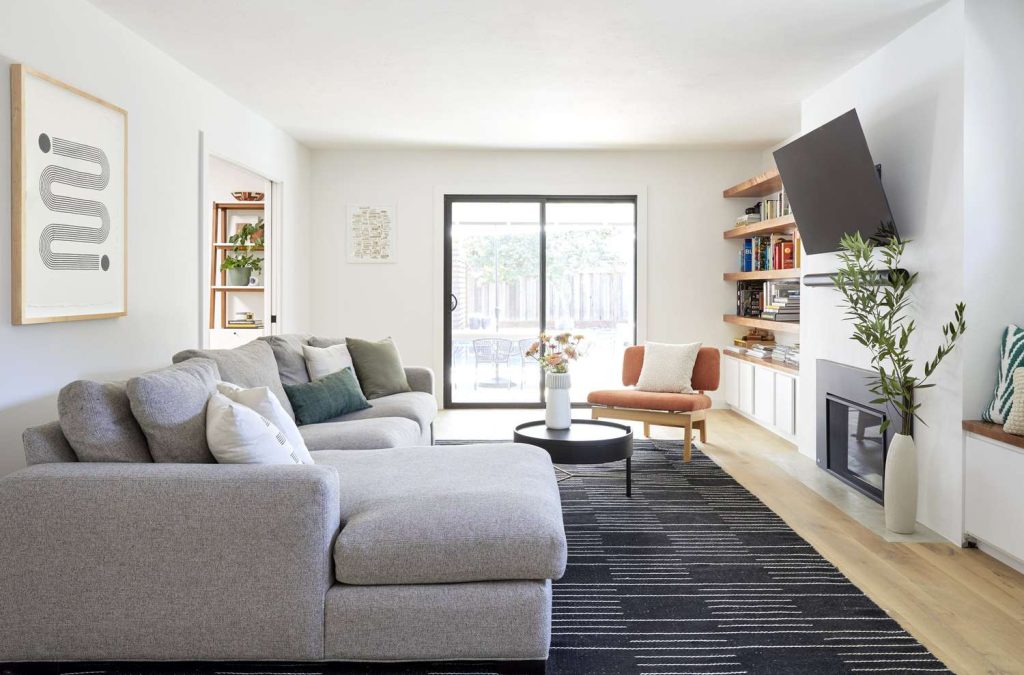 What Color Carpet Goes with Gray Sofa?
Gray is a versatile tone that may go well with any artistic choice, even though some people think of it as a dreary hue. They add a stylish touch to a space, especially when combined with bold colors.
A bright palette looks excellent on top of a base of gray. As a neutral color, it expands your palette, so you may experiment with various tones, colors, and textures for your interior.
When selecting the ideal carpet color, keep in mind the mood you want to set in the room. Given that gray couches are essentially blank canvases, you want your carpet to add some visual interest to the room.
These carpet colors will improve the appearance of your gray sofa:
Read More: Should Throw Pillow Match the Rug?
Neutral carpets blend well with gray sofas
We advise combining your gray sofa with a beige carpet for a subtle and adaptable living room decor. A multipurpose space can be created with neutral beige, cream, and off-white tones since they properly complement the gray sofa in your living room.
A simple gray sofa and a neutral carpet may appear a little boring at first glance. They are both significant financial commitments, so you don't want to pick anything you'll regret in a year.
Fortunately, that's where accessories are useful. Chairs, blankets, ornamental items, and cushions may all add a colorful accent to your space. Therefore, having a minimalist carpet should not result in a room devoid of color.
Another excellent suggestion for smaller living rooms is to have a neutral carpet. This is because lighter hues, like beige or cream, will make your space appear brighter and larger. Therefore, you might think about a cream or beige carpet if you're concerned that a gray sofa will darken your little living room.
Gray couches complement gray carpets
Gray carpet and a gray sofa may seem like a bit of an overload, but it works surprisingly nicely. For instance, keeping the sofa and carpet gray will draw attention to the room's outstanding vista. A gray sofa and carpet are a classic match even without a view.
The most important thing to keep in mind is to change the textures and shades of gray. For instance, you could match your light gray carpet with your dark gray sofa. You may also go with a darker gray sofa and a carpet that is the color of concrete.
This breaks up the drab and helps to somewhat contrast it. Finding a carpet with a texture distinct from the sofa is advised when it comes to textures. For instance, a sofa with a tight, neat weave will look best with a carpet with a chunkier texture.
Accessories are useful once again when combining a gray sofa with a carpet of a related color. As you stick to your gray color scheme, add hints of green and blue to the room to give it more depth. Here are some additional tips on decorating with grey color.
Pink rugs work well with gray sofas
In many ways, pink and gray are the perfect color combination, and they look excellent in living rooms. The gray sofa and pink carpet combination had us completely smitten.
Pink carpet investment may seem risky to some, but blush-colored natural materials are surprisingly adaptable. Pink pairs great with a variety of gray, green, and blue hues, so you can be very imaginative when using it.
Different shades of pink will look more upscale than matching all of your accessories to the carpet. To do this, pick pillows, throws, and ideally different-textured lampshades in various pink hues.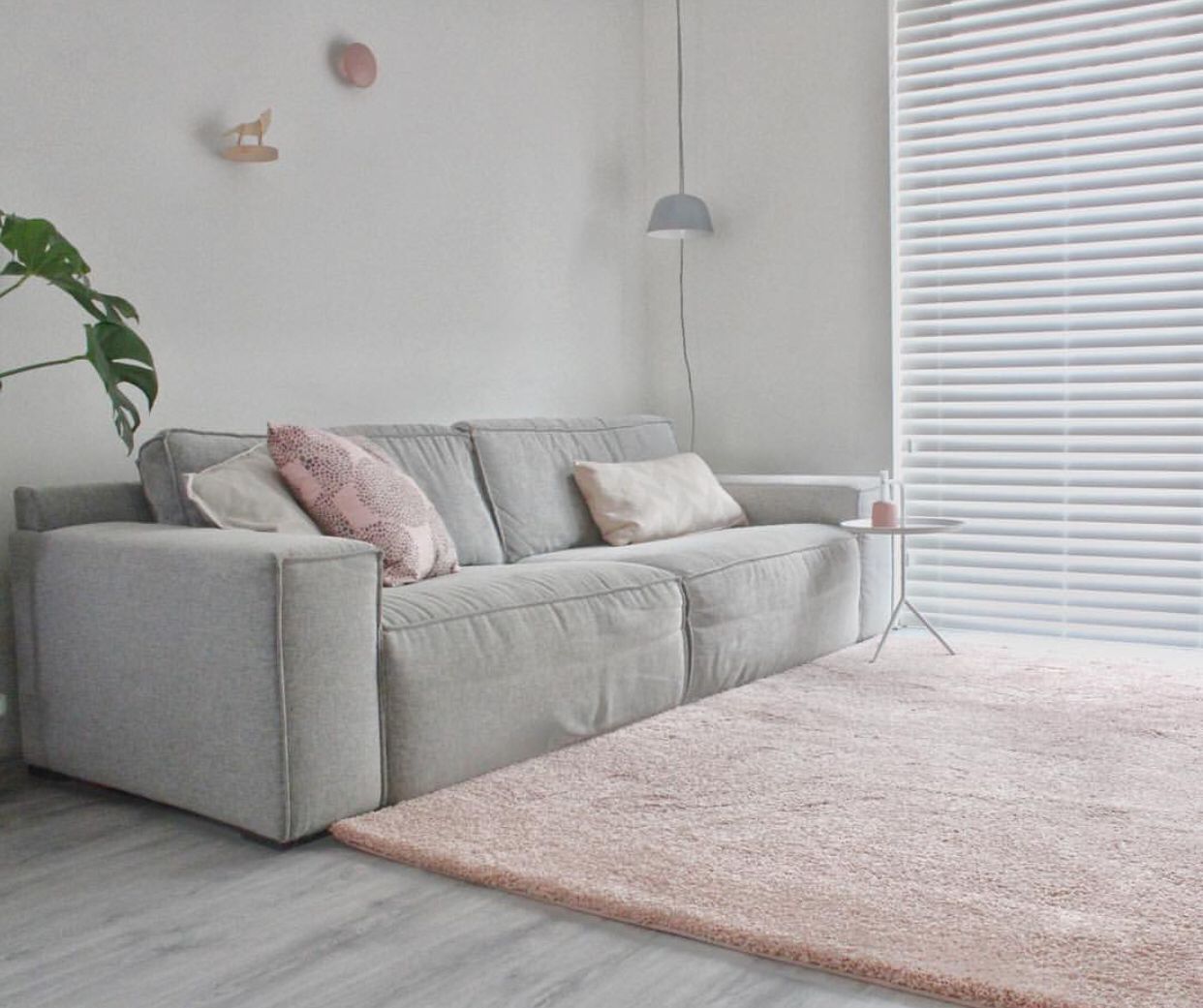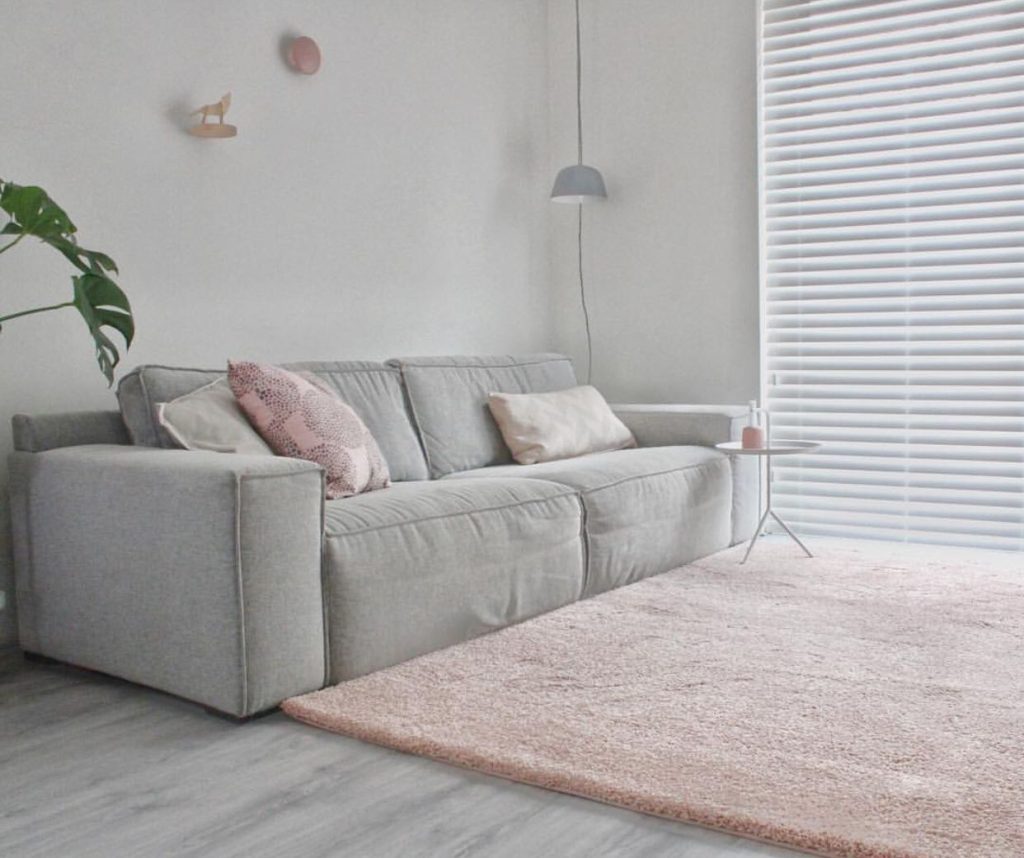 Boldly choose a vibrant carpet
However, if coziness and understatement aren't your styles and you'd rather turn heads and serve as an inspiration to your neighbors, think about adding a pop of color to your living room with a vibrant carpet.
The benefit of a gray sofa is that the most vibrant, daring designs complement it pretty well, so you don't have to worry about color clashes. Additionally, there are plenty of choices, with patterns including polka dots, stripes, and circles.
Carpet in teal for a light feel
Teal carpets can give your living space a revitalizing appearance since they combine the soothing properties of green with the natural tones of blue. They go nicely with gray sofas, enhancing their coldness while simultaneously making the room look lively.
If you are unclear about the carpet color you should choose, it is also a great substitute for neutral hues. Gray and other chilly neutrals, such as teal, naturally go together.
If you desire a more subdued color scheme, teal is a good color-building component as well. By combining teal with terra cotta, yellow, and other vibrant colors, you may create a color scheme that is inspired by a sunset.
Brown carpet to give off a rustic vibe
Brown carpets are a great place to start if you're going for a traditional or rustic country house design. Gray sofas might look more substantial when paired with brown carpets.
Your carpet comes in two different shades of brown: light and dark. While dark brown carpets can make the room appear more personal, light brown is more adaptable and can make your area appear broader.
Your brown carpet will blend into the decor effectively if you add rustic-themed accents to make the design more aesthetically appealing.
Conclusion
This is it! This was the solution to what color carpet goes with gray sofa. One of the best pieces of furniture to style is a gray sofa. We hope that this guide has demonstrated how well gray complements both soft and vibrant colors. A gray couch may look great even with a gray carpet!