Moving and renovating might be stressful, and in most cases, you do not know where to begin from. Whether you want to dismantle the sofa and throw it away or just make it more compact for removing and replacing, these tips might help you take a couch apart safely. So, here are a few steps that might help you find how to take a couch apart for moving.
In continuation, you might find some other useful tips for sofa dismantling. If you want to remove and dispose of the sofa, it is not so important to consider the sofa parts' safety. But, if you want to move to your new place but keep the sofa undamaged as it was before, it is best to keep your eyes on the article below.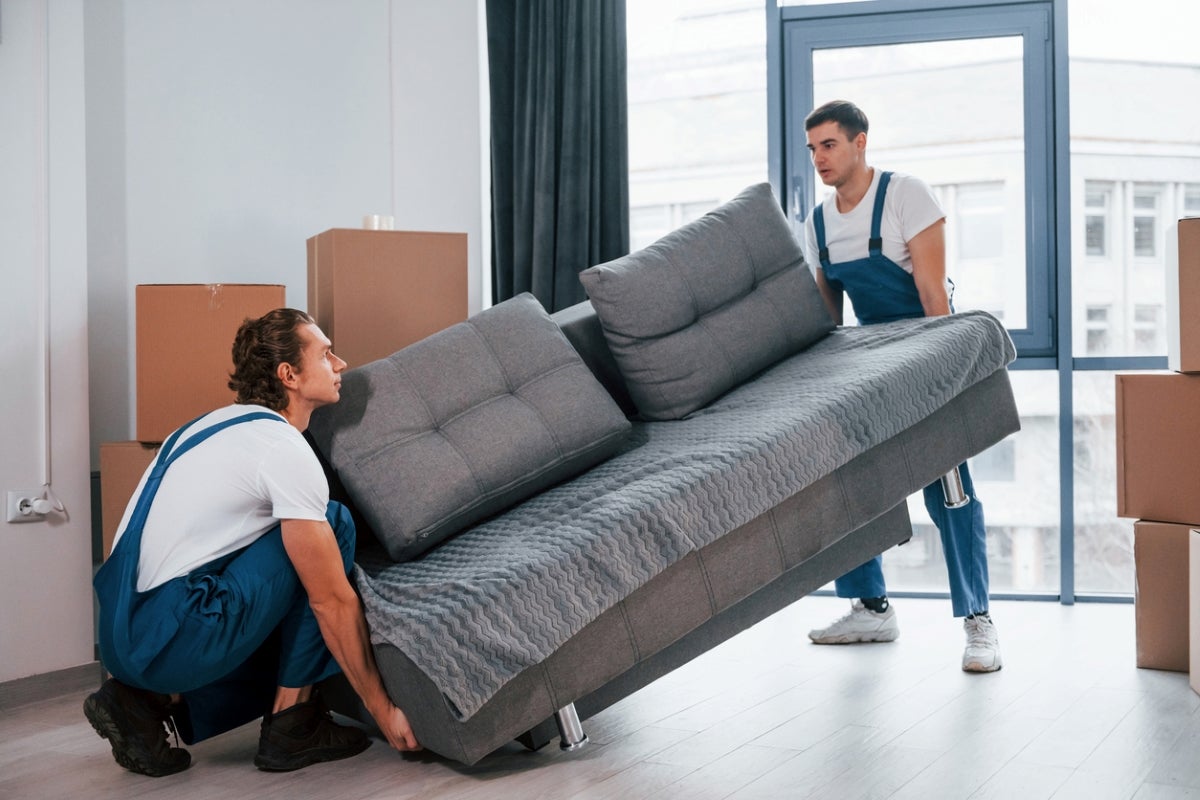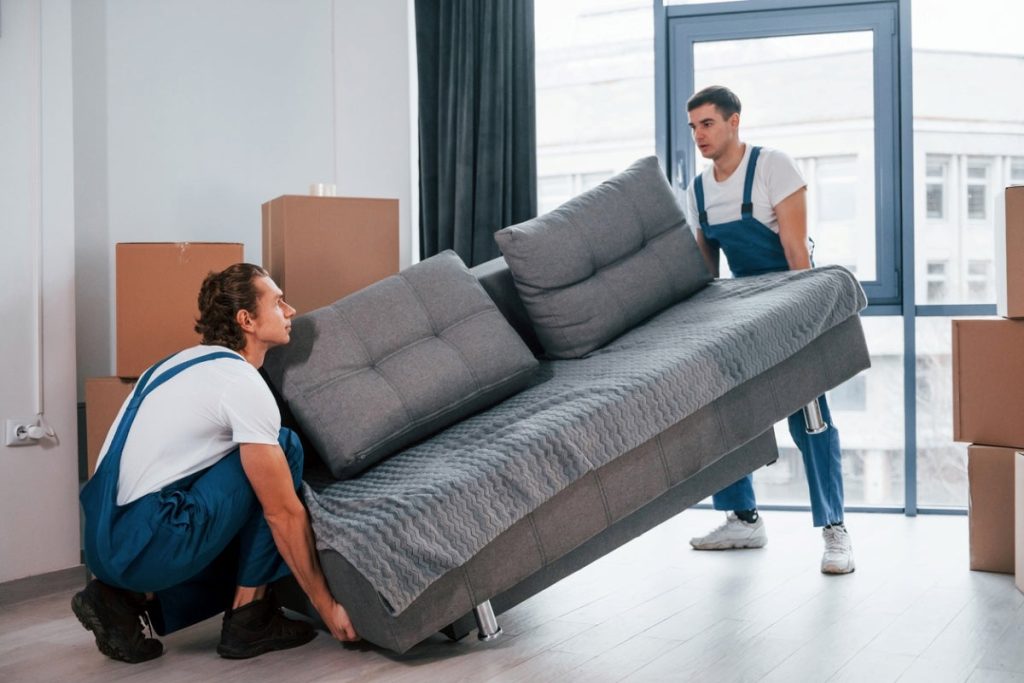 How to Take a Couch Apart
These tips might be useful if you have an upcoming move to a new home. It is important to take care of every furniture part to be removed and stored safely, without damaging anything.
The sofa might be the biggest and hard-to-move furniture piece because it is often hard to take it out of your home in its original size and condition. So, this might be the first reason why you search for help on how to remove some sofa parts and move the sofa safely and easily.
The first step is always removing the mobile parts of your sofa. The seats, back pillows, and cushions are often removable parts of most sofas. Store them in big carton boxes or plastic bags to prevent dirtying while moving.
Then, try to find the sofa's manual (if it is bought recently) and see which parts of the sofa you can remove. Some sofa models have fixed frames that can not be dismantled. If you want to move your sofa but keep it safe, do not try to remove or break the frame in this case.
If your sofa's parts are fixed with bolts and screws, you can dismantle it much easier. If you have lost the manual, it is good to take some photos during the dismantling process to know how to mount it correctly later.
Remove the legs
The sofa's legs might be sensitive and exposed to damage while moving. Most sofas have tiny wooden or metal legs that might be stuck somewhere and easily break. So, it is best to remove them first.
Flip the sofa upside down or lift it up and remove the legs if you have someone else's support. The legs are often attached with screws so that you can remove them easily with a drill tool and an appropriate bit.
After removing the sofa's legs, put the sofa down and continue removing other sofa parts.
Release the bolted bars
To remove other parts of the sofa that are secured on the frame, you should get some plastic bags or an organizing toolbox to save the bolts and screws for the time you will need them to mount the sofa.
Lift the sofa and search for the locking levers. Some sofas have metal construction and locking levers that secure the frame. Release them by hand or use some tools if they are too tightened. You can loosen the locking levers using your fingers or a flat screwdriver.
Continue releasing the bolted bars with a matching screwdriver or a drill tool to save more time. It is good to have someone's support at this moment so that you can remove the bolts while someone holds the parts and prevents their sudden movement and damage.
Store and organize the bolts and screws
The sofa might be secured with different bolts and screws. Take photos of the bolt types you remove from some frame sections to remember where to put them back when reassembling.
Organizing the bolts and screws is an excellent thing you should do when dismantling furniture for moving. You can put the screws into plastic bags and write where they belong with a marker on the bag. Also, you can put them into a box with other smaller sofa parts and not mess them with screws and bolts of other furniture.
Also, storing and organizing the bolts and screws might prevent losing them during the moving process.
Remove the upholstery
If you have an older sofa model with damaged upholstery, you can remove and dispose of it. Write down the fabric's measures to know what dimensions to order if you want to redo your sofa.
In most cases, the upholstery is secured with staples, and they are easy to remove if you want to remove the sofa's upholstery and replace it with a new one. To remove the upholstery, you might need a staple puller.
Pack the sofa's parts safely
When moving, it is important to be well-organized. Store the sofa's smaller parts in cartoon boxes, together with the plastic bags full of bolts and screws, and name the box so that you can easily find it when moving into your new place.
Ensure the cartoon box is not damaged, and secure it with tape after you put all parts inside the box. This might prevent losing or breaking some parts during the transport.
Throw the damaged parts
If your sofa is older, it is possible to find some broken parts that can be replaced with new ones when reassembling. Throw the damaged parts of the sofa and write down what you have thrown to know what to purchase when you reassemble the sofa later.
Also read: How to Throw Furniture Away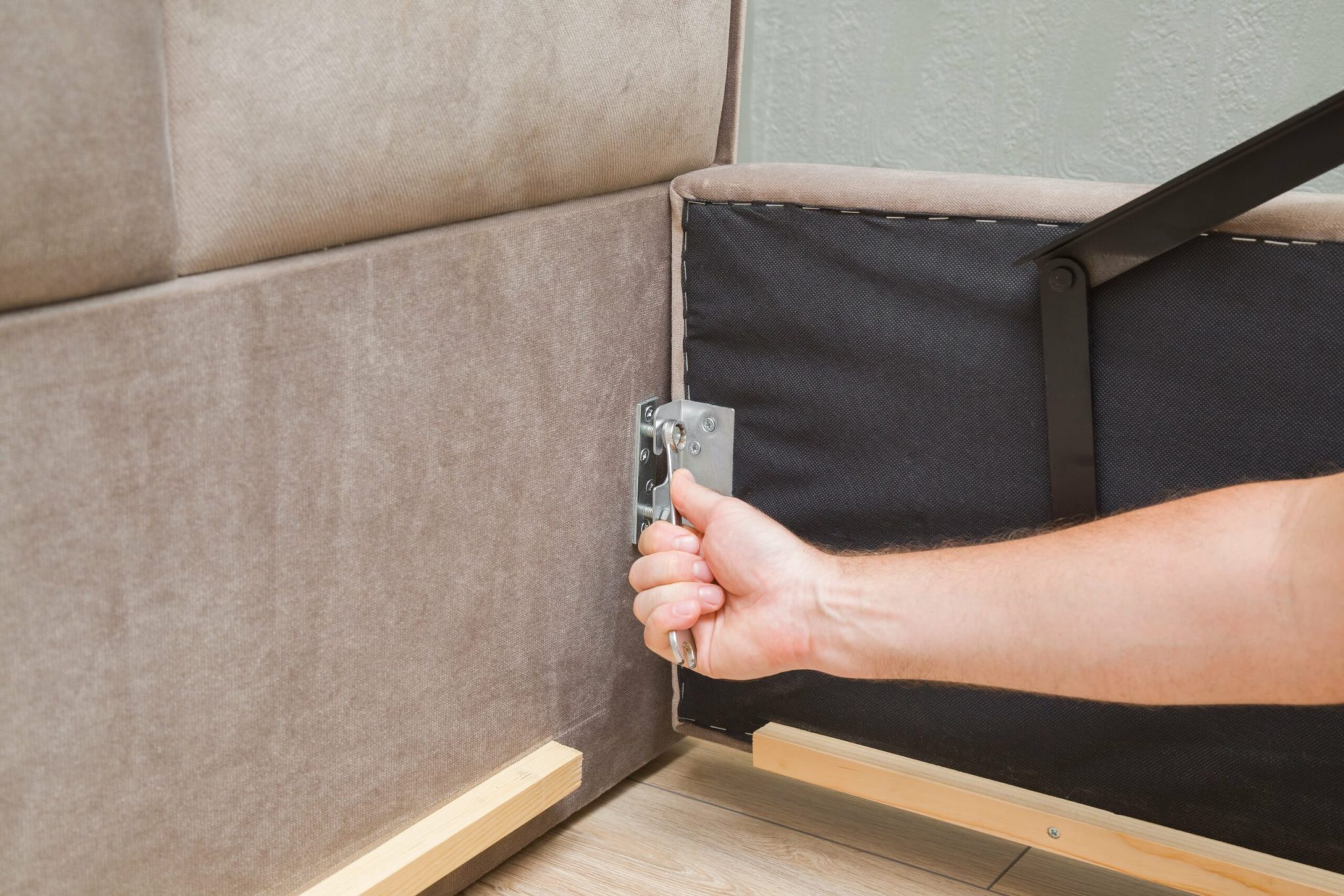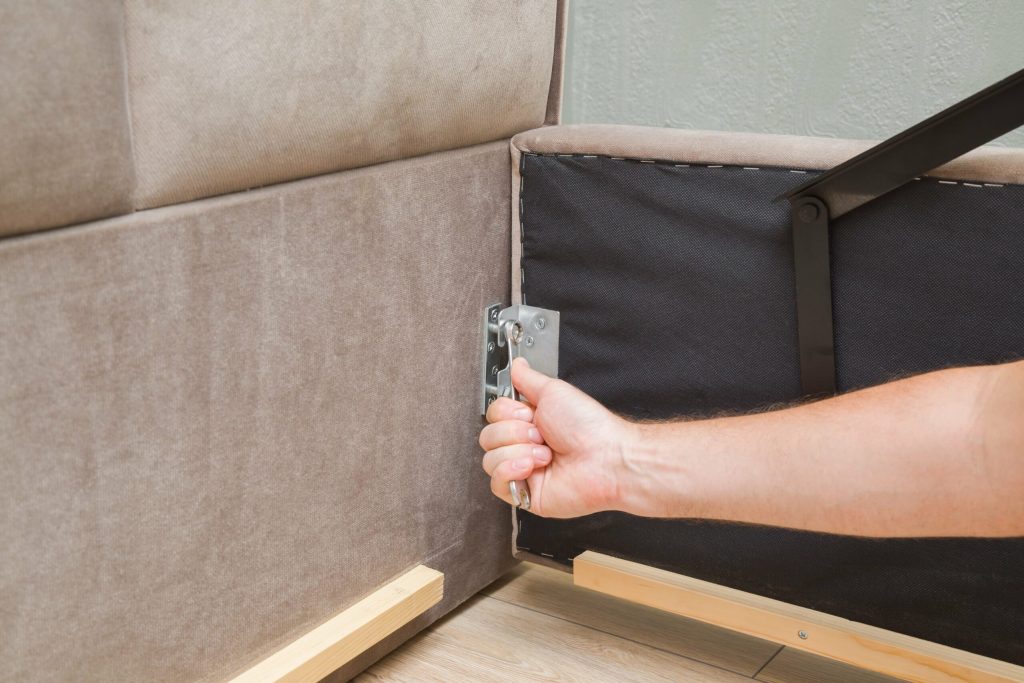 Summary
We are happy if this short guide has helped you find how to take a couch apart when moving. Also, these tips might be useful if you want to dismantle and remove the old sofa or donate it without damaging the main parts of it.