What is better on a cold winter night than wrapping up in a soft blanket near your fireplace and listening to the fire pop? Pair it with a hot cup of tea and your favorite movie to get a fully idyllic cozy atmosphere that you and your family will never forget.
There is just something about the warmth and the sound of having a fireplace in your living room, giving you peace and tranquility after a hard day at work; it's just the perfect addition to spend time with your loved ones and chit-chat with your friends whenever you have a get-together.
And even if winter is your least favorite season, you can do something to feel a little better about it, and that is, decorating the walls where the fireplace is to make the room feel more inviting and joyful so you'll look forward to every new cold season.
Today we are sharing some of the most incredible and creative ideas on how to decorate walls on the side of the fireplace.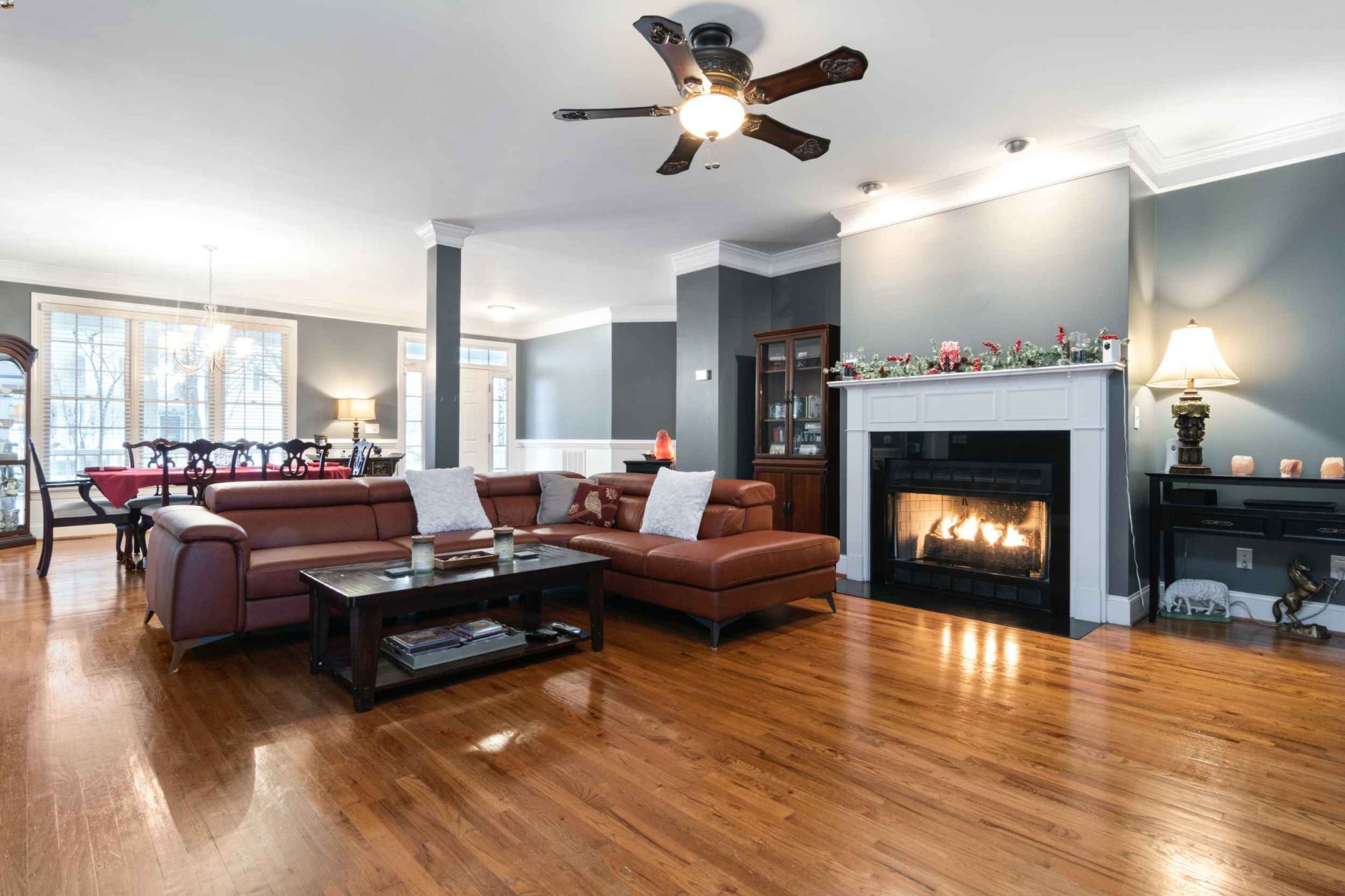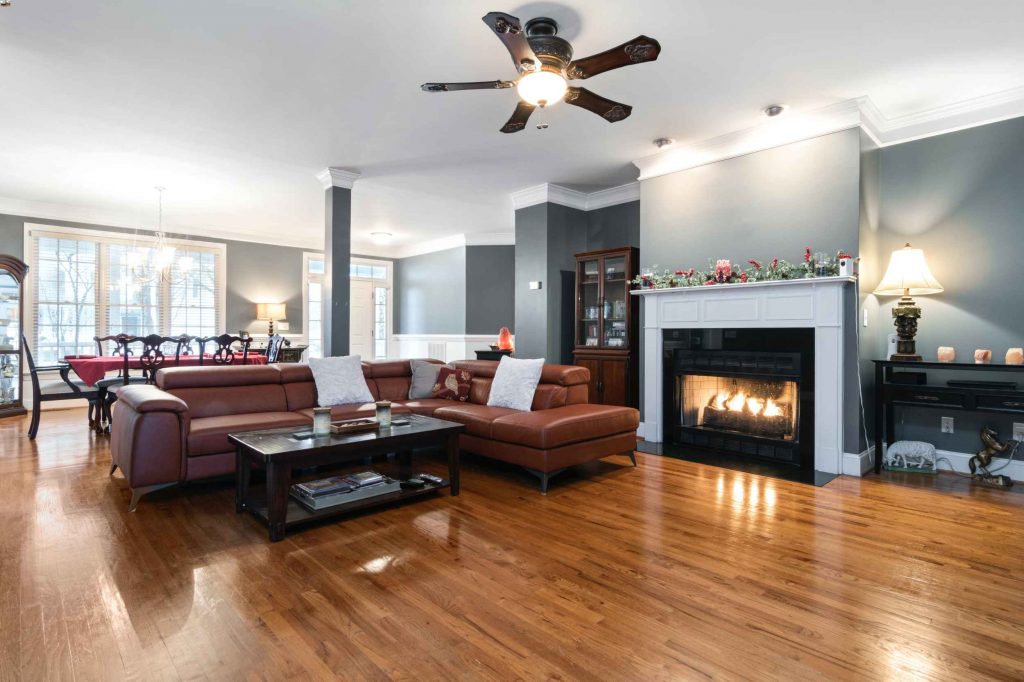 How to Decorate Walls on the Side of the Fireplace
Do you have a fireplace? If you do, then you probably know how fun it is to decorate for special occasions during the holidays and gather with your guests to chit-chat about your prized possessions, artworks, and other collections hanging around them while you make yourself warm. Let your creativity go wild and make the decor enjoyable and eye-catching enough to be a theme for conversation.
Having some art pieces or other decor can bring a whole new vibe and brighten up this area. Even if you are into minimalism, you can still put a few things here and there and bring out a completely refreshed and exciting look that won't be too "in the eye" and overpower the room.
These are some of our favorite ideas that we choose to satisfy various tastes and wishes.
Bring elegance with an oversized mirror
You are wondering how to decorate walls on the side of the fireplace while the wall above is pretty large, and you have a hard time finding the perfect-sized ornament to put in.
Well, the perfect solution that will bring brightness and elegance to your room is a giant mirror. You can choose an oval or rectangle shape; either option will make the room look bigger and bring character to the space without making it feel cluttered.
Mirrors are especially appealing in family rooms as they bring dimension and look classy. You can pick one with a gold frame for a modern industrial look or a rustic wooden frame if you are into that farmhouse french inspired ambiance.
And for a unique vibe that will undoubtedly attract many eyes, you can pick an old window frame and place the mirror in it.
Bring a boho spirit
If you are into that laid-back, free-spirit vibe, you can experiment by bringing woven ornaments like plates or baskets on the wall to create depth and texture. You can find them almost everywhere, and they are insanely cheap.
They would look perfect with house plants like pothos, green potted trees, and citrus trees that can inspire a cheerful and colorful atmosphere. However, make sure they are placed at a proper height, not too close to the fire, and where they get enough sunlight.
Find a big woven basket where you can put extra chopped wood. Woven baskets are ideal for extra storage and make everything look more organized. However, ensure it's sturdy enough so it won't break if you put too many pieces. Also, keep it at a reasonable distance away to prevent any accidents.
Incorporate more greenery
If you are someone who is very much into greenery and owns an extensive plant collection, you can arrange them around your fireplace and bring life into this space. The fresh flowers can bring delightful scents and make your room more relaxing and soothing.
You can experiment with various base designs and looks, whether rustic style or clear glass and mix and match them so everything will look fun and cheerful. To make it even more interesting, you can choose multiple vases in different shapes and sizes and arrange them with flowers depending on the seasonal blooms. We have another terrific idea, and that is if you have kids, to get them involved too.
You can paint your vases and pick fresh flowers from your garden to add a more personal touch to the place. They would be very proud to help and would like to spend more time in this area.
Hang your family memories
Adding your family photos is a great way to bring more personal touch and make your living area reminiscent of your dear moments with your loved ones. Leave enough space between them, so they don't look too buckled up and tacky. This way, you can highlight the most beautiful moments that you hold dear, and you want to show them off.
Also, be mindful of the picture frames you are using. Depending on your overall room style, you can either pick simple black frames or, if you have that rustic type of feel going on, you can choose french inspired farmhouse frames.
Not only photographs, but you can also put some artwork in between that holds a special meaning for you. And for a more subtle personalized touch, you can even find an accent with the first letter of your last name. It will look both modest and personalized to your space.
Read More: How to White Wash Furniture
Bring in the industrial regality
If the previous options don't go along with your character, and you are more into that "industrial" style, there are a couple of exquisite ideas that you can incorporate.
Even though fireplaces don't typically fall within this category, you can still decorate them to fit perfectly. For example, you can set a brick wall and paint the bricks black or some other dark color.
For that simple yet elegant look, you can add golden notes like candlesticks and other ornaments like sculptures and mirrors. Metals will surely update the space and give that royalty vibe if this is something that you are particularly into, as these accents keep the contrast and character to the dark texture.
The best way to achieve this look and create unexpected contrast and texture in your home is by incorporating gold and copper metals to keep things practical and minimalistic.
Warm, soft, and cozy
French-inspired decor around your fireplace can bring an even more cozy and uplifting feel to your living area. This style aims to make your place even more welcoming and warm. To achieve this effect, choose creamy white and light color accents in combination with wooden lantern frames and white flowers in clear vases.
Adding a pop of color won't harm the overall gentle and crisp ambiance, so why not add some terra-cotta pots for a bit of contrast? You can also put a large mirror in a copper frame to inspire calmness.
Make it a home library
Books are probably one of the best visual looks that fit the fireplace area. If you like hanging here using your mobile or laptop, this can help you take a break from the screen and start reading more.
Turning your fireplace wall into a little home library will create a warm and idyllic environment where you can nestle in for hours.
You can add a spindle chair with cushions and create even more comfort by adding warm and fuzzy blankets. Place a rattan log basket near the chair so you can reach the wood to top up your fire now and then.
Simplicity is the key
If all of these ideas are too much for you, and you want to play safe but not be boring, installing floating shelves can be the best option to consider. Picking wooden shelves would match the fireplace style ideally. You can customize them by placing a few ornaments and filling the space with a modern and trendy aesthetic.
You can also decorate the shelves according to the season. For example, in autumn, you can put pumpkins and burlap acorns; when winter comes, you can let that Christmas spirit shine and bring the festive vibe to your room.
Another stylish idea you can incorporate is installing wall lights on the shelves that will accentuate the decoration and illuminate the room at night with the fire burning.
'Tis the season
We can all agree that Christmas is the best holiday and the perfect opportunity to spruce the area around the fireplace where we will hang out with our loved ones and open presents. However, remember that you need to make this area fun and pleasing to be around and not too cluttered and stressful.
When you shop for seasonal decor, first, you need to figure out what you want precisely and avoid putting as many things as possible in one place that won't look good, and on top of that, you might risk causing a fire hazard.
To make the space warm and inviting, mix your decor with a bit of your style. The greens and reds are a Christmas staple, but there isn't a rule that you should be limited to only these two colors. You can add farmhouse-type ornaments or mix them with metal lanterns if you have that industrial vibe.
There aren't any rules for making your mantel feel dreamy and fairytale wonderland-like; just don't overstuff too many things and make a proper balance so every piece will have its moment to shine, and your guest will look amazed by your creativity.
Also Read: How to Decorate a Rectangle Living Room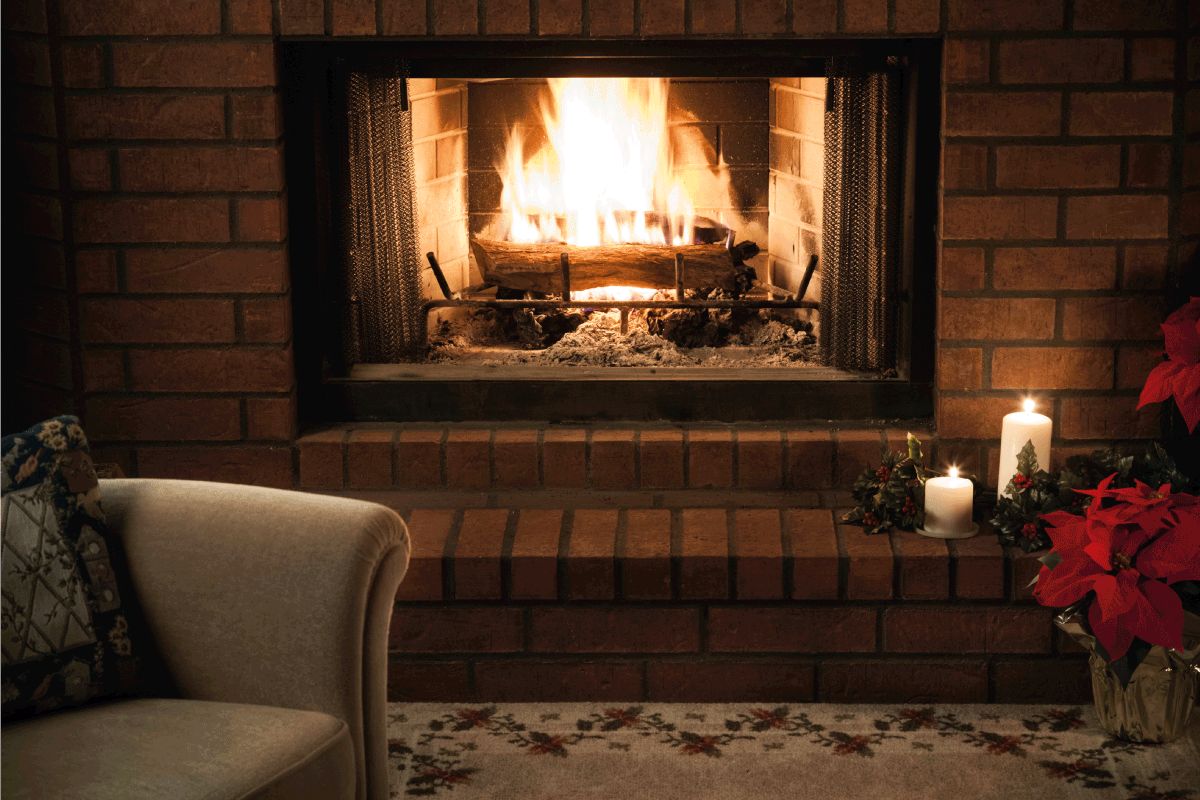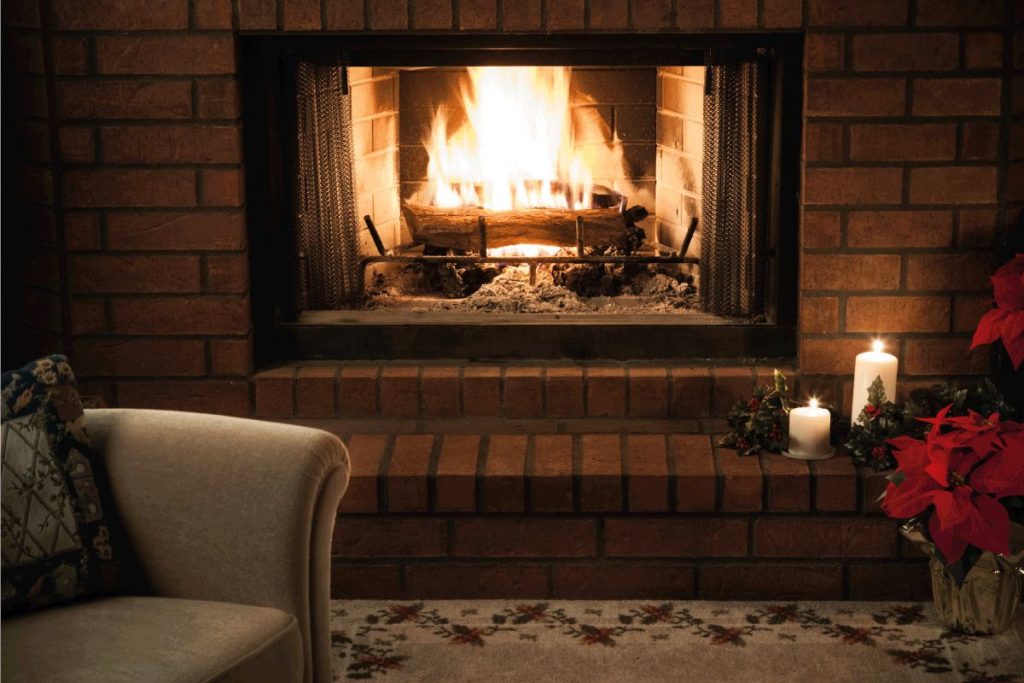 Important Tips on What to Avoid While Decorating Walls on the Side of the Fireplace
Before you implement any of these ideas, we want to give you a few tips that you need to keep in mind while planning the designs.
Watch out for fire hazards
Even though this is a relatively rare thing to happen, it's not uncommon. It might end up in a disaster, so make sure that the possible decorations you consider putting around the fireplace won't become a hazard. Avoid anything flammable as decoration, especially if you have pets or children.
Never put any ornaments that include accelerant or flammable liquid near this area. Also, never leave your fireplace while the fire is going on; even though it's unlikely for your decor to cause a fire, unfortunately, there is a risk of it, so you must be cautious.
Avoid ornaments that hang down
When looking for items to decorate your area around your fireplace, it's best to avoid those that hang in front of the fire itself, as they might end up causing a huge fire hazard.
Yes, a pretty table runner might look stylish hanging off on the ends, but it can easily be pulled down by kids or pets and cause fire hazards. So this is why you must avoid this kind of ornament and choose some safe designs instead.
Must Read: How to Arrange a Small Bedroom With a Queen Bed
Conclusion
It doesn't take too much time and effort to find the perfect style how to decorate walls on the side of the fireplace. It's pretty straightforward to make it look bold and bring character to your room.
If you have a large wall, you can experiment with a lot of creative stuff; you can hang framed artworks by putting them on shelves and making them even more interesting. Plants always look beautiful and inviting and can enrich the fireplace area.
Even when it's hot outside and you don't use it, it doesn't mean it has to be empty and blank. Check some of our favorite examples; if some catch your eye, you can combine them to achieve a distinctive appearance.