Leather is something that everyone needs in their lives, even more, when it comes to how you decorate it. Leather furniture is almost magical because it goes with any style of home. You can find stunning pieces that will never go out of style, as well as edgy and new pieces.
A leather couch is a classic piece of furniture that looks good in almost any room. It's a classic piece that combines traditional, modern, contemporary, or even edgy styles.
However, it can be hard to decorate if you don't like it or think you must stick with neutral colors. Since many people wonder how to decorate leather couch, we created this article to provide tips on how to do it. So, let's get started!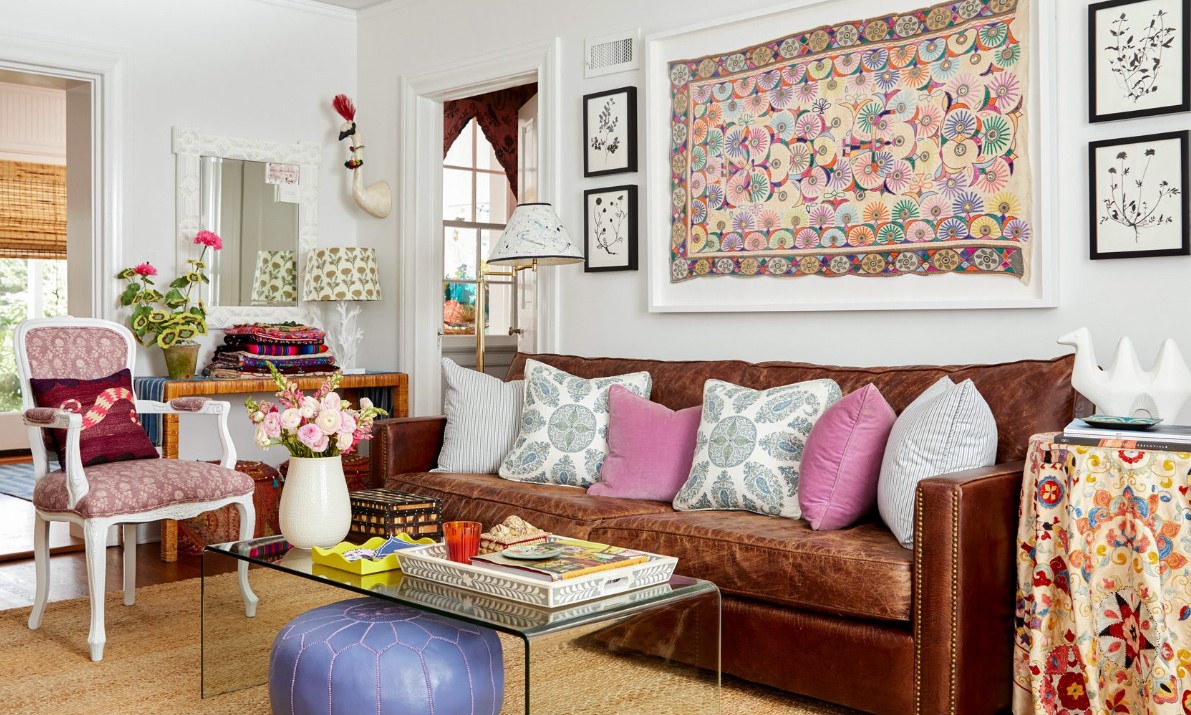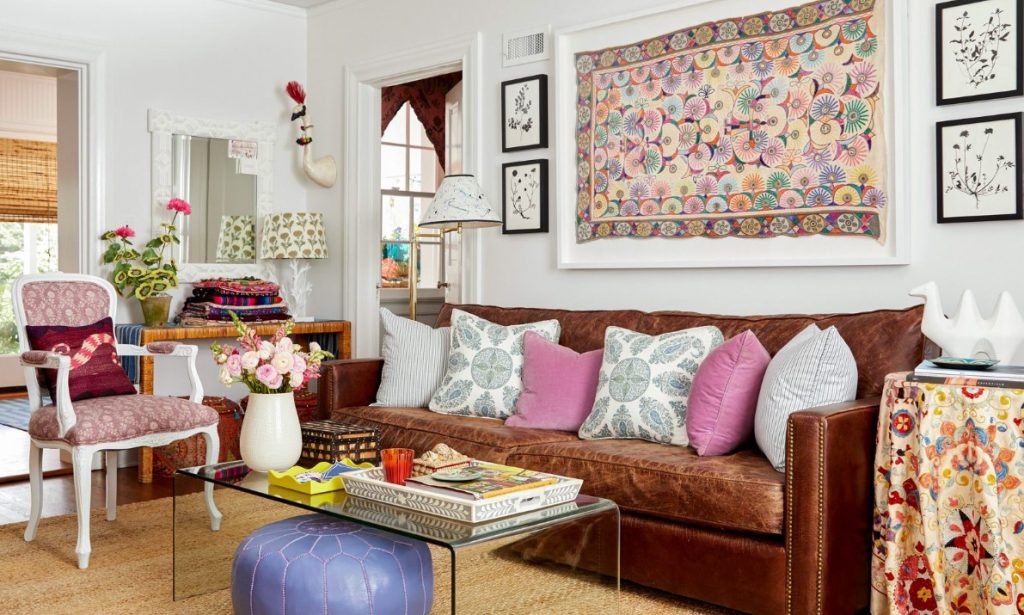 How to Decorate Leather Couch
Lighten your load
A classic leather sofa is naturally dark in color and it is what you would find in a man cave. Sometimes your husband or partner will demand that you buy something even though you don't want it.
Keep the tone of the rest of the space light so that it appears and feels more like home. Your walls should be kept light and neutral; you should add a light rug, complement them with a light accent chair, and place a light rug underneath it.
However, do not believe you are obligated to stick with whites, grays, and beiges. Some colors with overtones of pink, blue, and yellow work rather well. They should be layered with cream, pastels, and quite light accents. These items help brighten the room and give it a more delicate and refined vibe.
Mix and match it with various types of upholstery
If you have a large living room and fill it with leather couches and chairs of the same color and style, it can make the space appear dark and impersonal. This is especially true if the leather couches and chairs are all the same hue.
Contrasting a huge leather couch with an accent chair, footstool, or ottoman made of a lighter hue and softer texture will help create a cozier and more domestic atmosphere in the room.
Build up the layers around it
If there is only one leather sofa in a room, it has the potential to completely take over the entire area. It can be layered with different kinds of furniture and decorations, such as bookshelves, end tables, console tables, ottomans, and wall hangings, each of which has its color scheme and finish.
For example, suppose you want your home to have a sophisticated and modern appearance, and you have traditional-looking brown leather chairs. In that case, you might put a blue display cabinet behind the sofa and blue striped cloth on a console table in front of the seats. This would accomplish the desired effect.
Take note of how it combines modern and traditional elements well. After that, hang some artwork on the walls and get some plants so that the leather sofa doesn't dominate the room visually.
Complement the look with throw cushions
Throwing cushions that go with the design of the rest of your living room can be a quick and simple way to spruce up the appearance of your leather sofa. Place pillows with vivid patterns and cushions in solid colors that draw attention to the color of the wall, the rug, or the artwork hung against the wall.
You might also choose a color for the pillow that goes well with the color of the sofa. When paired with blue throw pillows, brown leather sofas look fantastic, while black leather couches look fantastic when paired with yellow patterned pillows.
Choose some design elements that you want to stand out in your space and use those to help you choose a cushion.
Decorate the area with throw blankets
Spreading a plush throw blanket over the back or arm of your leather sofa is a great way to add some extra warmth to your seating arrangement. You need to ensure that the color of the throw you choose will go well with the throw pillow you have.
A black leather sofa can be brightened up with the addition of some white throw blankets. When you add some visual appeal to the room by decorating the floor with a white sheepskin rug, you create a great contrast in the floor's texture.
If you have a family member or friend who enjoys napping on the couch, you might want to drape a full-sized comforter or blanket over the back of the sofa so that it is easier to pull over and use.
Include some items made of metal in your presentation
Take advantage of the fact that leather has a glossy appearance. Leather couches, whether light or dark, look great when paired with metallic accents like the legs of a coffee table made of metal, a floor lamp made of brass, a wall clock made of silver, or even artwork framed in metal.
Select bulky and heavy-looking metallic objects to get the most out of your leather couch and achieve the aesthetic you're going for with your industrial-inspired interior design.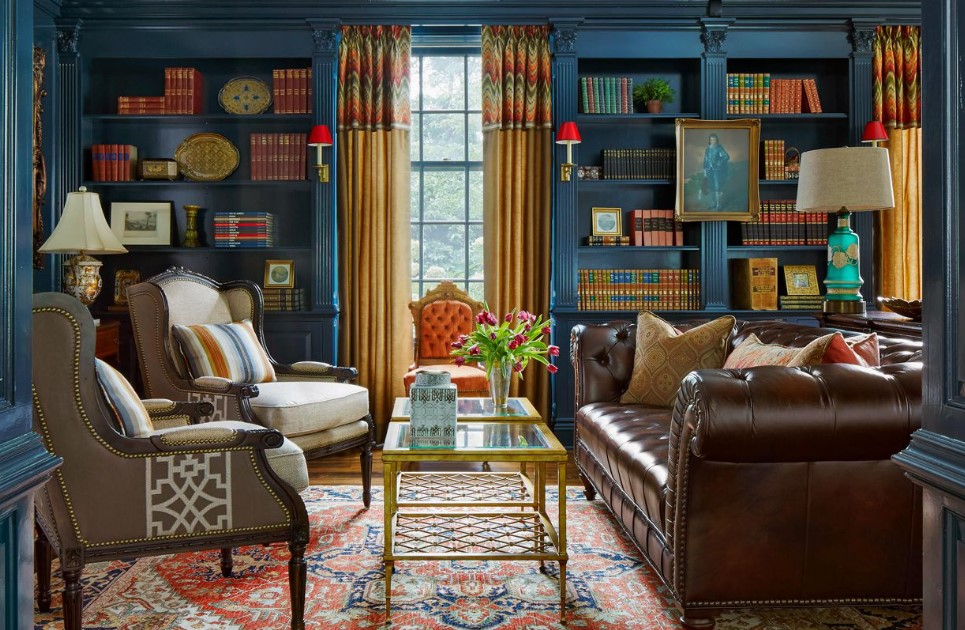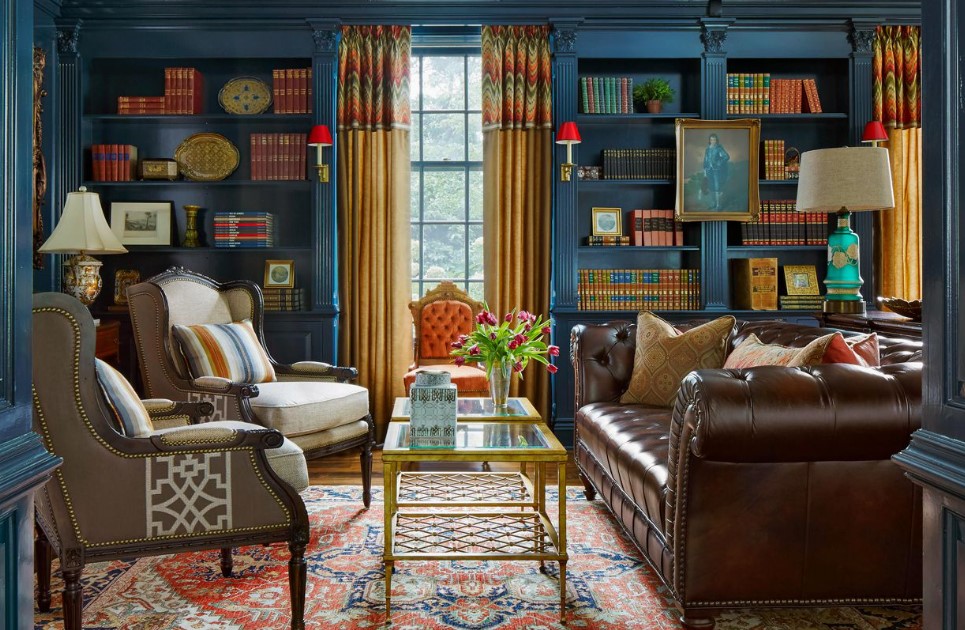 Decorating Around the Leather Couch in Your Room
Plants will add some green life
Plants are a great way to add color and texture to your living room without making it look too busy or overwhelming. They also help clean the air in your home, so you can relax knowing that your new leather couch is doing more than just looking good.
If you have a lot of natural light coming into your home, it makes the space look better and puts your plants front and center.
There are many kinds of plants you can put in your living room. Ferns do well in low-light areas like corners, cacti don't need much care but add a lot of colors, and succulents are easy to take care of and will live forever.
Before you decide, think about how much natural light each plant needs. Also, remember that putting plants near windows will give them more light than in corners or other dark places.
Don't worry if you don't have a green thumb. You can also buy fake plants that look exactly like real ones. They won't affect your bank account.
Wood is a natural material that you can use in your design
Leather has been used for furniture for a long time, but it can be hard to use in your design. To ensure the leather furniture you buy goes with the rest of your living room's design, try adding natural elements like wood.
Adding wooden accents to your furniture is a great way to make it look like it all goes together. Putting art or mirrors in wooden frames can help tie the room together and make it feel like one space.
You can also dress up leather furniture with wooden accessories. For example, you could add beautiful table lamps or plants to your side table or coffee table to give it more style.
Also, don't forget the floor. Carpeting is another great way to tie everything in your living room together and ensure it looks good from top to bottom.
Tip: Let the hardwood floors be the center of attention. The wood goes well with the leather and gives it a modern look that often stands the test of time and new trends.
Use a rug to warm up the room
If you want to warm up your living room, a large area rug is one of the best living room ideas. Area rugs are a great way to add texture and color to a room and can really help bring the whole room together.
If you have leather furniture, we suggest putting down an animal print. No matter your style, you can find a rug with anything from zebras or giraffes to leopards or cheetahs. You can also use rugs to create a small space in your living room where people can gather.
A small dining table with chairs on one side of the room and a seating area with a couch on the other would be a great place for friends and family to hang out.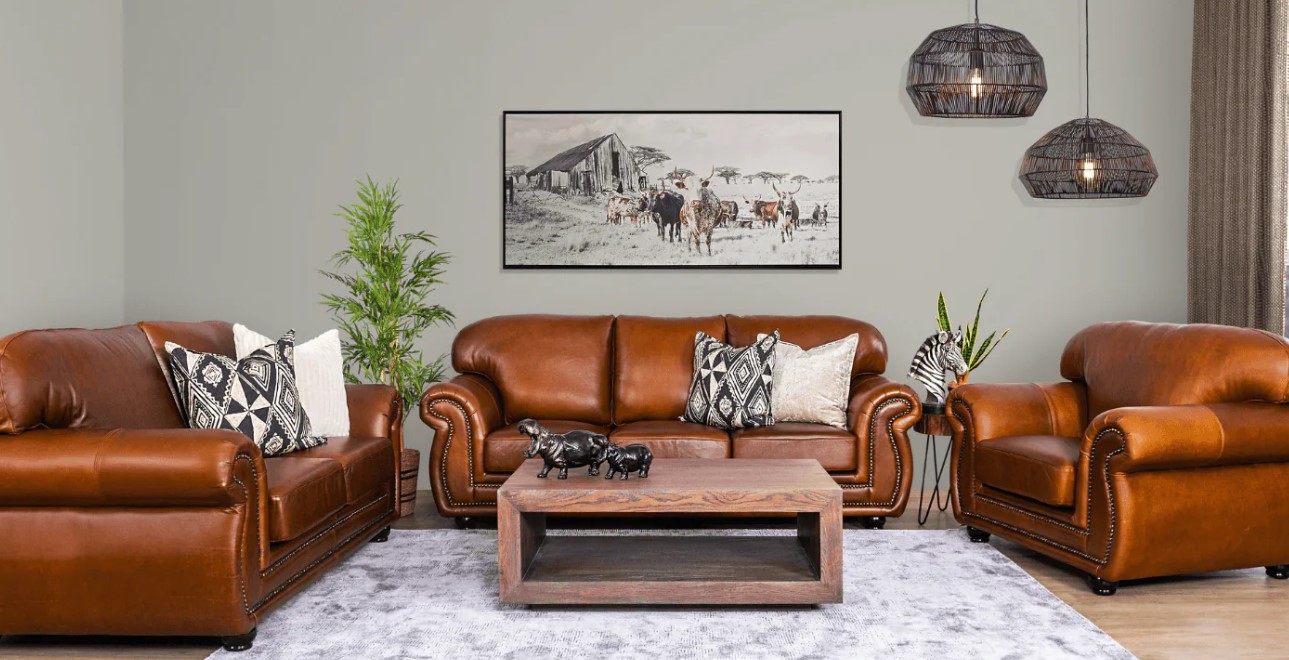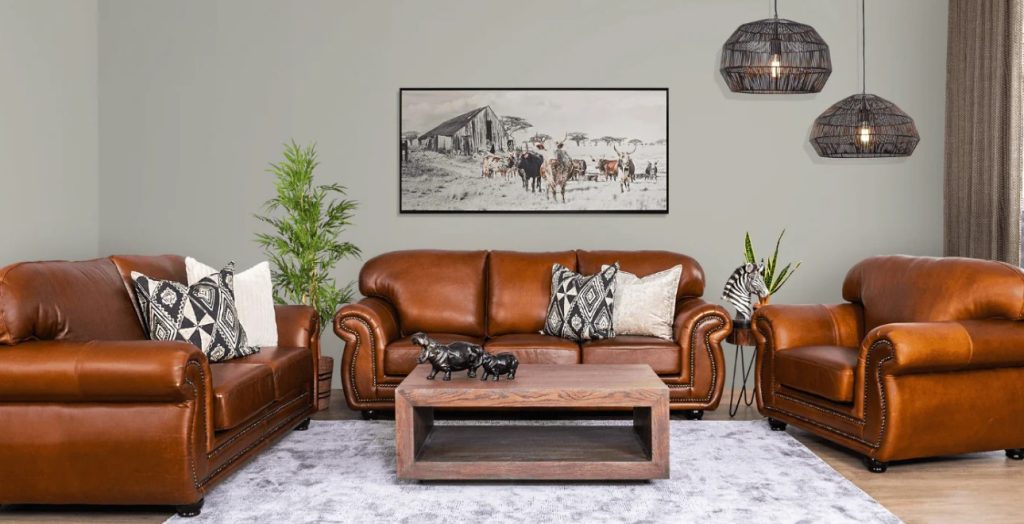 Add some art pieces
First, think about your home's style. If it's modern, you might want to add some pieces of modern art that match the style. You could also try putting some abstract paintings or sculptures in your living room to make it more interesting.
If you have traditional furniture in an older home, you might want to add some more vintage pieces, like paintings from the Victorian era or framed photos of family members.
Make a gallery wall with your favorite pieces, or buy frames and paint them a unique color, like a dark color or jewel tones. Modern designs that go together can make the whole room feel like an oasis.
By doing this, you can make your living room feel warm and inviting while staying true to your home's style and ensuring everything looks good together.
You can decorate leather furniture in many ways to make it feel warm and welcoming for guests or family members who visit often.
A bookshelf that looks great
Decorating with books is a great way to make things feel more like you. You can make a bookshelf from wood, metal, marble, or even stone.
Finding something that goes well with your leather furniture is important. You can even put a certain collection on display in an entertainment center.
Don't forget that it's not just about matching colors; you also want the materials to look like they belong together when you look at them from across the room (or couch). So, if you have dark leather furniture and dark wood floors, you might want to think about something lighter like light wood or white stone.
For example, if you have a dark leather sofa and chairs with brass hardware, choose a dark wood finish for your bookshelf so that it doesn't clash too much.
You could also use dark wood bookcases and put lighter-colored books on top to make them stand out more from the wall. The perfect bookshelf should look like it was made just for that room and nowhere else.
Mix in some metal elements
Metal is a great way to tie together different textures, and since leather and metal are both made of the same material family, they look great together.
Use metal light fixtures, like pendant lamps or lamp bases, or add metal accents to your walls with paint or wallpaper (or just by painting over existing wallpaper).
Mixing metals also keeps things from feeling too heavy, so if you have a very dark espresso couch, adding some brass accents will help the room feel more balanced.
Add some texture
If you want some texture in your space, the best way to do it is to mix other types of furniture with fabrics with texture or patterns.
For example, try adding chairs or tables with fabric upholstery instead of just buying more leather furniture. Adding balance to a big room can also be done by combining modern furniture and minimalist design.
Try sticking to a single color scheme, like blues, and adding pops of red and yellow all over the room. This will add color without being too much.
If you need help figuring out which colors go well together, look at a color wheel like this. It will help you find colors and patterns that go well together.
Related: How to Make Leather Couches Look New
Conclusion
We hope that now you know how to decorate leather couch. It isn't as hard as you think. Go ahead, and don't be afraid to use your imagination while keeping in mind these tips.