If you are one of those people that think a foyer table decoration is not essential, think again. It may be time for you to reconsider how to decorate a foyer table and add a touch of spice to your safe and comfortable space. Now, this may seem like an easy task, but if you take your space for granted, your entryway can quickly become cluttered, and it will be the first thing that every visitor notices.
Small personal belongings like shoes and keys can get lost if you don't have a designated space for them. If you have a designed table and accessories to place them on, you will not waste any time finding them, and they will always be within your reach. With a new and stylish foyer table, you can eliminate such problems, add class to your entryway, and simplify your life. If this type of table sounds like something you could benefit from, you are in the right place. In our article, we will provide you with information related to this piece of art and give you multiple ideas regarding decoration.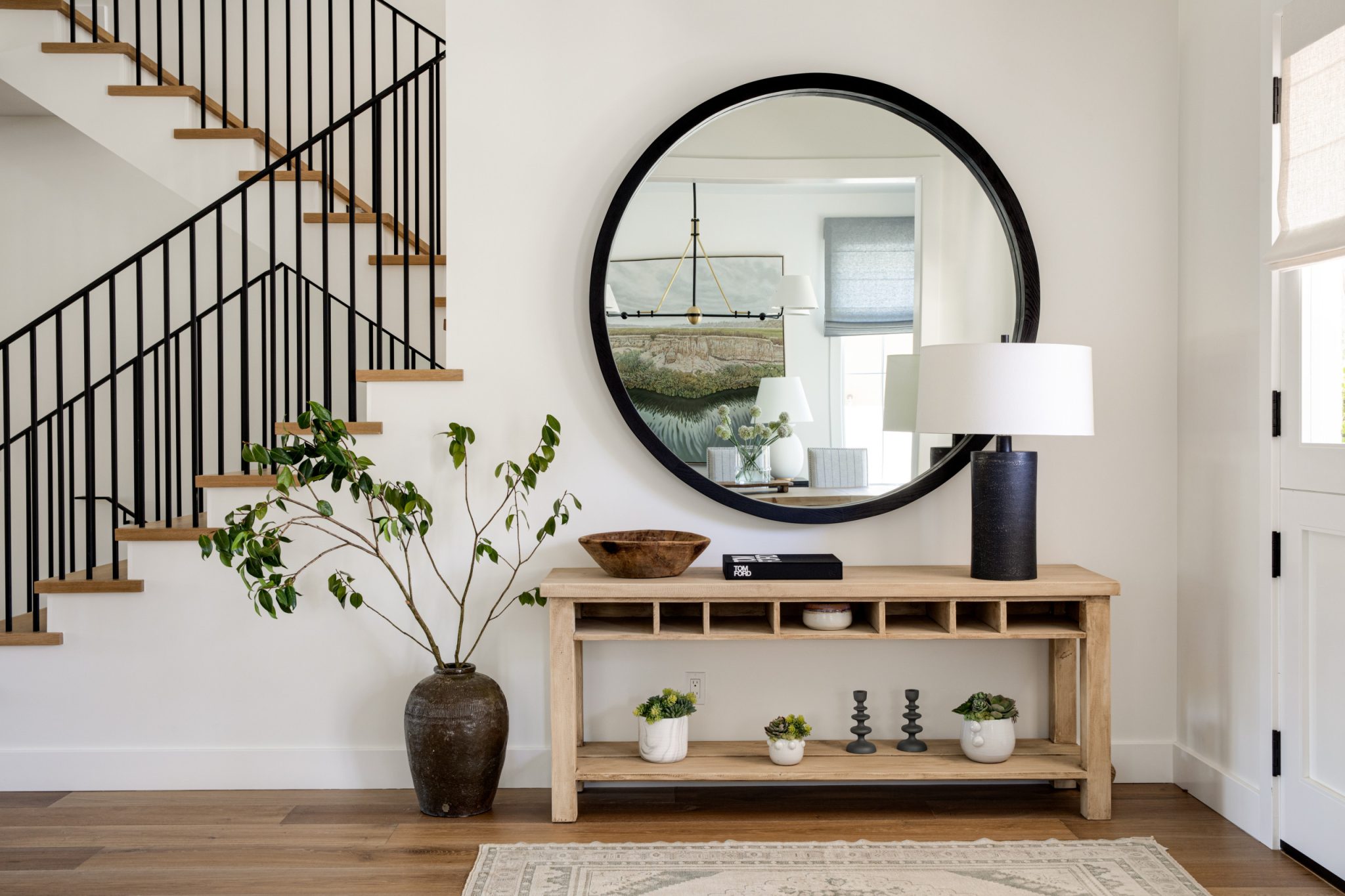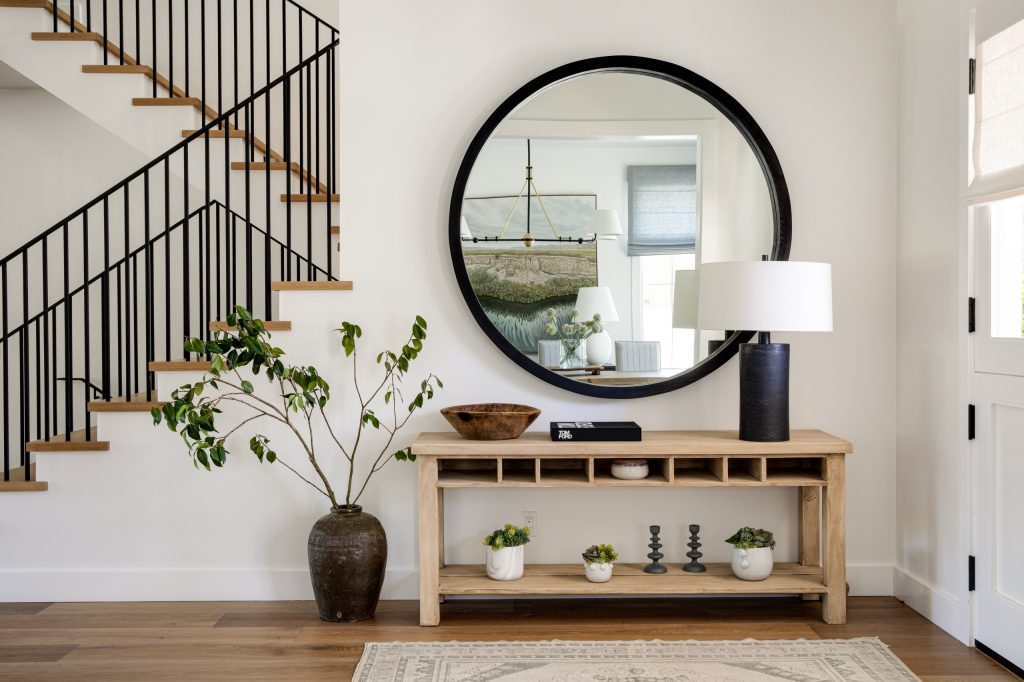 How to Decorate a Foyer Table?
An entry or foyer table is one of the first things you notice as soon as you walk through the door. The table can set the tone for the entire hallway, and selecting one can be a significant decision. These versatile wooden pieces are called many names, including foyer, entry, entryway, console, and sofa tables. All of the names refer to one piece of furniture. The table is usually narrow and long and does not require much space. Whether you need a piece of furniture for decorative bowls, flowers, catch-all trays, or leaving the mail, a foyer table will do the trick.
While most people use the entry table as a purely decorative piece, others prefer to have something unique in their home and have an eye for aesthetic appeal. Therefore, the foyer tables have plenty of space for crucial items and tabletop space for catch-alls. Plus, they have numerous drawers that you can creatively decorate. Some people like to keep their tables clutter-free, and their form of decoration is a vase filled with flowers and a careful arrangement of candles. Regardless of your style, here are some ideas to enrich your entry table and the space around it. Before going any further, our suggestions required a lot of research, and they are designed with every home style in mind.
Decorate your current foyer table
Stylish foyer table for a rustic farmhouse
An entry table is perfect for your keys, remotes, or mail. This wooden invention holds a lot of decor without overwhelming your hallway. You can make the wood seem more rustic by using a gray-like stain. This can be an excellent option for any farmhouse-themed house. Adding slatted boards from the bottom is another way to improve the design and make the table stand out from other pieces of furniture.
If you are a DIY type of person, you can even build your own rustic and bold farm table. But if you don't want to go that route, you can use distressing techniques to achieve the rustic farmhouse look.
Cute and stylish entry table requires minimal effort
Sometimes, the simpler the project, the better its appeal to the eyes. We have you covered if you have a small space and no time to arrange the accessories on the table. A beautiful and small entry table with a candle or a flower can be appealing to everyone while giving you enough free room to add some decor around it. Plus, you can try to paint half of the legs white and add brightness to the entire setup.
Once you learn how to decorate an entryway table, you will easily find several ways to do so. A stylish entry table will definitely make your job a lot easier.
Marble top foyer table
By combining the best of both worlds, you can achieve an excellent console table that can make your friends envious. The main wooden areas offer a natural look to the table, while the marble top provides more style, uniqueness, and authenticity. The faux marble appears natural and will trick everyone that enters your home.
Small and sleek entry table
This design is perfect for you if you have a small entryway and your space is limited. A more streamlined and small-scaled table will leave you room for minor accessories. The design remains sleek, and the table is perfect for a focal point. We recommend adding some greenery or other small decorations if you choose this design.
Gold entry and serene white table
Using bold white color in a coastal-themed home may provide a more peaceful environment. Your entryway will give off a friendly vibe, and the entire space can seem more welcoming, bright, and clean. In addition, if you implement a gold trim, the whole area will have a more chic appearance and effortlessly blend with the rest of the environment.
Implement a shoe cabinet
You can turn the table into a multifunctional piece of furniture with a small hack. The shoe cabinets can be more beneficial than just stacking shoes. If you want to take things to another level, you can apply a fresh new coat of paint or stain the top so the makeover is more prominent. The best part about this design is that you can add decor on top of the table and still use the cabinets.
Dark stained vintage foyer table
One way to make your design pop is by implementing dark colors against brighter backdrops. This design will be perfect if you have bright-colored walls. An entry table that is dark stained will place more emphasis on your exterior and add a more vintage feel. Also, choosing a rectangular-shaped console table would be ideal for this design.
Faux-weathered table
If you have an entry table that already looks cool on its own but you don't want to settle for something basic, you can easily upgrade the design with wax and milk paint. The result of the design would be something vintage that appears as if it is still new. 
Inexpensive modernization – wooden console
While recreating the design of your wooden table, you can take a straightforward approach and do the customization on a budget. Improvising the decorative foyer table can be an inexpensive project. Try highlighting the top of the table and its natural wooden color. This way, the table will be an excellent focal point, and everyone in the room will stare at it. In addition, you can add an extra paint level to the legs to emphasize the surrounding atmosphere.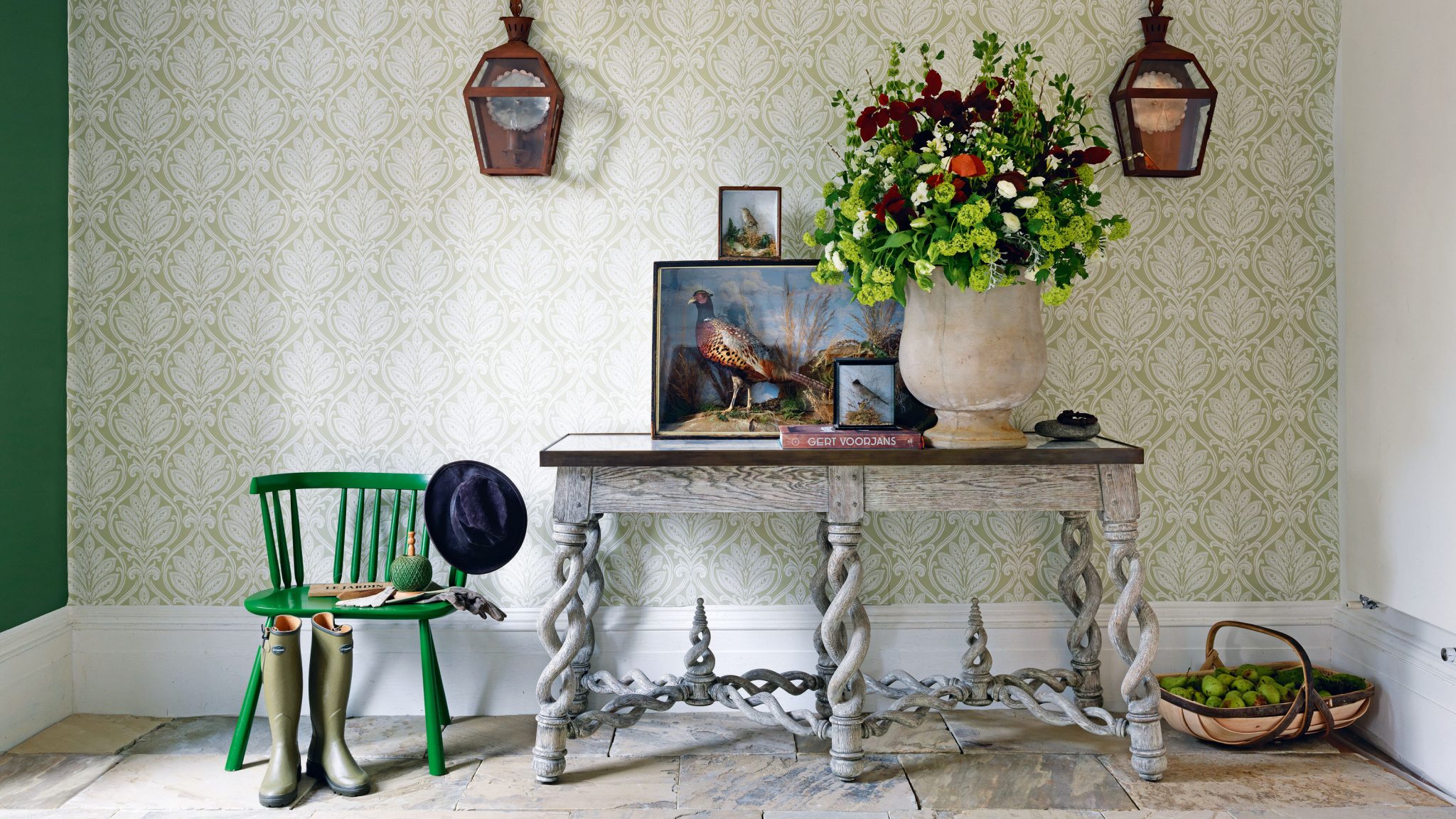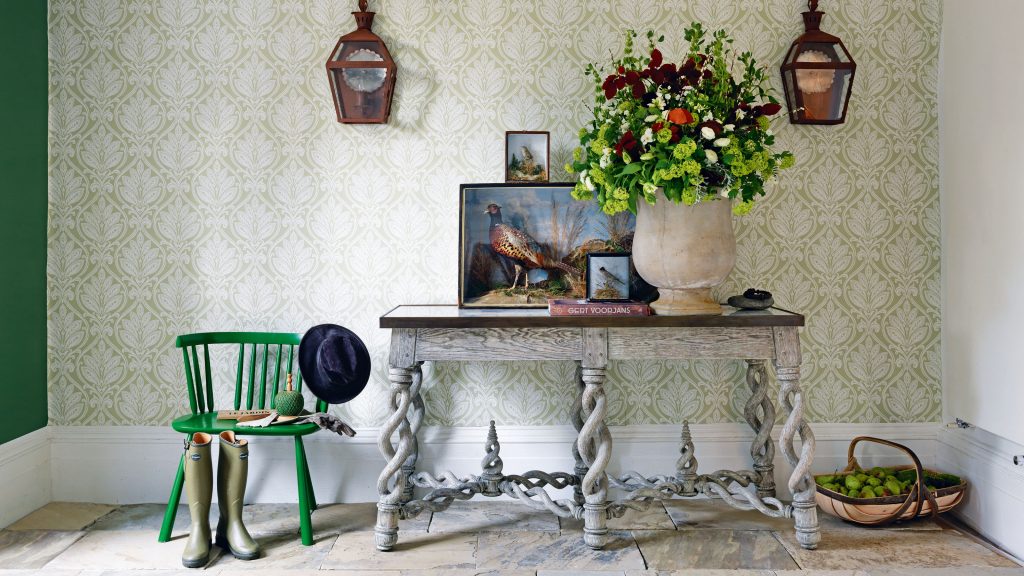 You Might Be Interested: How to Style a Coffee Table
Foyer table design recommendations
IKEA sideboard rustic transformation
This decoration requires an IKEA sideboard. If you have it, we have an exciting project for you that can give your table a lovely makeover and make it more in tune with your home decor. By choosing a darker stain, you can breathe a new life into the table and drastically change the overall rustic mood of the piece. The furniture will maintain the original chic while looking more sophisticated than ever.
Rustic table with neutral-colored three shelves
Instead of going for a traditional and long foyer table that fits your entryway, you can manage more features on a shorter table with numerous shelves. Using a shorter table, you can add a different decor piece to each shelf and make each one more colorful. In addition, with this design, you can get away with a side basket for storage.
Sofa console foyer table
This design would be perfect if you want a fun project and like to build the table yourself. While crafting, you can incorporate different pieces and create a unique table that highlights the natural wood. You may end up making something modern but also rustic. If you create your own sofa console foyer table, you can ensure that the decor you have is unique and that almost anything on or in it will be fitting.
Extended entry table with a geometric top
Changing a foyer table is always a fun experience, especially when you try to blend it with the rest of your home decor. You can customize the table to fit your personality and place it in your entryway so that every visitor sees it. If you are searching the internet on how to decorate a foyer table and you are reading our article, the chances are that you want your table to leave a long-lasting impact. An extended entry table will give you more room to place items like keys, umbrellas, documents, etc. Moreover, it is a nice way to brag about your excellent geometric knowledge.
White foyer table with two drawers
Adding a beautiful two-drawer console is a great way to add a touch of elegance to your entryway. The crispy white paint is a quick attention-grabber and adds a lot of brightness to your area. Regarding the color of the rounded handles, you can either go with black or silver for the best possible outcome. Whatever you choose, the table will keep its classic and stunning look.
Beach-themed table with two levels
As our final decorative idea, we recommend a beach-themed table that combines the most modern elements, resulting in a unique appearance. While deciding on a theme that resembles the beach, your table can radiate warmth and offer a nice feeling to each one of your visitors. Selecting a two-level design will provide you with plenty of free space for placing decorations and plants.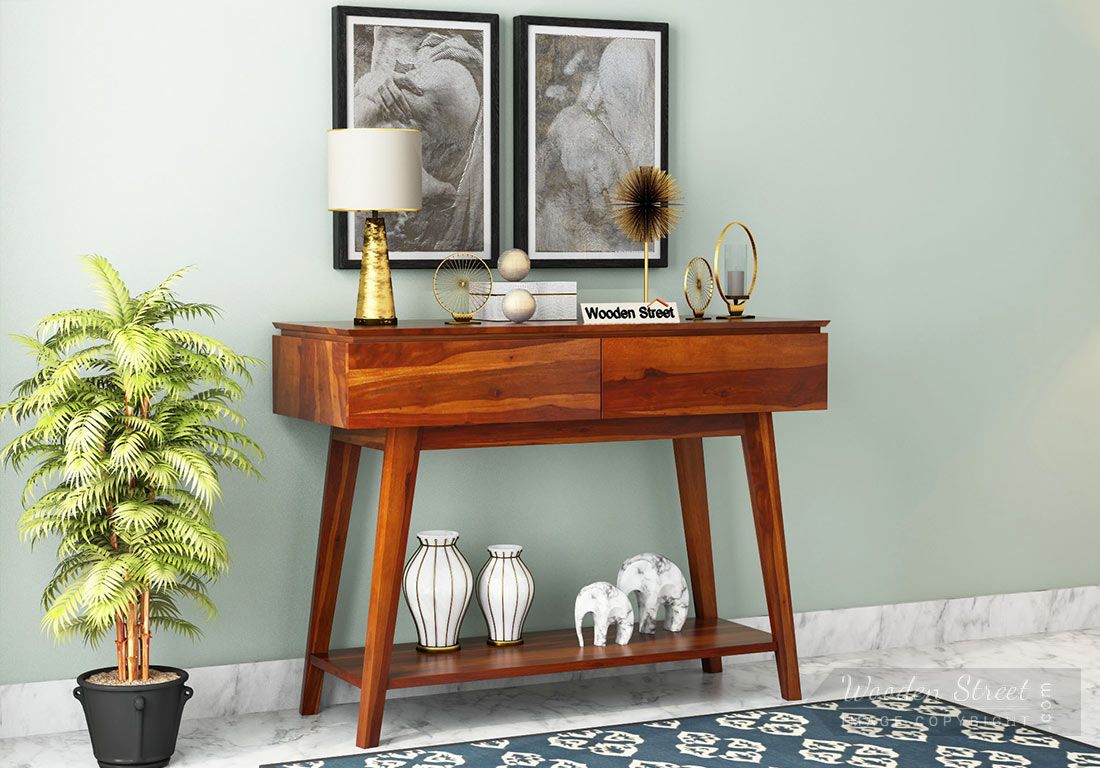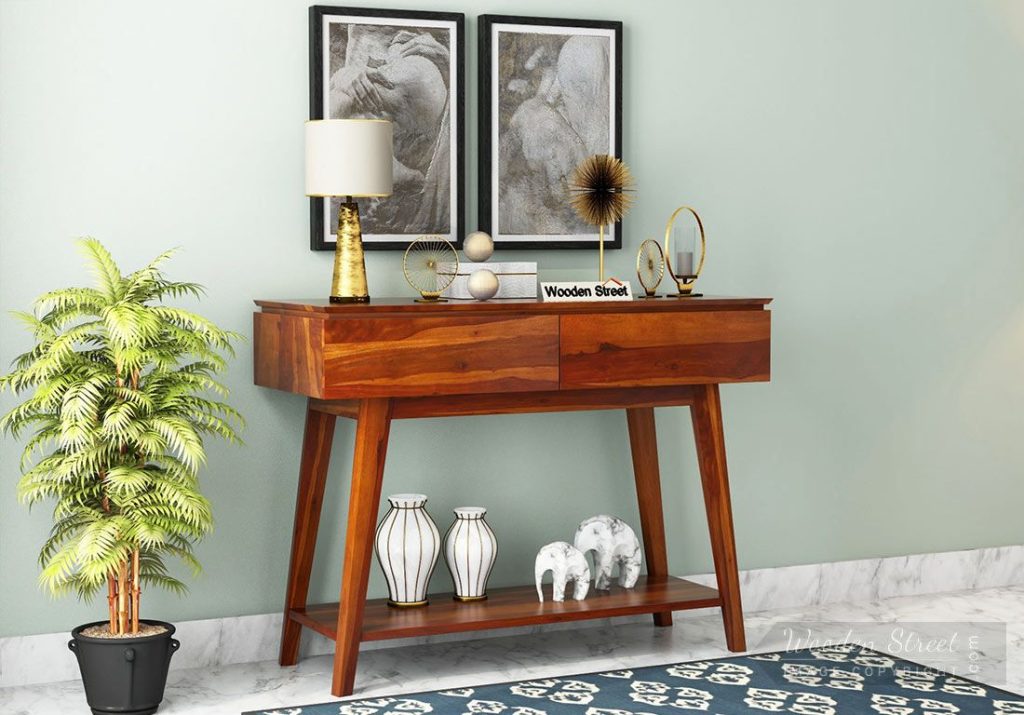 Where to Place a Foyer Table?
Now that you have 15 ideas of how to decorate a foyer table, let's talk about the placement of this piece of furniture and how you can make it the center of attention. Since most foyer tables are designed to fit perfectly against a wall, they are not extremely large and can be placed in the center of the foyer. For that reason, most console tables on the market are rectangular or square-shaped.
Also, the foyer table should be placed across from your entry if possible. This way, you can achieve a symmetrical look even if the table arrangement is asymmetrical. Another great idea is to place the table under the stairs if they are connected to the front foyer.
How to Choose a Foyer Table?
If you dislike creating a table, you can always purchase a console table from a furniture store. However, choosing the most suitable one for your home can be a daunting task. You must consider some things before settling for one and spending your hard-earned money. Before selecting a foyer table for your entryway, make sure that you:
Measure your space
To select an appropriate table for your room, the first step you will need to take is to measure your free space. Honestly, this is the first step before buying any type of furniture. The last thing you want is to buy a table that does not fit your home or is too large to fit in your house's entrance.
Accommodate your style
If you are searching for ways how to decorate a foyer table, then you probably are a neat and unique person. Therefore, you must select a table that matches your coastal interior. Before deciding on a table, make sure that the one you will have is very different from other consoles. You can go for a more modern interior or something from a farmhouse nature. Another thing you can do is, see what kind of furniture is paired with other tables in the store and get a basic idea of what your entryway could look like with other accessories.
Select a function
Last but not least, consider the table's function in your home. While most people purchase these consoles for decoration purposes, others like to take advantage of them and incorporate small wine racks, bookshelves, shoe and sock drawers, etc. Knowing the table's function in your home will help you pick the most suitable one. A foyer table should fit not only your entry but also your style. Because there is a lot of furniture involved in an entry table, you can do a fun little project during the weekend and build one yourself.
Conclusion
A foyer table is a lavish piece of furniture that beautifies the entryway, gives a cheerful atmosphere, and leaves an impression on whoever notices it. That is a great thing.
Decorating any piece of furniture should be fun, and the ideas should always be innovative and fresh. The entryway of your house is the first thing that every visitor notices. If you like to make a good impression, a fancy foyer table is an excellent way to do so. So if you have decided to purchase one, we hope our article helped you figure out how to decorate a foyer table.