While the trend of using a headboard comes from pure practicality, nowadays, a headboard is a fashion statement and a lovely addition to the coziness of your bed. Headboards offer warmth, aesthetics, and extra storage. Once you've purchased one, you'll need help attaching it. This short guide is sure to help you with how to attach headboard to bed frame.
Now you're ready to enjoy your shows and relaxing mornings in bed. If you're interested to discover the types of headboards, we've got quite the scoop. Read on to decide which one to choose and how to mount it to the bed.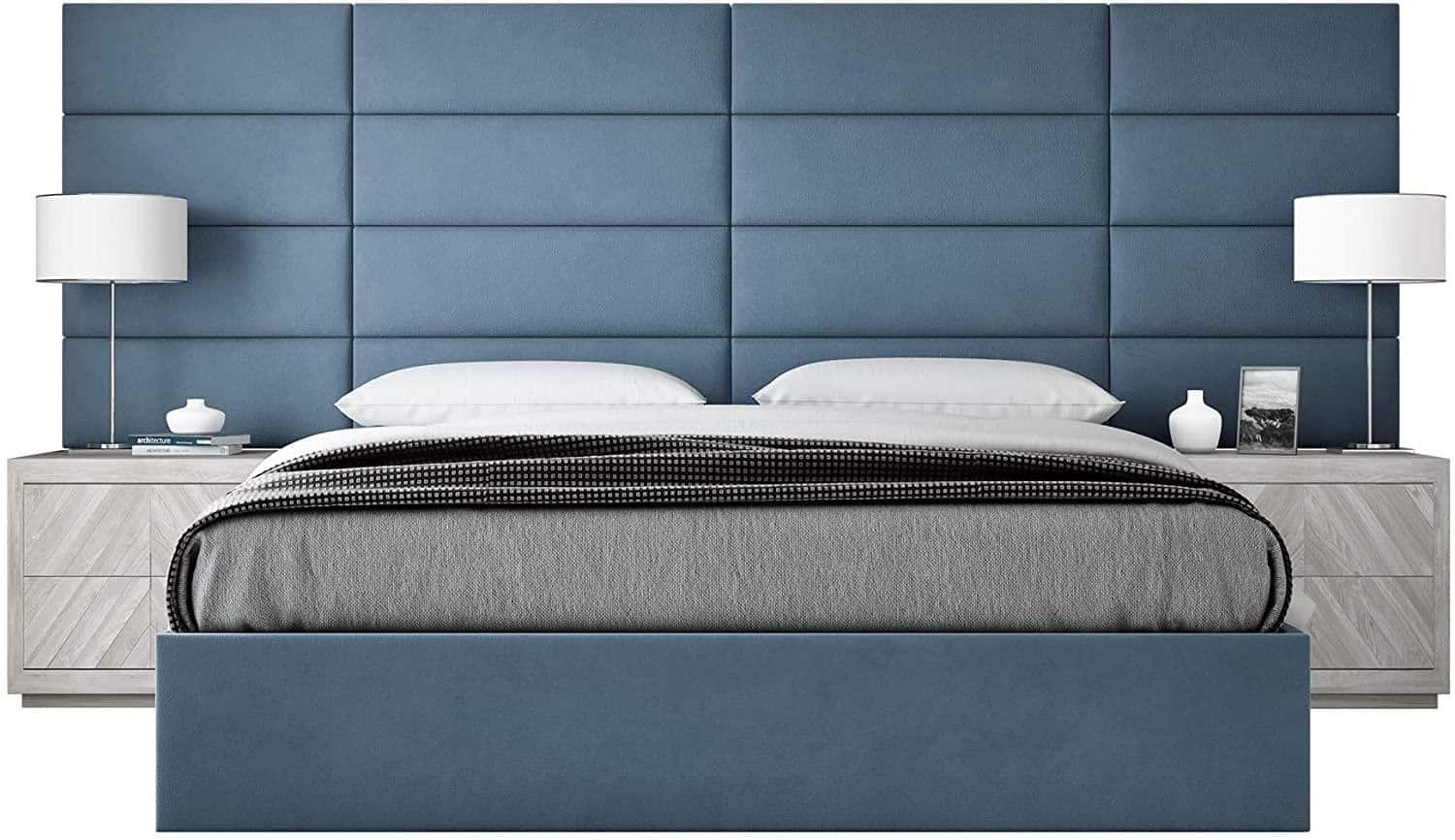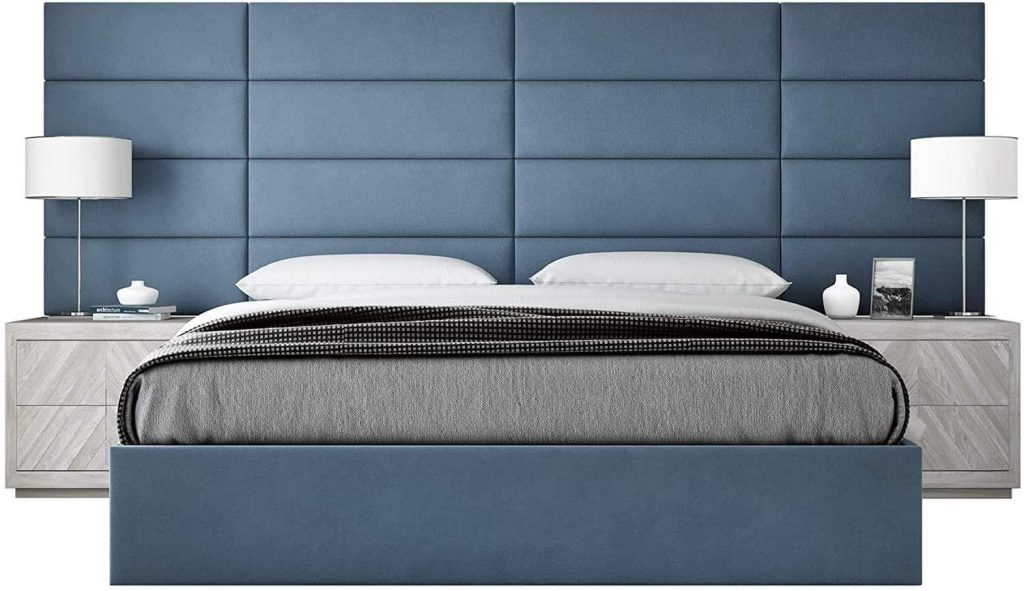 How to Attach a Headboard to Bed Frame
A headboard is not just a piece of furniture. It gives character to a bedroom, so read on to see how to attach headboard to bed frame. Once you've chosen the perfect headboard, gather a few tools.
Check the back of the bed for holes and align the bolt screws with the headboard struts
Secure with bolts and use big washers to tighten the frame
Adjust to the desired height
Use a wrench to secure everything in place
Step one: Unpack the headboard and gather the hardware kit that comes with it. Lay it on a smooth surface and prepare your equipment. 
Step two: Locate the screw holes on your bed. They are usually hidden underneath the fabric or marked with a sticker or a tag to guide you. Gently pierce through the material to reveal the holes. Secure the bolts onto the bed frame and leave a tiny gap. 
Step three: Firmly attach the struts (legs) to the headboard with screws, nuts, and a screwdriver.
Step four: Align the headboard struts with the bolts on the bed. Use help from someone to carefully lower the headboard onto the bed frame. Check if you like the height, and adjust it to your liking. Ensure everything is secured tightly to avoid accidents.
A few factors to consider before installing a headboard
You may fall in love with a particular headboard, but it's no use if its size doesn't fit your bed. Some methods of installing a headboard require lots of drilling and may take more time. These are some factors to consider before purchasing and installing a headboard.
Before you decide on a headboard, think about the size, the installation options, and the type of headboard perfect for you. Many people are dumbfounded about how to attach headboard to bed frame since it can be tricky. Take another look at our instructions, then get that perfect headboard.
Headboard material
Wooden
A classic choice, wooden headboards originated years ago when houses used to be colder. Today, a wooden headboard is a fashionable addition to any bedroom, contemporary or traditional. You can easily repaint the wood, have it carved or order it custom-made with a storage unit.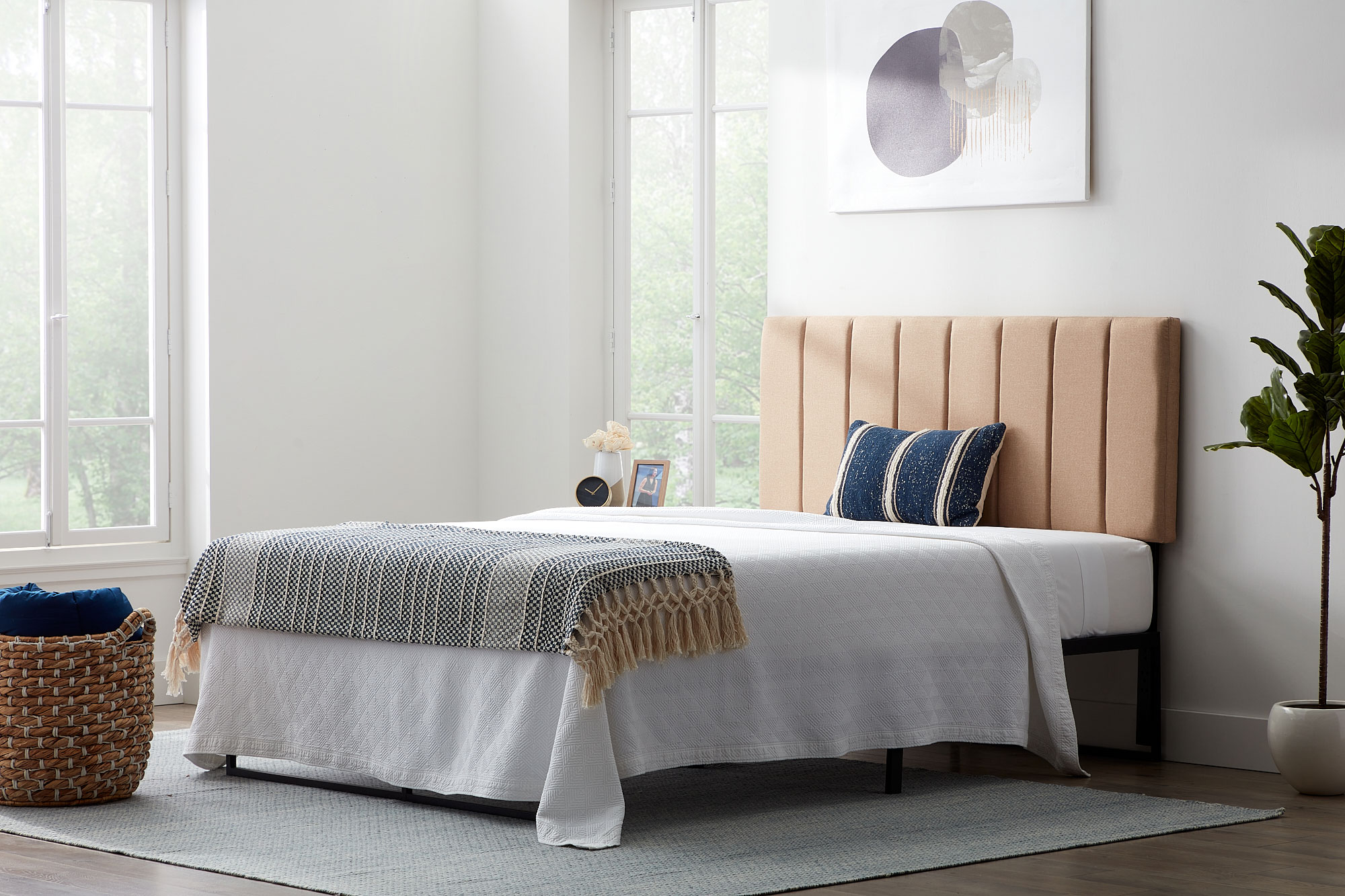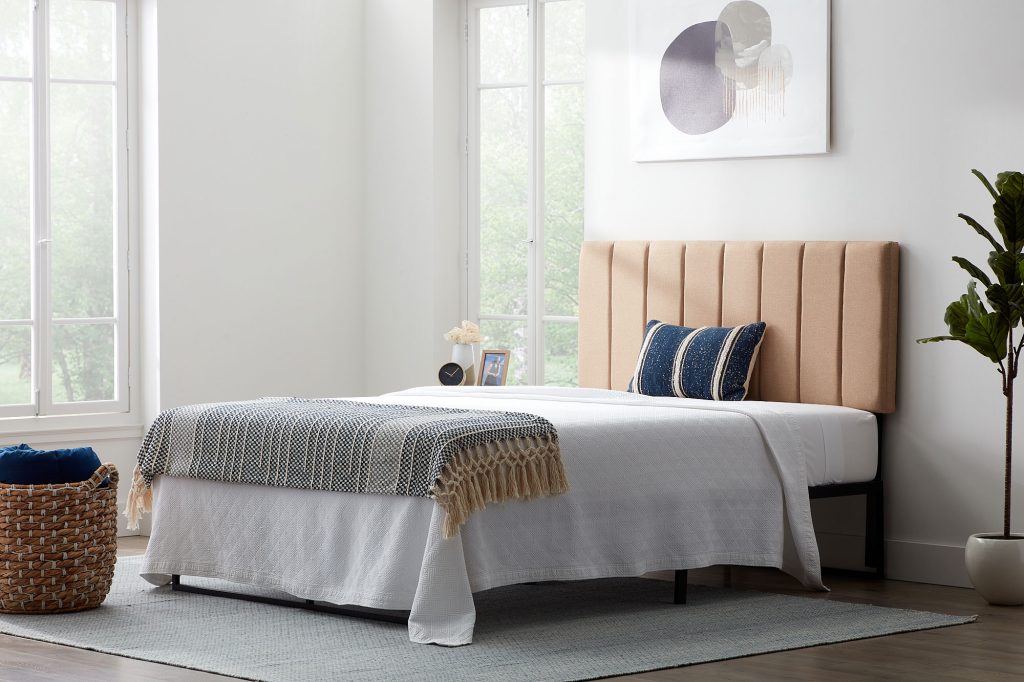 Read more: How to Clean Upholstered Headboard
Upholstered
One of the most popular choices today is an upholstered headboard. It's not only soft and comfortable, but it's also fashion-forward. The fabric can be a blend or a pure material such as leather, velvet, boucle, polyester, or linen. You can choose a color and a pattern, and it can be tufted or padded. In any case, it makes for the perfect backrest and looks luxurious. 
Metal
Modern headboards are versatile; they can look vintage or modern. There are hundreds of patterns and colors for a headboard to choose from. You get a piece of unique, decorative furniture that brightens a room. The disadvantage of a metal headboard? It's not as comfortable.
Attachment techniques
Bed frame mounted headboards
You install a headboard of your choice directly onto the bed, and it gives a put-together, coherent look. It's easy to attach it, and there's no special equipment needed to do it. For a detailed how-to, reread out instructions. A bed-mounted headboard is extra stable and secure.
Freestanding headboards
They are sturdy and thick, so they are perfect to place between the wall and the bed. You push the bed firmly in place and have a unique headboard that looks like it belongs. 
Freestanding headboards can come with storage space or a bookshelf, and they can also be mounted to the bed frame if you want to, but you'll need to drill some holes and shop for hardware. 
Wall-mounted headboards
This type of headboard is usually the biggest, meaning you won't have to worry about the proper fit to the bed. However, you'll have to decide on the length because some of these headboards come in extra wide sizes and may cover the entire length of the wall.
These headboards are super stable, and they come in different designs. As a bonus, it's easy to attach them to the wall.
Size
Always take measures before buying a headboard. The right headboard won't crowd your space. Think of the size  – if you own a king-size bed, get the appropriately sized headboard. If your bed is too wide, get a taller headboard. The ideal fit will transform your bedroom.
You Might Be Interested: How Big Is a California King Size Bed
Conclusion
Whether you need a headboard to get more comfortable on those wintry nights or to improve your stature while you work on your laptop, a headboard is an easy-to-add piece of furniture. You can attach it to all beds, and it usually doesn't require much trouble.
A headboard can be wooden, metallic, or upholstered. The options for attaching a headboard are: freestanding, wall mounted, and bed frame mounted. Depending on how much you want to shell out, there's something for anyone's taste.
What might confuse you is how to attach headboard to bed frame. No need to be worried – our guide is perfect for inexperienced readers, only dipping their toes into DIY. Stick to these tips, and your bedroom will get a makeover in a couple of minutes.