If you ask us, the Chesterfield sofa is like the Aston Martin of furniture. It screams "old money". Therefore, it has a distinguished royal look like no other sofa. It typically comes in a leather edition, and it's complemented by darker tones.
However, you can always choose it in any fabric and color that best suits your personal preference. In addition, this piece of furniture is usually a 3-seater sofa. The sofa's frame and legs are made out of beech wood.
The seat is very soft and high. Moreover, the backrest is amazingly comfortable. The sofa's design is also characterized by wide and slightly open armrests. What makes the sofa even more impressive is strongly emphasized quilting and deep button tufting.
With all of its majestic features, it may not be such an easy task to fit it into an ordinary living room. That's why "what to pair with a Chesterfield sofa" is commonly asked among many clients. For this reason, we have created this super effective guide.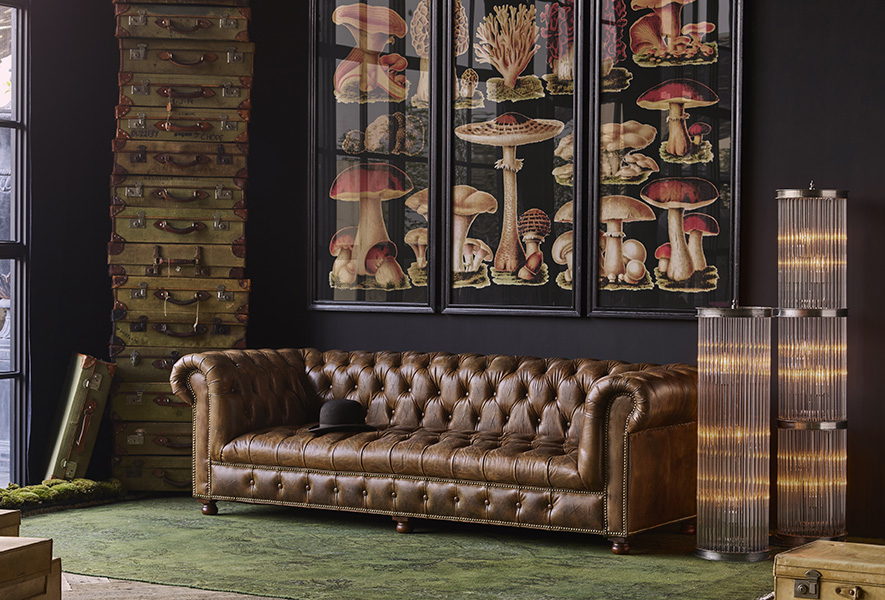 How to Incorporate a Chesterfield Sofa in Your Living Room
The Chesterfield sofa has a superior design. Thus, it's a dominant piece of furniture that defines the overall image of your living room. So incorporating it into your home can sometimes be quite tricky.
You can easily end up making the room overcrowded. So to avoid creating a royal circus, you must pick the rest of the items wisely. For that matter, our simple interior guide can help you decorate the room like a true professional.
Continue reading and learn what to pair with a Chesterfield sofa.
The perfect rug
The rug is considered to be the base of any room. It's a key factor that gives a warmer home atmosphere, especially in the living room. Like anything else, when choosing a rug, keep in mind your taste, as well as the design of the sofa.
If you have picked a Chesterfield sofa in a dark leather tone, then you should go for a Persian rug. The traditional look of the rug will enhance the look of the sofa, as well as enrich the overall image of the living room.
Independently if you have picked the sofa in a navy, burgundy, or emerald tone, this type of rug will perfectly match its design. In addition, if your sofa is chocolate brown, dark gray, or black, we recommend you go for a cowhide rug. It will give the room the ultimate luxurious look.
If you have picked a Chesterfield sofa in a light color, then you can always choose an evenly light carpet. This will make the room look very sophisticated. Besides choosing light tones, you can always go for blue, a contrast black, or a carpet with pastel prints.
Also read: How to Decorate a Rectangle Living Room
Add a unique chair
To complete the space, add a chair or two. If you want it to be similar to the sofa, then you can choose a Chesterfield armchair. If you want a different style, we recommend a tufted chair, a swoon chair, a lounge chair, or a wing chair.
All of these designs are unique. Some are even at the same height as the sofa. So if you are a perfectionist, this might sound exciting. Regarding the colors, you can choose the chair to be the same color as the sofa. If you want a unique look, then go for a different color.
So, for example, if you have a dark brown leather sofa, you can pick the chair in a warm orange tone. If the sofa is in a white or gray tone, you can spice things up by choosing a turquoise chair. You can even choose it to be in a velvet fabric.
Lastly, you mustn't forget about the carpet. If you are going for a carpet with a stronger look, like a Persian or cowhide rug, then we recommend you stick to the one tone for the furniture. Or at least the tones must be from the same palette.
Read more: How to Decorate an Ottoman Coffee Table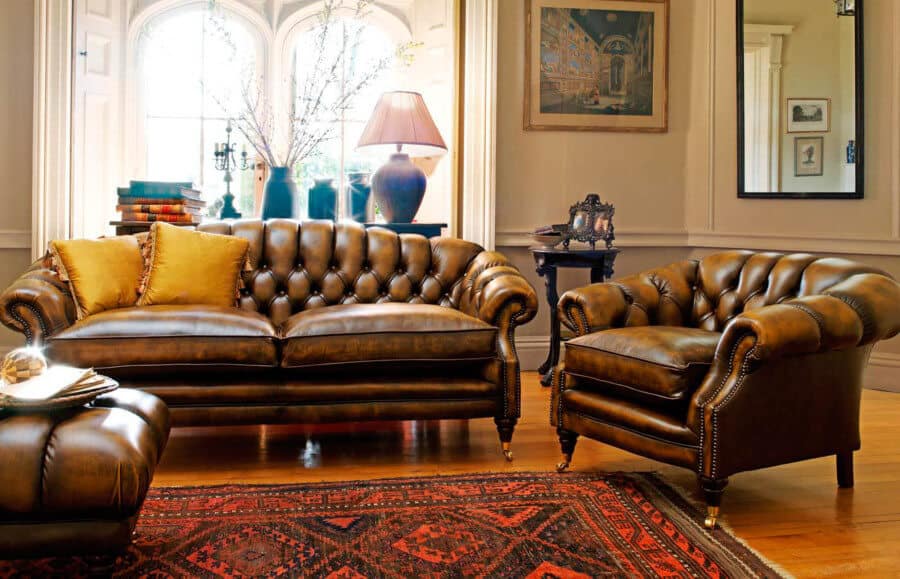 Select a charming table
We see the table as the connection between the different pieces of furniture. So no matter if you place them on opposite sides or closer to each other, the table won't change its role. It will still be in the central position.
To best distinguish and complete the look of a Chesterfield sofa, we recommend you purchase a rectangular table. You can also pair two smaller square tables. It will give the room a more modern look.
Moreover, if you have picked more than one chair, then we recommend you go for a smaller round table. A metal one with a unique design will transform the living room and make it look more spacious.
In addition to the materials, you can choose wood or marble too. What's more, you can always add smaller tables on the side of the furniture. You can use them to put classy lamps or sculptures.
Regarding the colors, always choose a darker tone than the furniture. We usually recommend dark brown or black. If your living room is light, then a glass table would also be perfect. A table with metal legs can make the room even more luxurious.
Related: What Is the Difference Between a Sofa and a Couch?
Additional decorative items
So now that you know what to pair with a Chesterfield sofa, continue the decoration by picking the additional ornaments to complete and enrich the whole look.
Start by choosing the plants. As we mentioned, this type of sofa is considered royal. So you must pair it with equally gracious items. For that matter, we recommend you add a Philodendron in the corner near the window.
If your furniture is in tones like emerald and purple, we suggest you pick an Areca or Majesty palms. They will give your living room a more exotic look. If you don't want natural materials, simply place tall lamps or floor vases.
Next, add classic shelf storage. It doesn't have to be strictly for books. You can decorate it with small figures and frames. In addition, you can add your family photos.
If you want a cleaner look, keep it more minimalistic. Therefore, instead of shelves with many items, you can place a wine rack. The wine bottles will certainly complement the royal sofa stunningly.
Regarding the main table, add a small vase filled with gorgeous flowers. You can pair the vase with a unique bowl or similar accessories.
Read more: How to Decorate a Living Room on a Budget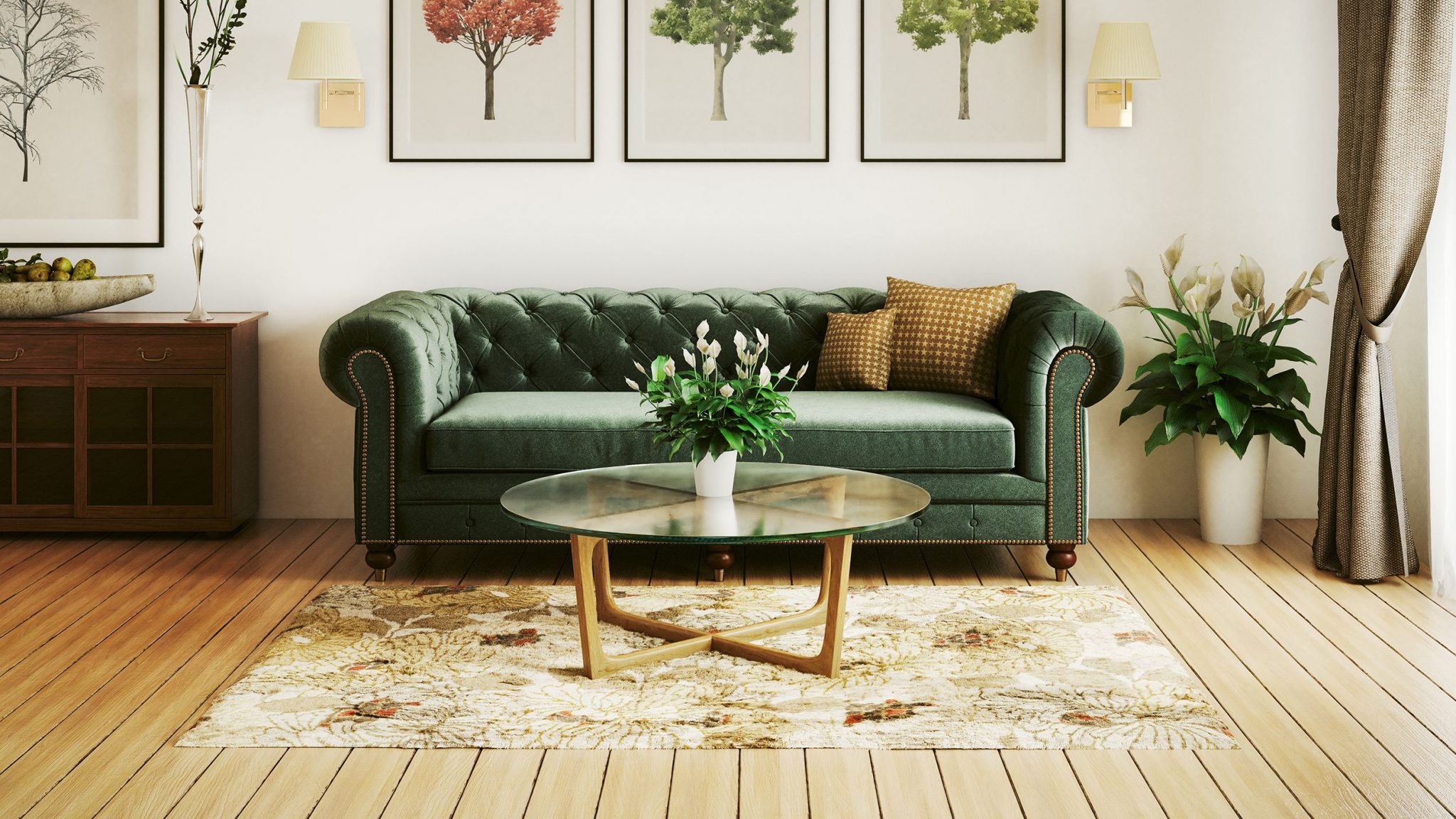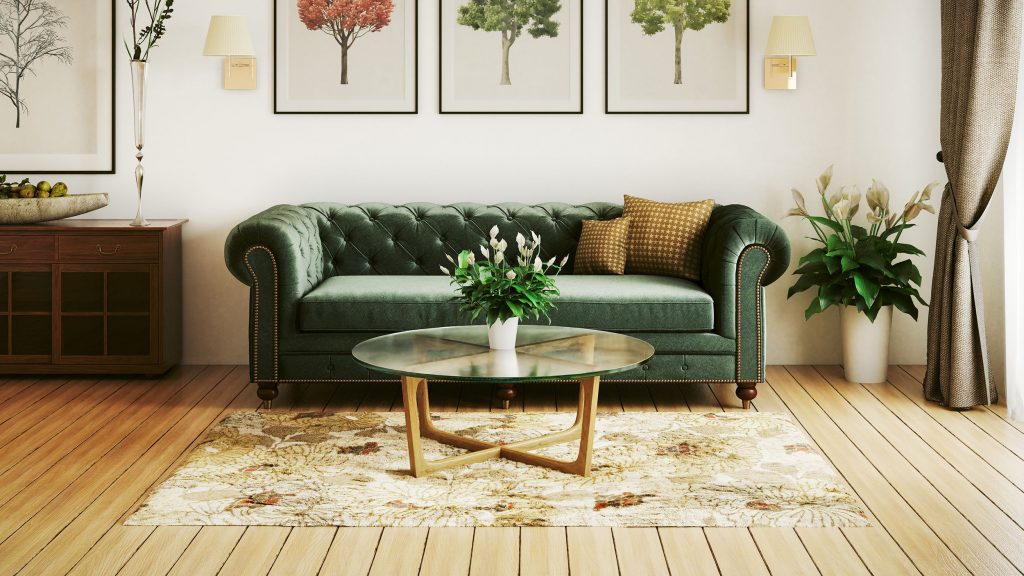 Position of the Furnishings
Before you purchase and set all the furnishings, you must take into consideration the whole space. The position of the furniture is very important. The wrong one can make the space look bad.
First, you can choose how to place the furniture. Don't push the sofa too tightly against the walls. We recommend you position the Chesterfield sofa and the chairs to face each other. It's best if the sofa is near the wall, whereas the chairs are near the window.
You can also put the chairs next to the sofa, facing the other furnishings in the room. It's all a matter of how you think you would feel most comfortable using them.
If you have a fireplace, it can serve you as an excellent focal point. In case you have to create a focal point by yourself, then start by choosing a place for the TV. So you can place the furniture in front of any of these points.
Take into consideration the size of the furniture and the other ornaments. Make sure you create a balance in the room. You shouldn't place all the large objects on one side and all the small ones on another.
Origin
The Chesterfield sofa was invented back in the mid-1700s. It all happened when Philip Dormer Stanhope, the fourth Earl of Chesterfield, ordered a special piece of furniture for his guests to sit on.
He was quite specific about his wish. Therefore, he requested the stunning piece of furniture to be made with a high seat and a low back. He wanted a distinctive design that would allow his gentlemen to sit comfortably without ruining their suits.
For that matter, Stanhope hired a local craftsman who turned his desire into a reality. This is how this unique sofa was created. Stanhope was sort of a trendsetter for his time, so it's no wonder that his unique design impressed many.
This luxurious sofa became hugely popular during the Victorian Era in the mid-19th century. But even years later, people still find it incredibly attractive.
Conclusion
After learning what to pair with a Chesterfield sofa, you can also impress your guests, just like Stanhope did.
Simply keep in mind the big picture. Place the furniture around one focal point. Mix the sizes and the colors to achieve an interior equilibrium. Your living room should simply look balanced in every aspect.