Tufted or button-tufted benches have been popular for a long time. They give out the vintage and luxurious look and feel. There are many types of tufted settee bench designs to choose from and each of them can add a modern and unique look to your home, office, etc.
We have picked out our best-tufted settee benches regarding the design and materials. You will definitely find beautiful tufted settee benches that can add a touch of elegance to your space.
Our Top 7 Settee Benches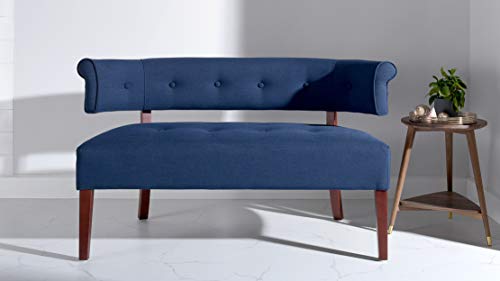 Frequently asked questions
What is a Settee Bench?
If you are looking to upgrade your home's interior design, then a settee bench can be just what you need.
Compared with a regular bench, a settee bench adds a bit of character and allows you to rest your back or arms.
They are lightweight and minimalist, so if you are going for a modern contemporary look and feel, you can create that atmosphere with a settee bench. They can be in the center of your living room, or near a doorframe, or serve as a waiting area chair.

What is a Settee Bench good for?
Decoration
Minimalist design
Easy to move around
Clean and stylish
Compared with a couch and a sofa, settee benches are quite affordable and very stylish.
Sometimes certain designs and brands have a storage underneath, so you are not only getting a sofa-like bench, but also a storage piece.
If you don't want to clutter your room with something heavy or if you are looking for something that is easy to move around and rearrange, then you give it a try!
They go really well with an Ottoman or a coffee table as well.

How much does a Settee Bench cost?
The economic models cost between $150-$250, however quality brands might cost up to $400 – $800.
Victorian or vintage styles do tend be a bit more expensive, but minimalist and cleaner designs are a lot cheaper.

Want to make more use of your space? Choose a Settee Bench with Storage
A great alternative to traditional settees are settee benches with storage. Also referred to as Storage Ottoman Bench. They look elegant too but offer additional room to store pillows, blankets, shoes and much more. Take a look at our Best Ottoman Storage Benches.