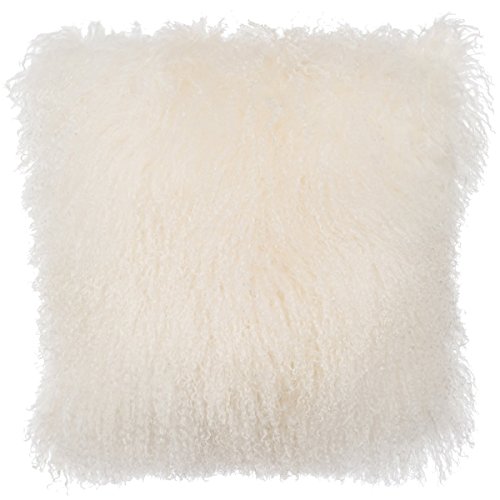 Product Details:
The SLPR collection is one of the most well known and trusted brands you can find. They have the best prices you can find online and in fact actually offer real 100% Mongolian fur which are imported from overseas. So you'll be getting the real deal here.
The colour choices are usually light colours that are more suited for chic and modern looking apartments. And don't you worry about shedding because SLPR care greatly about quality and comfort so you won't experience any hair strands falling off the pillow cover with repeated use.
Available Sizes:
The SLPR brand of Mongolian fur pillows come in usual sizes as follows:
12″ x 20″
16″ x 16″
20″ x 20″
24″ x 24″
The square sizes usually go great with shorter and stockier sofas and couches, if you have longer one, it's best to go with 12″ x 20″ for the most visual and aesthetic appeal.
Shipping & Returns:
Not only do you get fast shipping with Prime, but it's also Amazon's Choice product and comes with 30 day money guarantee
Weight: 15.2 ounces
Dimension: 10.2 x 8.6 x 3.7 inches
Prime Eligible: Yes
Final Review:
If you are looking for Mongolian fur pillows from a reliable brand for the best price, then SLPR should be your top pick. However, please review the pros and cons of their collection of pillows.
Pros: Competitive pricing, great quality, product as described
Cons: Limited color choice, color shade might vary