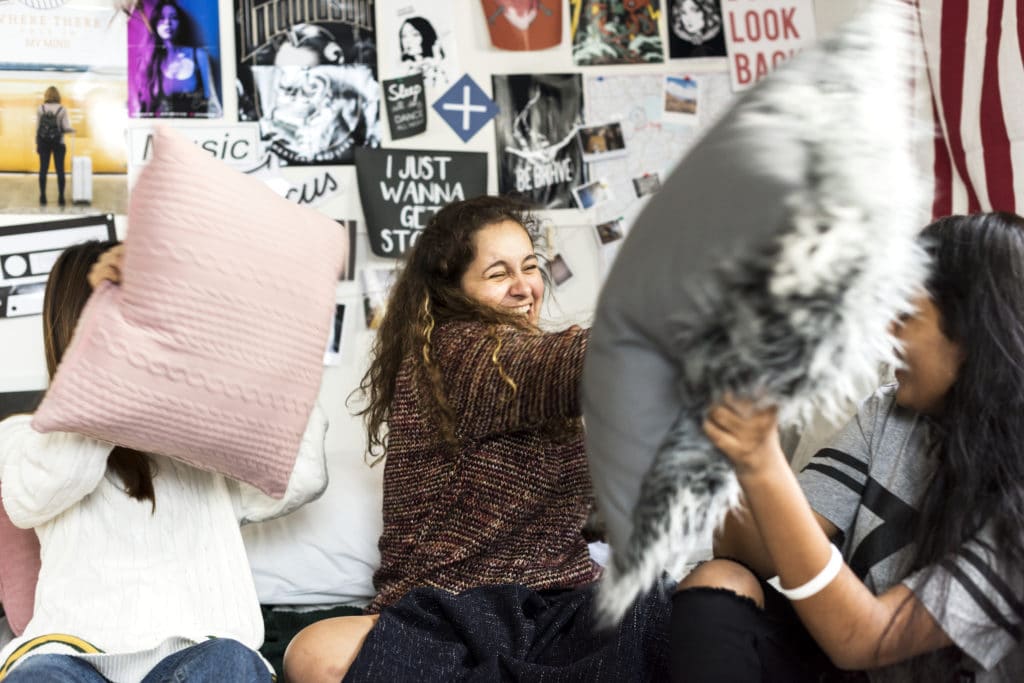 What's the most comfortable place in the world? I think everyone would say "home"! Well then what makes your home so comfortable? Your own bed, couch and of course some good throw pillows! 
Pillows are just like our good friends!  They make you feel comfortable  when you are sleeping, sitting on a couch and enjoying your favorite TV show or working.  To be honest, right now I'm  writing this article at work, leaning on a pillow on my chair because sometimes we office workers tend to have a back pain, and that's the best prevention way.
Yes, pillows are one of the most important home decor items that we use every single hour when we are home. However,  their main commitment is typically ensuring your necessities of body comfort , they also play a great role to determine your interior style!
I am really happy to share my list of the best throw pillows I have found on Amazon. This list is made based on quality, feedback from customers, rank, style and price. Each pillows has its own unique design and properties which is for different interior styles. 
And now, let's find out the best throw pillows below:
The first pillow of this list is perfect for any occasion! Made of wool and cotton, so you will definitely feel softness and warmth. 
It may remind you of a Court Jester's hat. Because those pairs of tassels make it look more stylish and fun. They are so unique compared to other regular pillows. Greyish blue, maroon, grey and light grey colors are available. 
Great for your home, especially it would be perfect for your living room and guest room. I bet this amazing pillow will catch your guests' attention, and they will play with it, then will ask you where did you get it.
Highlights:
Versatile style
Funny tassels
Great material (cotton and wool)
Soft and warm
Free shipping
Product Dimensions:  18 x 18 x 3.5 inches
Item Weight: 1.98 pounds
2. Lilly Pulitzer-Floral beauty
If you are a fan of colorful floral paintings, this is a must-have pillow for you! A beautiful pink and aqua floral pattern on the pillow case will remind you of a tropical flowers.  The style is so edgy. Not only exciting colors, there are little balls hanging on the edges of the pillow.
Another thing that is special from other pillows is its material. The pillow case is made of 100% Polyester and the filling is made of  100% Polypropylene.  Due to the water resistant material, it's perfect for both indoor and outdoor condition. 
Can be used at swimming pool, beach,  balcony, and literally anywhere! Also it would be an awesome gift for your granny, auntie or mommy, because we know they all would love such a gorgeous floral printed, comfortable pillow!
Product dimension is 20x12x4. Avalable in 3 different patterns and you can see them through the link below.
Highlights:
Beautiful floral pattern
Lightweight
High quality
Small details on the edges
Water resistant material
Comfortable
Free shipping
Product Dimensions:  20 x 12 x 4 inches
Item Weight: 1.25 pounds
Colors Available: Pink floral, Aqua floral
3. Loloi-Boheiman Rhapsody!
Pattern makes perfect! Inspired by hand illustrations of a bohemian artist J.Blakeney, this unique pillow will add a boho look to your home. The designers said that they made them for you to feel free, have fun and get a little bit wild!
 
The pillows are machine made by great quality textiles. .But every single detail is crafted by hand: poms, tassels, fringe and sequins. They may look rough and scratchy, but actually they are not. 
Highlights:
Unique look
Fluffy details
Slim
Great material (cotton and wool)
Soft and warm
Free shipping
Product Dimensions:  24 x 2 x 2 inches
Item Weight: 6.55 pounds
Colors Available: Sunset, Granite, Indigo, Marine/Gold, Spice, Walnut
Who wants to go to Scandinavia? You can feel like you're there whenever you are just with this pillow, because it will give Scandinavian style to your environment. Patterns of this chenille pillow are not repeated. 
And if you like bringing your pillow while travelling, this pillow is exactly made for you. Because it comes tightly rolled from the factory, which means you can also roll it tight tand put it in a smaller box. How compact!
I also found the zipper and stitches very sturdy, well I think it must be durable.Purchasers say that it's such a great deal and they have nothing bad to say about the product! Add a beautiful handmade look to your home or anywhere you desire!
Highlights:
Versatile Scandinavian style
Beautiful navy color and patterns
Thick fabric
Handmade look
Can  be rolled
Free shipping
Sturdy and durable
Product Dimensions:  20 x 12 x 4 inches
Item Weight: 1.25 pounds
Colors Available: Pink floral, Aqua floral
5. Nube-Luxury and Fluffy
Who doesn't like a soft, fluffy touch? This  fake fur pillow is suitable for everyone. It's not really made of any animal hair, but 100% polyester. So if you like furry things, but doesn't like to harm animals, the fake fur would be a perfect choice for you.
Also if you are looking for a scratch-free pillow, this one is recommended. Compared to pillows which has leather or velvet surface, there's no worry of scratching for shaggy textile. This product is made from a high quality polyester, so it will last longer.
I really liked the shimmering look and shiny glitter lines of the hair. Then I have just found out it's made of three different types of yarns for a great quality (shimerry yarn, thick yarn and slim yarn).   Shaggy pillows will add a fresh look and luxury feel to any room, upgrade the look of your bedroom, living room or guest room.
Highlights:
So stylish
Shimmery hair
100% polyester material
Extra soft, hand fuffed
Will not shed
Scratch free
Good price
Durable
Free shipping
Product Dimensions:  18 x 18 inches
Item Weight: not mentioned
Colors Available: Beige, Black, Grey, Green, Red, White
6. Rivet-Geometrical lines for Modern look
When I see this botanical green pillow with lines, it reminds me of a leaf. This contemporary modern pillow is highly recommended for people who prefer stylish yet simple look. The only additional detail is  leaf-like geometrical lines which create triangular shapes.
Both front and back sides are made of cotton velvet material, so it will feel so soft. Purchasers commented that the fabric and the color are  exactly same as advertised. There are also navy and grey colors available. 
Personally, I would recommend this pillow for office couches (of course it's great for home as well), because it's so minimalist and chick, especially the material is perfect for office interior. For example, shaggy pillows or  pillows that have too much decoration aren't suitable for office style, but this one is perfect!
Highlights:
Not too much details
Good looking
Cotton velvet material
Soft 
Spot clean only
 Great quality
Heavy
Free shipping
Product Dimensions:  18 x 18 x 3 inches
Item Weight: 2 pounds
Colors Available: Navy, Botanical Green, Gull Grey
7. Artifun- Multifunctional and Elegant
Do you need a super cute and super affordable pillow which will give your room a luxury and royal  look? You might have seen round, flower-like, velvet pillows in fairy movies or inside of royal castles. A pumpkin throw pillow is a must-have pillow in your lifetime!
This gorgeous  pillow will brighten up any room with its royal color and cool design. What I loved the most about this pillow is it's also can be used as a back and head pillow, sofa cushion,  toy for a baby, bolster,  car or garden decoration. 
Besides, it seems really affordable  that it's three times cheaper than an average, regular pillow. But keep in mind that not all cheap things are same. People purchased this product commented that it's durable and they are so satisfied with the good price for a great quality.
Highlights:
Unique style
Super cheap
100% polyester material
 Luxury color and look
Multi-functional use 
Free shipping
Product Dimensions:  Diameter: 13.7",  Height: 3.14″
Item Weight: 480g
Colors Available: Beige, Red, Coffee, Lake Blue, Navy Blue
If you like pillows more minimalist and without any decorations, this velvet pillow is exactly your type. Actually if a simple, square pillow is made of also a simple material, it would be so boring! 
But this pillow is shiny and the material is a luxury velvet, so it will give a fresh, glamorous look to your bed, couch or chair. To me, shiny pillows made of velvet or silk are perfect for bedroom! And I think you will agree with it.
The fabric isn't thin or fragile, there's also a hidden zipper, so it's easy to take off and put on the pillow cover. The pillow insert is not skimpy, pillow cover is well sewn. So there's no worries of feather floating through your house! 
Highlights:
Shiny and luxury look
Well-made
Lovely color
Quite thick
Free shipping
Product Dimensions:  17 x 17 x 5.5 inches
Item Weight: 9.6 ounces
Colors Available: Navy Blue, Pink, Grey/Silver, Aqua
9. Brentwood-Vintage and Retro
Well, who wants to add a little bit of 70's or 80's look to their home? If you do,  you may get this stripped retro pillow  for a great price. Made of polyester, a high quality textile, it's easy to clean. Just wipe with a damp cloth.
I highly recommend this product for cub chairs and sofas, in your library, work room or living room. Because it's abstractly supportive and plushy, so it would support your back while working or sitting for a long time.
Another advantage of this amazing vintage pillow is its price. But a quote "You get what you pay for" is not always right. You can get a great quality product for a good price. This pillow is said as a durable, high quality thing by the customers on amazon.
Highlights:
Vintage and retro style
Affordable
High quality material 
Plush filling
Quite heavy
Product Dimensions:  13 x 18 x 4 inches
Item Weight: 2 pounds
Colors Available: Copper, Horizon, Shiraz
10. JHW handmade pillow-Feel the love!
Sometimes we get tired of regular square pillows. What if we could replace pillows with "flowers"? It's not impossible. Take a look at this romantic, heart-shaped pack of roses. To be honest, it's a pillow! 
It can be used as a pillow, cushion, decor for bed, coach, chair and also car. You can also bring it to your favorite music festival! With this pretty thing, you can both feel comfortable and aesthetic. 
I think it's a perfect gift for couples, especially newly wed ones! I bet I would never find a better romantic pillow from anywhere else. What else we need to know about it is it's handmade and made of 100% eco material that makes no harm to your skin. It's great for those who have  a sensitive skin.
Highlights:
Absolutely great design

Good quality material

Affordable
Multi-functional usage
Lightweight
Free shipping
Free returns
Product Dimensions:  13 x 16  inches
Item Weight: 1.12 pounds
Colors Available: Red, Pink ,Grey, Blue, Dark Violet, Creamy White, Rose Red and Candy Red 
11. Chinatera-Juicy Fruity
Another great pillow for those who got tired of their regular pillows. This time, we're not going to talk about the colors, but fruit types:  There are slices of orange, lime, kiwi, watermelon and pitaya. Also there 's a slice of log. 
These cute pillows are made for everyone, they're colorful, funny and looks so real! They are perfect for loving room, kids room, or car, there are infinite ways to decor with of it, just use your own imagination.  Made of PP cotton, lint-free.
 It'super cheap that costs only $9.59 and there's a free shipping. Such a great opportunity, isn't it? One of the purchasers commented that his guests thought it was a wood until they touched it, and it's so funny. 
Highlights:
Cute design
Ultra soft
Plushy
Lint-free
Great price
Free shipping
Product Dimensions:  Diameter: 40/30cm,   Thickness: 5cm
Item Weight: not mentioned
12. Forest and Twelfth Home-Various different designs
Last, but not least. Luxury, metallic velvet pillows will match with any room interior. A center button makes it more fashionable. It feels ultra soft, because it's made of a blend of viscose and cotton. 
There are 13 unrepeated designs, so choose what suits best to your desired place. Each one is perfect for anyroom, but especially living rooms, because these pillows are thick and looks so luxury due to their beautiful metallic color and versatile design.
Highlights:
Luxury look
Thick fabric
Extra soft and plushy
Free shipping
Product Dimensions:  20 x 20  inches
Item Weight: 2.5 pounds
Colors Available: Various kinds of metallic colors