Having a hard time decorating and matching the right throw pillow colors for black, brown, or red leather couches? Here is a buyer's guide for how you can jazz up your home for a very reasonable price!
DO NOT ever have your pillows as the same color as your couch! Try to at least have some contrasting colors in the mix, otherwise, you will have something like this: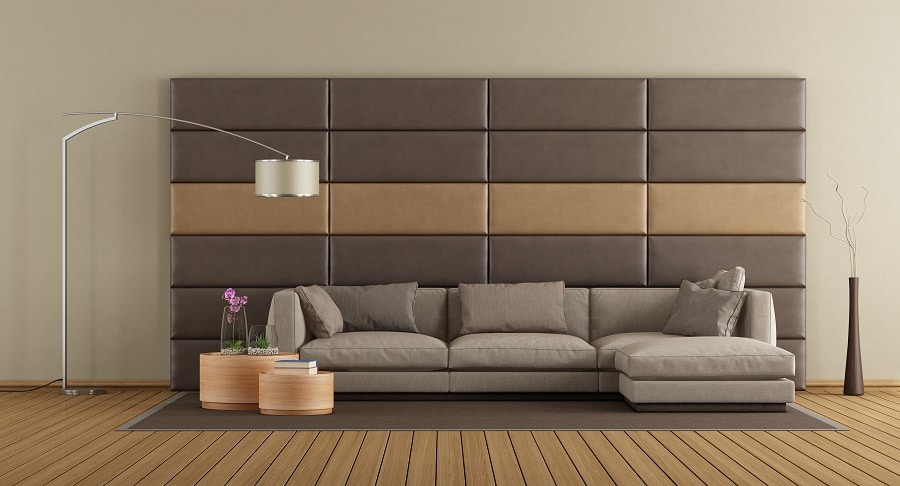 If your couch is dark in color, then you should opt for throws and pillows that are brighter so that they stand out and contrast. Usually, white or ivory kinds of colors look great.
Decorative Throw Pillows for Specific Colors:
– Brown Color
DO: Typically, when a couch is brown in color and made of leather, it looks so retro and vintage. Therefore try to choose pillows that have a minimalist design, fewer decorations, or retro style. Also, warm-colored stripes always look perfect on a brown leather textile.
Usually, for brown leather couches, white, beige, and ivory colors are the best. You could mix in some red and dark patterned pillows to give it some character as well. Also, the tone of your couch color is important. There are various different types of "brown".  The brighter the brown color is, the darker shade of the pillows. For darker brown couches, lighter colored pillows are recommended.
About the shape and dimension, big, thick, rectangular pillows would suit the best. Also here are the pillow samples I would decorate my brown, leather couch.
DON'T: Brightly colored throws such as yellow, green, and pink will just look weird, so stick with more neutral and conservative colors.
However, the shape of pillows depends on the couch design, if it's a brown, leather couch NEVER get it paired with slim, non-traditional funny shaped pillows.
– Black Color
DO:  If you have a black couch, then congratulations to you! Because "black" color is suitable for any occasion and it can be matched with any color depending on the environment.  Thus, you have more possible chances to decorate your room. But since we're talking about the leather sofas, you should be careful when choosing the material of pillows and cushions.
Usually, bright colored pillows are great for black couches.  You can pick beige, grey, white, or just brighter tone of whatever color you want for pillows.  For an elegant look, try to choose natural beige and modest colors not to look odd.  Don't forget the patterns, you can try various kinds of prints such as stripes or geometrical lines, but it's the matter of the design of your couch.
Also, the black couch goes very well with bold, colorful pillows. So if you want a modern, contemporary vibe, you may try solid orange ones. This might sound weird for some people, but there are always people who satisfy this kind of flamboyant style.
What textiles are good for the black, leather couch? First of all, let's highlight the words "leather" and "black". These two properties create a bold, heavy feeling. So when it comes to choosing the material of the pillows, it's suitable to pick also thick, plushy ones. It's obvious that a slim, silky, too soft pillow won't go well with the black leather sofa. But leather, fur, thick polyester, or velvet would be a perfect match.
Mongolian Fur Pillows go great with black leather couches. To top it off, you can buy fur pelt to complete the look. Also, I would decorate my black, leather sofa (  if I had one :p  ) with these beautiful pillows because these are the best ones for me.
DON'T: Though you could mix in some interesting colors, don't go overboard and with them. Keep in mind that just a "black and white" combination looks so boring, even though it's considered classic.
NEVER choose black leather pillows for black leather couch even when you are extremely goth. Black is such a strong color, so when it comes to a home decor "black on black" would look absolutely unpleasant.  But if you are such a minimalist person and you want to have a black pillow, get a fluffy or shiny black one, which means just choose different textiles, especially fur.
Avoid choosing pillows or too dark colors that can be barely discriminated against from black color. Dark toned and cold colors  (green, blue, indigo, violet) will create a cold environment and it might affect your mood negatively.
– Red Color
DO: A red couch is always the target of attention in a room. Without the right pillows, it will look too noticeable and unmatched with the other furniture. We all know that "red" is such a powerful color, so it's not that easy to select a perfect color that would match with it.  But don't worry. With our few simple tips, you will have no problem selecting a perfect pillow for your red leather couch.
Let's start with the colors. Bright red colors get along well with black, white, yellow, and tan.  Tomato red looks great with mint, sand beige, grey, and navy green/blue. And for cherry red, white, sandy, or beige colors would be great pairs. At last, dark red (maroon) works well with denim blue, black, white, and beige tones.
About patterns: If you desire more luxury or elegant vibe, try a shimmery fur pillow or a one with a metallic gold pattern. For a contemporary look, geometrically patterned pillows would be great.  Basically, patterns and prints on the pillow depending on the whole interior style of your room.
As it's a leather couch, you can follow a tip (thick pillow for a leather sofa) I mentioned on the other two colors (brown and black) above.  Shag, fur, leather, velvet, and silk textiles are considered appropriate. Pillows made of black or white shag/fur would look amazing. A velvet or silky ones add more luxury look. If you want a royal style, golden or silver metallic materials would create PERFECTION!
Here are the best samples I have found:
DON'T: It's clear that you should avoid red pillows.  Also never select neon-colored pillows. Technically, opposite colors don't look good together. Green is the opposite color of red, so don't use it. Also, pillows with too dark-toned colors will bring down the character, try to choose brighter ones.
How Do You Keep Cushions From Sliding & Slipping Off?
Don't you just hate it when your throw pillows slip off your couch? Here are some tips that will make sure that they stay in place and stationary.
1. Get A Pelt or Blanket Throw
Put something on your sofa so that there is friction with the throws. Or simply get a blanket and cover of your sofa to prevent your pillows and throws from slipping off.
2. Buy Heavier Pillows
The heavier the cushion is, the less likely it is going to slip and fall off from your sofa. Usually throws that are 20 x 20 will do the trick or actually try the rectangular lumbar cushions (they have a low center of gravity) so they won't slide down as easily.
What About The Under Cushions / Mattress??
If you don't want you under cushion/mattress to slide and move off-center, you can easily fix it with one of these rubber underlays. Just place it under your sofa cushion/mattress.
What Material Goes Best With Your Sofa
Leather usually gives an outdoorsy or somewhat of a classy vibe. The material moreso often invites warm, brown, and chocolate-like colors, so the material has to go well with the overall theme.
It's best to have your throws be soft and plush instead of going for similar leather-like material. You need a good balance.
Usually, fur pillows are a good choice, or faux fur if you are tight on a budget (they still look the same).