Taking care of your furry friend at home can be the most incredible experience ever. That is if you know how to keep your furniture safe and sound.
If you're planning to keep your doggo at home, you have two options: train them to keep away from the sofa or choose a dog-resistant couch material. If you're not one of those strict doggy parents who yell at their dogs to keep away from the furniture, it is best to dog-proof your upholsteries on time. And even if you try to train your dog to stay away from the sofa, the chances are that they'll get to it as soon as you leave the door.
Therefore, you have no other option but to dog-proof your upholstered furniture. You're probably asking yourself what is the best couch material for dogs: stick around, and you'll find out.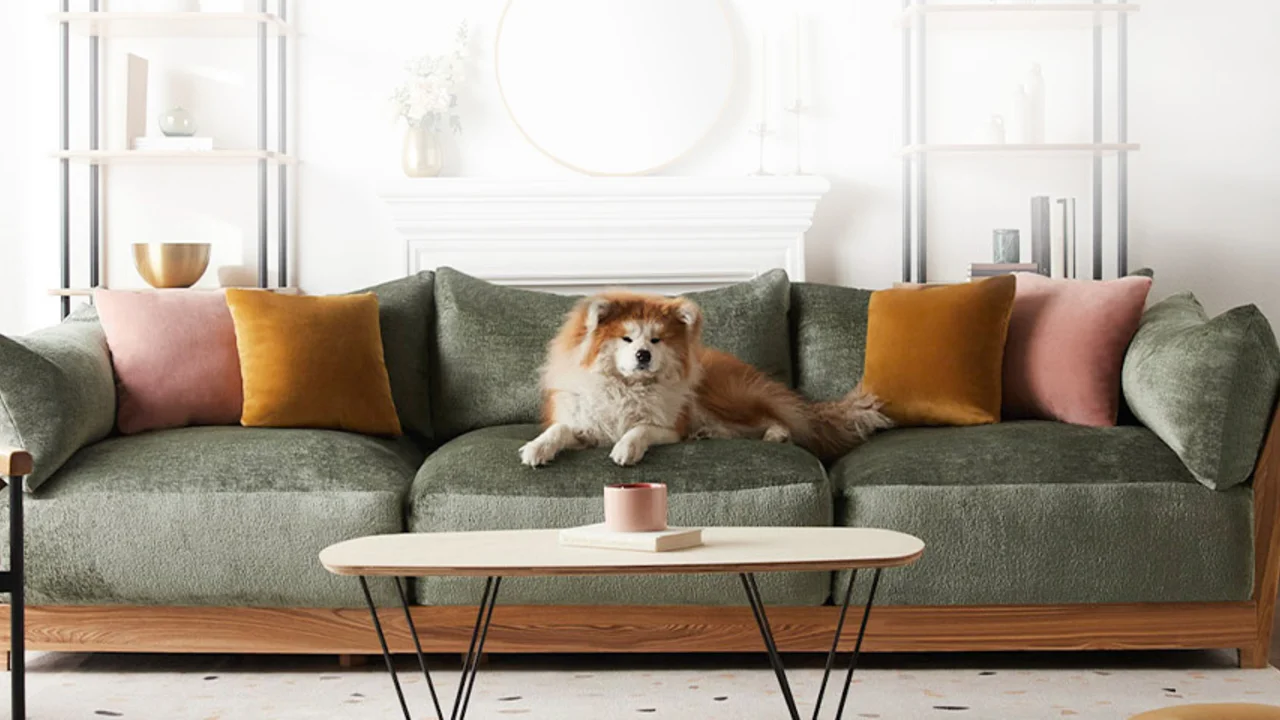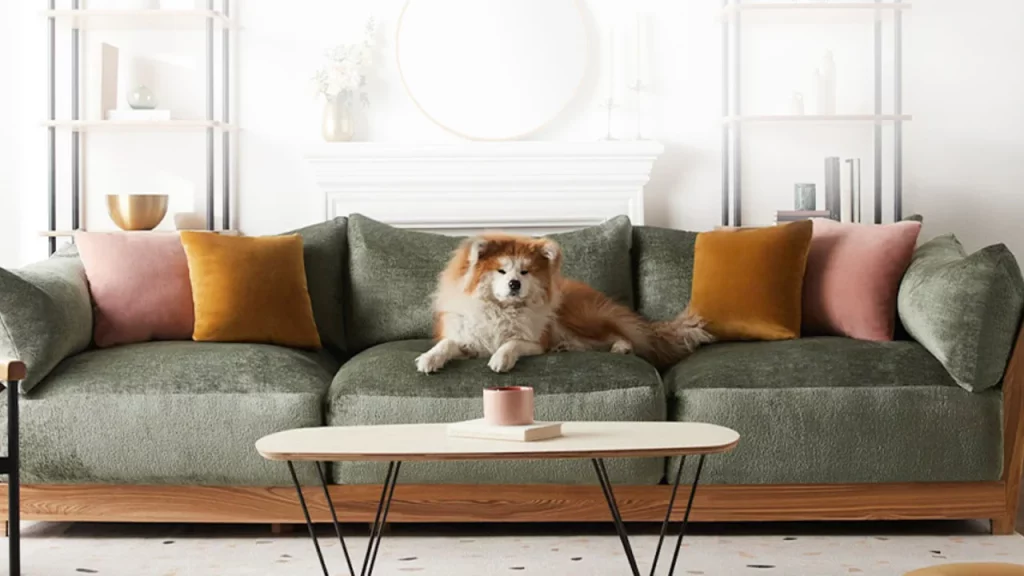 What Is the Best Couch Material for Dogs?
Denim
Denim is not the first material that pops into mind when you think about furniture. Still, if you're a dog owner, you'll love it. In addition to making robust, durable jeans, denim is also used for pet-friendly furniture. It is unusual and will add a chic and casual look to your living space.
Denim is tightly woven, which makes it super durable and protective. It features similar durability to genuine leather, but at the same time, it is much lighter and more breathable. Tight-fitted denim allows airflow while keeping things from pushing through, so your dog's teeth or nails won't be an issue.
Genuine leather
Many people are concerned about their dogs scratching their leather furniture, but in fact, genuine leather is the most durable furniture material and absolutely paw-proof. Their sharp claws won't puncture through genuine leather sofas, no matter how persistent your doggo is.
Next, leather is ultra smooth, meaning your dog's claws won't get caught up in it and rip it. There are no gaps in the weave, so nails won't puncture through.
Additionally, if your furry friend often comes home full of dirt, you can easily wipe any smudges off the leather without the dirt penetrating deeper into the furniture.
However, there's a significant drawback – leather furniture can be quite a hefty investment. Still, if you're looking for pet-friendly furniture, spending some extra dollars on leather furniture may save you a lot of cash on replacing a fabric couch every couple of years.
Acrylic fabrics
Although we're talking about indoor furniture, you should consider outdoor acrylic materials. Outdoor fabrics are designed to withstand heavy weather, rain, sleet, snow, and anything the elements throw at them.
And you shouldn't worry about style and design as well. You'll be surprised to see how many options you can get for outdoor acrylic materials. Their textures, color, and design will convince you that it's time to bring outdoor materials inside.
Another upside of outdoor fabrics for indoor use is that they're typically much cheaper. They're also very easy to deep clean, so you won't regret making the unconventional choice.
Canvas
Like denim, canvas is another excellent furniture fabric option for dog owners. It is incredibly durable and just as comfortable. Canvas will give your furniture a natural feel, with a pleasant feel for you and extra roughness to withstand any challenge your furry friend will throw at it.
The downside of the canvas is that not many manufacturers prefer working with it. Therefore, if you're interested in a canvas couch, you'll probably have to get a custom build, which is known to be quite expensive. But if you're looking for a natural material that's also pet-friendly, you cannot get anything better. It feels similar to linen but won't have you bothered with wrinkles. You'll get excellent toughness, a broad color palette, and easy maintenance with canvas.
Tight twills
Twill is a woven style typically made of cotton or a polyester-cotton blend. It comes in various thread counts and colors, and is a popular option for furniture coverings, so finding a suitable weave twill sofa won't be too much of a struggle.
Still, twill sofas often come in some quite funky and unusual designs. But with many different patterns and styles available, you can easily find one that'll effortlessly blend into your living room. If you're interested in a twill sofa, look for a textured twill pattern since they are typically more tightly woven than the standard printed ones. A tighter weave will hold better against the claws of your furry friends, so you won't get a heart attack every time they jump on the sofa.
If you're looking for tightly woven pet-friendly twills, look for herringbone, houndstooth, or a serge weave.
Microfiber
Leather and suede are excellent furniture materials, but their price tags can be very off-putting. If you're looking for a cheaper alternative that's just as visually appealing, you should consider microfiber.
The color and design combinations for microfiber sofas are next level. These couches are often stain-resistant and an absolute breeze for cleaning. If you're in luck, you can find a microfiber sofa with a removable seat and cushion covers, which you can quickly throw into the washing machine to eliminate any buildup of dirt or bacteria.
Microfiber sofas are an excellent choice for a dog parent. The soft touch will make your couch pleasant and inviting while at the same time offering easy maintenance at an affordable price. The only downside to microfiber is that it isn't quite as durable as genuine leather, so it will need to be replaced much faster.
Slipcovers
If you're still unsure about the best couch material for dogs, you can put off furniture shopping for some time and ease your troubles with slipcovers. Slipcovers are a cheap and effective way to keep your furniture unharmed while your pets are home. They are incredibly inexpensive, and you can probably find a good set of covers at the supermarket.
Slipcovers come in various colors, textures, and patterns, so you can easily find a pair that'll blend in with your existing couch. And even if you decide to buy a new sofa, you can always keep your slipcovers on top as an extra precaution against bites and scratches.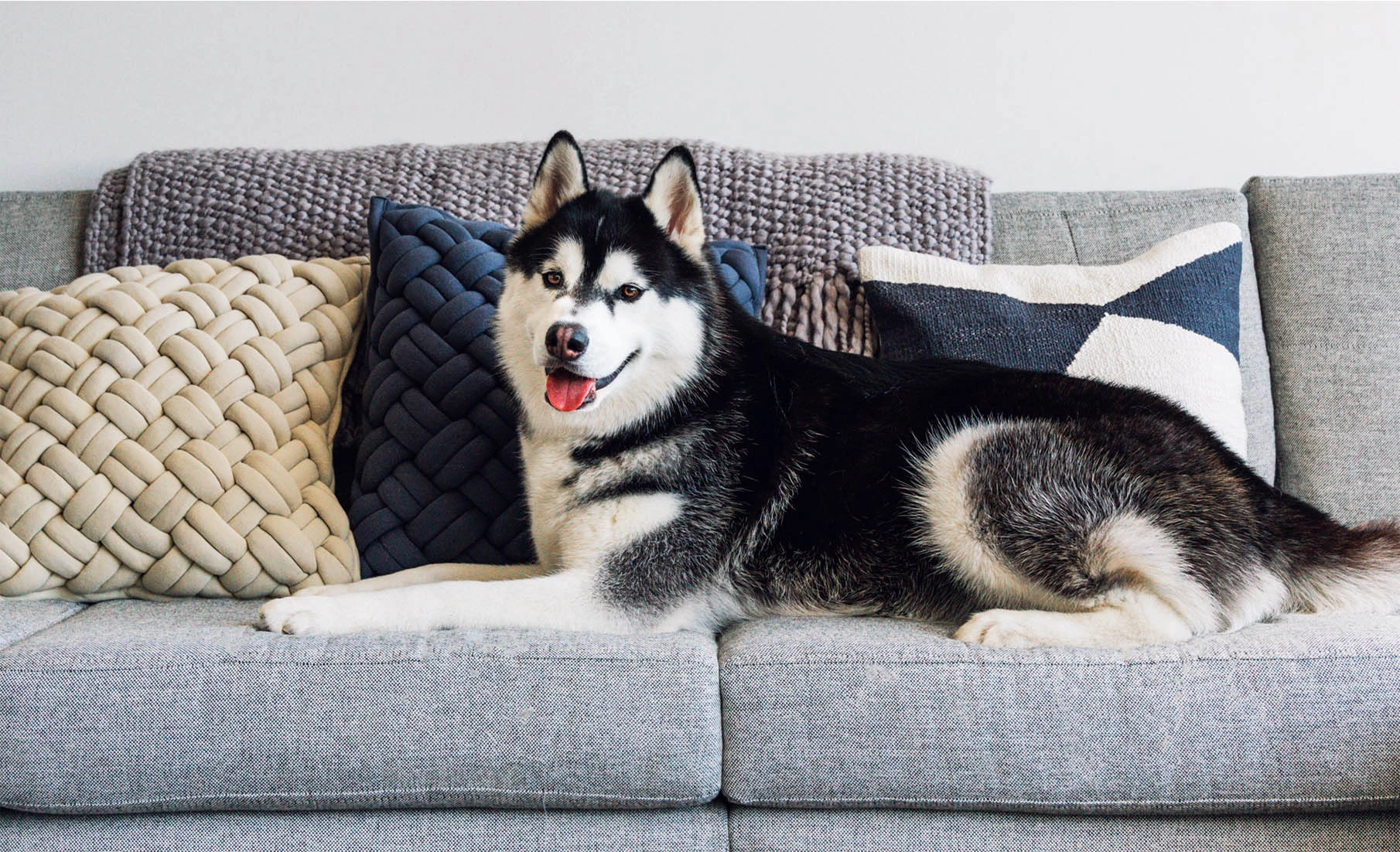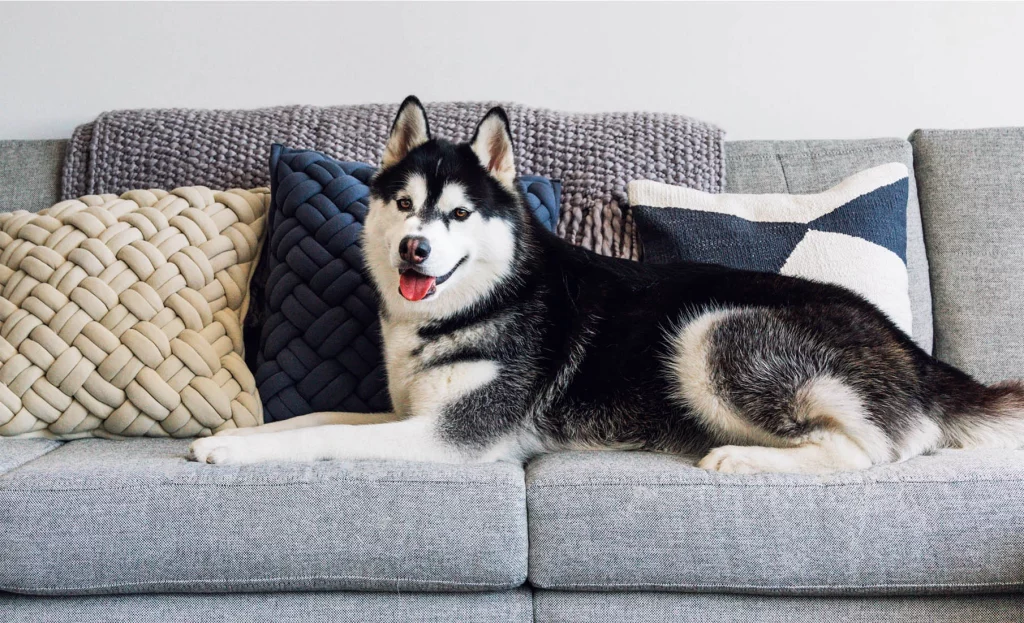 Worst Couch Materials for Dogs
After revealing more about the best couch material for dogs, let's get into some of the materials you should avoid at all costs if your furry friend often decides to hop on the sofa.
Silk
Silk is an absolute no-go for dog owners. As one of the finest materials you can wrap around furniture, it isn't something that goes well with pets. Despite its delicacy, silk is also incredibly high maintenance, which makes it even more inadequate around pets. It is very thin and loosely woven, prone to tearing, easily stained, and challenging to clean. So if you're a pup parent, cross silk off the list.
Suede
Suede is the softer and more acceptable leather alternative. Similar to leather, suede is quite durable, but it easily attracts and locks water spots that can quickly stain the material, making it extremely hard to clean. So if your pet drools or carries mud around the house, suede is another material you should avoid.
Velvet
Velvet is a great option if you're looking for something enjoyable in the look and feel, but if you add a dog to the equation, you're very unlikely to get the chance to enjoy it. Velvet is very high maintenance, although it isn't that loosely woven. First of all, it is a magnet for dog hair. Even if your furry friend is low shedding, you will never get rid of all the dog hair off a velvet sofa.
Velvet quickly and effectively absorbs smells, so if your doggo decides to hop on the couch while wet, you'll need to call in a professional cleaner.
Read more: How to Fix Scratches on a Leather Couch
Conclusion
So, what is the best couch material for dogs? Although there are plenty of good options, we'd advise you to go with denim.
Denim is super durable and easy to clean, so it will make sharing a living room with your furry friend much better. You might think it will look out of place, but you'll be surprised by the subtle designs you can find.
If you're looking for a cheaper alternative, we recommend slipcovers. If your old sofa is still in good shape, you can easily protect the upholstery by throwing in a slipcover with a subtle design. You can easily find slipcovers at the supermarket and other unspecialized retail stores.
They're super cheap, so even if you don't get them in the most durable material, it won't hurt when you have to replace them with new ones. With an affordable price tag, slipcovers are an excellent option for dog parents who often want to change the look of their living room.
If you were unsure about the best couch material for a pet-friendly sofa, you now know more about the pros and cons of the most durable ones.