Are you looking for a trendy fabric to incorporate into your space and make it modern? Then, maybe you can consider boucle fabric that adds a sophisticated touch in every area. 
What is a boucle fabric? A boucle fabric is a nubby textile made from the yarn of curled fibers. The fashionable fabric is derived from the French word, meaning 'curled,' and the material was introduced in the late 1940s.
Boucle is one of the most popular materials in fashion, and nowadays, it is a part of every modern living space. That said, if you have a home decor moment but don't know about boucle fabric, we suggest reading this article. Let's get into more details about this fabric and how you can style it.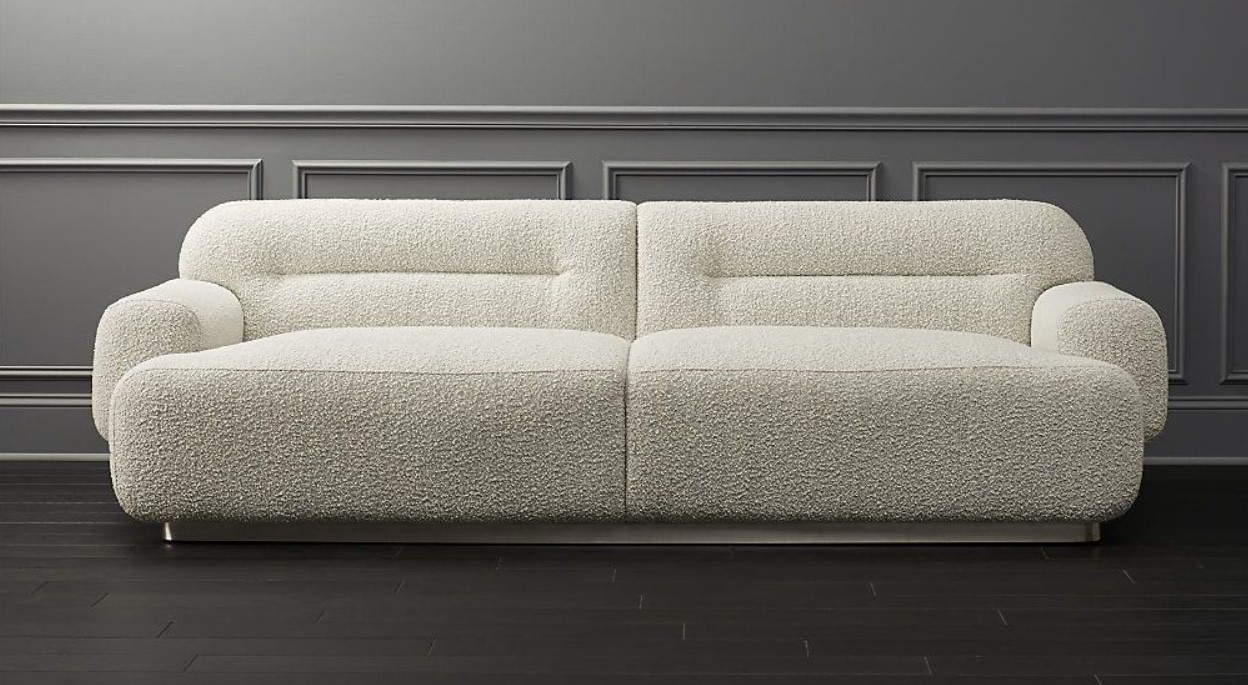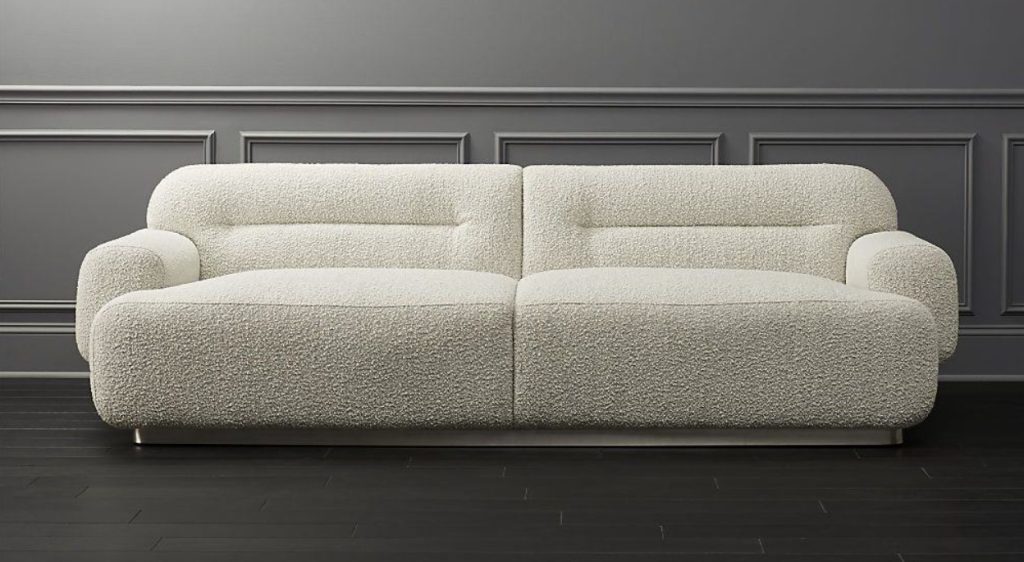 What Is a Boucle Fabric?
Boucle is a textile characterized by its Nabby appearance, known for its visual texture and comfort. This heavy fabric has been woven or knitted with boucle yarn. 
Boucle has been widely used, as the material is hard enough to be used for acoustic absorption but also soft enough to be used for a pillowcase, making it very unique. 
The versatile fabric is unique and highly textured, making the furniture interesting and visually appealing. Boucle has had a big moment in recent years, and the fabric is always in demand as it reminisces the 70s and the style and the interior design from that time.
It is mainly rendered in wool but is also made from anything, including cotton, silk, and organic materials. 
Material
The Boucle material is less likely to crease, and it has a warm surface which makes it pleasant. The durable fabric is an excellent choice for those who want a cozy aesthetic, and it blends well with other materials, adding depth to the living space.
The trendy boucle fabrics are available in several shades, but you can mainly find them in white and cream shades.
The reason for this is that neutral colors keep the focus on the texture and the space clean rather than overwhelming. This type of fabric is always in demand, as it makes a bold statement when it comes to home furnishing, but at the same time, it is a functional choice for those who want a cozy fabric to relax on.
How to Take Care of a Boucle Fabric
Now that you have learned about boucle fabric and why it is an excellent one, you are probably wondering how to take care of it.
The boucle is an upholstery fabric known for its twisted fibers with loops or knots. It is not only very comfortable but also a durable material for which you needn't worry about distortion.
However, this fabric requires proper care to preserve its quality and unique appearance for many years. To refresh this material, it is recommended to use a steam cleaner that is designed for clothes. That being said, if you need a thorough cleaning of this modern-looking fabric, you can contact professional cleaners familiar with its characteristics. 
You can also place a boucle fabric in the washing machine, turn on delicate washing, and add a gentle soap or a detergent. However, this is only if your boucle fabric is washable, considering a boucle made from wool is dry-cleaned only. After you wash it, it is necessary to dry the boucle.
Styling Your Space with a Boucle Fabric
The boucle fabric is suitable for all seasons and is part of homes arranged in Scandinavian, modern or Japanese styles. During the hot summer months, this fabric provides relaxation, whereas, in the cold months, you will receive a large dose of coziness. This fashionable fabric has a teddy-bear appearance, soft on the touch, and very versatile.
Due to its unique appearance and convenience, the boucle fabric has become a staple in fashion and furniture designs. Suppose you search online for inspiration on which furniture to buy and how to decorate your space at home and make it cozy but modern. In that case, you will find that interior designers often use boucle sofas, armchairs, cushions, rugs, and throws.
There are many ways you can incorporate boucle fabric regarding furniture and accessories, but you may also have heard about the iconic Coco Chanel boucle jacket. This material offers a fantastic visual texture and creates a soft aesthetic.
Details about styling Boucle fabric
If you are ready to incorporate the boucle fabric into your living space, you can start by purchasing a sofa or a loveseat. Additionally, a boucle armchair can be a statement piece and a cozy spot you wouldn't like to leave. Moreover, this material is suitable for accessories that elevate the space, such as a throw, blanket, cushions, and curtains.
However, those are not all possibilities when it comes to the usage of this modern fabric. You can also improve the design of your dining room by incorporating boucle chairs mixed with other materials for a contemporary or glamorous modern look. Whether you like a classic or trendy feel, boucle furniture can be an incredible addition to your space.
A texture boucle rug is another piece commonly incorporated into a modern living space and is liked by plenty of interior designers. This durable material can be an ideal option for spaces with traffic, such as a living room or a hallway. As a very cozy textile, a boucle can also be ideal for a bedroom, whether you use throw cushions or a padded bed head.
Conclusion
The boucle fabric can be an excellent addition to your living space. The material is cozy and comfortable, and it can add a classic and timeless look to your home.
Even though the fabric can be expensive, it is suitable for all seasons, blends well with other materials, and is highly versatile. It is highly textured and can make your room aesthetically pleasant and modern.
Hopefully, this article has provided you with all the necessary details on what is a boucle fabric and helped you purchase the piece of furniture that will meet your home decorating goals.