Even though caramel or brown furniture colors are often considered uninteresting and dull, they are still a great addition to any room, especially if matched with the right color combinations.
Their hues range from darker to medium shades and are made from leather and fabric. The leather caramel couch gives out a more elegant and sophisticated look, while fabric caramel gives a more common and simplistic look to the couch.
Owning a caramel-colored couch is great, as brown hues are often considered elegant, luxurious, and rich. But what colors go with caramel couch, and how can you combine them for a great look? Let's find out.
Advantages of Owning a Caramel-Colored Couch
What's great about the caramel color is that it's considered a neutral, earth tone, which goes very well with many warmer and cooler color combinations. Owning a leather fabric caramel-colored couch can be a great starting point when deciding what colors to use when painting the room or purchasing other pieces of furniture.
The main section below will give tips and guides on what colors go with caramel couch so that you can make combinations depending on your preference and style.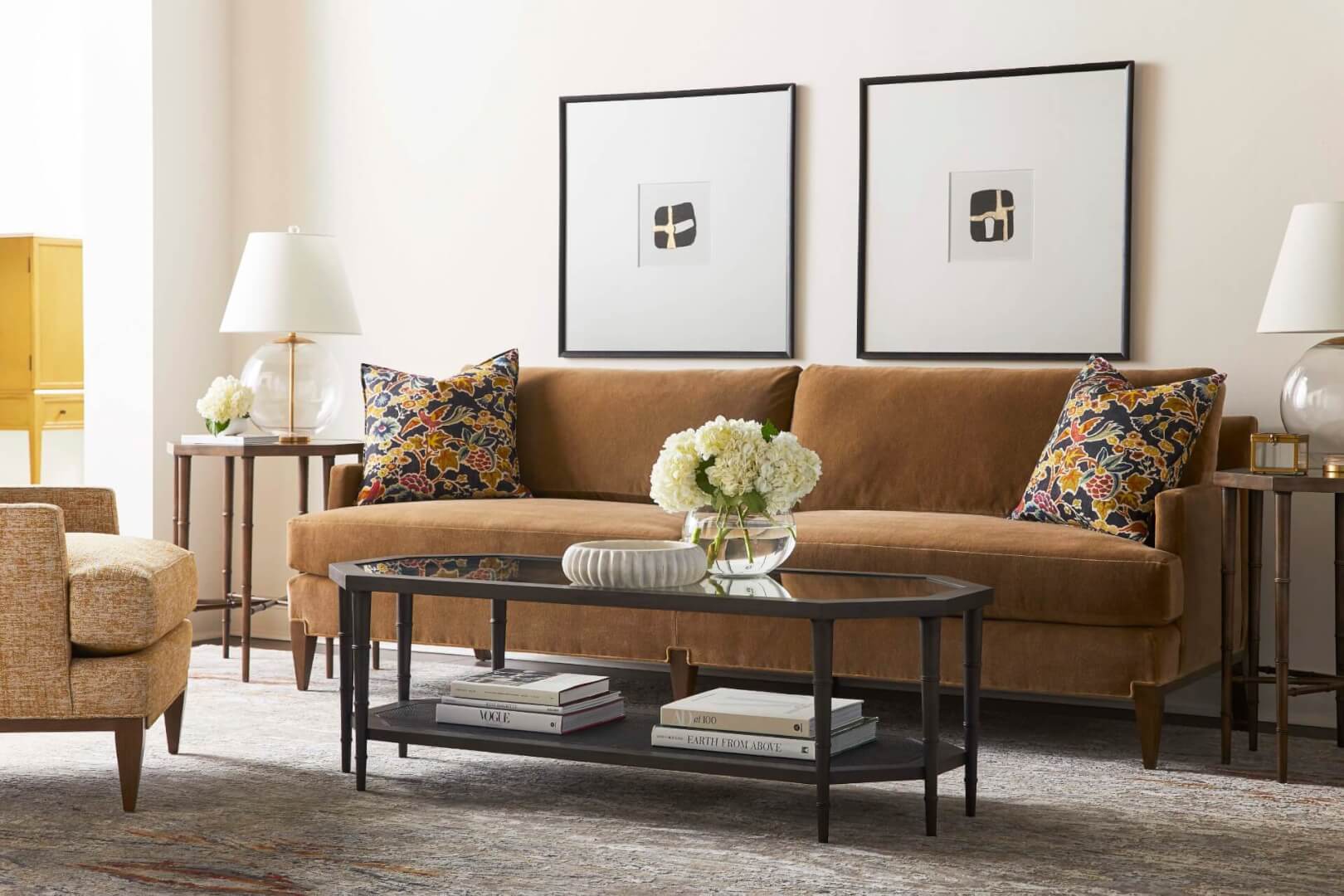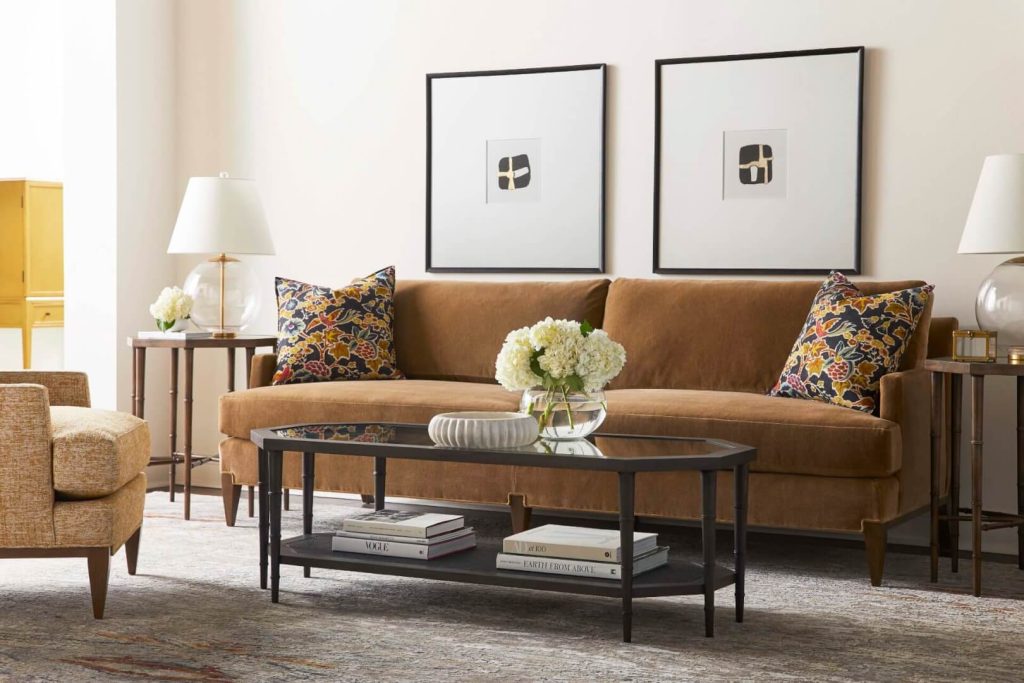 Colors That Nicely Complement a Caramel-Colored Couch
The neutral white color
White is the universal choice since it is a color that goes well with almost anything. Choosing white as the color for the interior walls will give the room a fresh and clean look. This, combined with the caramel-colored couch, will give the room a warm, modern, and cozy ambiance.
Adding egg-shell white or creamy white curtains to the room is a great way to introduce variety, as multiple tones of white work very well together. You can also add a white vase to the coffee table, which will make a distinction and elegance in the space between the couch and the table.
A combination of blue-green color
Even though a warm caramel color goes well with a cooler blue, it is better to complement it with a mixed color like blue-green. Blue-green colors come in many tints and hues, but the ones we recommend are teal, sapphire, cerulean, or emerald.
Teal and sapphire are brighter variants of the blue-green combinations. Teal is a warmer color, while sapphire has a cooler tone.
On the other hand, Cerulean and emerald are blue-green color variants with cooler properties. The first has a darker shade with a more dominant blue, while the latter features a more dominant green.
All four blue-green colors go very well with caramel because the green side gives out a nature-inspired look, while the blue side promotes the color of the sky. When in combination, they give a kind of natural sense to the room, breathing life into it.
Integrate it with some pink hues
For all the women who want to add a touch of emotion and femininity to the room, you can opt for pink and its many hues.
Besides being a color describing gentleness, pink is also a great way to express positivity, joy, and love. With such effects, it is certainly a good choice for being the main color in the living room.
Pink is a color that can greatly match brown and all its hues. It goes very well with caramel and depends on the tint or shade of the caramel-colored couch; you can choose different variations of it, such as rose, magenta, or blush pink. You can also choose a combination of all different hues at once and see where that leads you.
Related: What Color Walls Go With Brown Furniture?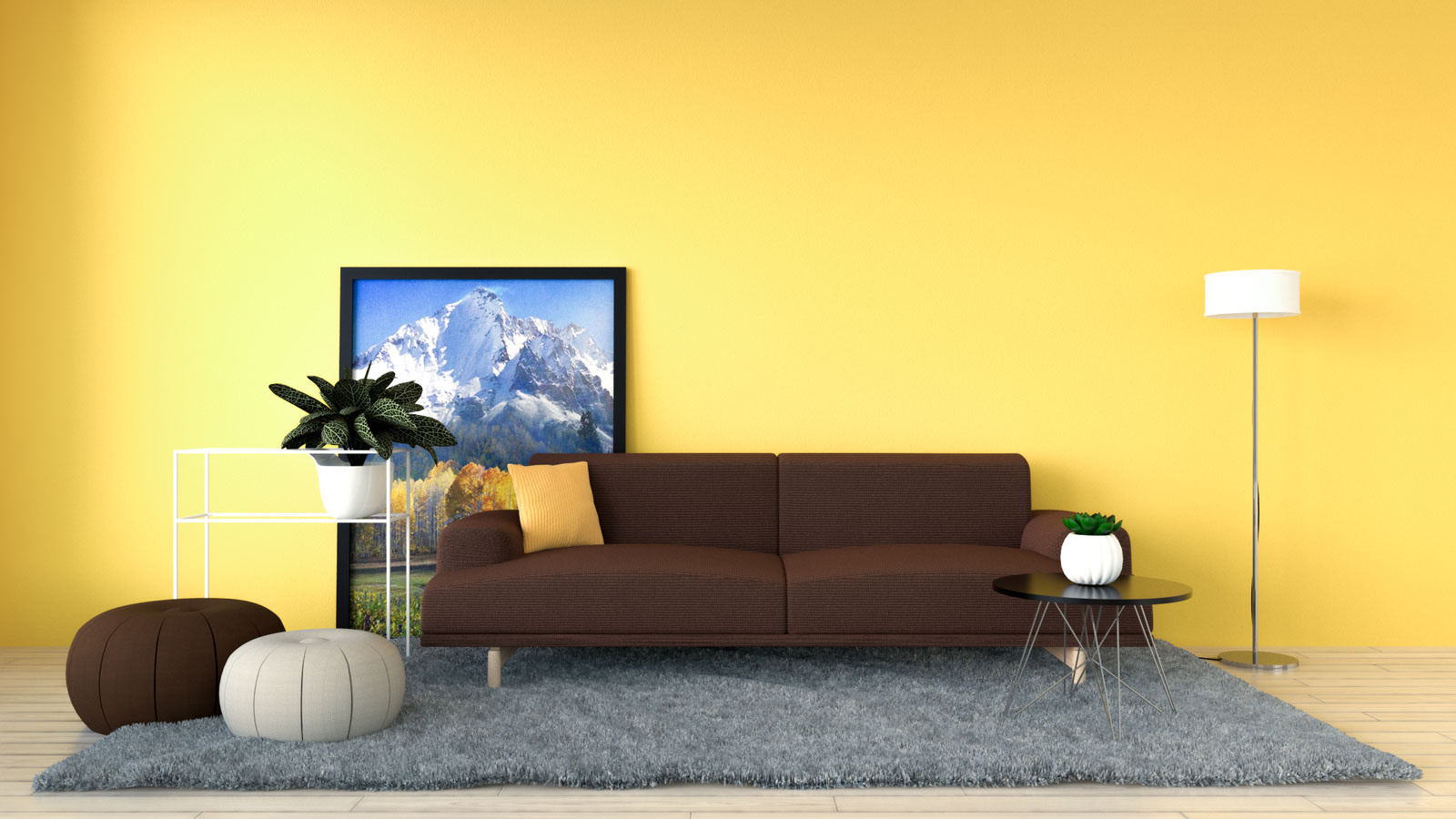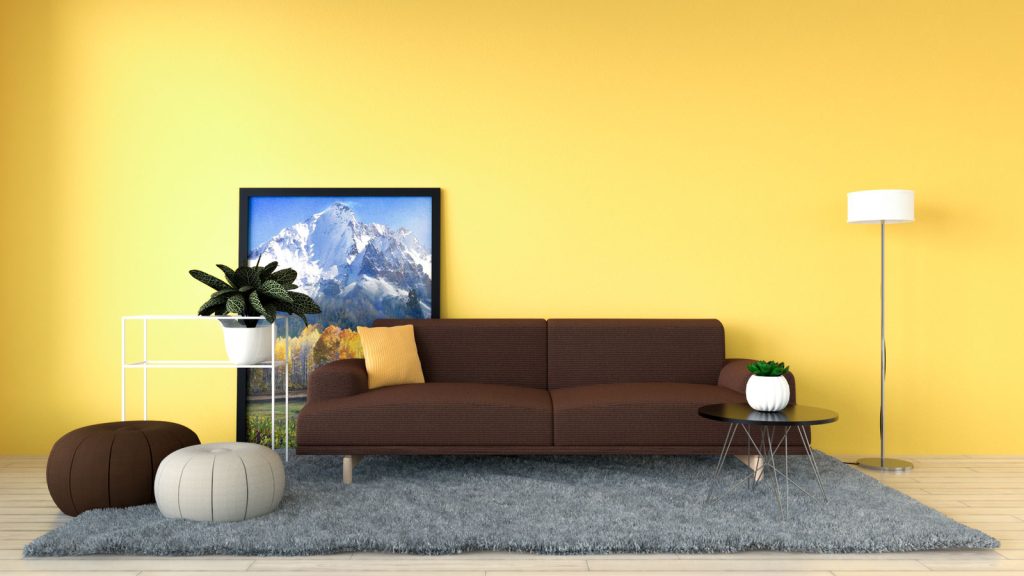 The ever-shining yellow color
Yellow is another universal and natural color, as it reflects the color of the sun. Even though people don't use it as often as white when it comes to interior decoration and painting, it is still a great choice and goes very well with all brown hues, including caramel.
This color brings energy to the living room, characterized as cheerful and fun. Believe it or not, the cream is a yellow hue, a color that many prefer when interior decoration. This color gives a soothing effect to the ambiance and creates harmony between it and the caramel-colored couch.
The drastic red
If you're a person that wants to add a more vibrant and unusual look to the room, then red may be your color of choice. We wouldn't suggest going for red wall paint, as that might be too much, but adding pieces of furniture in this color will do nicely. Red is a color of attention, boosting confidence and courage.
To complement your caramel-colored couch with red, add a red vase next to or in front of it, for example. You can also purchase red colored pillows for the couch, which will sit on top of it and bring out that vibrant look. If the room's colors are brighter, you can add some red curtains, which will add a backup contrast to the one the caramel couch has already established.
Dark shades of gray
Dark shades of gray, one of which may be the charcoal color, are a great choice if you want to make your caramel-colored couch stand out. Charcoal wall paint is especially good in intensifying the beauty of leather-made furniture, and if you add some lighter curtains to the mix, you will bring forth the richness of the caramel color.
If that combination is too dark for you, you can choose darker pieces of furniture that go well with brown hues. A dark or light gray vase is a good choice, and you can also choose a darker gray color for your coffee table, making them look visually unifying.
Conclusion
Now that we have given you an insight into what colors go with caramel couch, you can use them to make your combinations and style your living room to look exactly as you want. You can even search for picture combinations online for a more visual representation of the color ideas we gave you above.