A couch can be picked first when starting a decorating project so that you can decorate around it. A showpiece couch that serves as design inspiration for space may be covered in a vivid print or upholstered in luxuriously vibrant fabric. It serves as the room's main point.
The color you choose becomes crucial whether you're adding a couch to a decorated space or if you want the couch to serve a supporting role. When selecting a new couch for an existing color scheme, you must consider if it will be neutral or play an accent role. So, you may be now asking yourself, "What color couch should I get?"
Although it can seem unimportant, choosing the proper couch color can significantly affect the design of your space. If your couch often has pet hair, fingerprints, or signs of wear and tear, it also affects the cleaning process. Choosing the proper color depends on the size of your room as well. We did our research and managed to answer your question about what color couch should you get. Continue reading to find out.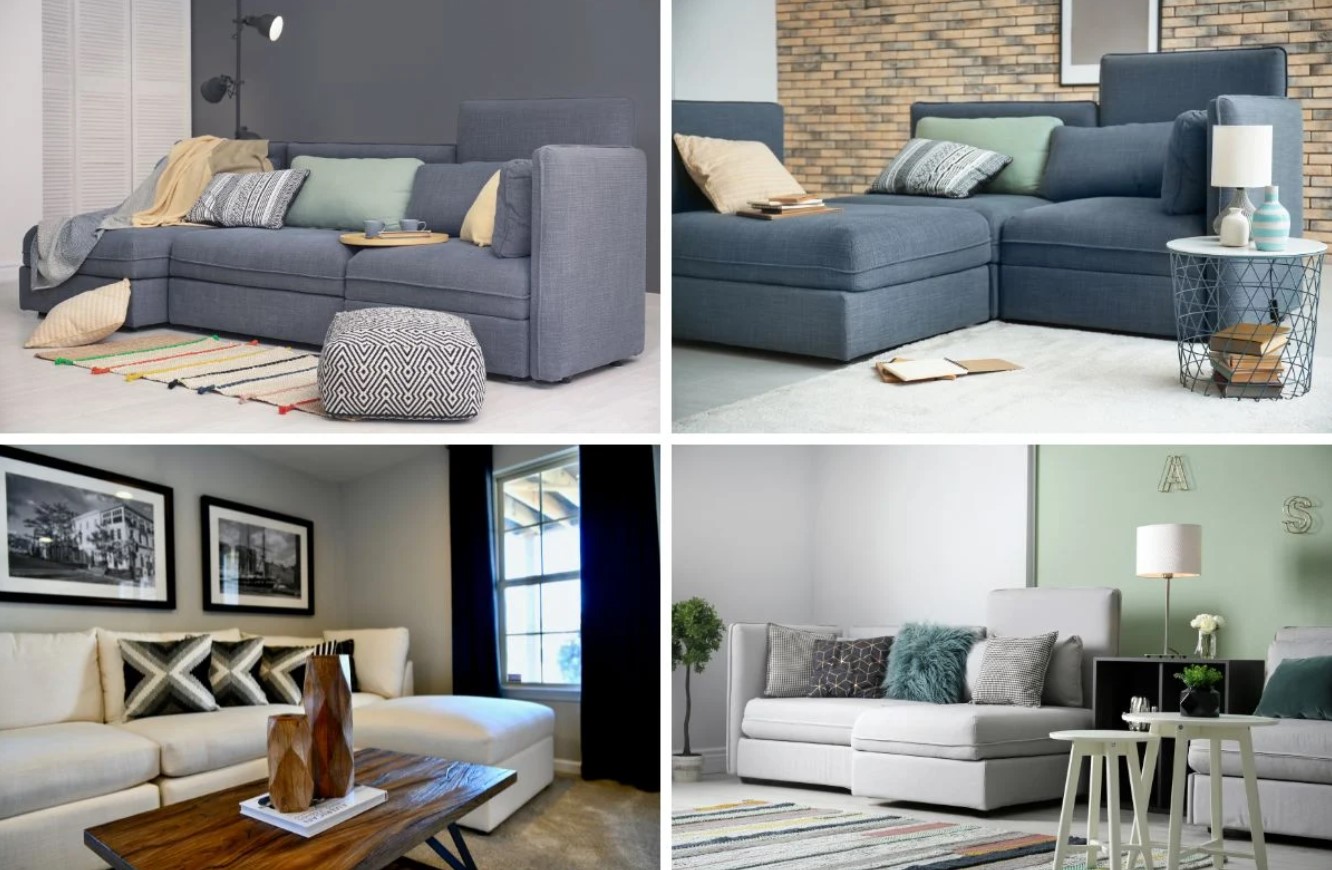 What Color Couch Should I Get?
The most popular color – Gray
Gray is the most preferred and widely used sofa color. Even though it's not the most interesting color in the color wheel, gray works so damn well in so many different contexts. Since it has a neutral tone, it offers a solid foundation for a room. Throw cushions, blankets, and rugs may give color to a gray sofa. 
With every color and fashion adjustment you make, gray will look fantastic. The same cannot be said for all sofa colors. According to the factory's data, gray is the most popular sofa color.
The sky's color – Blue
The only color that can function as a neutral tone is blue. The color blue is a restful, appealing tone that tends to blend in with its surroundings. This indicates that it performs nearly identically to a neutral color. It's not surprising that the most common color combination is blue and gray.
Some folks purchase a blue rug and a gray sofa. But more frequently, customers choose a blue sofa with a gray accent. You may confidently choose blue as your sofa's color because it will never go out of style.
The original neutral – Beige
For many years, beige has served as the accepted neutral color. Beige is still in the mix, even though gray and blue are currently more fashionable. It also won't disappear very soon. A beige sofa is a proven way to make any room look hospitable and respectable. 
For some individuals, the color gray can feel a little too cold and muted. Beige provides the comfort they're looking for under those circumstances. Even if you don't like beige, you must show some respect for it.
The most neutral color – White
Is the color gray too vibrant for you? We'll now introduce you to white. For the same reasons why gray is popular, but taken a step further, white is one of the most popular sofa colors. No matter what, a white sofa will almost always fit in with your room. 
A white sofa also has a rich, high-class aspect to it. When you choose white for your sofa, you may glam up the space's decor. When it comes to what colors go with caramel couch, the white sofa is an ideal choice as it can help balance out the warm tones of the caramel and create a timeless and sophisticated look.
The main drawback of white is that it needs a little more maintenance. But people still select it despite that.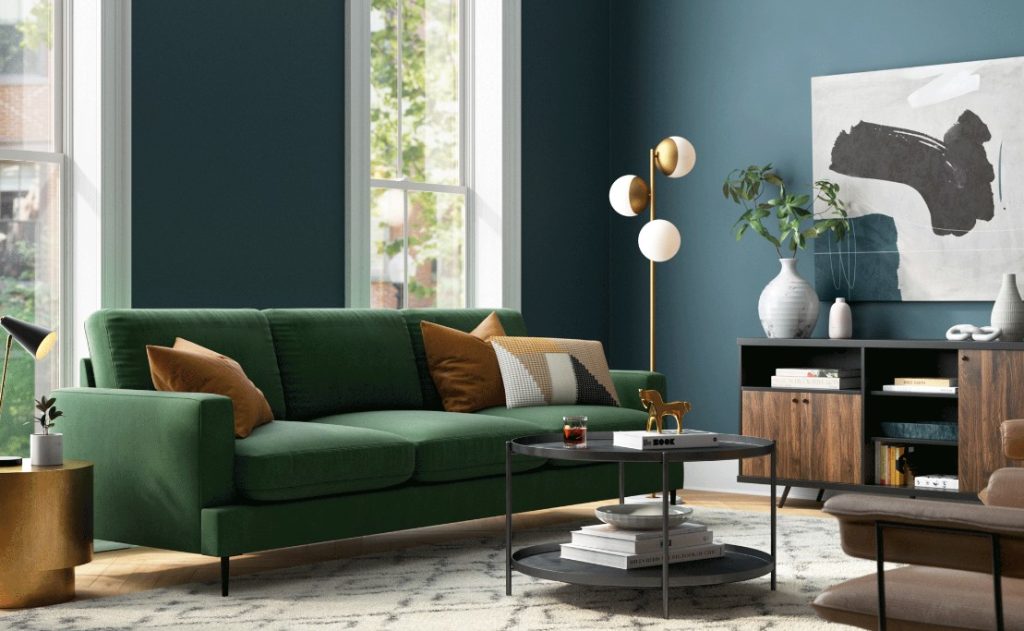 The evergreen color – Green
Surprised? The color green is very popular for couches. And trends aren't the only reason. Green has traditionally been one of the colors people choose for their couches. Since it moves toward genuine color without being "offensive," green is a popular option. It is more expressive than blue but less overtly political than purple, pink, orange, or yellow.
It's a relatively safe pick in terms of colors. A green sofa has the drawback of limiting the color schemes you can utilize in your room. But a green sofa in the appropriate location looks just stunning. It's worth the tradeoff, as seen by the enormous number of customers who order green couches.
The most elegant color – Black
Are you elegant? Perhaps just a touch of a mod? Black is a time-honored color that has always been associated with power and dominance. A black couch is a fantastic indicator of style. It will be a great addition to your living room if you want to convey the message that you are self-assured and trendy.
How to Decide on a Couch Color
Consider the rest of the decor
You should also take the other components of the room into account. You might want to choose a couch color that is more neutral if your decor, flooring, carpets, or other furniture items have many colors. On the other hand, if your decor is more neutral, getting a new sofa might be the ideal chance to add some color.
Know who will be using the couch
It makes sense to pick a darker color that hides stains and pet hair quickly and a material that is easier to clean if you have small children or pets that you let on the couch. Not that you should match your sofa to your cat, but if you have a fluffy white cat, you might want to stay away from a black cotton couch.
Then again, weren't pet hair removers and washable slipcovers created for just that? Additionally, dark-colored sofas don't show signs of aging as quickly as light-colored ones.
Do your research
Research the various sofa materials and colors. You may find one that suits you on some websites because they provide selections in various colors. Just read the cleaning directions and know the cleaning supplies on your sofa to prevent discoloration or fading.
Avoid trends
Couches are an investment you should treasure and try to keep for at least 7 to 15 years because of their frequently high cost. We, therefore, advise against buying trendy statement pieces.
While you can pay respect to some trends that call to you, we advise that you focus on smaller pieces, like throw pillows or accent pillows that won't be as expensive to remove later when the trend fades. Otherwise, you risk being stuck with an expensive error.
Read more: How to Choose a Color Scheme for Living Room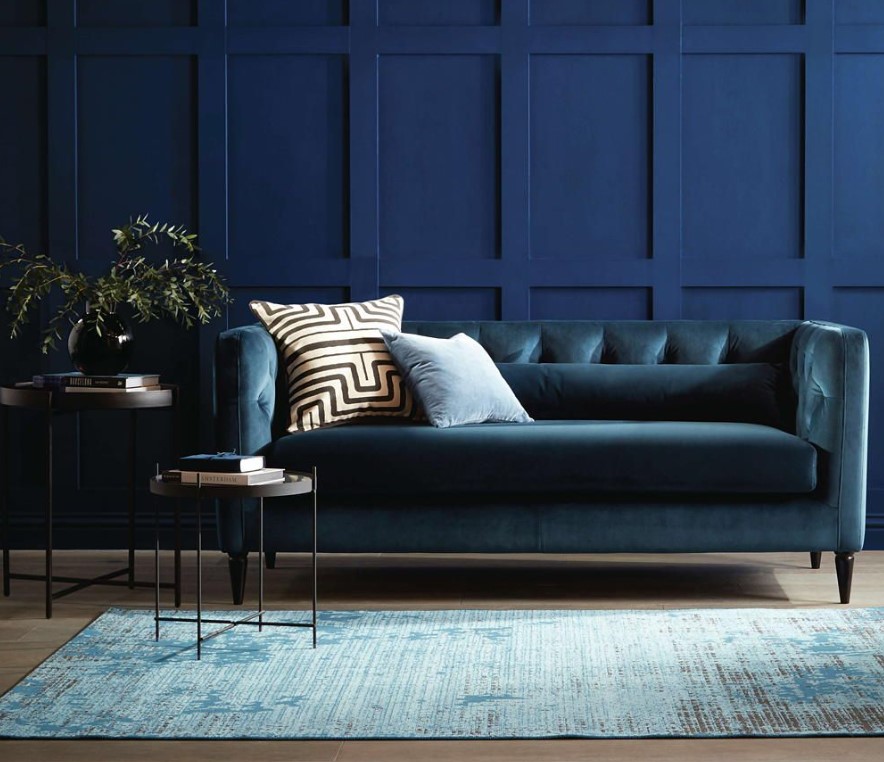 Monochrome matching
Even after evaluating your furniture and decor, you can't go wrong with a monochromatic color scheme if you're still unsure of what color to choose.
An excellent approach to making a living space look put together and coherent is to use monochromatic matching, which involves using various tints and tones of the same color. By doing this, people who live in limited spaces can make their living rooms appear bigger than they are.
Vivid contrasts
Suppose a monochromatic color scheme seems a little dull to you. In that case, you might take the other approach with striking contrasts in a strong color scheme. That way, you can highlight stunning visual contrasts between things using vibrant colors like pastel colors.
It's important to remember that this will function better in larger rooms where you may experiment more freely with color, light, shape, and proportion than in a smaller living space. People that take this path frequently select couches in the colors yellow, red, teal, or blue.
Consider the material
The ideal material option depends on your lifestyle. A timeless material is high-quality leather. It holds up to common household pets like dogs, kids, and ages well, cleaning up easily. Additionally, it can warm up in the winter and keep cool in the summer.
A leather couch also allows various textures to play around in your room without overpowering them. Add some hip throw cushions or a trendy blanket to keep your area current, but rely on the sturdy goodness of a clean leather backdrop. 
Additionally, leather frequently comes in deep chocolate browns, caramel tans, olive greens, and clay reds on that new neutral scale. Naturally, the leather may not always be the best material for your lifestyle.
Stick to neutral
We advise selecting a neutral sofa if your decor currently features a wide range of colors and you are unsure what would work nicely. If dirt and heavy traffic are concerns, you can choose a black or brown sofa instead of a white one.
Play with texture, proportion, and silhouette to design a stylish and well-put-together space while remaining welcoming and functional.
Conclusion
Purchasing a new sofa is an investment, so no matter what color you choose, be sure you adore it. It makes sense to buy your sofa first if you're also picking out other living room furnishings because it's a statement item. Then, you can combine and match additional furnishings and wall accents that go well with it.
The good news is that using accent pillows and blankets to add color, texture, and interest to your space on the sofa is a great way to do so.
When matching your new sofa with the style of your space, don't forget about accent pillows and throws as the finishing touches. Your living area has that classy look, thanks to these small splashes of color. We hope we answered your question about what color couch should I get and helped you decide on your color.