It can be difficult to choose a chair that is ideal for your dining space. Elegant and comfortable dining chairs are hard to come by. A Parsons chair can help you narrow down your options by providing a modern, comfortable, and stylish sitting and dining experience. So now you might be wondering about what are parsons chair?
This is a traditional and cozy chair that is typically found in elegant dining rooms and fine dining. It has a high back, is padded, and typically has no arms. It is light and airy design contrast with the often present heavy and ornate dining seats.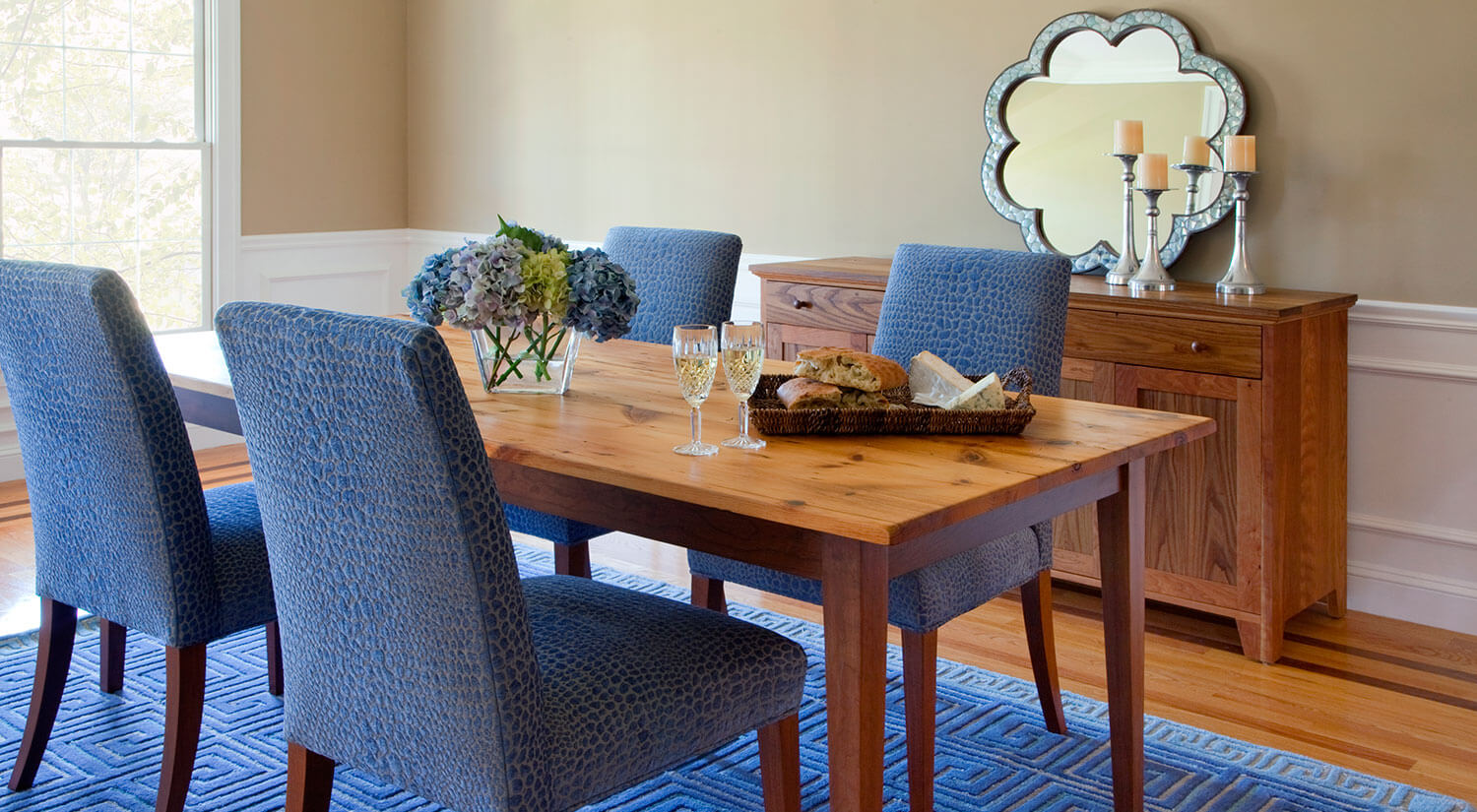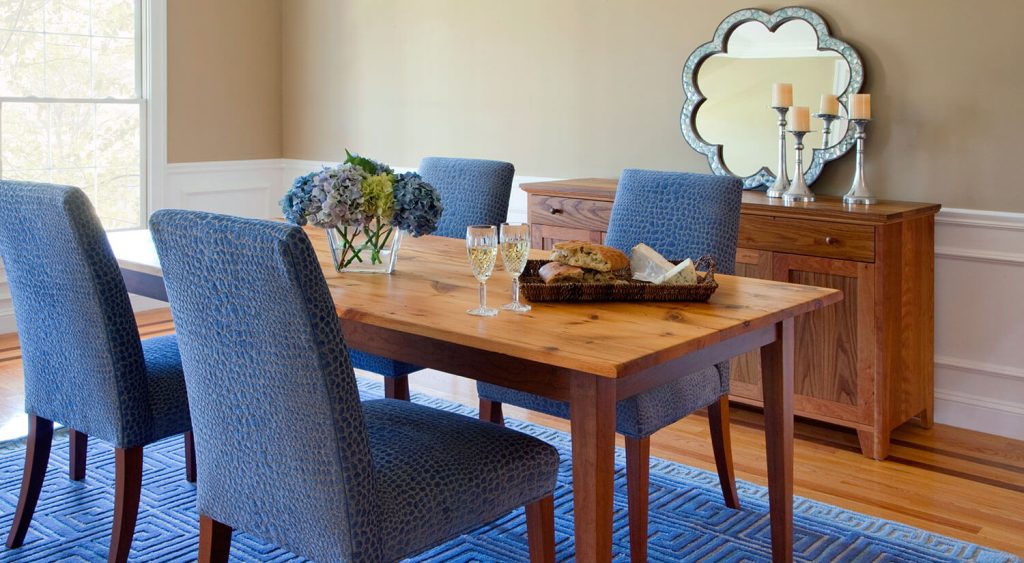 What Are Parsons Chairs?
It is the ideal complement to numerous table styles because of its overall simplicity and clean lines, which exude a classic modern appeal. This dining chair will surely make a wonderful addition to your home whether you pair it with a conventional, modern, or industrial table.
Despite being armless at first, modern Parsons chairs have become very popular. The beautiful and straightforward design has been preserved, but with additions to fit in with many styles. Even some of them have special wood treatments, skirted or smooth seats, and button-tufted backs.
The improvements made to the original design make the Parsons chair timeless and a household staple. To give your dining area that modern feel, it is absolutely a good idea to acquire four or more items.
History of Parsons Chairs
It isn't called a Parsons chair because a clergyman or church is honored by the name. The name of this well-known dining chair has nothing to do with one's religious affiliation. Students at the Parsons School of Design in Paris, France, created the Parsons chair in the 1930s. The design was well-liked, and furniture manufacturers started to imitate it.
The Parsons chair was designed for comfort rather than to be a statement piece of furniture. One of the first dining chairs with a padded seat was this one. The Parsons chair served to introduce a more straightforward and adaptable dining chair design at a time when dining chairs were overly adorned and carved.
It is regarded as a transitional type chair that blends contemporary and traditional. In contrast to the heavy and ornate furniture styles of the time, the design was light and airy.
Construction and Design
The Parsons chair is a straightforward yet stylish chair. The chair, which gained popularity in the 1930s, was designed to be devoid of the excessive carving and adornment that characterized the majority of fine furniture of the time. The chair had a tall, straight upholstered back, straight or slightly curved tapered legs, an upholstered and padded seat, and was constructed from various hardwoods.
The traditional Parsons chair has no arms, although some variations had curved side pieces that protruded from the back of the chair. The chairs were incredibly cozy, thanks to their padded seats and backs. The chairs' fabric gave them a luxurious appearance, and homeowners could pick the colors and patterns that best complemented their existing decor.
Related: How to Choose Dining Chairs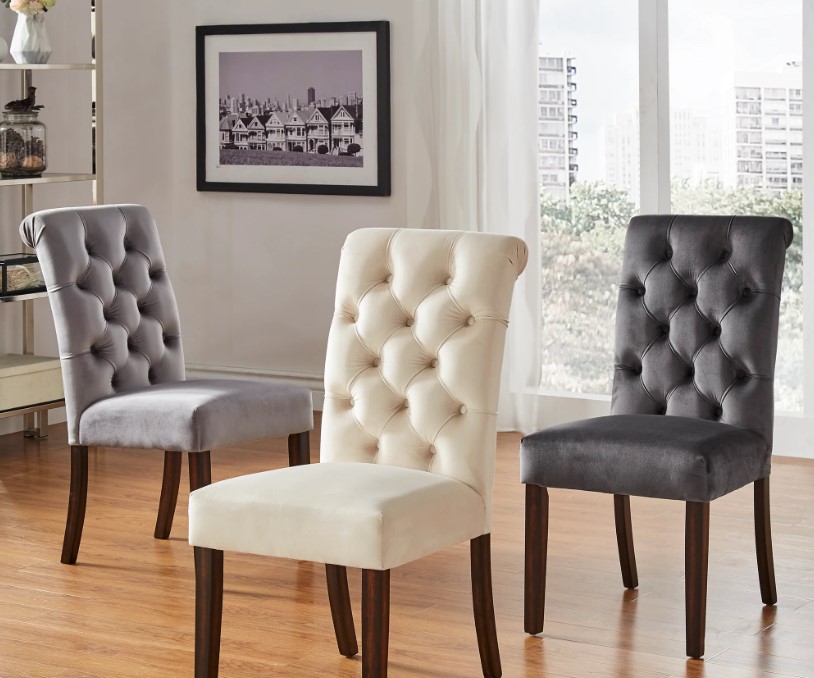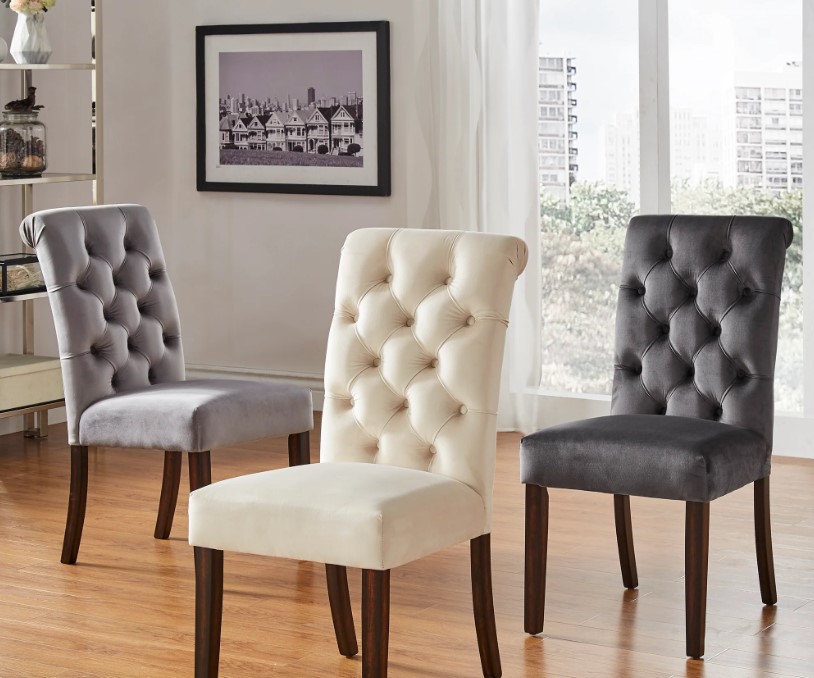 The Comfort of Parsons Chairs
The original Parsons chairs were made more for comfort than for style. Although elegant, dining room chairs were often made of wood and had little to no cushioning, making them rather uncomfortable. The cushioned ones were frequently hefty and lumpy.
One of the first dining room chairs with a padded seat was the Parsons chair. The straight, high, padded back and the padded seats made the chair feel incredibly comfy. Additionally lightweight and portable, the chairs were a great addition to any space.
The Versatility of the Parson Chair
Although designed to be used at a dining room table, the high-backed Parsons chair is elegant enough to be utilized in almost any area of the house. Parsons tables were later built with the same simple shapes as the chair, and matching sets were soon available. 
A table and at least four chairs made up a dining room suite. The tables were significantly smaller than the bulky, ornate tables of the time and had a sleek, contemporary appearance. They were more compact yet still had enough room for a big family.
The chairs' uncomplicated appearance made it possible for them to match any décor. It was possible to purchase chairs separately, and they were available in enough colors and designs to match other furniture. Custom order for the upholstery was also an option. Many people bought a single chair to add a new color and texture to their living room or sitting room.
How to Take Care of Parson Chairs
Since you eat in the dining room, it is one of the spaces that are prone to contamination, especially when young children are running around the house. For this reason, you must shield and cover your dining chairs.
There are numerous types of slipcovers on the market for Parsons chairs. For simple maintenance and upkeep, these can typically be machine-washed. Your priceless Parsons chairs will endure longer if you use chair coverings.
Read more: What Is an Adirondack Chair?
Parsons Chairs of Today
The original design of parsons chairs hasn't altered much, but they are still widely available in a range of styles at most furniture retailers. You may buy them in a variety of wood finishes, and the upholstery options include plain colors, prints, fake leather, button tufting, smooth surfaces, and even skirted pieces.
A Parsons chair with a skirt is the epitome of class. There are numerous creative Parsons dining room chair slipcovers available on the market if you don't like the way your Parsons chair looks. These slipcovers will immediately dress up your chair and spice your dining space.
Parsons chairs are still high-quality chairs even though they are no longer widely manually handcrafted. There are types of poorly built furniture that won't withstand regular use, just like with any other type of furniture.
Conclusion
This is it! Now you know what are parsons chairs. A Parsons chair can be formal or informal and is made to complement nearly any dining room style. Any area will benefit from having an upholstered dining room chair because it may be used as a living room chair when required. A few of these excellent chairs are a great addition to any home.